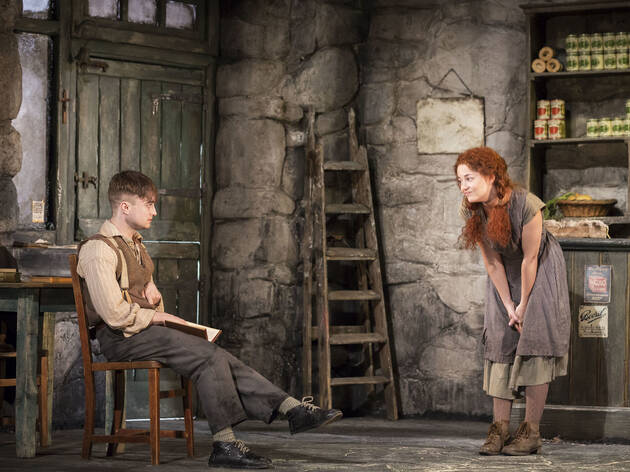 1/7
Photograph: Johan Persson
The Cripple of Inishmaan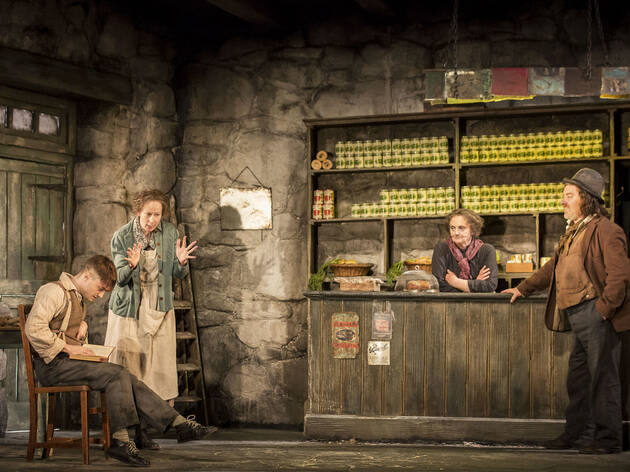 2/7
Photograph: Johan Persson
The Cripple of Inishmaan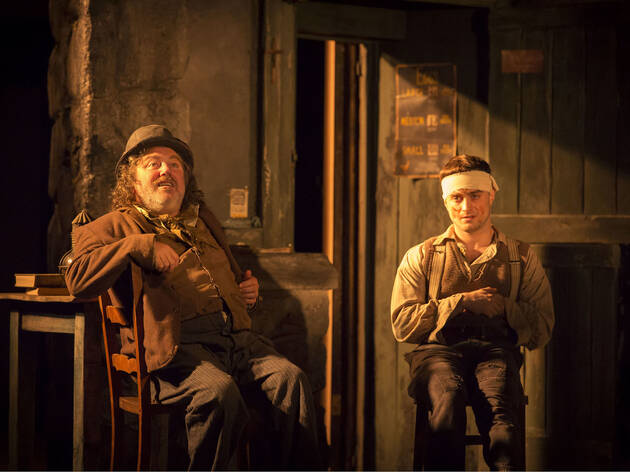 3/7
Photograph: Johan Persson
The Cripple of Inishmaan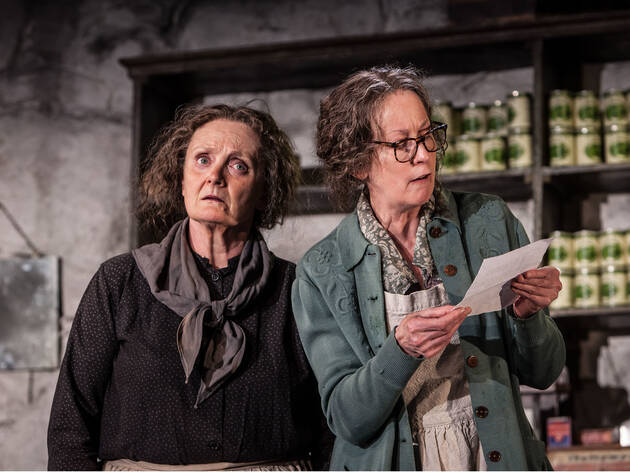 4/7
Photograph: Johan Persson
The Cripple of Inishmaan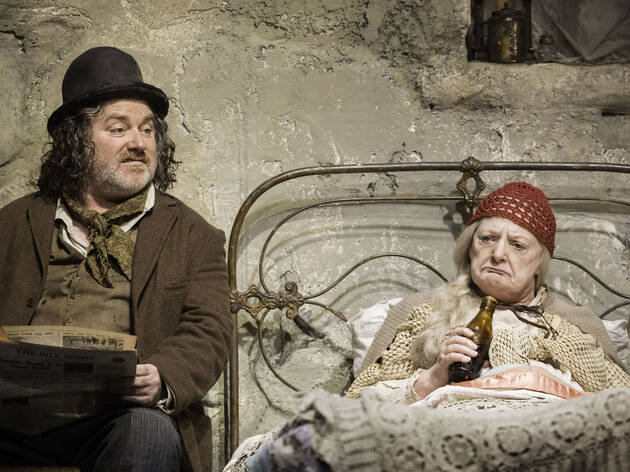 5/7
Photograph: Johan Persson
The Cripple of Inishmaan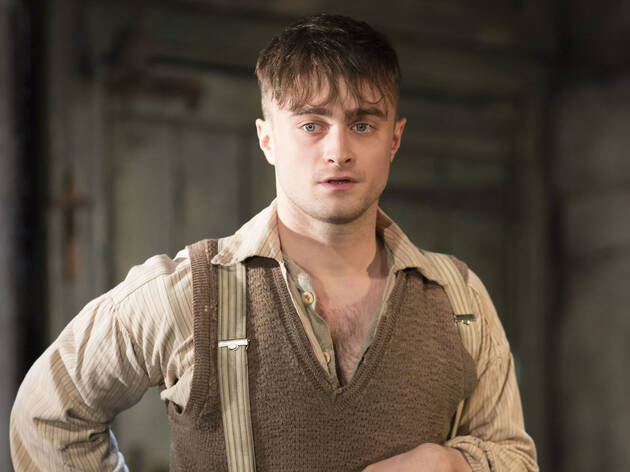 6/7
Photograph: Johan Persson
The Cripple of Inishmaan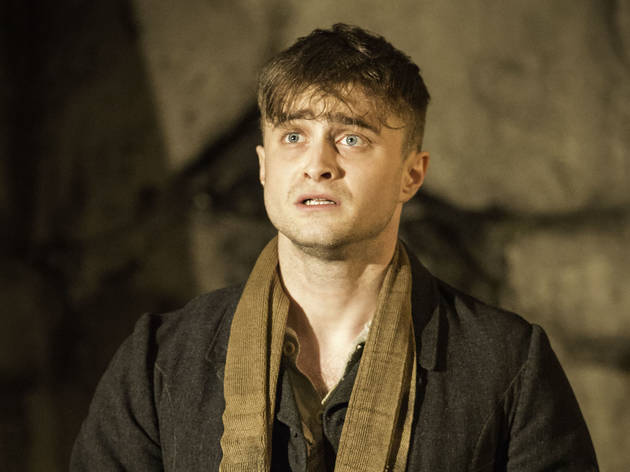 7/7
Photograph: Johan Persson
The Cripple of Inishmaan
The Cripple of Inishmaan. Cort Theatre (see Broadway). By Martin McDonagh. Directed by Michael Grandage. With Daniel Radcliffe. Running time: 2hrs 25mins. One intermission.
The Cripple of Inishmaan: In brief
Not content with post–Harry Potter film work, Daniel Radcliffe keeps racking up stage cred. His latest adventure is a revival of Martin McDonagh's savage village comedy, in which the title character inspires equal parts affection and loathing among the locals. Michael Grandage directs the London transfer.
The Cripple of Inishmaan: Theater review by David Cote
Profiles of playwright Martin McDonagh report how, in 1994, the young Anglo-Irish scribe holed up in his childhood home and cranked out the drafts of seven plays in an incredible nine months. After seeing Michael Grandage's lush but underwhelming revival of The Cripple of Inishmaan, I believe it. Despite a slick veneer and satirical brio, the piece comes across as a rush job by a beginner with a huge chip on his shoulder. Although the undeniably clever and talented McDonagh became a theatrical rock star in the 1990s, his bloated parody of Irish folk drama is repetitious, inert and shallow. A sketch lampooning J.M. Synge or Seán O'Casey would be amusing for 15 minutes; but two hours of flat, one-joke characters and sneering antiromanticism get dull pretty fast.
Of course, people aren't flocking to the Cort Theatre to see the play—they want to ogle Daniel Radcliffe. They've also probably never heard of The Playboy of the Western World, so all those bog-stupid villagers might seem novel and amusing. One old maid converses with stones; another gorges on her store's candy inventory; a town lass throws eggs at anyone she doesn't like; her idiot brother talks incessantly of telescopes. Then there's Billy (Radcliffe), whom everyone calls Cripple Billy on account of his twisted arm and rigid leg. Per McDonagh's heavy-handed irony, kind and thoughtful Billy is the most recognizably human of these grotesques. When a Hollywood crew sets up on the nearby island of Inishmore to cast a film (the actual 1934 documentary Man of Aran), Billy sees a chance to escape his suffocating provincial prison.
Radcliffe gives a passionate and scrupulous performance in a role that's an emotional and ergonomic challenge. But besides providing the opportunity to demonstrate physical prowess, Billy is not that interesting a part. He is an object of amused scorn (or maternal condescension) for other characters, but McDonagh doesn't flesh the fellow out particularly well. Billy ends up a passive cipher, his pursuit of Hollywood fame a MacGuffin. Back in 2008, a Druid Theatre revival—expertly staged by Garry Hynes at the Atlantic Theater Company—papered over the work's callowness.
In fact, six years ago, I actually liked the play. But supersizing it for Broadway (even with Christopher Oram's handsome sets and costumes), Grandage does the brittle comedy no favors. McDonagh just doesn't have much to say, only romantic conventions to cynically flip. Think the good-hearted widower fisherman, Babbybobby (Pádraic Delaney), will forgive Billy for deceiving him? Just you wait! When saucy Helen (Sarah Greene) agrees to go on a date with Billy, is it a happy ending? Not if Billy keeps coughing like that! And so on. You'd have to be as thick as McDonagh's cardboard Irish not to spot such easy subversion from miles away.—Theater review by David Cote
Follow David Cote on Twitter: @davidcote
Rating Breakdown
5 star:

2

4 star:

0

3 star:

0

2 star:

1

1 star:

0
Saw in London west end production, looks like the same cast. If you love quirky Irish/British humour and movies like In Bruges, you'll love this show.
I agree with the reviewer...I saw it and was underwhelmed with the play's one-note characters and repetitive humor...the audience seemed to not mind...laughing aloud each time a character repeated the same shtick over and over again. I did like the acting a great deal; I just wish it was a better play.
I must take a contrary position to Mr Cote regarding his review. I saw this show in London and returned to see it again this past week at the Cort, and I could not disagree more about his commentary. I'm not sure how many people really rely on critics' opinions any more before deciding to attend an event, but it would be a crime if this review kept a reader from seeing a marvelous show with an absolutely first-rate cast. Obviously Mr Radcliffe will be the big draw but one of the more remarkable things about "Inishmaan" is that the 'star' melds perfectly into the company; his outstanding performance, full of quiet pathos and longing for answers as to what his life has been about and where it is going, is just one of the many outstanding efforts given by this superb company. Even if Irish humor and attitude is not your cup of tea, you will spend the bulk of the show laughing but be prepared to have your heart broken several times. At the end, the good people turn out to be not-so-good and the bad ones are somehow not bad at all. The trick is not to figure out who's who, just to enjoy the wistful turns of fate that make them out to be who they are. I don't often agree with Ben Brantley - who had nothing but raves for the playwright and cast- but I totally concur with him when he says this show will stick with you long after you leave the theater. In short: Don't listen to Cote - head to the Cort and see one of the best plays to grace the stage in a long time.