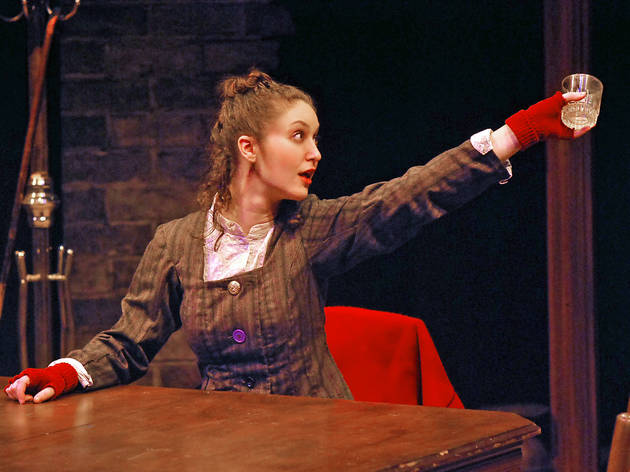 A soon-to-be victim of Jack the Ripper walks into an East London bar: If The Unfortunates were a joke, that's how it would start. And Aoise Stratford's solo show, performed by the compelling Diana Cherkas, is indeed much funnier than its gloomy subject suggests. Addressing the only other patron at the seedy Ten Bells tavern, streetwalker Mary Jane Kelly drinks, banters, proffers gruesome goods and slowly gives up her life story, including her relationships with two friends—Lizzy and Cath (or "Caff," in Cherkas's almost spot-on accent)—who have already come to grisly ends at the serial killer's hands. The show's laughs come from Mary Jane's larger-than-life caricatures, Cherkas's beat-perfect timing and the bawdy topics of conversation. (Good news, folks, here's your new c-word variation: "a cunny.") But there's also insight into the duality of Victorian society, as when Cath advises Mary Jane to offer her johnsthe twin pleasures of "pretense and base corruption." Encompassing touching acts of kindness as well as groin-thrusting comedy, The Unfortunates achieves a rare combination of pathos and humor, breathing fresh life into women we might otherwise think of only as long-dead prey.—Jonathan Shannon
Click here for full TONY coverage of the 2013 New York International Fringe Festival.
Discounted tickets are available through Time Out Offers until September 27, 2013.