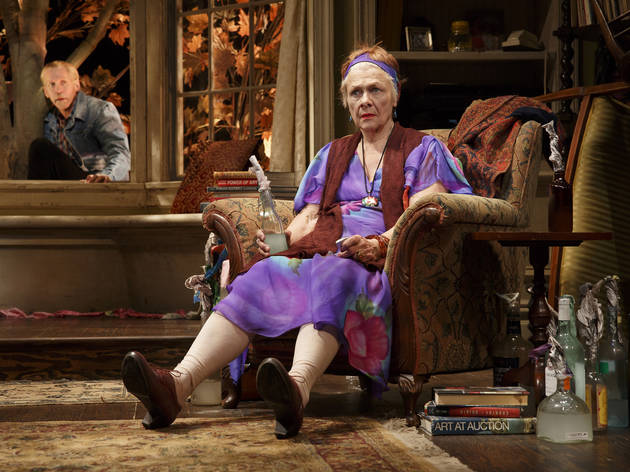 1/4
Photograph: Joan Marcus
The Velocity of Autumn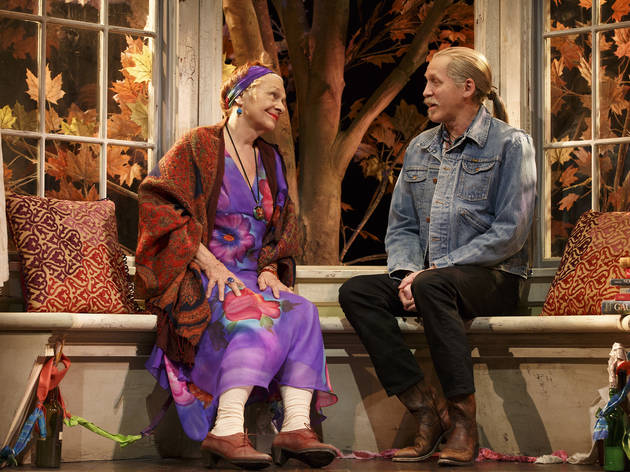 2/4
Photograph: Joan Marcus
The Velocity of Autumn
3/4
Photograph: Joan Marcus
The Velocity of Autumn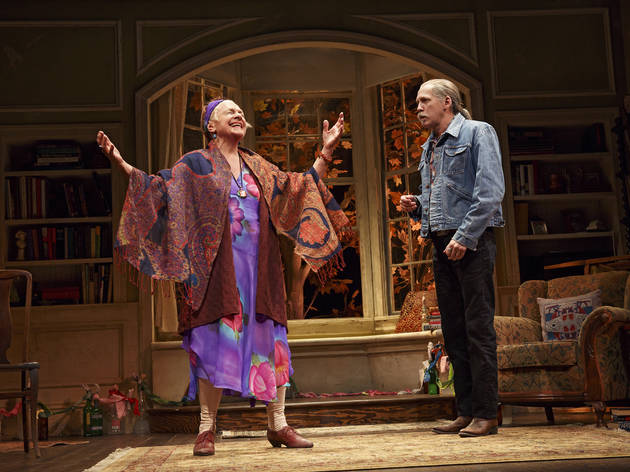 4/4
Photograph: Joan Marcus
The Velocity of Autumn
The Velocity of Autumn. Booth Theatre (see Broadway). By Eric Coble. Directed by Molly Smith. With Estelle Parsons, Stephen Spinella. Running time: 1hr 30mins. No intermission.
The Velocity of Autumn: In brief
Getting old is never easy, but septuagenarian Alexandra (Estelle Parsons) is making it especially dramatic. The feisty grandma has barricaded herself in her Brooklyn apartment with a bunch of Molotov cocktails, threatening to blow up the block if her family tries to put her in a home. Stephen Spinella costars in this new dramedy by Eric Coble.
The Velocity of Autumn: Theater review by David Cote
In case its telegraph title didn't clue you in, The Velocity of Autumn is about aging. As 79-year-old Park Slope resident Alexandra (Parsons) repeatedly moans, the sunset years are no picnic: Your mind goes, your body crumbles, and everyone leaves. Ironically, the dominant sensation produced by Eric Coble's anemic two-hander is also that of growing old. The minutes slip by, you lose feeling in parts of your body and find yourself 90 minutes closer to the grave, with nothing to show for it but a crumpled Playbill.
If producers were set on bringing a regional-theater sitcom to Broadway, at least they hired pros: Parsons does her crazy-bird shtick, holed up in a brownstone with Molotov cocktails that she'll ignite if her children force her into a nursing home. Spinella is sweetly hangdog as an estranged gay son who tries to talk her off the ledge. They spar, they bond, they reminisce in real time with the requisite acting-class–friendly monologues. But it's not a good sign when you're praying that Granny gets her Zippo to work.—Theater review by David Cote
THE BOTTOM LINE Better luck to Parsons and Spinella next season.
Follow David Cote on Twitter: @davidcote
Rating Breakdown
5 star:

1

4 star:

0

3 star:

0

2 star:

0

1 star:

1
I resent the fact that the reviewer chose to trot out the fact that this play and its playwright both got their start in regional theater, its cheap and highlights what I hate most about New York. As a transplant from Cleveland to NYC, this is the thing I hate most about New York theater, the superiority. Take a moment and step back from your overblown egos and take a look at the rest of the county and appreciate what we have to offer. I may live here now, but I will never consider myself a New Yorker. I'm sorry, but this isn;t the greatest city in the country, or the world, its a damn good one, but if New York got ranked for its humility, it would be below 0.
Velocity of Autumn is a sensitive and poignant play about the process of aging. Eric Coble has crafted an accurate portrayal of how children attempt to deal with a once vibrant parent who is now aging and experiencing difficulty with daily life.Anyone who has had this experience, the desire to 'do what is best for Mom', is something that is easily relatable.But, in doing so, the failure to consider what is 'best for Mom' may not be 'best' for them. The play is brilliantly crafted to make the audience aware that one needs to listen to the aging parent and to try to see, and understand what they are feeling.
Estelle Parsons skillfully crafted performance and Stephen Spinetta's ability to listen, cajole and, albeit, not always agree with his mother; shape a wonder, thought provoking evening.