1/7
Photograph: Thom Kaine
The Visit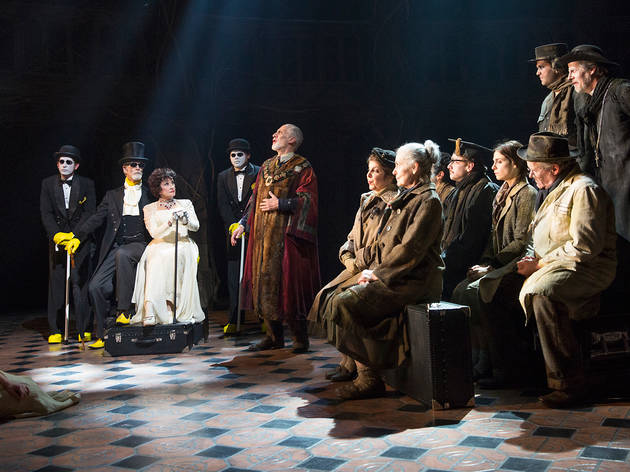 2/7
Photograph: Joan Marcus
The Visit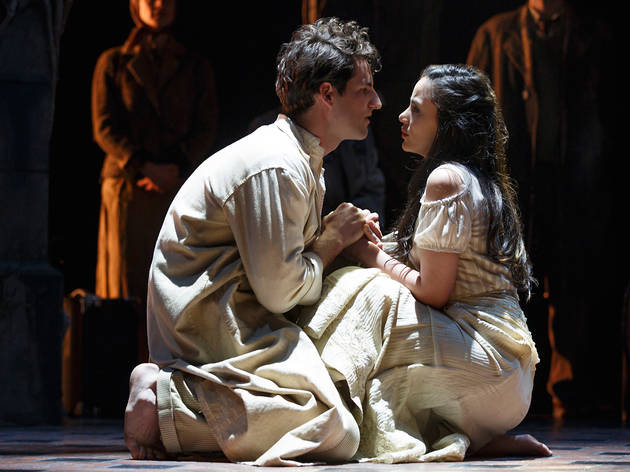 3/7
Photograph: Joan Marcus
The Visit
4/7
Photograph: Thom Kaine
The Visit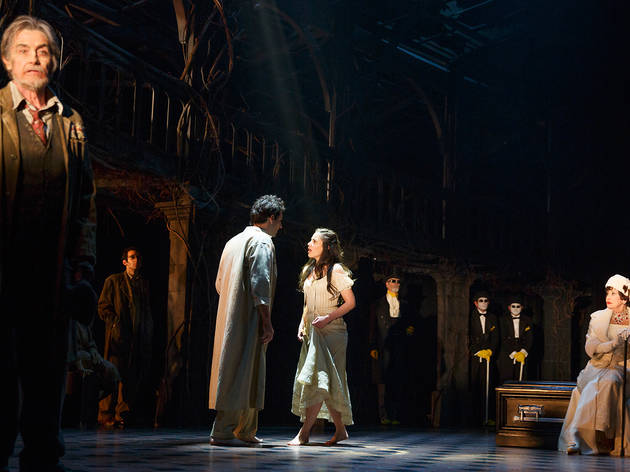 5/7
Photograph: Joan Marcus
The Visit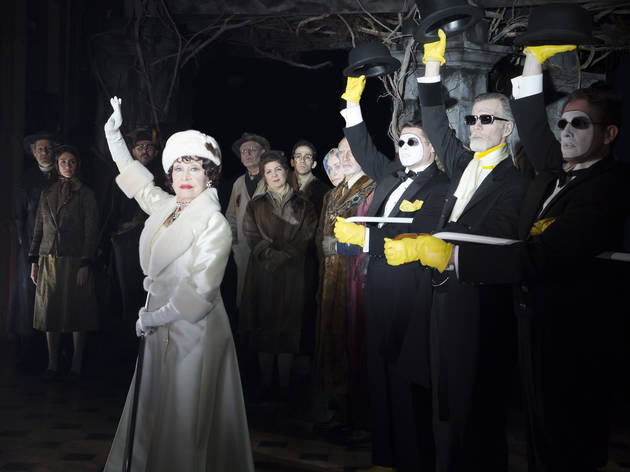 6/7
Photograph: Thom Kaine
The Visit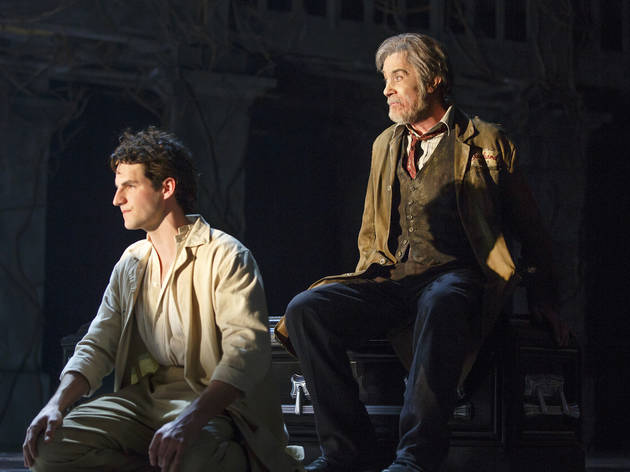 7/7
Photograph: Joan Marcus
The Visit
The Visit: Theater review by David Cote
Claire Zachanassian (Rivera) fled her dreary European town a disgraced, ruined girl, and she returns to Brachen a vengeful billionairess, planning to exact revenge on Anton Schell (Rees), the man who wooed and wronged her. When the old lovers reunite, Anton learns that Claire has a prosthetic leg and an ivory hand. "My plane crashed in Tierra del Fuego," she explains. "I was the only one who crawled out of the wreckage. I'm unkillable." Similarly nine-lived is The Visit, John Kander and the late Fred Ebb's final collaboration, which has been kicking around regional theaters in various tinkerings since 2001. The version now on Broadway is the same I caught last summer at Williamstown Theatre Festival, and it remains fascinating and alluring, if finally repetitive and frustrating.
The source material is Swiss author Friedrich Dürrenmatt's 1956 play—probably the first mistake. As a piece of postwar absurdism, The Visit could make for an interesting revival, but studded with Kander & Ebb's Weill-and-vamp song stylings (however sleek and insinuating), it becomes a musical where the numbers retard the forward motion, which is, anyway, linear and predictable: Claire will have her revenge, and corruptible society will help her.
Great acting wouldn't turn the mismatch into a great musical, but it also wouldn't hurt: Rivera, of course, is naturally commanding and regal, but a better dramatic actor would squeeze more mileage from Claire's mix of sadism and self-pity. Rees does well playing Schell as a husk of a man, but his Rex Harrison school of speak-singing drains power from the songs. Too underused are the actors playing their younger selves (Michelle Veintimilla, John Riddle), despite being onstage for nearly the entire show. At least John Doyle's staging features gorgeous visuals: Scott Pask's looming, decrepit train station choked in vines, swathed in Japhy Weideman's nimble shadows.
Greed and cowardice are laid bare in this inky moral fable, vividly evoked by yellow shoes and other accessories that appear and spread through the scenography like a golden virus. For all its flaws, though, you would never say the cast and crew of this often hypnotizing, eerie experiment were driven by fear or the lust for lucre.—David Cote
Lyceum Theatre (Broadway). Book by Terrence McNally. Music by John Kander. Lyrics by Fred Ebb. Directed by John Doyle. With Chita Rivera, Roger Rees. Running time: 1hr 40mins. No intermission.
Follow David Cote on Twitter: @davidcote
Rating Breakdown
5 star:

0

4 star:

1

3 star:

0

2 star:

0

1 star:

0
The Visit is an experience. The tone is nostalgic and romantic as well as darkly comic, bitingly satiric, joyous in it's sadism, but also tragic.
As you can imagine, all that his hard to pull off. This musical has some of the most fantastic direction I've seen, however, so clearly John Doyle was up for the challenge. Every single scene, the placement of the characters on the beautifully haunting set paints a picture, and sets a tone. There are times when the characters are people, and times when they're tone-setting set-dressing for what is going on in the characters' heads.
Keeping the young versions of Claire and Anton on stage was inspired. Michelle Veintimilla's body language and facial expressions as she watches her older self, her love's older self, and the town brought an extra level to every scene. The clear chemistry between her and John Riddle's Young Anton makes your heart ache for where that story goes, while at the same time, leaping for them in their moments of pure joy. The scene where Michelle Vientimilla dances with Chita Rivera was beautiful and poignant. This is Michelle Vientimilla's Broadway debut, and I'd love to see more of her.
The set was also amazing. The dilapidated train station told it's own story about the state of Brachen. The vines both furthered this point, and insinuated the woods of the Claire and Anton's glorious past. It had great depth, and felt very real, if also like it was dying.
The costumes, too, highlighted the story. The flashes of yellow on the drab grays of Brachen's poverty garishly remind us exactly where these new things are coming from. Young Claire and Anton are clothed in white as well, though less of a shocking one. They look poor, but they don't look depressed. It beautifully highlights what has happened to Brachen.
Chita Rivera is, of course, a vision. She commands the stage from the moment she steps on it. As Kander mentioned in his discussion of Lin Manuel Miranda, watching Chita Rivera stand still is entrancing. She makes you root for her, even when she is being horrifying. Claire knows what she wants, and that she can get it. She requires great presence and poise, and Chita Rivera has loads of both.
The production I watched starred Tom Nelis and Anton Schell. He played Anton Schell as a beautifully relatable character. I felt his every feeling. Without an excellent actor for Anton, the character could be pitiable but flat, and if that character is flat, The Visit does not have any emotional pull. Tom Nelis gave the show it's heart.
The music and lyrics are true Kander and Ebb. This show has exactly the plot for jaunty tunes saying biting things. It can also be romantic, personal and haunting at times. It's not my favorite of their scores, but I enjoy that it's still playing through my head two days later.
The book has some lovely lines as well. There's a great scene where Claire insults every person in the room, and people have to listen because she's rich.
4 stars instead of 5 because we already know what is going to happen for most of the second half, and it just keeps driving the same point home. Some songs feel like they're still in the show because they were well done pieces of music, and not because the one-act version needed them. Some of the humor felt a bit off as well.
In general, I'd recommend seeing it as long as you won't be put off by it's darkness.