Topping the Year in Shakespeare, Oregon Shakespeare Festival (OSF) recently made headlines for unveiling an initiative called Play on! The idea is to commission 36 playwrights to translate the Bard's 36 plays, transforming his allusive, idiomatic texts into modern, comprehensible English. Let the tempest begin.

For lovers of Shakespeare who fully understand that many words have lost their Elizabethan meaning or have simply vanished over the past 400 years, the plan is absurd. Can one contemporize King Lear's mad rants or Beatrice's witty ripostes without sacrificing wit, poetry and musicality? On the other hand, folks like OSF head Bill Rauch are eager to reach younger, more diverse audiences, and must have concluded that smart, well-acted productions of the originals aren't doing it.

But what will these hypothetical Snapchat-addled youths get, precisely? Timeless, life-altering poetry or blandly processed text? Shakespeare scholar James Shapiro likens it to drinking Bud Light versus his favorite IPA. Perhaps Rauch's shadow goal is to get modern playwrights to write with the ambition and lyricism of the Swan of Avon. (Hamilton is sort of doing that, but where is our homegrown King Charles III?) Worse, if you believe Will's famous words, weird archaisms and all, contain real power—as recovering veterans have found—there's cause to worry.
Shakespeare in Love
Photograph: Courtesy of Miramax
Whether or not you consider Play on! a novel solution or art crime, there really is no "pure" Shakespeare. The 1623 First Folio went through an editorial process shrouded in mystery. Modern punctuation and spelling have changed the way we read the language. Various productions may substitute lines from bootleg quartos or, in the case of the Benedict Cumberbatch's Hamlet (currently in London), make minor word changes and major structural edits in the sequence of events. (Side note: Cumberbatch is excellent and Lyndsey Turner's haunted-mansion staging is smart as hell. Catch an NT Live broadcast if you can.) In the end, any new production of Shakespeare—on Broadway, TV or movies—is a kind of translation, a gambit for clarity and relevance amidst mystery. Maybe it's the literal-mindedness of Play on! that has drawn such outrage and mockery.
Speaking of mockery: Since I dabble in plays and libretti, I wanted to offer the OSF my own stab at classic passages in American English. Below please find my humble efforts at a Shakespeare, to quote Ben Jonson, "not of an age but for all time!"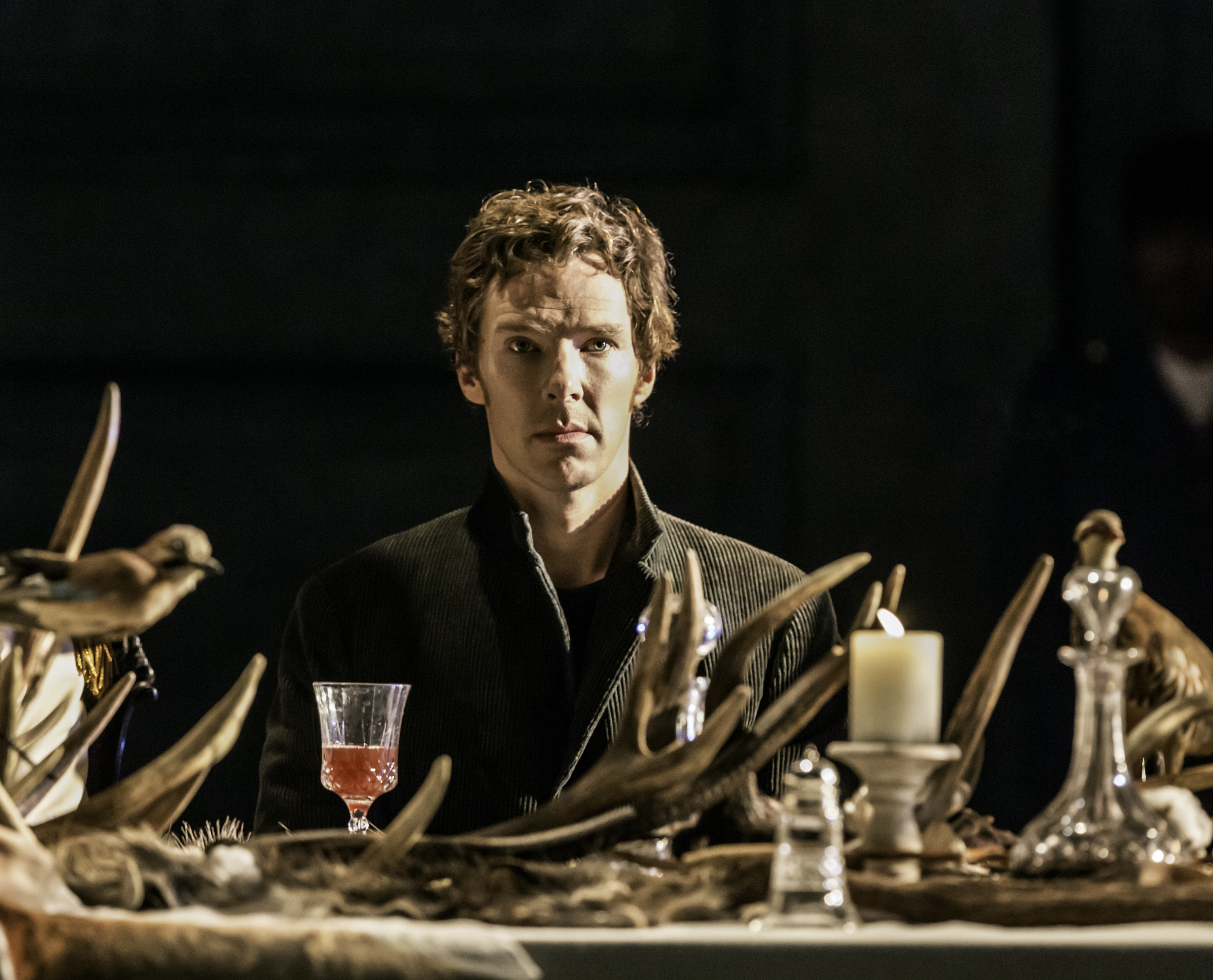 Photograph: Johan Persson

THE TRAGEDY OF HAMLET, PRINCE OF DENMARK: From Act III, Scene 1
[Elsinore. HAMLET appears on a parapet of the castle, lost in thought.]
HAMLET
Should I fuckin' kill myself, or should I not fuckin' kill myself?
That's what I'm asking, I guess.
Whether I should put up with all this unbearable shit,
Or just,
You know,
Fuckin'—blam!
Y'know?
I dunno.
If you die, it's like you're sleeping.
And when you're sleeping, you forget
How shitty everything is,
Like parents, school, and, like, everything else.
And when you're sleeping you dream, right? That's cool.
But what if when you're dead you don't dream?
What if it's just…nothing. Like…nothing.
Oh, man.
Because who wouldn't fuckin' do it,
Except you're totes scared of nothing beyond?
This is freaking me out.
Nobody comes back from death.
Except zombies, I guess.
[Hamlet's phone rings. He answers.]
'Ratio. 'Sup.
Chillin like my uncle the villain. You?
Naw, talkin' shit. K, later, brah.
[Hangs up.]
What was I saying?
Death. Sleep. Dreams. Scared.
Oh, man, see how I overthunk it?
I never get anything done.
I talk too much.
I'm a pussy.
I suck.
[Hamlet pouts, takes a selfie]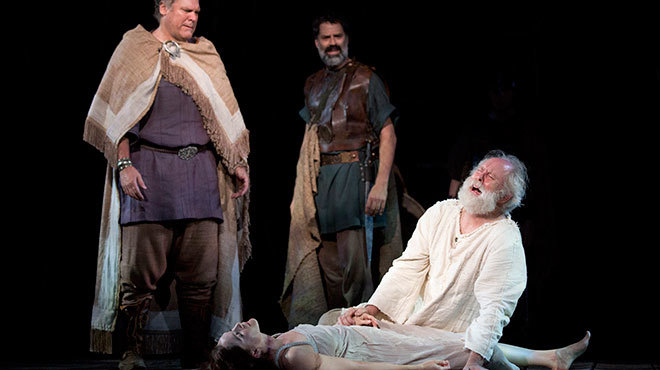 Photograph: Joan Marcus
THE TRAGEDY OF KING LEAR: From Act V, Scene 3
[England. A battlefield. Enter KING LEAR, with CORDELIA dead in his arms; EDGAR, Captain, and others following]

KING LEAR
Cry! Cry! Cry! Cry!
Cry, you heartless jerks!
She's dead! Dead! [Beat] DEAD!!
Are you all such misogynists you won't cry?
I may be a senior citizen with mental-health issues,
But I can tell when someone is alive or dead!
Why should a rat, a dog, a cat be alive—
—Although I believe in equal rights for all living creatures regardless of species—
—When my dear daughter is dead?

EARL OF KENT
Is this the apocalypse promised in the Bible?
EDGAR
Or just an image of that horror?

DUKE OF ALBANY
Either way, I'm gonna Snapchat it.
[Albany takes picture of Lear and Cordelia.]

KING LEAR
Wait! Did she say something?
Her voice was always soft, gentle and low... an excellent thing in a woman.
Not that women should keep their voices low and submissive—even in a pre-industrial patriarchy such as this. Tragedy happens when a paranoid phallocracy silences disruptive female energies. Every day, women are marginalized, repressed and erased. For example, do you ever hear me talking about my wife? What a pain in the ass she was. Oh, I die!
[Lear dies.]

EDGAR
This is so, so tragic.
DUKE OF ALBANY
You're right. I should Instagram it.

Photograph: Joan Marcus
THE MERCHANT OF VENICE: From Act IV, Scene 1
[PORTIA, disguised as the male legal expert BALTHAZAR, urges mercy to the court in Venice, including SHYLOCK, ANTONIO and others.]

PORTIA
The essence of mercy should not be forced,
It falls like gentle summer rain upon
The dusty plain beneath. It's doubly blessed:
Blessing they who give and they who receive.
That having been said, social justice is
A work in process, a constant struggle
Between the status quo and sudden change.
And change is possible, if gradual.
Perfect democracy is not easy,
It is the ideal to which we aspire:
Step by step, inch by inch, and day by day,
Until that glorious morning we wake
And find the world a teensy bit more fair.
In a perfect society, mercy
Would be as natural as shaking hands.
But history is so complicated.
Which is all to say, I'm a progressive;
I want a brighter future—just not today.
Today we grapple with the laws of men.
And by my legal lights, I rule against
The plaintiff—despite outrageous bigotry
He has suffered from the defendant and
His associates. In closing, I would
Urge you all to vote come next November.
[Solemn pause. A phone rings.]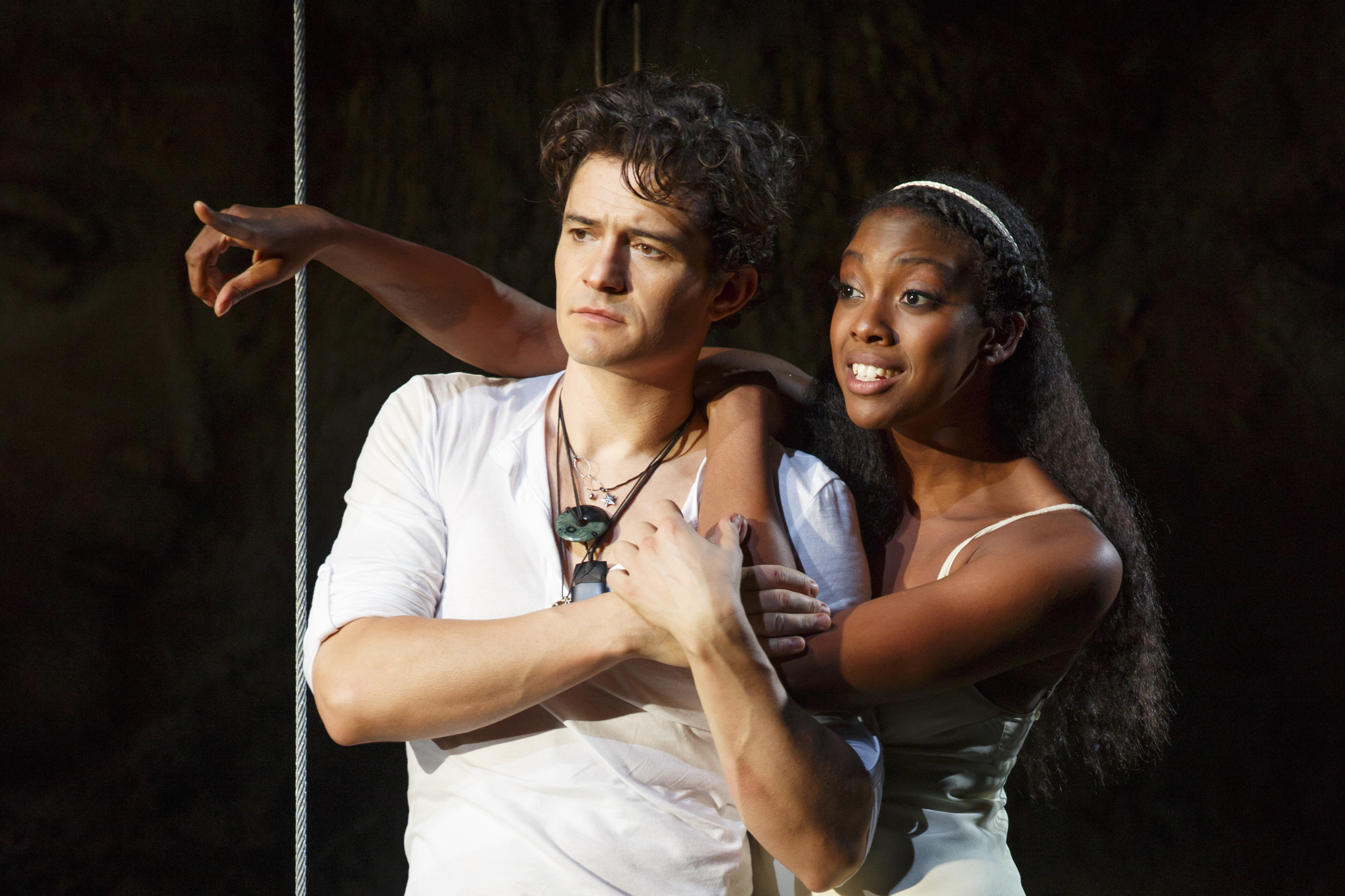 Photograph: Carol Rosegg
THE TRAGEDY OF ROMEO AND JULIET: From Act II, Scene 2
[Verona. Nighttime. ROMEO hides in the Capulets' garden. JULIET appears above, on her balcony, gazing at the moon. Romeo sees her.]
ROMEO
She's hot. I wanna touch her face.
JULIET
Ah…
ROMEO
Whuh?
JULIET
[With distinct upspeak inflection] Romeo? Romeo? I don't like your name?
ROMEO
I'll change it!
JULIET
Whuh?
ROMEO
Whuh?
JULIET
How'd you get over the walls?
ROMEO
I flew! Also, I love you!
JULIET
I love you too?
ROMEO
Can I come up, and—
JULIET
If you love me, we'll get married?
ROMEO
Uh, okay?
[Juliet's phone beeps with a text.]
JULIET
[Texting back] In a second, Nurse! Gawd!
[To Romeo] So come for me tomorrow and we'll get married? 'Kay?
ROMEO
Okay. Nine?
JULIET
Great! See you then?

[Juliet exits.]
ROMEO
Whuh?
[Romeo's phone rings. Besotted with love, he ignores it.]