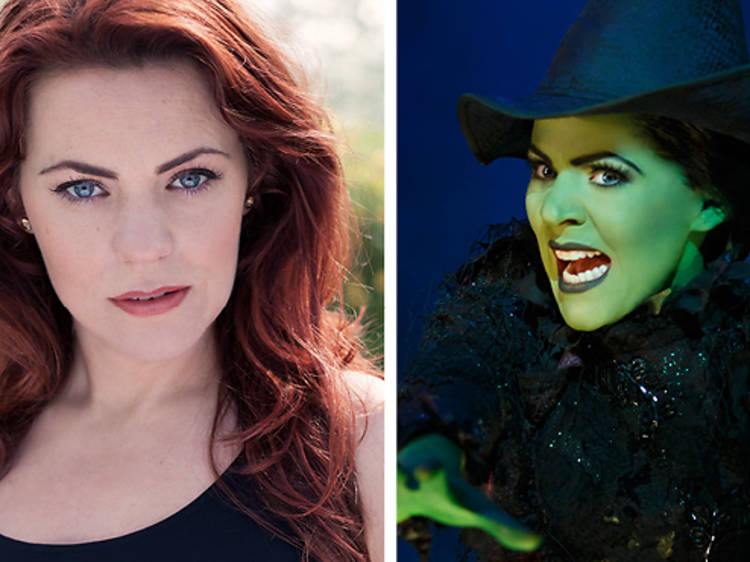 Photograph: Joan Marcus
Rachel Tucker (2015–present)
What was your first contact with Wicked?
Well, I played Elphaba in the West End Wicked for nearly three years. So [director] Joe Mantello and I go way back. But I didn't get the chance to really properly work with him until [last season's] The Last Ship, in which I created the role of Meg. Then the sad news of Last Ship closing came in January of last year, so after two days of crying, I text Joe and was like, "Any chance you'd want a certain Irish girl to play a certain green part anytime soon?" And he instantly texted back, "I'm on it."
What the difference between playing Elphaba on the West End versus Broadway?
Firstly, the accent. I did an English accent in London, and just general American over here. The stage is slightly different: It's wider but narrower. It was an interesting process: going back to a role I knew and adore, being a bit more mature. I could concentrate on digging deep and getting more.
Any impressions of the fans at the stage door?
Oh, I've had quite a few English Wicked fans coming over to support me. Their take on Wicked is interesting, seeing and hearing me speak and sing with an American accent. The support has been really surprising.

You grew up in Belfast, Northern Ireland, during the Troubles. Does that inform your take on Elphaba's struggle at all?
Well, I was brought up very well, and neutrally. My best friend was Protestant; I'm Catholic. So my parents weren't taking sides. And my father is an entertainer, so music was always in the house. It's not like I chose the arts to get away from the Troubles. Don't get me wrong: There are fine actors and actresses who've come out of Belfast and terrible upbringings, and their only escape has been the arts.
Favorite song or moment?
You know, it's funny. In London I used to really dread "The Wizard and I." It was at the top of the show, very sing-speak-y, and I wasn't warmed up yet. By the time you get to "Defying Gravity" you're loosened up and everything's moving well. But I adore "Wizard and I" over here. I've discovered the story of it for myself. I perform it less; it's Elphaba's internal monologue. That can be a beautiful moment in the show. You get that lovely sense that something inside her dark world is glimmering.