Heads up! We're working hard to be accurate – but these are unusual times, so please always check before heading out.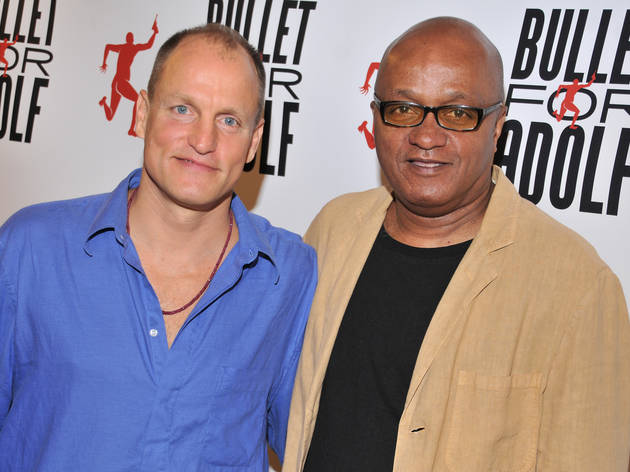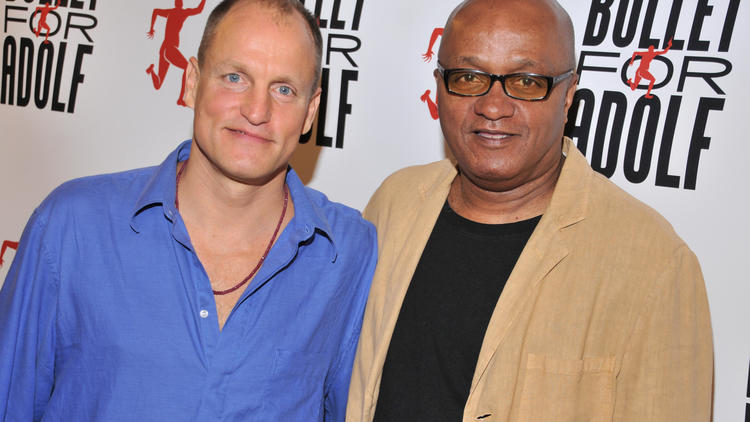 Woody Harrelson has Off Broadway in his sights with Bullet for Adolf
Affable Hollywood star Woody Harrelson talks with his buddy and coauthor about race, friendship and running afoul of the law.
While Woody Harrelson is best known as a TV-actor-turned-movie star—his high-profile projects include Cheers, The People vs. Larry Flynt, The Hunger Games and HBO's Game Change (which just earned him his seventh Emmy nomination)—his first professional gig was as a Broadway understudy in Biloxi Blues. Now the strapping Midwesterner returns to his theatrical roots, not as a performer, but as the playwright and director of the new Off Broadway comedy Bullet for Adolf, currently in previews at New World Stages. Harrelson cowrote the racially charged show with Frankie Hyman, an African-American pal he met in 1983 when the two worked construction in Houston. While the screwball plot about a missing Luger pistol is fabricated, the play's characters and banter are inspired by their real-life experiences almost three decades ago. The longtime buddies talked to TONY about race relations, friendship and the play's 20-year road to New York.

This isn't the first play you've collaborated on. Woody, back in the early '90s, you wrote, directed and starred in Furthest from the Sun in L.A., which you then retooled a few years later with Frankie. Reading the reviews, I noticed that Bullet for Adolf features a lot of the same characters.
Woody Harrelson: [Laughs] Oh, that's just great! All you have to do is read the reviews [to figure that out]. The play was much different back then. You can't really call it the same. It had some heavy stuff. We threw out all the drama and philosophizing and added a plot.
Frankie Hyman: That was more like a tragic day in the life; this is a comedy.

Have you two been close all these years?
Woody Harrelson: I lost track of Frankie after Houston, but when I was working on that first play, I was talking about it on The Tonight Show and said, "If anybody knows Frankie Hyman, have him get in touch."
Frankie Hyman: I'd been back in my hometown of NYC for a while and was cheering Woody on from a distance. I told my brother, "See that guy on Cheers? That's my man!" and he was like, "Yeah, sure." But then my brother called and said, "You know that guy you were talking about? I could have sworn I just saw him on TV asking for you by name." So I reconnected with Woody through his agent.
Woody Harrelson: I'd been looking for him for years. He was untraceable.
Frankie Hyman: There's a reason he couldn't find me: I fell into the world of addiction and was buried deep—the subbasement, you might say. Woody was part of my journey out of that whole darkness into the lights of California and clean living.

Since you two keep working on plays about that summer together, I assume it made a big impression.
Woody Harrelson: It had a huge impact on me. It was kind of a coming-of-age after college, prior to moving to New York to try to make it as an actor. I ran into Frankie on the first day, and we hit it off immediately. He even moved in with me! I hadn't had much exposure to black folks and Frankie had only had one white friend, so it was just a profound experience for both of us, getting to understand someone from such a different world.
Frankie Hyman: Wood and I joked around a lot. I became comfortable with white people as a result of our friendship.

A lot of the humor revolves around race. Do you worry audiences will be turned off?
Woody Harrelson: We tell people, "If you're easily offended or you don't like to laugh, this ain't the play for you."

Bullet for Adolf had a successful run in Toronto last year. Why did you decide to bring it here?
Woody Harrelson: It was always the dream to bring it here. This is where I started my career. My hope is that audiences will laugh and that the critics are good to us, but I don't read reviews.
Frankie Hyman: Well, I'll be at the newsstands waiting for them!
Woody Harrelson: The last time Frankie was mentioned in the New York papers… [Hyman shakes his head.] Should I not say this?
Frankie Hyman: It was decades ago. I was another person…but go ahead.
Woody Harrelson: His uncle saw him in the Daily News in handcuffs after Frankie was arrested for a stickup. From my perspective, there's nothing negative about it. If anything, it makes where you are now even more fantastic.
Frankie Hyman: I'm not totally comfortable with it yet; it just returned to consciousness recently.

If it's any consolation, Woody's also had his share of run-ins with the law.
Woody Harrelson: [Laughing] Yep.

Bullet for Adolf is at New World Stages through Sept 9. You might also like:

Shakespeare in the Park: A complete guide

Meet Lindsay Mendez, rising star of Dogfight

101 things to do this summer