$100 ski day
Can a New Yorker get to the slopes spending only a Benjamin?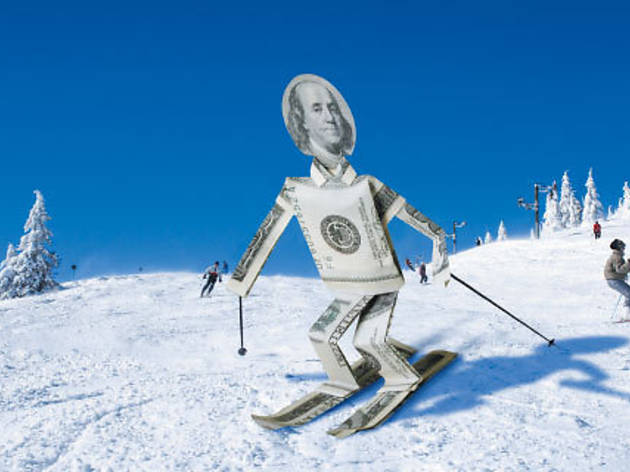 Skiing is a monumentally stupid sport. Who chooses—as recreation—an activity so costly, so dangerous, so inconvenient, so...involving awkward, clunky boots? Elitist skiers and snowboarders like to turn up their noses at the East Coast's icy hills, favoring the powder and alpine splendor of the Rocky Mountains and the West Coast. This snobbish Left Coaster held tight to dreams of Whistler and Jackson Hole, but this year the recession is broadening horizons; with travel becoming prohibitively expensive, this may be the year to bite the bullet and become the snow-sport equivalent of a locavore. I rolled up my North Face sleeves and went in search of an affordable ski day from New York City—$100 for a weekend day's equipment rental, transportation and lift ticket. Turns out the abominable snowman would have been easier quarry.

RECOMMENDED: See all weekend trip ideas
Vermont
Start big: New England is the closest thing the Northeast has to the Alps. Top dog Killington (killington.com) boasts two gondola lifts, seven express chairs, nearly 200 trails—and both an $82 lift ticket (on weekends) and a five-hour distance from New York City. Making it a day trip stretches the definition of day; and even arguably world's-best Whistler in Canada lets you in the door for about $75. Located a full hour closer to the city, Stratton (stratton.com) just squeaks by on accessibility. Grab an NYC Ski and Board bus (nycski.com) at 4am in Union Square every other Saturday, and you'll endure a mere eight-hour round-trip ride. With bus and lift ticket for $95, it's almost rational—until you add in the $35 rental and the fact that you'll be on the road for longer than the lifts are even open. Young professionals line the seats, with the occasional teens being shuttled off for a kind of fresh-air field trip. Still, the buses fill up every trip, though they'll add buses as late as the night before if there are enough bookings.
New York
With the Catskills and Adirondacks both, New York State has a decent ski selection. Homey Gore (goremountain.com) sports a gondola, and Lake Placid's Whiteface (whiteface.com) hosted the 1980 Winter Olympics—but even with a car, they're hardly day trips. A handful of buses haul hundreds of city dwellers for weekend treks to Hunter Mountain (huntermtn.com). Ski/skate shop Blades (bladesnyc.com) will provide bus, ticket and rental for $115, which is tantalizingly close to the hundred-buck ideal. Emilio's Ski Shop (emiliosskishop.com) oversees trips to Hunter leaving from Cobble Hill, Bay Ridge, Forest Hills and the Upper East Side for less than $80, but rentals start at $35 up at the mountain. The 11 lifts and three mountains are tempting, but Hunter's two biggest selling points—accessibility from New York City and 100 percent snowmaking ability—strike terror in the hearts of lift-line-fearing, powder-loving purists.
New Jersey
Warren Miller's next extreme-ski film is unlikely to take place in the Garden State, but beggars can't be choosers. With three detachable express lifts (one of them's even a gondola!), Mountain Creek (mountaincreek.com) isn't exactly a rope tow in someone's backyard. Still, the size is misleading; this is no ski bum's haunt, just a family-friendly collection of rolling hills. It is accessible by public transportation, however; just $21 from Port Authority (njtransit.com)—and the bus ticket nudges the lift-ticket price down ten bucks to $52. With rentals for $35, even this beginner's mountain will put you out more than a Benjamin.So say you really and truly have only $100 left to your name. Can you ski? It technically can happen at Campgaw Mountain (skicampgaw.com), located in a Bergen County park within sight of Mahwah's McMansions. Okay, sure, it's a glorified bunny hill with creaky wooden lifts and a lodge that sports a kosher vending machine (onion rings $3, potato knish $3.50, both served hot) outside the ladies' room. A round-trip train ticket to Ramsey runs less than $16, a lift ticket from 5 to 10pm only $20, and rentals $28. You'll have plenty of money for the five-minute cab ride from station to hill; try a Mahwah taxi, but call ahead (201-327-9000). It may not be real skiing, but at the very least you'll get to sign an equipment rental waiver reminding you that "injuries to any or all parts of [your] body are a common and ordinary occurrence." It's a helluva sport.
---
A $100 ski day from NYC may be nearly impossible, but deals still abound. The season's best:
There are no guarantees in skiing and snowboarding beyond that you'll end up on your bum at some point. But at Mountain Creek, you can learn with three days of (limited) lift tickets, rentals and lessons for $119—and if you still suck after three days, your lessons are on the house.

If you're unemployed and can at least pass for female, Wednesdays at Hunter are only $53 for lift ticket, equipment rental, group lesson and lunch. The ladies' special pairs well with the Paragon Sports (paragonsports.com) Wednesday bus, a $39 round-trip ride.

So it's not quite sub-$100, but you can make a weekend of it at Belleayre Mountain (belleayre.com) with its Adirondack Trailways package—besides transportation to the five-lift mountain, you'll get two days of lift tickets and overnight accommodations; rentals will bring the weekend total to $271. The price comes down for pairs, so encourage a friend to take up this deranged sport—insanity loves company.
---
Northbound
Sign up for a kick-ass ski trip through these local shops and ski clubs.
Blades Board & Skate(659 Broadway between Bleecker and W 3rd Sts; 212-477-7350, bladesnyc.com)
The Diamond Dogs Ski Club (ski-nyc.com)
Emilio's Ski Shop (112-32 Queens Blvd, Forest Hills, Queens; 718-544-0404, emiliosskishop.com)
Hoboken Ski Club(hobokenskiclub.com)
Metropolitan New York Ski Council, Inc.(metnyski.org)
Paragon Sports (867 Broadway between 17th and 18th Sts; 212-255-8889, paragonsports.com)
Ski Bums: GLBT skiing and snowboarding club (ski-bums.org)
Ski & Snowboard Club of New York(skiclubofnewyork.org)
Swiss Ski Club (swissskiclub.com)