Heads up! We're working hard to be accurate – but these are unusual times, so please always check before heading out.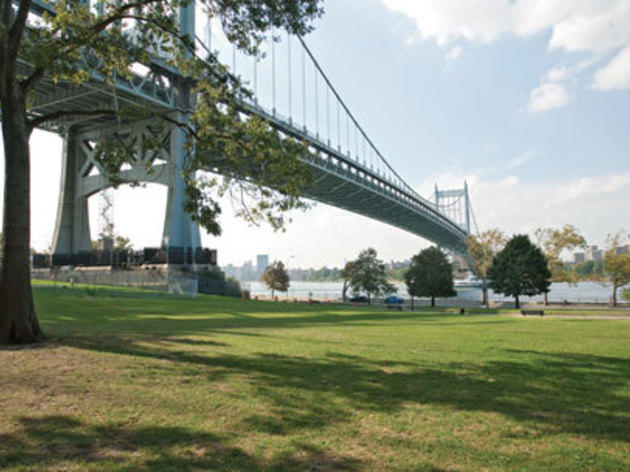 In the morning, a gaggle of men chattering in Greek gather on the patio of a no-frills caf to shoot the breeze over frapps; young Midwestern transplants, script in hand, pass them by, heading to the N train for a Midtown audition. The old-timer and the hipster peacefully coexist in Astoria, and that's its allure. Stylish new eateries constantly pop up flaunting its progressive streak, but at the same time, there's comfort in stumbling upon a bakery where you can buy a filling meat pie for a buck.
In the morning, a gaggle of men chattering in Greek gather on the patio of a no-frills caf to shoot the breeze over frapps; young Midwestern transplants, script in hand, pass them by, heading to the N train for a Midtown audition. The old-timer and the hipster peacefully coexist in Astoria, and that's its allure. Stylish new eateries constantly pop up flaunting its progressive streak, but at the same time, there's comfort in stumbling upon a bakery where you can buy a filling meat pie for a buck. Astoria's ethnic pockets—Greek, Italian, Croatian—makethe neighborhood feel decidedly European.
Pete Romano, director of facilities management, Kaufman Astoria Studios
"Like anyone who grew up here, I have many stories about days and nights spent in Astoria Park—especially as a teenager. I met my wife there at 18 and even proposed to her there on the terrace overlooking Astoria Pool 23 years ago. Now as a father with two teenage kids, it has been a great place to spend time with them, whether it for Fourth of July fireworks, concerts or outdoor movies. They know that they are a part of where their parents grew up."
, Astoria Park South to Ditmars Blvd, between 21st St and the East River (718-626-8621, nycgovparks.org/parks/astoriapark)
"As someone who has lived and worked in Astoria my whole life, I have come to love the "micro city" it has become. The diversity of cultures, religions and neighborhoods in one small area is amazing to me, yet through it all it has never lost its sense of one community and neighborhood feel. There is a special thread that runs through this place that I can't seem to put into words; it will always keep me here."
"I have run around Kaufman Astoria Studios since I was 12 and have worked there since I was 14. Through that time I learned about its history and have been lucky enough to be part of that history. This studio can speak to you like the old Yankee Stadium used to; you can just feel the rich history of it as you walk across the stages."
Kaufman Astoria Studios, 34-12 36th St between 34th and 35th Aves (718-706-5300)
"Across from where I live is the Lawrence Family Cemetery. It dates back to 1708 and was once part of a huge Lawrence family estate. Sarah Lawrence was buried there plus many sons and daughters of the Revolution, and many Lawrence family members up until the 1960s. I believe it shows the historical significance of this area in American history."
Lawrence Family Cemetery, 20th Rd at 35th Ave (no phone)
"To me, the Hell Gate Bridge is the gateway arch, the landmark backdrop to visually identify Astoria. But I am sure the 35th Avenue historic facade of Kaufman Astoria Studios could work just as well."
Hell Gate Bridge, Astoria Park near 22nd Rd (no phone)
Giuseppe Falco, co-owner, Vesta
"At Il Bambino, the fig-and-goat-cheese crostini is one of my favorite dishes in the borough."
Il Bambino, 34-08 31st Ave between 34th and 35th Sts (718-626-0087)
"In the summer, I'd head to Hell Gate Social's backyard for a burger and a Peroni. In the colder months, probably Sweet Afton for a shot of Maker's Mark and a Palm beer."
Hell Gate Social, 12-21 Astoria Blvd between 12th and 14th Sts (718-204-8313, hellhellgatesocial.com) * Sweet Afton, 30-09 34th St between 30th and 31st Aves (718-777-2570, sweetaftonbar.com)
"I love the open-air United Brothers [Fruit Markets] on 30th Avenue. They have Italian specialties I grew up on, but are hard to find elsewhere—like cucuzza, long string beans and Romanesco broccoli."
United Brothers Fruit Markets, 32-24 30th Ave at 33rd St (718-728-7011)
"Gian & Piero Bakery [is] perfectly old-school. They don't try and reinvent the wheel; everything—I especially dig their semolina cookies and sfogliatelle—always tastes the way it's supposed to."
Gian & Piero Bakery, 44-17 30th Ave between 44th and 45th Sts (718-274-8959)
Mario Zafarana, gardener, Central Park

"There's great, old-fashioned stuff at Build It Green! NYC—like bluestone if you happen to have a garden. I needed a new kitchen sink and I bought one there."
Build it Green! NYC, 3-17 26th Ave between 3rd and 4th Sts (718-777-0132, bignyc.org)
"[I like] Daly's Pub and its open space out back. Next year they'll start getting some plants in there. There's a really friendly staff, they barbecue after the game, and you can get a good 20-ounce pint of beer. It's not a cheesy corporate pub; you can sit in an old church pew inside."
Daly's Pub, 31-86 31st St at Broadway (718-606-2561)
"The owners from the old Roumeli opened To Loukoumi, and the food is still exceptional. I'm half Greek and now they feature more regional dishes from the different islands, so you feel like you're at home ordering specialties from your village. I really love the ouzo meatballs." To Loukoumi, 45-07 Ditmars Blvd between 45th and 46th Sts (718-626-3200, toloukoumi.com)
"30th Avenue is amazing for its specialty markets. I don't even know the names of the places; I just walk in and take a look and see what looks good, getting meat from one place, olives at another, cheese somewhere else. Bakeway has a really nice selection of pastries, though, and I also like going to Euro Market for goods that aren't Greek. After a while, how much yogurt can I look at?"
Bakeway, 29-10 30th Ave between 29th and 30th Sts (718-956-9144) * Euro Market, 30-42 31st St between 30th Ave and 30th Dr (718-545-5569)
"Sanfords has been around forever and ever. I remember it as a greasy spoon and going there as an underage drinker and getting kicked out. Now it looks like a place you would see in Manhattan. With all the condos going up now, more places are trying to look modern like this."
Sanfords Restaurant, 30-13 Broadway between 30th and 31st Sts (718-932-9569)
Natalia Paruz, a.k.a. the Saw Lady; musician and founder-director of the NYC Musical Saw Festival

"I've enjoyed playing at lots of places around Astoria, from the more conventional such as Trinity Lutheran Church and the Greek Cultural Center to a Chase Bank branch and the main post office. I would love to play at either the Steinway Mansion or at what Astorians call "Tara"—the gorgeous mansion on 12th Street by Astoria Park that looks like a house out of Gone with the Wind. [It has] great Greek columns and a gorgeous garden. I enjoy connecting with old, historical spaces through music. When I fill a space with my sound, I become part of it. In such old houses, it's a little bit as if I get to time travel and connect to the past."
Historic mansions, 12th St between 26th and 27th Aves
"I love walking along the East River from Astoria Park down toward LIC. We are so lucky to have this scenic promenade."
"For a picnic in Astoria Park, if I wanted to just have light food, I'd get bread, an assortment of olives and smoked fish from Mediterranean Foods. If I was looking for something more substantial, I'd get the spareribs and plantains from Point Brazil. For dessert I'd get honey-dripping pastries from Laziza."
Mediterranean Foods, 23-18 31st St between 23rd Ave and 23rd Rd (718-721-0221) * Point Brazil, 38-01 31st Ave at 38th St (718-278-1934) * Laziza Pastries, 25-78 Steinway St between 25th and 28th Aves (718-777-7676)
"It amazes me that in the midst of such a huge urban space as NYC I can hear birds chirping in my backyard on a daily basis. Seasonally, I like the roar of the crowd when the Greek soccer team wins a game. Spontaneous celebrations erupt on 30th Avenue by 31st Street and the joy is so catchy that it makes every passerby want to be Greek for a day."
"On a Sunday I'd go to the community garden, Two Coves, to stroll their footpaths, looking at growing vegetables and blooming flowers. Then I'd head over to the 24-hour Uncle George's Greek Tavern for a meal and on my way I'd stop at the Greater Astoria Historical Society to check out their current exhibit."
Two Coves Community Garden, enter at 30th and Main Aves (twocovescommunitygarden.org) * Uncle George's Greek Tavern, 33-19 Broadway at 34th St (718-626-0593) * Greater Astoria Historical Society, 35-20 Broadway at 36th St, fourth floor (718-278-0700)
Lyssa Mandel, actor and jewelry designer

"I guess what keeps me in my apartment year after year is the fact that this neighborhood feels like home, and it's felt like home to so many generations before me. Both my parents were born and raised in Queens, even though I was a Connecticut suburb kid, so returning to this county is like coming home to the motherland. My block is filled with humble mom-and-pop shops that have been here for decades—a silk shop, a butcher, a hardware store, a vacuum-repair shop."
"[For a slice of peace, I go to] Yoga Agora for a $5 vinyasa class in their second-floor studio, with windows all around and a skylight through which I can hear the rain. I'm a pretty high-strung person, so I grab onto meditative moments wherever I can find them."
Yoga Agora, 33-02 Broadway at 33rd St, second floor (718-626-0680, yogaagora.com)
"Leng Thai blows my mind. Not only do they give you mountains of food, but the interior design is smashing and the back patio in the summer is strung with subdued purple lights and surrounded by trees. Their duck rolls with hoisin sauce and mango with coconut sticky rice are two of my favorites."
Leng, 33-09 Broadway between 33rd and 34th Sts (718-956-7117, lengthainewyork.com)
"A perk of Steinway Street: There is a kebab man on the corner of Steinway and 30th Avenue that makes mouthwatering grilled meat. And there are many, many kebab carts in this neighborhood, but this dude is for real. He makes the trashy mall stores all worth it."
"[One of my favorite stores is] Candy Plum, but that's really not just because they sell my jewelry line, No Soap Radio. I love that they support local artisans and the tiny space jam-packed with an eccentric and magical collection of jewelry, accessories and one-of-a-kind clothing. It's hard to tear myself away without opening my wallet. Or D & E Italian Deli, which has been around forever and where I can get prosciutto of a caliber to rival posh Manhattan grocery stores at a fraction of the price and with five times the authenticity and personable service."
Candy Plum, 30-98 36th St between 30th and 31st Aves (718-721-2299) * D & F Italian Deli, 35-13 Broadway between 35th and 36th Sts (718-728-2422)