Bike NYC: Time Out's Citi Bike–for-dummies guide
Discover everything you need to know about the wildly popular NYC bike-share program in this handy resource.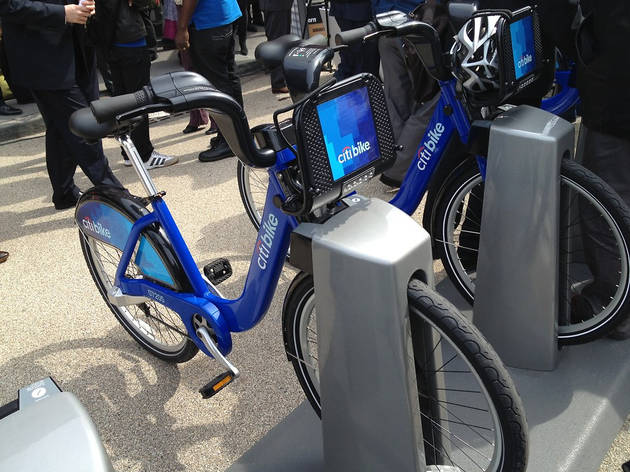 What happens if I get a flat? Or my ride gets stolen? Before you take your next (or first) Citi Bike excursion, brush up on the rules of the NYC bike-share program. Plus, discover great bike paths.

RECOMMENDED: The best ways to bike New York
Can I ride again later in the day after docking?
You can ride as many times as you want—just so long as each jaunt is 30 minutes or less (or under 45 minutes if you're an annual member). Think of Citi Bike passes as unlimited MetroCards—if your subway rides afforded you a finite amount of time.

How much does this cost?
There are three options: annual membership ($95), a seven-day pass ($25) and a 24-hour pass ($9.95). (Overtime fees and taxes also apply.)

What if I'm returning my bike and there are no available docks?
There's a "time credit" option on the kiosk that gives you an extra 15 minutes to find a nearby station with available docks.

What if my bike's broken or has a flat?
Return it, push the white wrench button atop the dock (which alerts staffers of the issue) and unlock a different ride.

Are the bikes one size fits all?
Yep. They have adjustable seats.

What about helmets?
Annual members get a $10-off coupon for helmets at any NYC bike shop, and users can call 311 for information on when the DOT offers free fittings and helmets.

What if I get in an accident while riding?
First, call the police. Second, dial 855-BIKE-311 and talk to a CB staffer. Just be aware of the fine print stating that the bike is your responsibility until it's docked or in a rep's possession. Oh, and if your bike is stolen, call that number within 24 hours and brace for a possible charge on your credit card covering its recovery or replacement.

Isn't this kind of gross?
So are subways and buses. It's New York.
Missing Time Out magazine?
You can still read our latest issue from the comfort of your couch
Read online