Cool NYC companies: Behind-the-scenes office tour of BuzzFeed
Social website BuzzFeed is having a banner year. Get to know the people who work at this cool NYC company, and check out their career advice.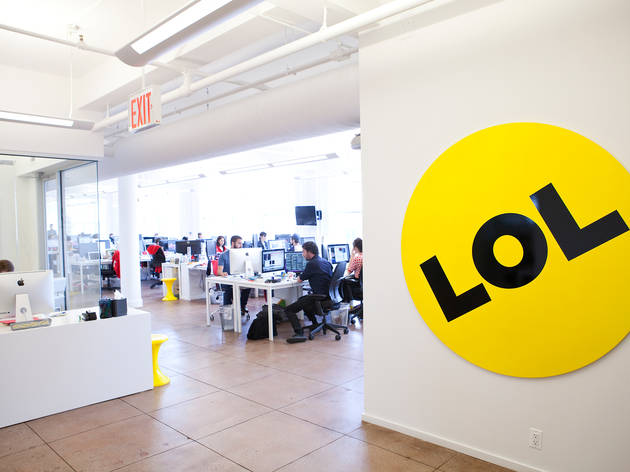 1/13
Photograph: Jakob N. Layman
This bright yellow wall art can be found throughout the office—in addition to lol, other spots are emblazoned with omg, win and cute. These correspond to badges that appear on BuzzFeed articles: Users can register their reaction to a story by clicking one of the buttons (others include fail, trashy and geeky).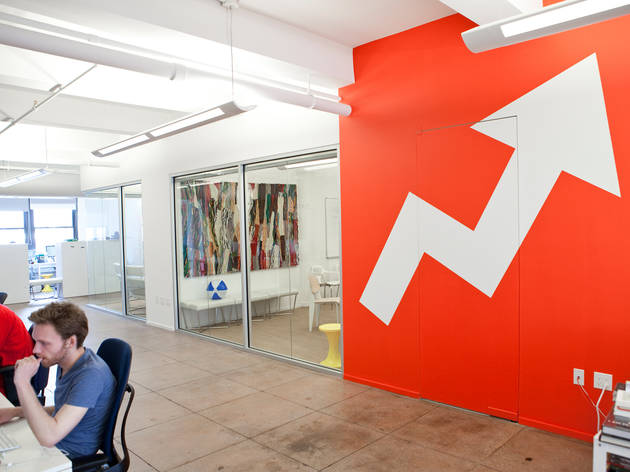 2/13
Photograph: Jakob N. Layman
The arrow painted onto this wall is another badge that appears on the website; it's tagged to stories that have gone viral or are among the most-shared on social-media channels.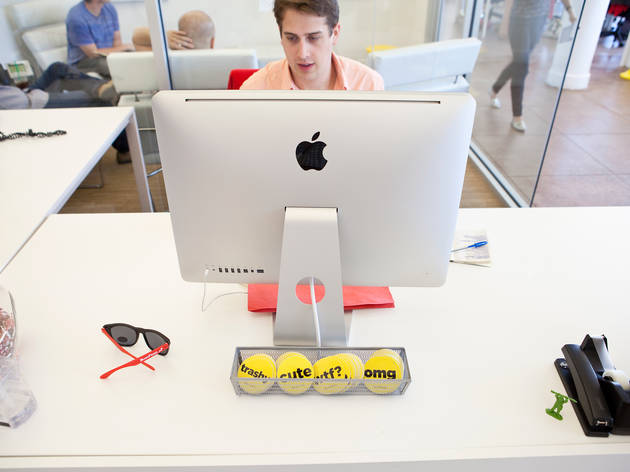 3/13
Photograph: Jakob N. Layman
Visitors to the office can snag their own cute or wtf? stickers.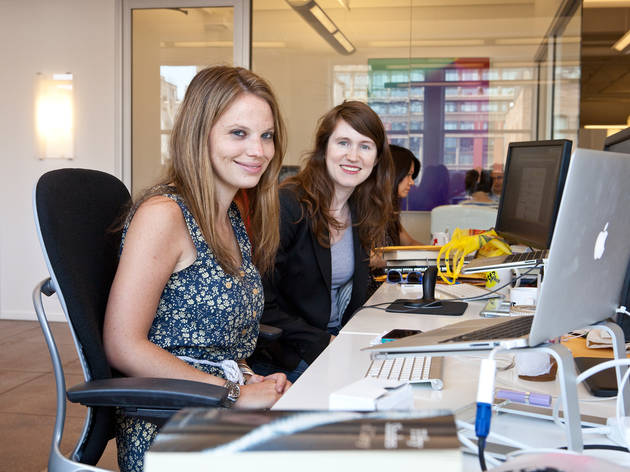 4/13
Photograph: Jakob N. Layman
Hillary Reinsberg, left, and Anna North are two editors who work on BuzzFeed Shift, the women's section that launched in March. "I was really excited that Shift was taking the position of being almost exclusively original content," explains North. "We do very little aggregation. I think [aggregation] is an important part of the Web, but I'd been doing a fair amount of it for a while, and I was eager to do more reporting of my own." Shift covers a wide range of topics: Recent posts examined the use of Photoshop retouching in advertisements and whether sex offenders should be buried with military honors, while other articles have looked at the new season of Project Runway and independent nail-polish producers. "There's very serious reporting and there's a lot of gender-politics reporting, but there's also a lot of original reporting, like what it's like to get your nails done by Beyoncé's manicurist," notes Reinsberg. (She worked on the latter story right before Shift launched.)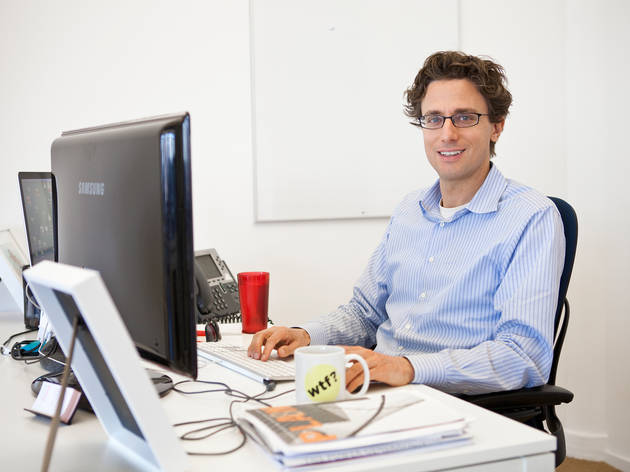 5/13
Photograph: Jakob N. Layman
"I think the biggest challenge is to make sure that people can do work that gets seen—that you don't have pockets where people are doing busywork or work that doesn't see the light of day," explains Peretti. He also notes that as the company has expanded, management has tweaked roles and added positions in order to keep the environment fun and prevent burnout. "As you're growing, you've got to fix any problems that emerge. There are all of these things that we all learn as we go, including myself, and hopefully that will keep the moments of chaos and stress to a minimum."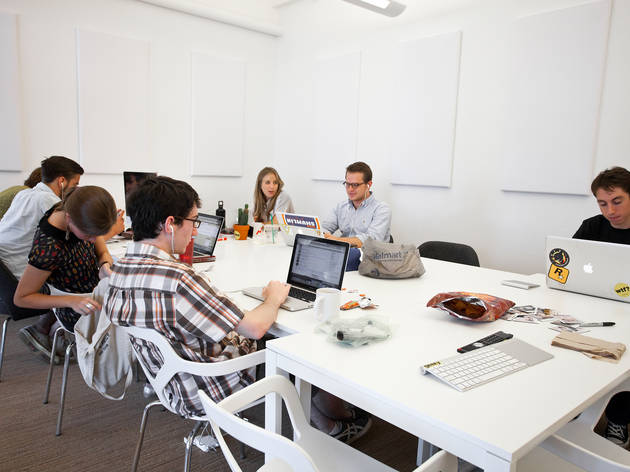 6/13
Photograph: Jakob N. Layman
BuzzFeed interns are clustered in the same area, so that they can work together and interact. There are also rooms (called "phone booths") where reporters can conduct interviews in private, if necessary, as well as a couple of conference rooms.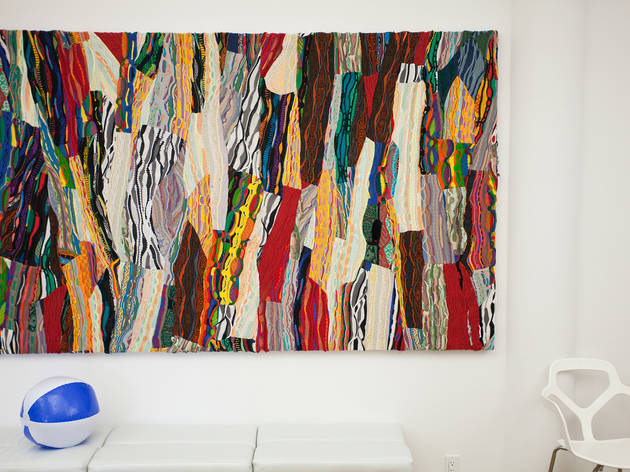 7/13
Photograph: Jakob N. Layman
One room features a piece of art made entirely from Coogi sweaters (the ugly pullovers worn by Bill Cosby on The Cosby Show). The piece was created by artist Jayson Musson, who performs as the character Hennessy Youngman (to whom the sweater collage is actually credited). He's best known for the "Art Thoughtz" series of videos on YouTube, in which Youngman comments on art-world topics like Damien Hirst and whether grad school is necessary. Peretti commissioned the piece via Twitter in 2011.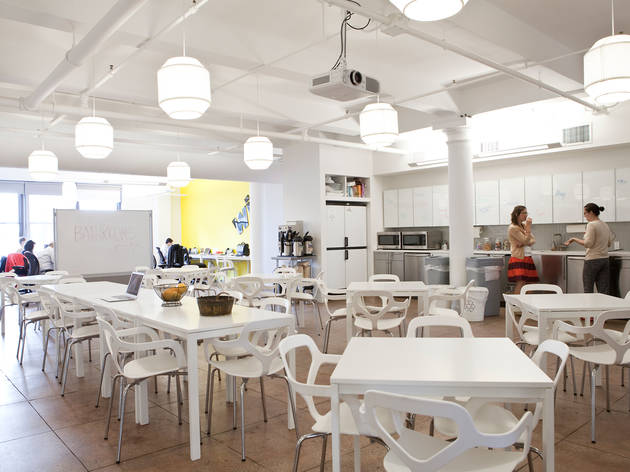 8/13
Photograph: Jakob N. Layman
The office kitchen is also the site of communal gatherings: The company hosts a semimonthly meeting, BuzzFeed Brews, on Thursdays, at which employees can drink, mingle and hear company announcements. BuzzFeed has also hosted lectures in the space, most recently one titled "Beauty and Fashion in the Age of Social," which featured a conversation between Peretti and Shift editor Amy Odell.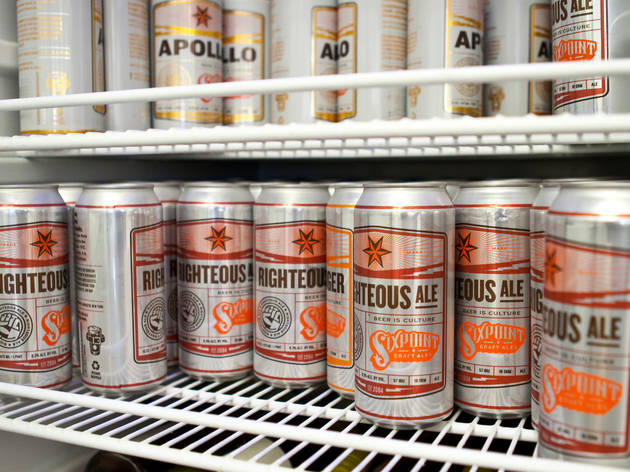 9/13
Photograph: Jakob N. Layman
Office perk: a fridge stocked full of Sixpoint "nanokegs."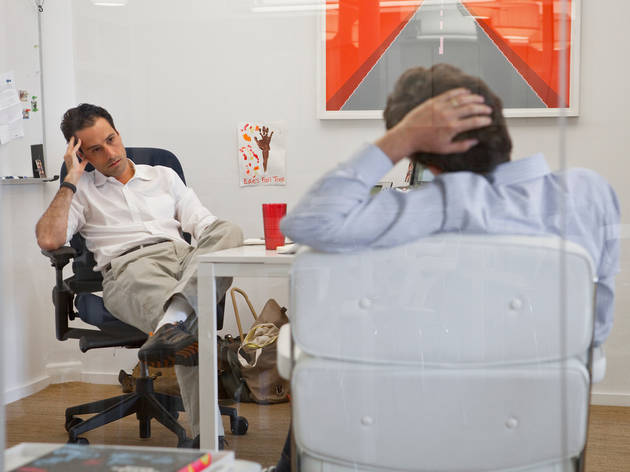 10/13
Photograph: Jakob N. Layman
Peretti and BuzzFeed president Jon Steinberg meet in the latter's office. Steinberg joined the BuzzFeed team in 2010, and works on ad operations, marketing, human resources and finance for the company.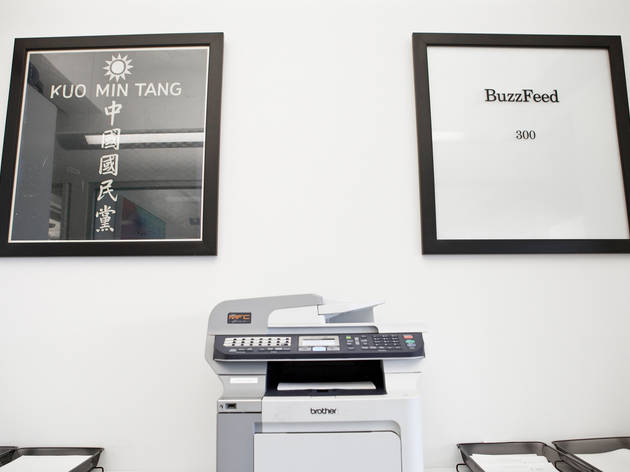 11/13
Photograph: Jakob N. Layman
These posters are remnants from BuzzFeed's first office in Chinatown, which was slightly less upscale than the company's current digs. "When we were in Chinatown, there were cockroaches that lived on the back of people's computers," explains senior editor Matt Stopera, who has worked at BuzzFeed for four years. "You would type and—I'm not even joking—there would be a roach that would crawl across you. It was gross."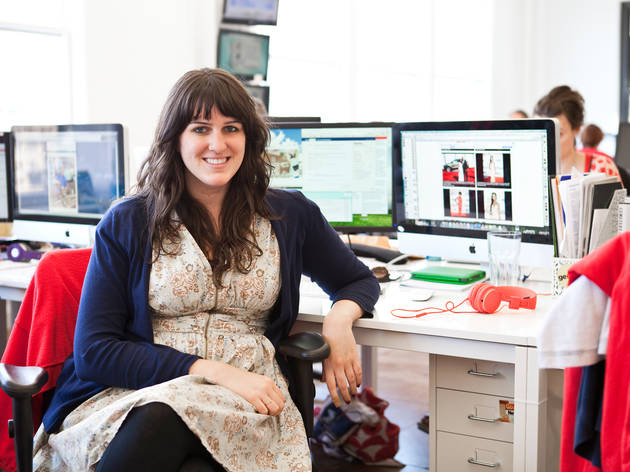 12/13
Photograph: Jakob N. Layman
Senior editor Whitney Jefferson worked for Gawker and Jezebel before coming to BuzzFeed at the beginning of the year. "What I like best [about BuzzFeed] is that, at other jobs I've had, they'd give you an assignment and you'd have to write about it, no matter what," she explains. "But here, they really encourage you to write about what you're interested in and what you know. It's really fun. The people here are really creative, and we all have a good time."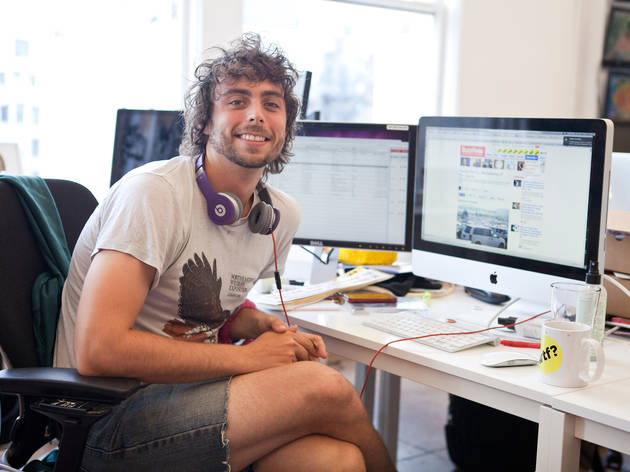 13/13
Photograph: Jakob N. Layman
Matt Stopera started at BuzzFeed as an intern in 2008, and has since worked his way up to senior editor. He's created some of the site's most popular posts, including "13 Simple Steps to Get You Through a Rough Day" (at press time, the article had received more than 6 million total page views). "I like making someone's day. When you [create a post] that really spreads, it's the best feeling," he notes. "And it's so cool to be able to reach so many people."


BuzzFeed (buzzfeed.com), which brands itself as a "social news organization," has perfected the art of posting heavily visual content that people are compelled to share. Witness a recent post, "21 Pictures That Will Restore Your Faith in Humanity," which has garnered more than 9 million page views. "There's something interesting and profound about the shift that's happening, from publishers and broadcasters having a huge amount of influence [to] seeing people have a lot of influence over their friends," explains BuzzFeed founder Jonah Peretti. But the company has also broadened its reach to include original reporting and breaking news. In January 2012, Ben Smith, a former reporter for Politico, signed on as BuzzFeed's editor-in-chief. Under his watch, the company has launched several sections (such as the women-focused Shift and techcentric FWD) and expanded its political coverage. "We've changed what we're doing here a lot," says Smith. We spent some time in the trenches to see how this start-up operates.
Wanna work here?
Many employees whom we spoke with offered this piece of advice: If you want to write or work for BuzzFeed, become active on the website. "A lot of people we've hired have been our users," notes senior editor Whitney Jefferson. "Anyone can publish. A lot of people come in as interns, or they're hired full-time from being users and posting really good content on our site." It's also important to be enthusiastic about covering a particular topic or beat. "We hire for such different jobs, and [for] most of them, we just look for the most talented people we can find," explains Smith. "I tend to be biased in favor of people who love the content." Peretti also notes that the company recently launched a fellowship program, a paid internship that gives participants experience creating the type of shareable content that BuzzFeed does best. "We're bringing in guest speakers, and helping to train and mentor people, so they can really understand how to make things for the social Web," says Peretti.
Career advice from the Buzzfeed crew
"You don't have to be good at everything. If you're passionate and good at one thing, that's actually more valuable. If you're passionate about the Web culture, you're passionate about reporting, you're passionate about advertising, you're passionate about whatever it is, I think you end up learning more every year. The knowledge you have compounds, and you get better and better at things."—Jonah Peretti, founder and CEO
"It still pays to have a blog or Tumblr. It gives you clips, it gives you a place to show people [your work]. Tweet a lot. If you're someone who's looking to get a staff job somewhere, it does help to intern. Intern at multiple places. That can be a really great way to get a foot in the door, more so than just realizing you want to work places."—Anna North, Shift senior editor
"It's really important to be open to new forms that you probably weren't taught in journalism school. The Web is changing really fast and you can adhere to the values of traditional journalism while doing stuff that looks nothing like it at all, and not turning your nose up at forms that seem really weird and different."—Ben Smith, editor-in-chief
"People do respond to e-mails if you pitch them enough. Whatever your age or background is, I think people will still listen if you put yourself out there. There aren't actually a lot of barriers to entry—you don't need a certain degree or pedigree. If you can do it, you can do it. If you don't, you can't. You just have to start somewhere."—Hillary Reinsberg, Shift associate editor
You might also like
Best jobs 2010: Tumblr
Master Twitter and Tumblr
See more in Things to Do