Cute animal alert! Meet NYC's cutest furry friends (SLIDE SHOW)
Cute animals abound in this city, not just at the zoo or local dog parks. Check out our pictures of the cute cats, dogs and other creatures that call the city's shops, bars and other institutions home.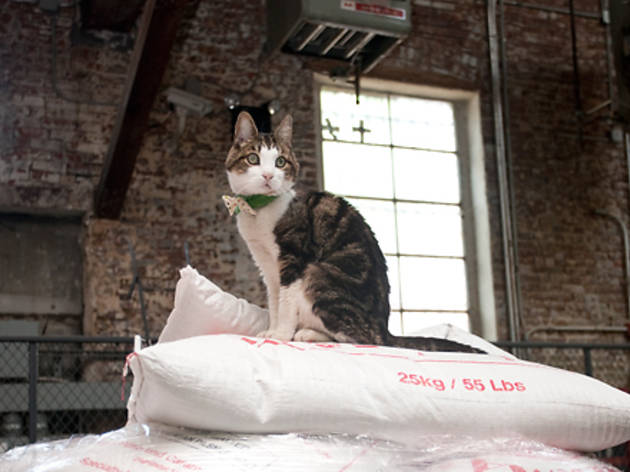 1/15
Photograph: Cinzia Reale-Castello
Monster
This handsome devil holds court at the Brooklyn Brewery, mingling with bargoers on weekends. Monster was adopted in 1999 and was quickly promoted to vice president of mouse control and happy-hour host. The affable cat has become so popular that he has his own Facebook fan page and a special section, Monster's Log, on the brewery's blog. Brooklyn Brewery, 79 North 11th St between Berry St and Wythe Ave, Williamsburg, Brooklyn (718-486-7422, brooklynbrewery.com)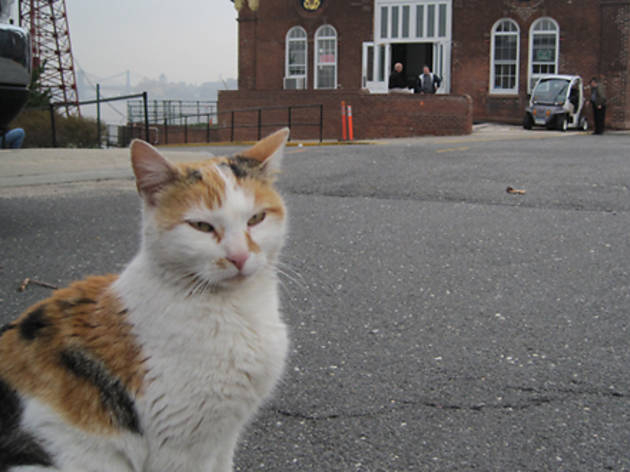 2/15
Photograph: Courtesy the Trust for Governors Island
Molly Brown
This calico cat washed ashore on Governors Island in 2011. After searching for her owner, the staff adopted the little castaway, and held a contest on the Governors Island's blog to give her a name. ("Molly Brown" beat out such monikers as "Salty" and "Buttermilk.") Despite her rough journey, Molly Brown is friendly and roams around the bookstore and visitors' center in Building 140 near the ferry landing—stop by to catch a glimpse of her. Governors Island (212-440-2200, govisland.com)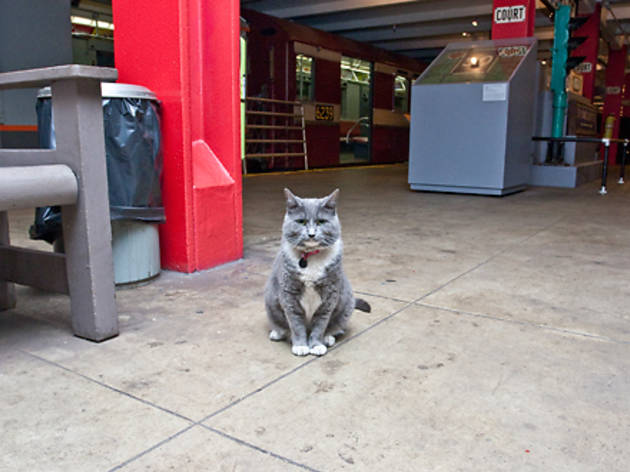 3/15
Photograph: Krista Schlueter
Sadie
Unlike actual subway stations, the New York Transit Museum is mostly rodent-free—which can be attributed to Sadie, the gray-and-white cat who lives there. Sadie assumed vermin-regulating duties as a kitten. Her favorite spot for an afternoon nap is the counting table in the 1956 money car on the platform level. If you see her there, scratch her under the chin. New York Transit Museum, Boerum Pl at Schermerhorn St, Downtown Brooklyn (718-694-1600, mta.info/museum)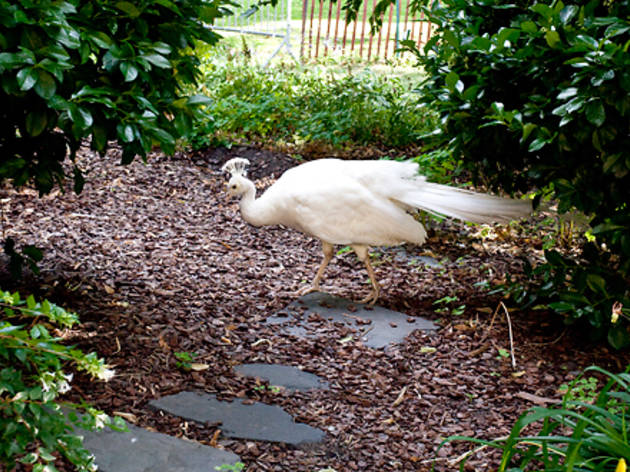 4/15
Photograph: Beth Levendis
Harry, Jim and Phil
The tradition of peacocks living at the Cathedral Church of St. John the Divine began in 1973, when the Bronx Zoo gifted the church its first birds. The current trio has called the holy house home since 2002. Keep an eye out for the birds in the Peacock Hutch and the Pulpit Green. The Cathedral Church of St. John the Divine, 1047 Amsterdam Ave at 110th St (212-316-7540, stjohnthedivine.org)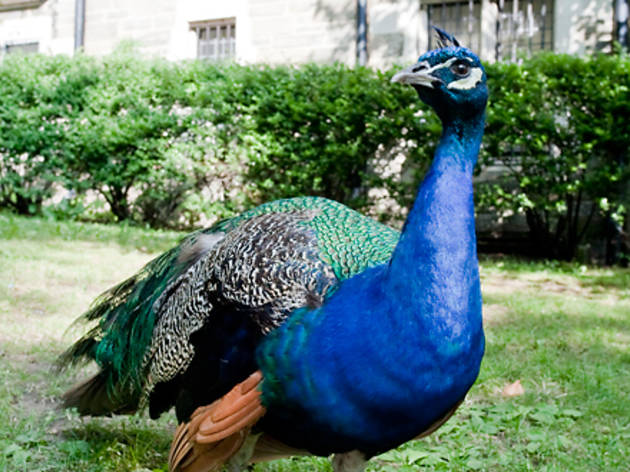 5/15
Photograph: Beth Levendis
One of the Cathedral Church of St. John the Divine's peacocks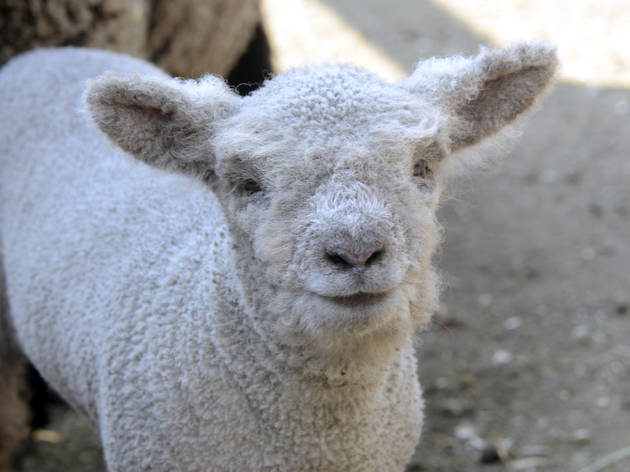 6/15
Photograph: Julie Larsen Maher © WCS
Kiwi
Kiwi, a babydoll lamb, was born in early March, can be seen in the Tisch Children's Zoo at the Central Park Zoo, and in case you haven't noticed, is also ridiculously adorable. Central Park Zoo, Southeast corner of Central Park, enter at Fifth Ave at 64th St (212-439-6500, centralparkzoo.com)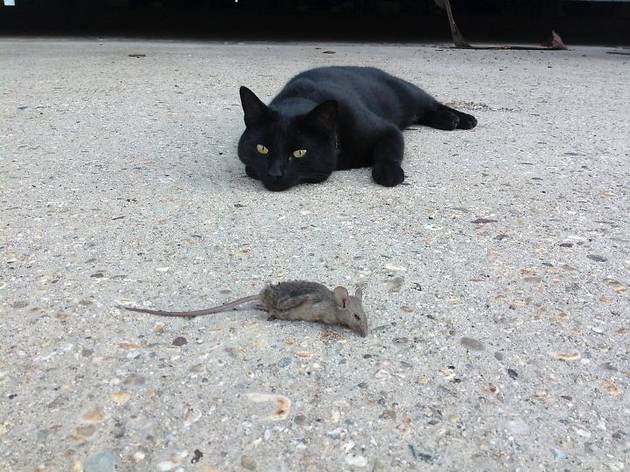 7/15
Photograph: Carolina Salguero
Chiclet
This black kitty acts as the official ship's cat for the Mary A. Whalen, a retired oil tanker that serves at the de facto headquarters for PortSide New York. Among her duties: mouse-catching, supervising the humans who work on the ship and, according to a press release she issued last year, "I designed the Twitter page for PortSide, although it was under false pretenses—I was led to believe it would attract birds." 917-414-0565, portsidenewyork.org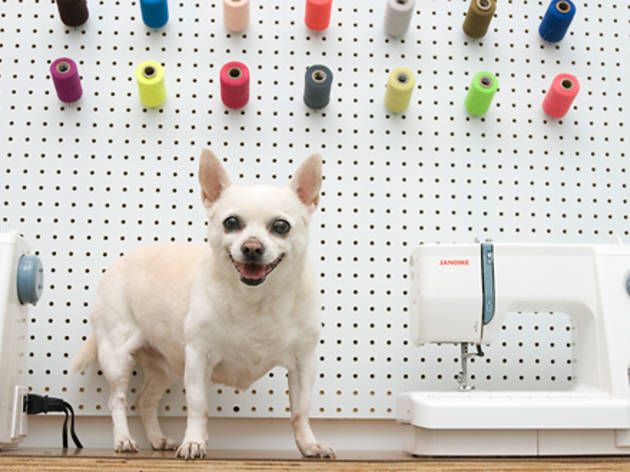 8/15
Photograph: Alex Strada
Rita
Visitors to Diana Rupp's Make, a craft studio founded in 2002, are greeted by Rupp's 14-year-old Chihuahua. Rita's appearances in Rupp's own crafty books solidified her position as mascot: In 2007's Sew Everything Workshop, the petite pup posed in a doggie-sized jacket, and in Embroider Everything Workshop, Rita is the subject of a hand-stitched portrait. Make, 195 Chrystie St between Rivington and Stanton Sts, studio 402 (info@makeworkshop.com, makeworkshop.com)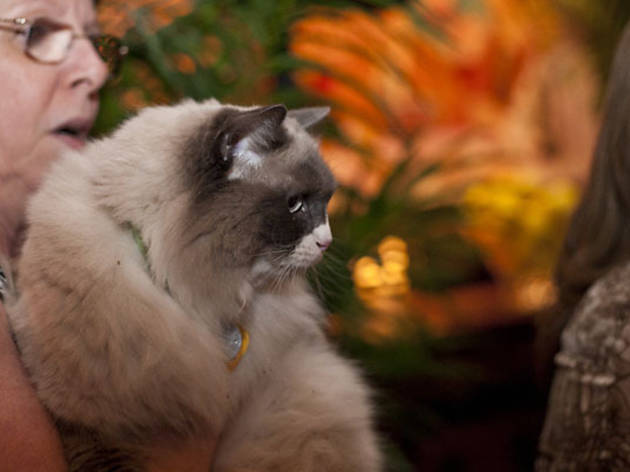 9/15
Photograph: Virginia Rollison
Matilda
A succession of felines have called the Algonquin Hotel home since the 1930s, after then-owner Frank Case let a stray cat camp out there. The current resident, Matilda, is a fluffy five-year-old Ragdoll cat; in August, her birthday is celebrated with a party and cat fashion show (which is as amazing and hilarious as you would expect). The Algonquin Hotel, 59 W 44th St between Fifth and Sixth Aves (212-840-6800, algonquinhotel.com)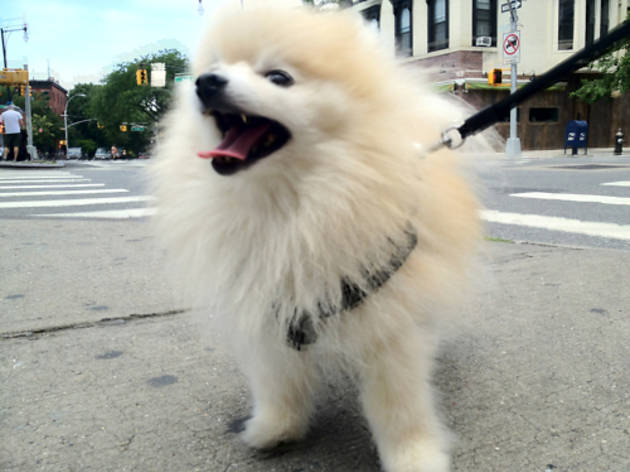 10/15
Photograph: Mackenzie Kosut
Tommy the Pomeranian
This 10-year-old pooch started life as a show dog in South Carolina, but now spends his days as the unofficial mascot of the Gramercy-based blogging site Tumblr where, according to him, "my #1 responsibility is keeping everyone entertained." You can keep up with Tommy's adorable adventures by following his blog (tommypom.com).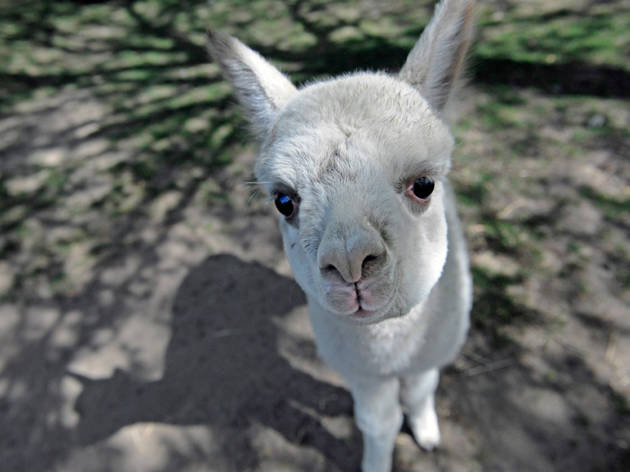 11/15
Photograph: Julie Larsen Maher © WCS
Baby alpaca
This male baby alpaca (also known as a "cria") is the most recent addition to the farm at the Queens Zoo. You think it's cute? Mother and baby alpacas are known to hum to one another. That's cute. Queens Zoo, 53-51 111th St at 53rd Ave, Flushing, Queens (718-271-1500, queenszoo.com)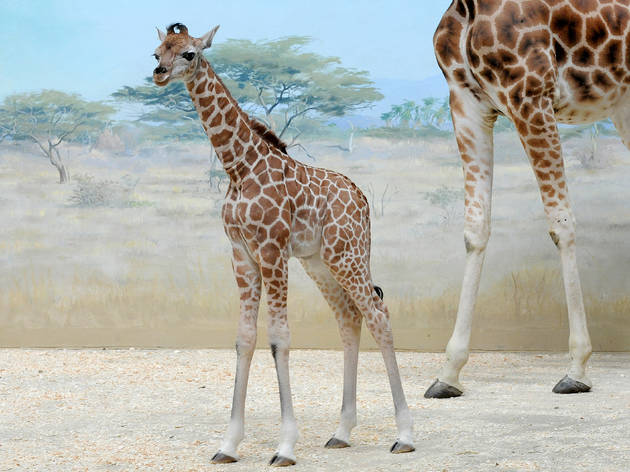 12/15
Photograph: Julie Larsen Maher © WCS
Baby baringo giraffe
This newborn is the latest addition to the Bronx Zoo's herd of eight giraffes in the African Plains exhibit, which also features lions, zebras and wild dogs. (Don't worry—they keep them separated). At birth, the female calf was approximately six feet tall—she could look down on you with a stank eye already. She may grow to be 16 feet. Bronx Zoo, 2300 Southern Blvd at Fordham Rd, Bronx (718-220-5100, bronxzoo.org)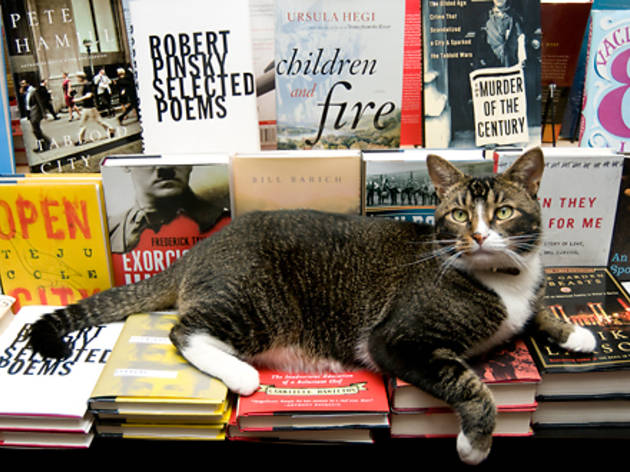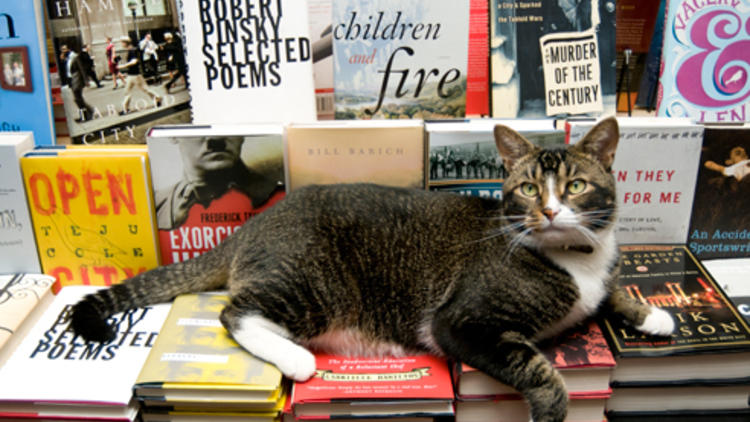 13/15
Photograph: Alex Strada
Tiny
Animals have always been welcome at Park Slope's Community Bookstore: The shop was once inhabited by an iguana named Gomez, two dogs, two cats, a hamster and a bunny. But when coproprietor Ezra Goldstein took over last year, he whittled the menagerie down to a more manageable group; now, a bearded dragon, a cat and two turtles (who live in the pond in the shop's backyard) call the store home. Tiny often sleeps on the counter or in the front window. Community Bookstore, 143 Seventh Ave between Carroll St and Garfield Pl, Park Slope, Brooklyn (718-783-3075, communitybookstore.net)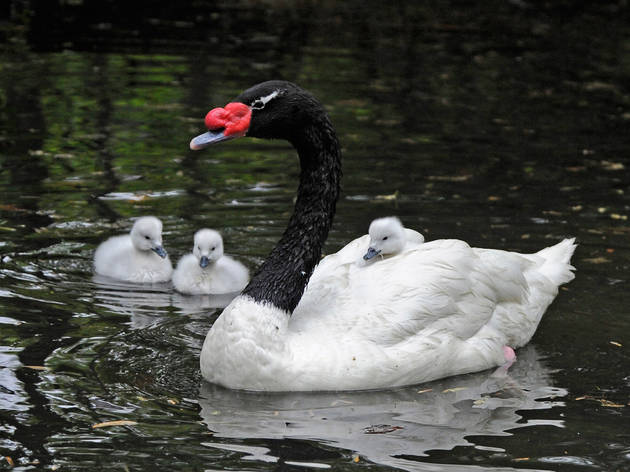 14/15
Photograph: Julie Larsen Maher © WCS
Black-necked swan cygnets
One of the new brood hitches a ride on a male swan. The young travel this way for warmth, ease of transportation and protection from predators. The hatchlings live on the Bronx Zoo's Heart Lake, located on the western side of the menagerie between the Southern Boulevard entrance and the Birds of Prey exhibit. Bronx Zoo, 2300 Southern Blvd at Fordham Rd, Bronx (718-220-5100, bronxzoo.org)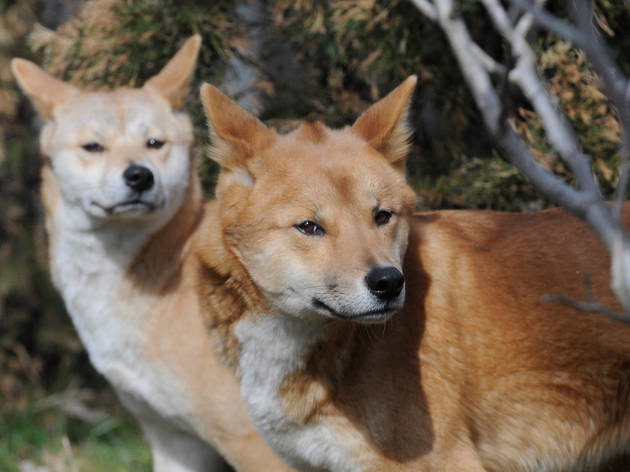 15/15
Photograph: Julie Larsen Maher © WCS
Akira, Bindu, Dacu and Cobar
Four dingos—the first to be seen in New York zoos for 40 years—have joined the western grey kangaroo, rock wallabies and emus in Prospect Park Zoo's Australian Walkabout exhibition. The wild dogs are on view in male and female pairs. And who knows, if love blossoms, perhaps we'll be rating baby dingos in the next few years. Prospect Park Zoo, 450 Flatbush Ave at Empire Blvd, Prospect Park, Brooklyn (718-399-7339, prospectparkzoo.com)
New York is home to world-class institutions like the Bronx Zoo, where you can see more than 5,000 creatures in different habitats. But cute animals also live in the city's bars, shops, and other cultural institutions—the Brooklyn Brewery has its own mouse-catcher, as does the New York Transit Museum. Meet these furry critters in our photo tour of some of the city's cutest animals.