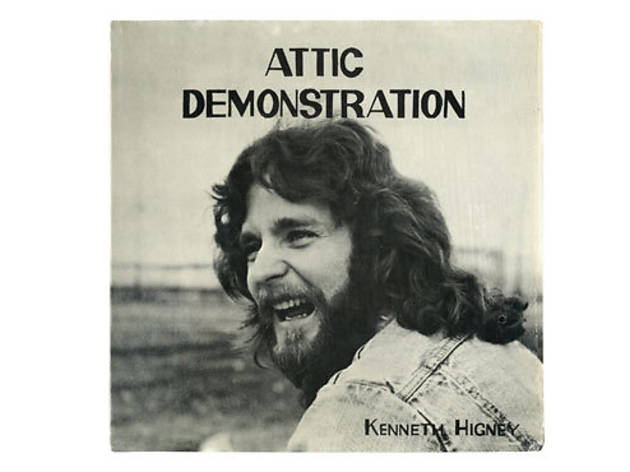 1/9
"Kenneth Higney created what is usually considered the most emblematic of all private press records, the Attic Demonstration LP. Higney was a New Jersey truck driver who sold his big rig to finance a 1976 New York City album about love, fame, morality, and trucking. The record was supposed to be a demo for Higney's songwriting abilities, however due to an unrehearsed, one-take approach to the recording, the record has gained many fans who cherish its off-kilter, raw sound. It is a record where the personality of the performer comes to the forefront, what Paul Major designated as Real People Music. Or as, Kenneth Higney himself once said, 'This ain't a new wave, it's a whole new ocean.'
Here's our favorite track, 'No Heavy Trucking.'"
2/9
"Sherry and Myrna Emata were sisters who won back-to-back Yamaha Electone Organ contests. The privately pressed record The Winners! was a celebration of the sisters' success. However, musicality was not confined to only Sherry and Myrna—the whole Emata family was musical. The two sisters were part of The Emata Family band. Their biggest venue was the San Jose Convention Center, where Sherry fondly remembered playing a mix of traditional Filipino tunes, disco, and lounge music. The highlight of that show was when Sherry and Myrna performed the traditional tinikling percussive bamboo dance in 3/4 time that then segued seamlessly into a 4/4 disco version of 'MacArthur Park.'"
3/9
"Bill Russell, aka Medico Doktor Vibes, is from Guyana. At some point in the 1970s, he moved from his homeland to Los Angeles and enlisted in the U.S. Army. While serving overseas, Russell watched his Army friends recording music with their own equipment, no fancy studios, no label backing, and by the time he returned to the U.S., he had decided to create his own album. Russell invested large amounts of money into the promotion of the 1979 LP, Liter Thru Dorker Vibes. The record was issued in a single edition of 100 copies. He considered it a demo record, and sent a few out to friends, a local library, and one to a radio station. The title, Liter Thru Dorker Vibes, was a 'politically correct' way of commenting on American race relations. Through Liter, Russell hoped that light and dark-skinned people could vibe off of the same music. Liter being a cloaked version of 'lighter' and Dorker meaning 'darker.' Look out for the Companion Records reissue!"
4/9
"Gary Schneider's birthplace is unknown, but he has been a longtime resident of the Bay Area. He was a fixture on the 1970s and 80s gay nightclub and lounge scene in the Polk District of San Francisco. However, Schneider himself, was a straight-laced nerdy type, avoiding the drug-addled party scene of the era. His musical roots rested more comfortably in the olden times of Tin Pan Alley. DJs were to be the death of many live acts, and Schneider bemoaned their onset. By the end of the 1980s, he had stopped performing publicly."
5/9
"Bob Harrison hailed from Grass Valley, California. He reportedly spent a good while as a salesman, real estate business owner, and then President of the Chamber of Commerce. These local successes didn't satiate his ambitions however, for the four-octave 'man of many voices' took it upon himself to transition into a full-time musician. This career change resulted in the debut LP Yellow Moon, released on his own BOBco Records. According to the liners, Bob recorded the album 'primarily because of the overwhelming response from his friends who watch[ed] him perform his songs in night clubs and concerts.'
Here's a cut titled 'What's Wrong With You.'"
6/9
"Jim Ryan's record Cast Off is a set of fantastically narcotic organ music. The performer was a fixture at Ashtabula's Geneva-On-The-Lake, Ohio's first summer resort."
7/9
"This LP is not actually by Frank Sinatra but rather was recorded by a group named The Superstars. The misleading cover design seems to be an attempt at reeling in a prospective customer on name recognition before they realized that the real artist (listed on the back cover) was not Ol' Blue Eyes."
8/9
"Down Home With Duff is an example of a literally homemade record. The photograph is tipped on with glue and the lettering is hand-stenciled. The record itself is a label-less lacquer plate. Dick Bollman of Drifter Magazine is quoted on the back cover, praising artist Al Duffield: 'At its base there is a grit earned by a man who has lived hard. And he has no compulsion to hold back these experiences. It is clear that Duff is a name we'll see more of in the future. Hot damn!'"
9/9
"Legendary record dealer, musician, and co-editor of Enjoy The Experience, Paul Major, wrote the following about Frederick Michael St. Jude: 'There was this weird leakage of guru action '60s into swinging singles apartment complexes in the '70s that pre-configured disco sex vibes... probably the best artifact to encompass the feel is the waterbed in a room with an astrology poster dayglo... Only in America!'"
Milk Gallery, Boo-Hooray Gallery and Sinecure Books present this opening party for an exhibit on Enjoy the Experience, a newly released coffee-table tome about private press records. At the bash, NYC rockers Endless Boogie and Dutch musician Bud Benderbe perform. To attend, R.S.V.P. by e-mailing milktheexperience@milkstudios.com.