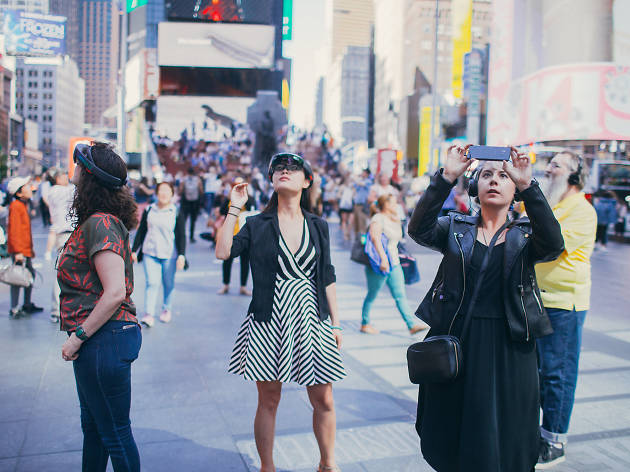 Five facts about the immersive installation powered by Microsoft that's taking over Times Square
The past and the future are converging, literally, right before your eyes
Times Square might not be your jam because of all the Doras, Captain Americas, and Minnies swarming around, but we've got a reason for you to get yourself back there. Two new commissions of conceptual artist Mel Chin's ambitious All Over the Place exhibition opened to the public on July 11 in Times Square. Here are five things that will give you some insight before you go, and make you look smarter than your friends.
Facts about the "All Over the Place" installation
Unmoored is Chin's first mixed reality project. It's cool, thought-provoking, and eye-opening in equal doses. Chin was empowered to create this experience in collaboration with Microsoft. He has used their mixed reality technology to create a visceral, visual experience that responds to your movements, and layers a digital projection on top of the real world. Slip on a Microsoft HoloLens device, or use your mobile phone and you'll be transported to a future Times Square, that has been partially submerged because of climate change. You'll find yourself at the bottom of the flooded city, while boats above you maneuver byways just like the trucks, cabs, and commuters from New Jersey do on the streets and avenues now.
With Unmoored, Chin hopes to spark discussion and encourage people to start thinking about how their actions interact with the realities of climate change – and what they can do to help fix things. It's something that certainly aligns with what Microsoft is up to (they're not just making tech, programming software and supporting seriously cool mixed reality art projects, you know). Through initiatives like AI for Earth, they're working to empower people to find innovative uses for tech that can help solve our environmental challenges. See? This lot are no strangers to sustainability. And they're putting the tools in our hands – so thinking caps on, people.
The physical entry point to Unmoored is a second work called Wake, an animatronic 24-foot tall female figurehead merged with what looks like the ribs of a whale, or the frame of a shipwreck (we won't spoil it for you). The figurehead is a reproduction of one made in the mid-1800s for the USS Nightingale. It was modeled after Jenny Lind, a Swedish-born opera singer who was arguably the world's first real superstar. Lind used her income from touring the US to fund public education initiatives in Sweden. She parted ways with her tour promoter, P.T. Barnum (or Hugh Jackman) because she felt he was overmarketing her. Go, Jenny!
The USS Nightingale (the clipper ship that the Jenny Lind figurehead was attached to) has a very complex history that included being a supply ship in support of the Union Army and exploring the Arctic before it sank in 1893. Its ties to the burgeoning economy of this city at that time is why Chin used it here.
Mel Chin has a permanent installation in New York, and it's a quick subway ride from Times Square to Broadway-Lafayette (take the shuttle to the 6). In fact, when you arrive, you're already there. Signal, completed in 1997, can be found in the Broadway-Lafayette subway station. It inserts Native People's presence, as a living culture, onto the Dutch-derived tile infrastructure of the station itself. Bonus: you just got out of Times Square.