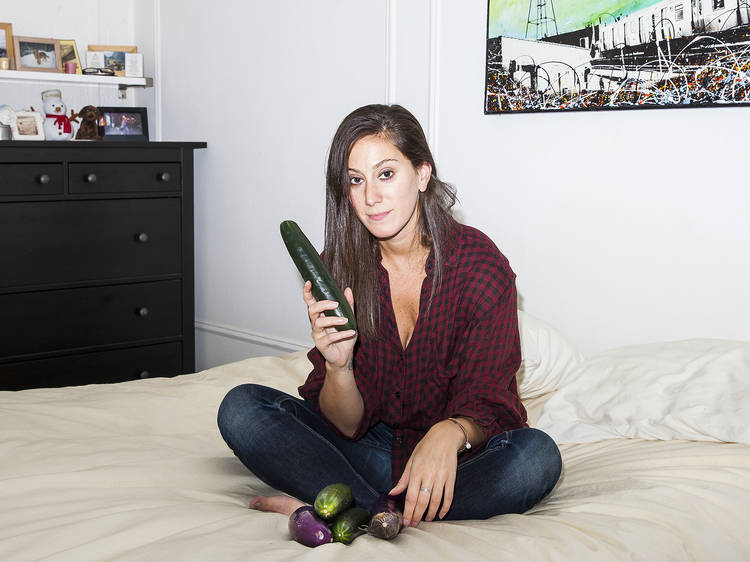 Photograph: David Williams
Masturbating
A chronic rubber-outer gives her fingers a rest. By Meagan Drillinger
When it comes to self-love, there's a widely held belief that women can hold out longer than men because we don't "need" it as much. In fact, during "The Contest," the assumption is that Elaine will win by lasting the longest because she has a vagina. She loses. Because guess what: Women like orgasms.
I masturbate every day, sometimes twice. I started doing it at this frequency two years ago, when the pressure at an old job would leave me tossing and turning at all hours of the night, wide awake, and it seemed to be the only thing to help my mind to quiet down. There's something in the New Yorker manual that says we are required to carry more stress than everyone else, so finding relief requires a method of survival. While some of you pop Ativan like Skittles or SoulCycle your way to a comatose-like level of Zen, I lie on my back, vibrating my way to sanity.
Masturbation isn't a vice, per se, but just like those times when you give up alcohol for a month to make sure you are not, in fact, an alcoholic, I want to see if it's something I can pull off. So I stash away the vibrator (goodbye, friend!) to see how long I can last.
The first night is a piece of cake. I go out drinking at a couple of holiday parties, and by the time I return home, I'm too tired to get it up, so to speak. But the universe—that bastard—is ready the second night to see just how serious I am. Around midnight, my phone sounds a single buzz, signaling a WhatsApp notification. That could only come from one person: a long-distance whatever-you-want-to-call-him Canadian I'd met in Mexico. He's one of those men you can only meet while on vacation, like someone Nicholas Sparks dreamed up, a bad-boy Ken doll with intense blue eyes, a body cut from marble, tattoos and a motorcycle. I open the message. His "I can't believe those are real" abs reach all the way to my vagina's ears (vaginas have ears, you guys!), and I almost can't help myself. My screen reveals a photo of his penis giving me its best "come hither" stare (penises have eyes, you guys!), so I turn off my phone to prevent further temptation and pop half a sleeping pill.
Night three. Tucked into bed, phone safely in the other room, I'm minding my own business in sleepytown when Hot Guy from the Gym decides to make an appearance for an episode of "dream sex from behind." What's a woman to do in dreamland except sit back and enjoy? Which Dream Meagan happily does, much to the dismay of Actual Meagan, who is on a mission. My skin tingles, blood flows to all necessary areas, and it becomes abundantly apparent that an orgasm is going to happen. About 40 percent of women achieve nocturnal emission—think wet dreams for girls—at least once, and I do it often. I wake up. "Fuck it," I mutter, reaching for that old friend in my nightstand drawer and taking matters into my own hands for 30 seconds of glitter, rainbows and stars shooting out of my eyes. (That's what happens when I orgasm. Be jealous.)
As I drift back to sleep, I wait for that guilty feeling we all get when we slip back into bad habits—that same feeling I get when I sneak a cigarette. But all I feel is satisfaction and relief. There are some things we are meant to give up. Rubbing one out on the reg, at least for me, should never be one of them.
Quit for: 2 days, 14 hours