Heads up! We're working hard to be accurate – but these are unusual times, so please always check before heading out.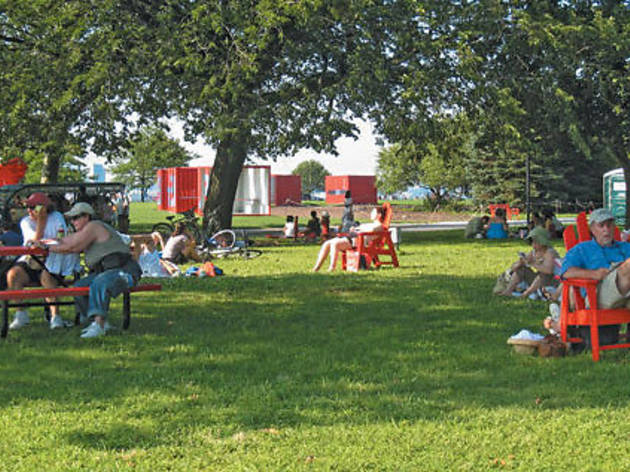 1/20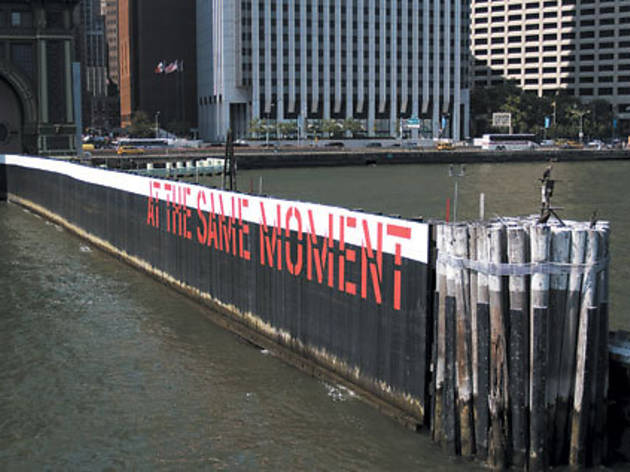 2/20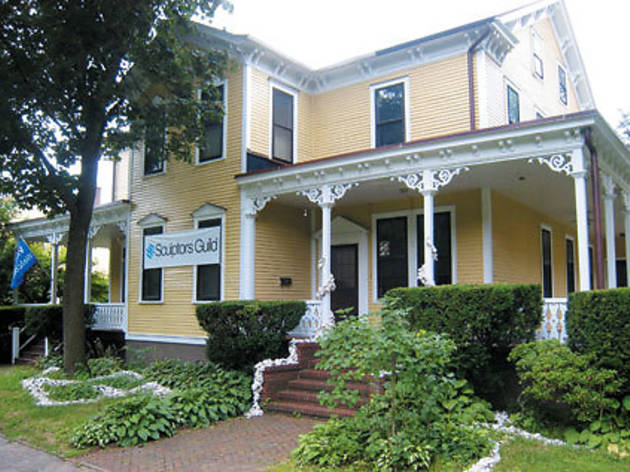 3/20
Nolan Park
4/20
Castle Williams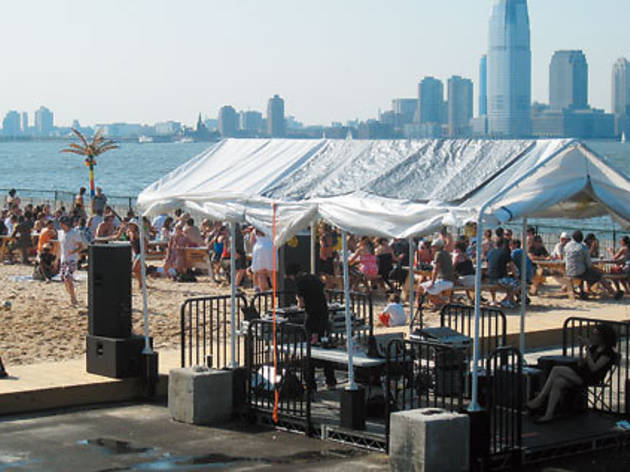 5/20
Water Taxi Beach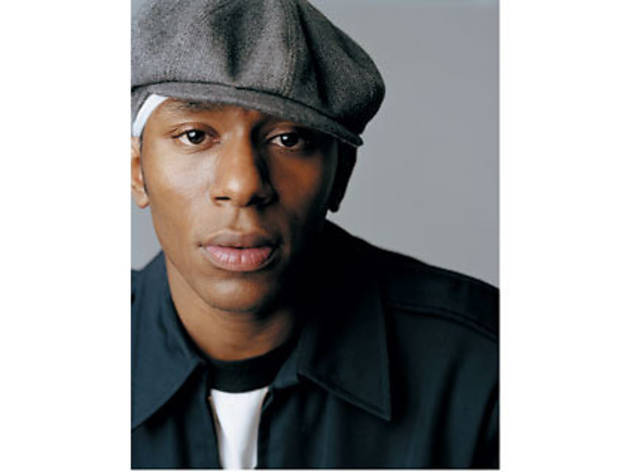 6/20
Mos Def will perform at Water Taxi Beach on September 12.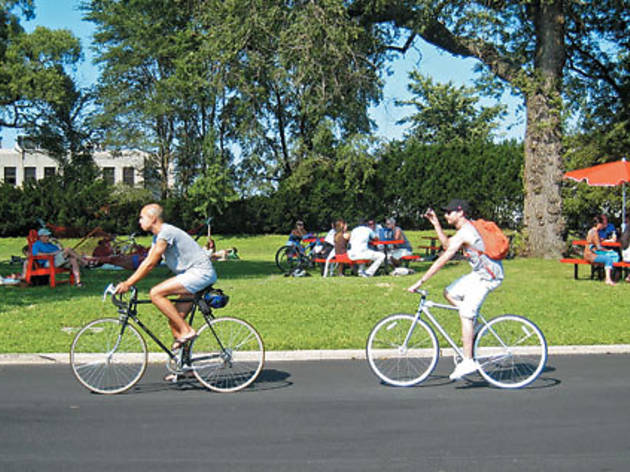 7/20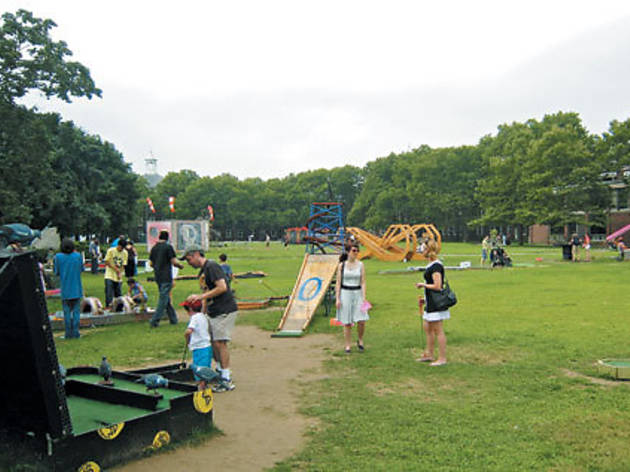 8/20
City of Dreams minigolf course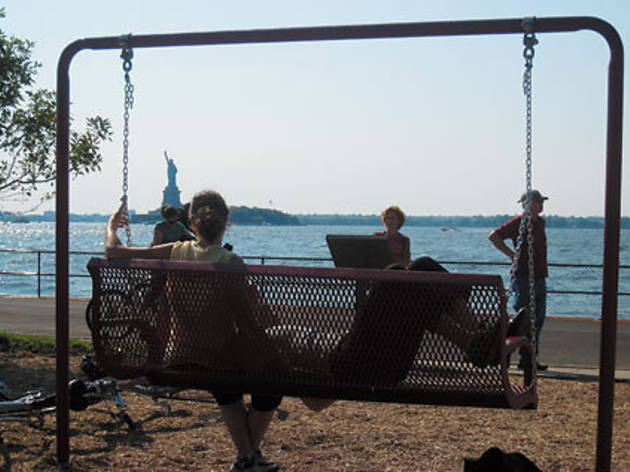 9/20
Picnic Point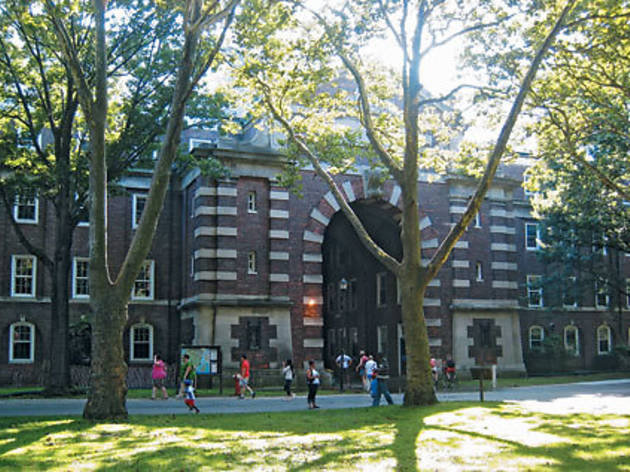 10/20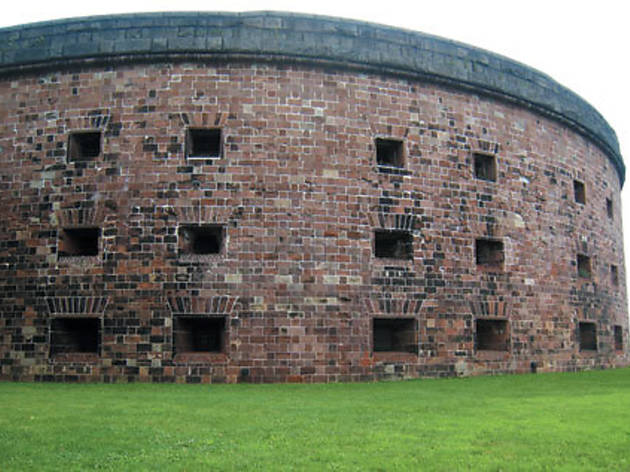 11/20
Castle Williams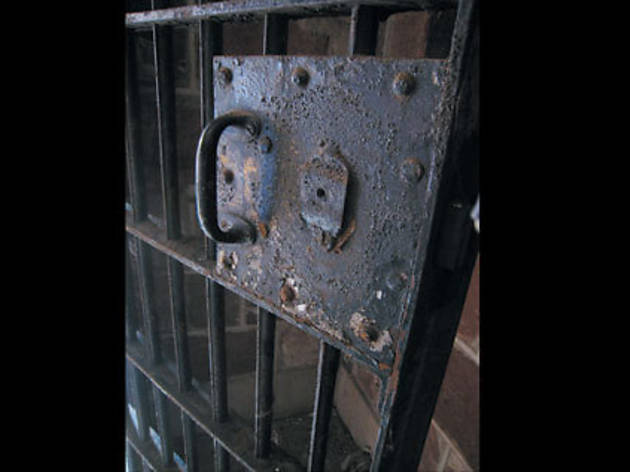 12/20
A cell within Castle Williams, a military penitentiary which was the eastern counterpart to Alcatraz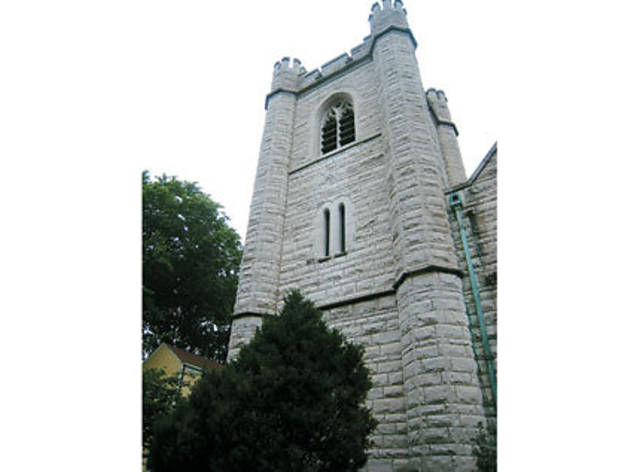 13/20
St. Cornelius Chapel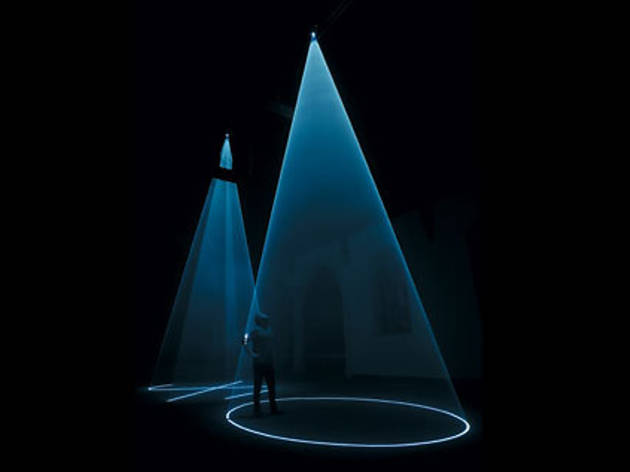 14/20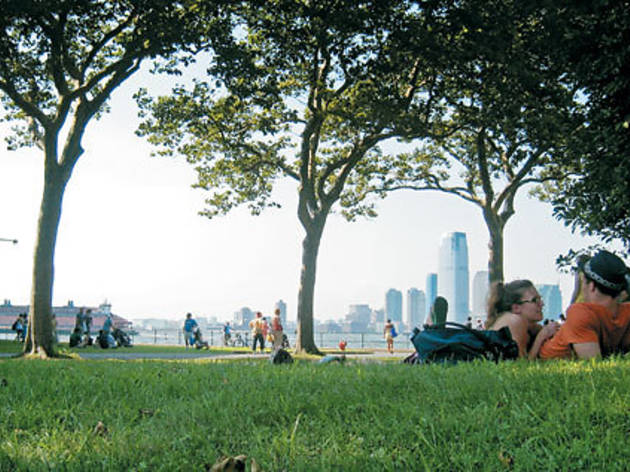 15/20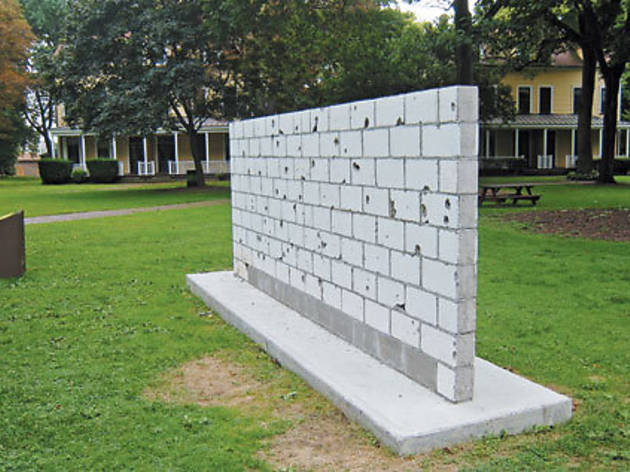 16/20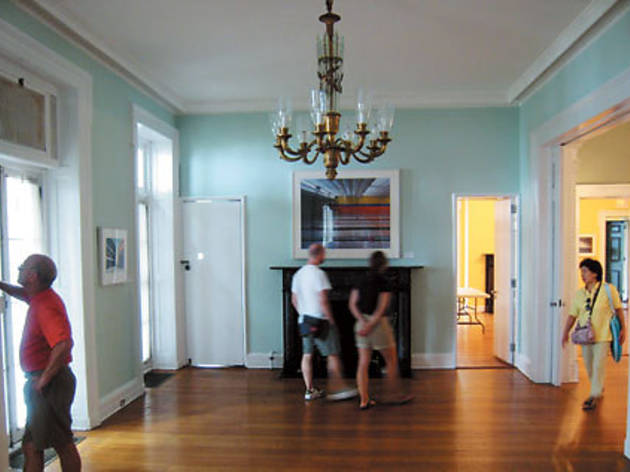 17/20
Admiral's House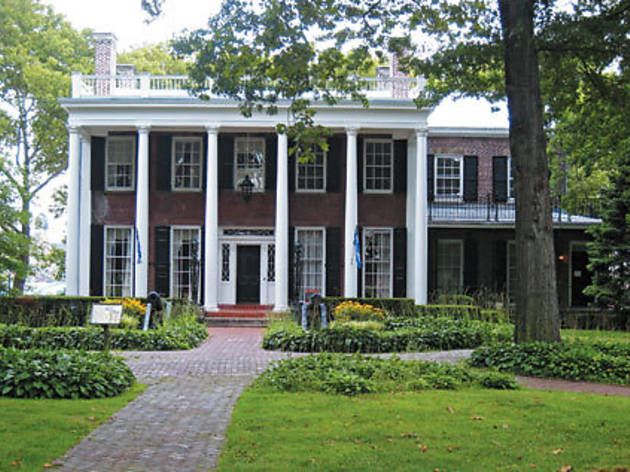 18/20
Admiral's House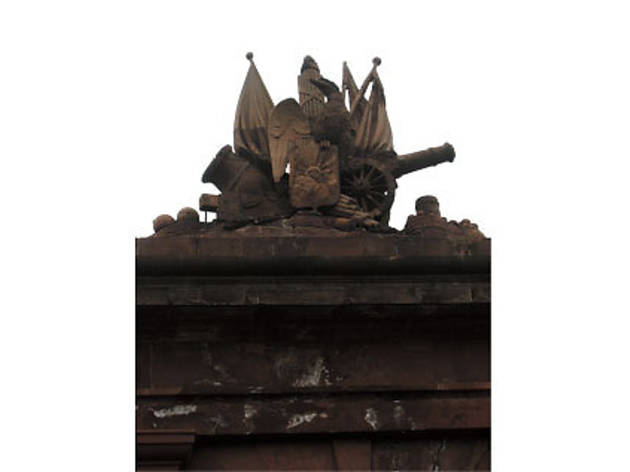 19/20
Fort Jay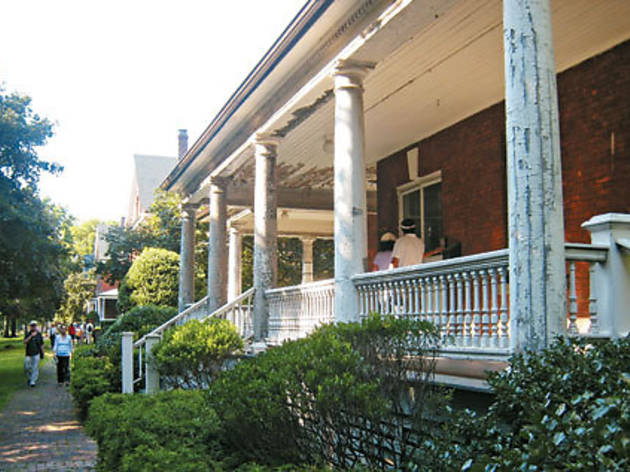 20/20
Nolan Park
Governors Island highlights
What to see and do, from picknicking to putt-putt.
RECOMMENDED: Full guide to Governors Island
Water Taxi Beach
Sun, sand...and skyscrapers. The city's newest Water Taxi Beach could be the best yet. Sure, the LIC original is twice the size, but the island location and big-name gigs presented by the Highline Ballroom are hard to beat. The beach grill serves the signature Motz burgers, hot dogs (and veggie versions) and sides, but the new Backstage Caf offers dishes made from local produce (some very local!). By day you can chill out or work up a sweat with a game of volleyball, but the beach is most magical by night—seeing a band against a backdrop of glittering towers (combined with killer rum cocktails) creates a convincing exotic-vacation illusion. Catching the Water Taxi back when the rest of the island is deserted is part of the fun.
Fort Jay
The oldest structure on the island, Fort Jay was built on its highest point. The spot was fortified in 1776 in a failed attempt to fend off the British invasion of Manhattan; parts of the current building, including the imposing sandstone gate, above, date from 1796. In the 19th century Fort Jay was converted into housing for junior officers, and Confederate officers were held here during the Civil War in far more comfortable conditions than their enlisted brethren over at Castle Williams—they were allowed visitors and a laundry service, and even played baseball.
Bike and Roll
Governors Island has more than five miles of bike paths, including the 2.2-mile promenade around its perimeter. Of course, you can bring your own ride over on the ferry, but if that seems like too much hassle, or you don't own one, you can rent an adult bike from $10 per hour at an outpost of Bike and Roll (bikeandroll.com); children's bikes, tandems, quadcycles and accessories are also available. On Fridays, adults' and kids' wheels can be borrowed for free for up to an hour—but get there early, as demand is sure to exceed supply, even though the fleet has been doubled to 200 since last year.
Nolan Park
With its wide-porched wooden houses and mature elms and maples, this elegant ghost town (Lost fans might be reminded of the abandoned "New Otherton") was standard army housing for officers and their families in the mid--19th century. At the northern end of the park are two imposing properties: Governor's House (1813) was the commanding officer's residence until the grander, colonnaded Admiral's House was built next door in 1843. The latter was home to such illustrious military leaders as Douglas MacArthur, and the setting of a 1988 summit between Ronald Reagan and Mikhail Gorbachev. This season, many houses are occupied by art installations and temporary museum outposts.
Castle Williams
Built between 1807 and 1811, this fort was one of several guarding New York Harbor, including Fort Gibson on Ellis Island (before it became an immigration center) and Fort Wood, now the base of the Statue of Liberty. But as the need for harbor defense lessened by midcentury, the need for places to house Civil War prisoners grew. Up to 1,400 were held here, sometimes 40 to 60 men to a cell.
By the late 19th century, Castle Williams had been turned into a military penitentiary—the eastern counterpart to Alcatraz. The island was now the army's eastern-U.S. headquarters, and a jail sentence on this prestige posting was considered a cushy number. "With all the commanding officers running around, the hardest labor here became picking up cigarette butts or mowing the lawn of the golf course," says Kevin Li, one of the National Park Rangers who conduct tours on the island. Not to mention the million-dollar views of lower Manhattan. Legend has it that the boxer Rocky Graziano was incarcerated here after punching his commanding officer in the face.
St. Cornelius Chapel
One of three houses of worship, the Episcopal Chapel of St. Cornelius the Centurion is the only privately owned building on the island. In the 1840s, the Reverend John McVicar from Trinity Church on Wall Street became the military chaplain on the island and constructed a wooden chapel in a corner of the Parade Ground. The present stone structure, which dates from 1906, is still church property.
Picnic Point
Infiltrate the mysterious southern part of the island: An eight-acre patch, offering direct views of the Statue of Liberty, picnic tables, swings and hammocks, is now open. In the early 1900s, this section was built using landfill excavated from the Lexington Avenue subway, more than doubling the island's size. During World War I, the flat terrain accommodated warehouses and barracks for supplies and troops en route to France.
Picnic Point is also the site of the island's very own sustainable food source: Nonprofit organization Added Value, which operates youth-oriented urban-agriculture initiatives in Red Hook, opened a three-acre organic farm in June. Visitors can get their hands dirty on Fridays and Saturdays between 10am and 4pm, and a farm stand, selling crops such as tomatoes, peppers and eggplants, should be open by the end of August to supplement your packed provisions or snacks bought from vendors. Director Ian Marvy says Added Value's vision mirrors the island's plan to "engage people with public spaces and support the growth of culture in New York City."
City of Dreams minigolf course
Nonprofit artist collective Figment has taken miniature golf to a conceptual level with a course that is both thought-provoking and fun. Each "hole" has been designed by a different artist or team, including representations of a postapocalyptic metropolis and a maze of potential life pitfalls—the "Labyrinth of Failure." While waiting to play or between holes, you can explore the interactive sculpture garden interwoven with the course. Recline on a giant infinity sign, or make your mark on a series of chalkboards. The golf course is a way for "emerging artists to think in different, creative ways," says Figment's communications director, Julie Ziff Sint, "and for children and families to get involved in something that's artistic, noncommercial and not just prefabricated." For more information, visit figmentnyc.org.
Colonels' Row
Built in the late 19th century, in part to attract recruits after the bloody Civil War had made the army an unpopular career path, these gracious, brick officers' quarters were waterfront properties before the island's expansion. The vast structure now facing them across the English-plane-tree--lined avenue was built on the extension in the 1920s. Designed by renowned architectural firm McKim, Mead and White, Liggett Hall—at that time the largest military building in the U.S.—housed an entire infantry of more than 1,000 soldiers, training areas and a gym. Next door, Building 333 accommodated the ladies of the WAC starting in 1944—their barracks were separated from the men's by a reinforced, two-foot-thick wall, and their digs were equipped with a beauty parlor and a date room where they could entertain male suitors with propriety.
Getting there
Free ferries leave from the Battery Maritime Building in lower Manhattan (R, W to Whitehall St; 1 to South Ferry; 4,5 to Bowling Green) every hour on Fridays from 10am to 3pm (returning from Governors Island on the half hour from 10:30am to 5pm), and every half hour on Saturdays and Sundays from 10am to 5pm (except between 10am and 11am, when there's only one boat), returning on the hour and half hour until 7pm.
There is now a free ferry service between Brooklyn and the island on Saturdays and Sundays: Boats depart from Fulton Ferry Landing (A, C to High St; F to York St; 2, 3 to Clark St) every 20 minutes from 11am to 5:20pm, returning at 10, 30 and 50 minutes past the hour until 7pm. For complete ferry schedule and updates, see govisland.com.