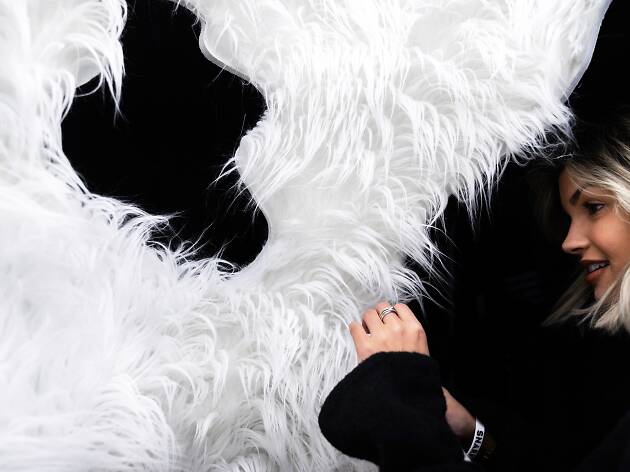 Have you discovered this super-immersive monochromatic forest yet?
This new labyrinthine installation in Hudson Yards is art—but not as you know it
At one point or another, every New Yorker needs a break from reality. If you're craving an escape from the mundane, then we think you need to know about this otherworldly art exhibition in Hudson Yards. It's called 'Lost and Found', and it's the debut installation at Snark Park, open now.
If the 'Snark' bit sounds familiar, then maybe you've heard of the design studio Snarkitecture. The three founders – Daniel Arsham, Ben Porto and Alex Mustonen – envisage Snark Park as an exhibition and retail space with a difference. Forget what you've been told about not touching the art: here, you're encouraged to walk in and interact with it.
Their debut installation, 'Lost and Found', is designed to ignite curiosity. Step into the space and you'll enter a world that is part enchanted forest, part monochrome environment. At first glance, perhaps all you'll notice is a series of huge cylinders; but explore further, and you'll realize that there are secret worlds within the labyrinth. Prepare to be puzzled by optical illusions, coaxed into activities and lulled into a state of relaxation. Whether you're a design nerd, art-lover or you're thirsty for intriguing new adventures, 'Lost and Found' delivers. But we're not giving anything else away – you'll have to experience it yourself.
After exploring 'Lost and Found', make sure you check out the retail space, where you'll find merchandise created by Snarkitecture. Hungry? Reward yourself with a sweet treat by Kith Treats.
'Lost and Found' is open now, from 10am-7pm Sun-Thu, and 10am-11pm Fri and Sat. You can buy tickets for any time until April 30 – book online now.