Heads up! We're working hard to be accurate – but these are unusual times, so please always check before heading out.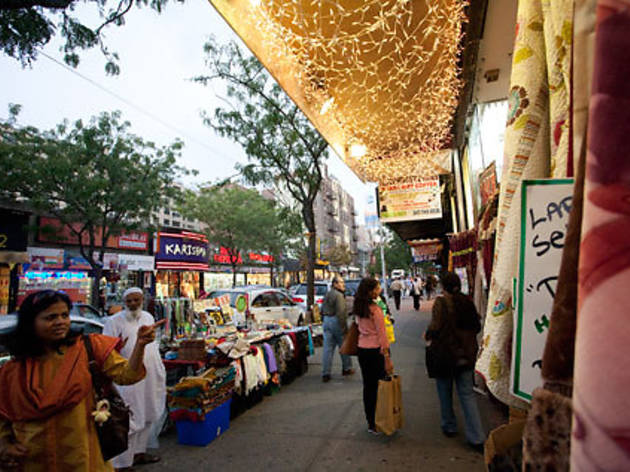 1/2
Roosevelt Ave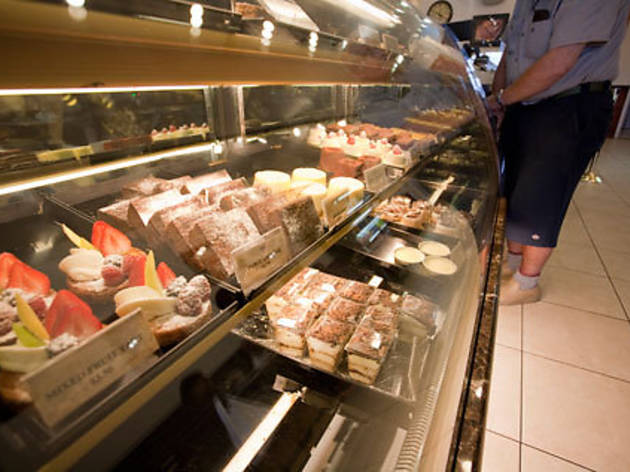 2/2
Cannelle
Jackson Heights is a gleaming example of urban tolerance. New York City's geographical center is in this neighborhood, which is appropriate, considering that—boasting a major transportation hub—it's also Queens's most ethnically diverse community. A stroll down its tree-lined streets not only means swooning over breathtaking garden apartments, but you may also overhear snippets of Spanish, encounter a woman donning a sari or see a cluster of kids, all of different ethnicities, walking to one of New York's top-rated schools. This international aura also means some of the borough's most authentic regional cooking is served up here.
Renzo Ortega, visual artist
"I like the Tamale Lady for the raja and cheese tamales. I also strongly recommend the tamale on roll bread. It is like a tamale sandwich; an awesome breakfast after partying. There are many different kinds of food carts, and they are actually an established business here. The Tamale Lady is 14 years in the business, selling about 500 tamales a day from 2am to noon. Her daughters and daughter-in-law work for her, which is probably the same case with other vendors. The carts generate jobs for people."
Usually at the corner of Roosevelt Ave and 82nd St (no phone)
"Jackson Heights' architecture is really beautiful. I hope local authorities can keep this like it is, and have some regulations for new building development. Between 75th and 87th Streets, if you walk between Roosevelt Avenue and Northern Boulevard you are going to find a bunch of beautiful houses and buildings that are the original look of Jackson Heights. The locals should know these are real treasures, be proud and take care of them."
"My artwork is based on confrontation with societal issues. Jackson Heights in itself is a spot of inspiration. On a ten-minute walk you can be in Colombia, Ecuador, Mexico, India and Pakistan at the same time, and then realize, Oh my God, this is New York. Hey, tourist, this is the real New York, not Times Square. Welcome to reality."
Rudy Greco, civil court judge; author, Jackson Heights: From Ice Age to Space Age
"There are two nostalgic places that still remain after all these years. [Ice cream parlor] Jahn's is the last of a citywide franchise. It's a throwback to what once was. You still get free ice cream on your birthday, too. And Ultima Florals; they have always, and continue to, put out superior work. The owner is Greek, with Mexican, Argentine and French helpers. It's like a big, happy family."
Jahn's, 81-04 37th Ave between 81st and 82nd Sts (718-651-0700) * Ultima Florals, 81-02 37th Ave between 81st and 82nd Sts (718-478-2100)
"I moved to Jackson Heights in 1972, and the landmark process has now stabilized. The neighborhood was once neglected, and now it's a destination. People have become more conscious, and we pay attention to the neighborhood."
Ari Laura Kreith, director, Theatre 167
"I stumbled on Jackson Heights in November 2004. That first night, I got off the train at 74th Street after dark—the lights for Diwali were sparkling in the trees, families were out strolling, the air smelled of food and spices. I felt like I had landed somewhere magical."
"I've been wanting to create theater about Jackson Heights for almost as long as I've been [living] in the neighborhood [since 2005]. As with many New York neighborhoods, much of our life is lived on the streets—and the street life in Jackson Heights is so vibrant and reflects both the diversity and the overlapping cultures. A few months ago, my brother overheard the conversation in [local restaurant] Cositas Ricas of a Colombian woman who had married a Polish man. The couple had just returned from their honeymoon in Spain and were telling her father about their experiences, and her father was telling them his perspective on the cultural differences between Latin America and Spain. He spoke to her in Spanish, she translated to the husband in English, and the whole conversation was very heated and enthusiastic. Such a Jackson Heights moment. We have a Polish deli, My Place Deli, owned by a woman from the Dominican Republic who makes amazing empanadas, and the Elmhurst Hospital ER translates 167—I think—different languages and calls upon various members of its staff who happen to speak those languages in order to meet the needs of its patients. So if the night janitor is the only person who speaks your dialect, he's the one they call if you need help. How amazing, and creative, is that?! How can you not want to make theater about it?"
Cositas Ricas, 7919 Roosevelt Ave between 79th and 80th Sts (718-478-1500) * My Place Deli, 80-10 37th Ave between 80th and 81st Sts (718-899-3867)
"The food in this neighborhood in insane. When I'm away, I miss Cafe La Nueva's empanadas, Thai food from Arunee, South Indian from Dosa Place, and the fact that Espresso 77 feels like everyone's living room."
Cafe La Nueva, 85-02 37th Ave between 85th and 86th Sts (718-505-3700) * Arunee Thai Cuisine, 37-68 79th St between Roosevelt and 37th Aves (718-205-5559) * Dosa Place, 35-66 73rd St between 35th and 37th Aves (718-397-1000) * Espresso 77, 35-77 77th St between 35th and 37th Aves(718-424-1077)
Rajiv Mohabir, ESL elementary-school teacher, poet
"When I was young, my family and I used to come to New York, from Florida by car, at least once a year. We would stay with my father's sister and her family. I remember once when I was 18 and had come to Jackson Heights with my cousin, I saw Shahrukh Khan [an Indian actor] on the billboard on Broadway and Roosevelt Avenue. I knew that this was where I wanted to live. This neighborhood was home to a large South Asian population and I wanted to be a part of it."
"Mehfil is my favorite Indian restaurant. The dining room is intimate without being too small, and the waitstaff is very helpful and friendly. Above all, however, is their palak paneer, which in my opinion is the best in Jackson Heights."
Mehfil, 76-05 37th Ave between 76th and 77th Sts (718-429-3297)
Steve Bodow, head writer, The Daily Show
"Living out here is more an antidote to the work I do than an inspiration for it. You step off the train 15 minutes from the middle of midtown, and Fox News's latest antics seem immediately irrelevant. Roosevelt Avenue is filled with people who just couldn't care less about that crap, and that's a good perspective to encounter, even if briefly."
"I don't know how under-the-radar it is anymore, but there's this French bakery, Cannelle, in a shopping center a couple blocks north of central Jackson Heights. It's run by a French baker who used to work at the Waldorf and his Sri Lankan business partner and their melting-pot staff, turning out nothing but classic French patisserie and boulangerie stuff. It's unbelievably good—absolutely uptown Manhattan quality—and very reasonably priced. But the best part is the clientele, total picture of Queens: Latinos and South Asians and white folks and black folks, all lined up for croissants and gteau Breton.
Cannelle Patisserie, 75-59 31st Ave between 75th and 77th Sts (718-565-6200, cannellepatisserie.com)