Heads up! We're working hard to be accurate – but these are unusual times, so please always check before heading out.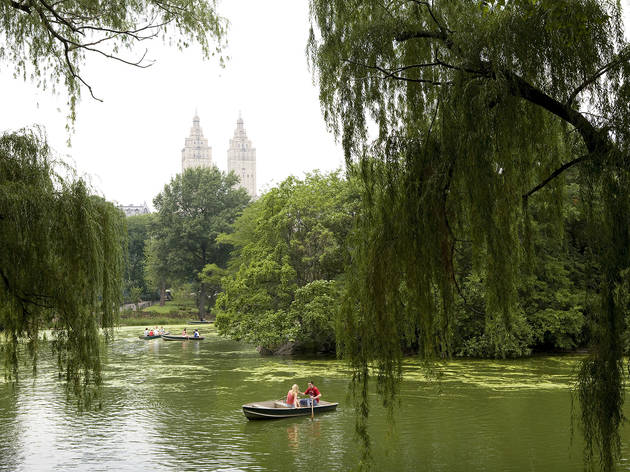 Central Park in New York: Top lesser-known spots
Head to these overlooked areas in Central Park in New York to get a little farther away from tourist crowds.
Central Park in New York is gorgeous, of course. But boy, certain parts of the park can really get packed with visitors—especially on weekends. During your next trip, try out one of these more off-the-beaten-path areas of the park.
RECOMMENDED: Full guide to Central Park in New York
Fort Clinton
Not that there's a fort there now, but this elevated spot that George Washington used to (unsuccessfully) fend off the British now provides a spectacular view of the Harlem Meer. All that remains of the defenses is a stone base for cannons and mortar. The weapons are currently in storage, so you'll have to wait to take amusing pictures of yourself astride a barrel. East side between 106th and 107th Sts, enter at Fifth Ave and 102nd St
Cop Cot
Perched atop a bluff at the southern end of the park, this circular wooden summer house is one of only three rustic gazebos remaining in the park, the others being in the Ramble and the Dene. It's a perfect spot to escape the throng or have a quiet lunch on a bench in the shade provided by a canopy of vines. Midpark at 60th St, enter at Central Park South and Sixth Ave

Great Hill
When your nice, if unoriginal, friends suggest picnicking on this hilltop meadow, persuade them to explore the areas around it. A storm on August 18, 2009 caused significant damage, so the Conservancy had to clear many of the trees. This opened up new areas for lounging and better views of Central Park West, the city and the sylvan landscape before you, and actually brought the area closer to Olmsted and Vaux's original lawn design for the spot. West side from 103rd to 107th Sts, enter at Central Park West and 106th St

The Pool
This body of water boasts a variety of deciduous trees. Find one of the benches that surround the pool, take a load off and take in the view. Make sure you keep an eye out for the majestic egrets and heron that fish here. You won't need binoculars—they're two to three feet tall! West side from 100th to 103rd Sts, enter at Central Park West and 100th St

The Loch and the Ravine
Looking for a bucolic environment to roam that's not the Ramble? Find it strolling among waterfalls and rustic bridges in this section of the park, designed to evoke the Adirondacks and the Catskills. (It sure beats taking a bus upstate from Port Authority.) In fact, Olmsted and Vaux were inspired by the Hudson River School, an art fraternity whose members were contemporaries of the designers. Sara Cedar Miller, the official historian and photographer at the Central Park Conservancy and author of the guide Seeing Central Park, enthuses, "When you go into the ravine and see the cascades, with branches overhanging and stone arches, you do feel like you're in a painting." Midpark north of 102nd St, enter at Central Park West and 106th St
Arthur Ross Pinetum
Just off the Great Lawn you'll find an arboretum dedicated to evergreens. With picnic tables for those who are averse to sitting on the ground, there's also a secluded bench surrounded by pines where you can take refuge from the rugrats on the nearby swing sets. Midpark between 84th and 86th Sts, enter at Fifth Ave and 80th St
The Charles B. Stover Bench in Shakespeare Garden
From the Swedish cottage at the bottom of Shakespeare Garden, walk up the winding path past blooms featured in the Bard's poems and look for a path on the left that leads to this secluded semicircular granite bench. It's nicknamed the whisper bench because the design conducts sound along its length, so couples can sit on either end of the bench and whisper sweet nothings (or naughty somethings) to one another. A word of warning: Please don't try it out on strangers. West side between 79th and 80th Sts, enter at Central Park West and 72nd St

Albert Bertel Thorvaldsen sculpture
Situated in between two transverse roads, this statue of the famous 19th-century Danish sculptor stands in the middle of a circle of benches. Miller explains the statue is a self-portrait of Thorvaldsen at work, thus it's "a sculpture of a sculptor sculpting." Try saying that 20 times. East side between 96th and 97th Sts, enter at Fifth Ave and 96th St
Wagner Cove
Now that the Central Park Conservancy (centralparknyc.org) has completed a multimillion-dollar restoration of the Lake's shoreline, why not enjoy it away from the busy Loeb Boathouse? Head to Cherry Hill Fountain (pausing to admire Jacob Wrey Mould's work and the scenic view), then find the staircase down to this intimate cove with a boat landing on the water's edge. Midpark at 72nd St, enter at Central Park West and 72nd St

Arsenal Gallery
The gallery isn't well signposted inside its imposing building, but just brazenly walk in through the main doors, past the grand, two-story-high murals by Allen Saalburg in the lobby and take the elevator to the third floor. After your visit, view Thomas Schütte's "United Enemies" sculpture at the Doris C. Freedman Plaza (east side at 60th Street, enter at Fifth Avenue and 60th Street), just a few blocks away. 830 Fifth Ave at 64th St (212-360-8163, nycgovparks.org). Mon–Fri 9am–5pm; free.

Bank Rock Bay
In 2008, after the bay was dredgd and the shoreline replanted, Bank Rock Bridge was reconstructed to span the tip of the bay. Look south for what Miller calls "a four-star view" of the Lake and the skyline on the horizon, but don't forget about the wildlife that can be spotted hanging out on the sheer rock cliff behind you. West of the Ramble between 77th and 78th Sts, enter at Central Park West and 72nd St