Heads up! We're working hard to be accurate – but these are unusual times, so please always check before heading out.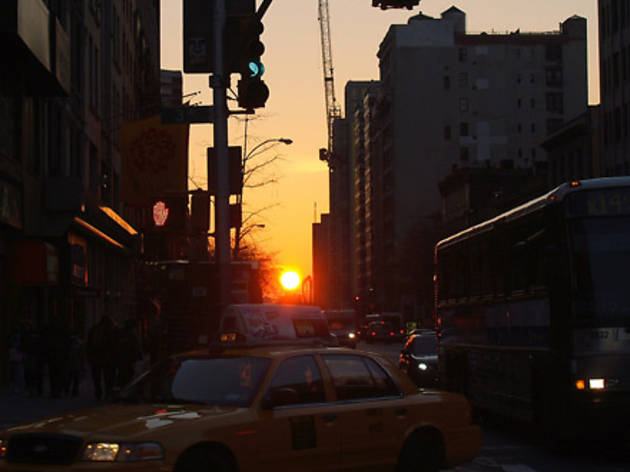 Manhattanhenge 2012: The spectacle returns
Find out where to view the natural phenomena of Manhattanhenge, and how to get a good photo of the event.
Still battling a case of the Mondays (well, technically Tuesdays) after the long weekend? Let a natural phenom cure your blues, as the first Manhattanhenge of the summer begins tonight. The term was coined by astrophyscist and Hayden Planetarium director Neil deGrasse Tyson to describe what happens when the setting sun aligns precisely with Manhattan's street grid (if you're looking across the island from east to west). Tonight, half of the glowing orb will be visible beginning at approximately 8:17pm; you can catch the full spectacle during tomorrow's sunset around 8:16pm. (The spectacle also happens on July 11 and 12.) If you're going to try and capture the moment, read on for tips on where to stand and how to get the best shots.
RECOMMENDED: See more on Manhattanhenge

Grab a good spot.
On the Hayden Planetarium's website, deGrasse Tyson recommends heading to the east side of Manhattan and positioning yourself along one of the larger thoroughfares: 14th, 23rd, 34th, 42nd or 57th Streets.

Turn off your camera's flash.
According to Paul Bernstein of the Professional Photographers Society of New York, a flash is of no help when photographing a scenic view. "A camera flash only illuminates up to between six and ten feet away. After that, it loses power," said Bernstein.

Don't aim a digital camera at the sun.
To lock in the exposure—and therefore get a better shot—Bernstein suggests first aiming a pocket camera away from the sunset, and holding down the shutter button. Then, press the button halfway down to lock in the exposure before taking the shot.

Take more than one photo.
You don't want to snap a picture only to find that someone was blocking your shot, or that the photo is grainy or blurry. Make sure you get a few snaps, using a variety of exposures and settings.