New York trivia challenge: How well do you know NYC?
TONY copy chief Noah Tarnow throws down the gauntlet with ten New York trivia questions.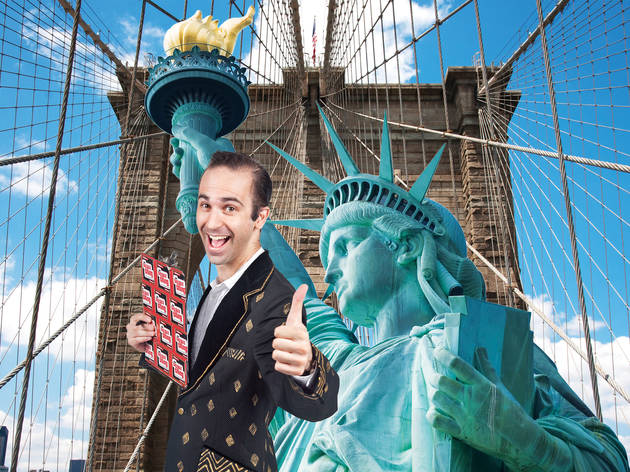 Test your knowledge with a New York trivia quiz by TONY copy chief Noah Tarnow. For more questions about New York and every other topic, check out his live trivia game show, the Big Quiz Thing, at the newly reopened Cutting Room on Jan 8.
1 Which New York City bridge is made mostly of dark reinforced steel and concrete, and not, as its name might indicate, light-colored rock?
2 Fill in the blanks in the message on the iconic Greek Anthora coffee cup: we are [blank] to [blank] you.
3 What's the only Brooklyn neighborhood that shares its name with a Disney movie?
4 Other than Rudy Giuliani, John Lindsay is the only New York City mayor of the past 50 years to attempt to become what?
5 In 1886, New Yorker Steve Brodie became famous when he supposedly jumped off what and survived? (Turns out it was probably a hoax.)
6 What extremely well-known New York artistic institution is directed by Alan Gilbert—not, as might seem more appropriate, Phil Gilbert?
7 Some New Yorkers keep the females as pets, but it's illegal to keep the males because of noise. What are we talking about?
8 What very popular stage musical is set in New York City, but based on a Shakespeare play?
9 Last year, a hot-dog-style cart in the Meatpacking District gave away 4,000 what?
10 What three-letter abbreviation stands for an organization with a presence throughout NYC? (When you reverse the order of the letters, you get an abbreviation seen on completely unrelated signs throughout the city.)
Get a Smart-Ass Point! The Big Quiz Thing, The Cutting Room, 44 E 32nd St between Madison and Park Aves (212-691-1900, bigquizthing.com). Jan 8 at 7:30pm; $12, advance $10.
Answers: 1.The Whitestone Bridge; 2.Happy, Serve; 3.Dumbo; 4.President of the United States; 5.The Brooklyn Bridge; 6.The New York Philharmonic; 7.Chickens/roosters; 8.West Side Story; 9.Vibrators/dildos; 10.MTA
Sponsored listing
Zebú Grill
Escape the frigid temperatures and icy conditions in Manhattan for a taste of a warmer locale: Brazilian food from Zebu Grill on the Upper East Side. Pair Brazil's national cocktail, the citrusy caipirinha, with a typical bar snack of crispy hand pies called pastel filled with beef, chicken or cheese ($8.95 for three). For a heartier meal, dig into feijoada, a black bean stew with beef, pork and sausages served over rice ($25.95) or go all out with churrasco for two ($49.95). The sizzling platter filled with steak, chicken and sausage arrives with rice and beans. If you need more food, try a side of yucca fries ($6) or collard greens ($6). Looking for something sweet to finish the meal? You might be tempted by the passion fruit brulee topped with caramelized bananas ($8.95).
Venue says: "Delicious Brazilian cuisine on the Upper East Side in a hip atmosphere!"