NYC mayors' top ten gaffes, blunders and scandals
As NYC Mayor Bill de Blasio settles into office, he could take a few pointers on what not to do from these headline-grabbing mishaps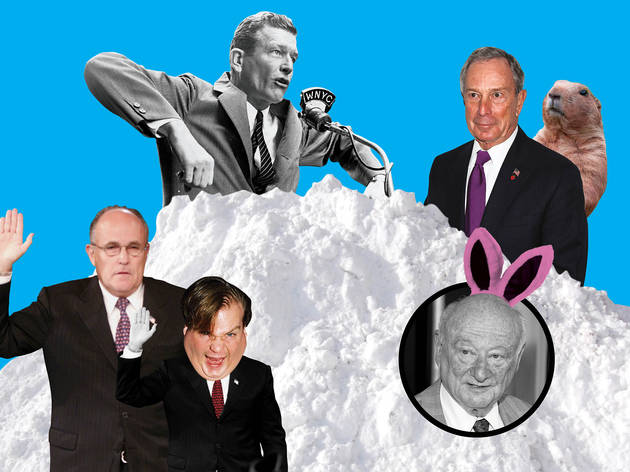 News flash: Politicians screw up. A lot. That's why, for our latest top ten list, we decided to round up the biggest goofs in Gotham's mayoral history. These aren't "serious" scandalsexactly—more the kind of head-scratching moments that gave many a New Yorker achuckle.
1. Andrew Giuliani upstages his dad
On January 2, 1994, Rudy Giuliani delivered one of the most important speeches of his life: the inaugural address that would launch his first term in office. But Giuliani's seven-year-old son, Andrew, stole the show, mucking about at his dad's side. The misbehavior made national headlines, and was spoofed days later on SNL, with Chris Farley playing the young mischief maker.
2. Bloomberg sustains an animal bite
On Groundhog Day in 2009, Mike Bloomberg made the annual mayoral pilgrimage to the Staten Island Zoo to coax resident Charles G. Hogg out of his cage. But Charles wasn't in a prophesying mood, which he communicated by biting Bloomberg's finger. Fortunately, Bloomie—who described his attacker as a "terrorist rodent that could very well have been trained by Al Qaeda"—was wearing gloves.
3. Lindsay gets no love in Queens
In February 1969, a blizzard dumped more than a foot of snow on the city. More than a week later, Queens had still not been plowed, so John Lindsay went to survey the scene, to shouts and boos from onlookers. In Fresh Meadows, one supportive woman told Lindsay that he was a wonderful man. "And you're a wonderful woman," he responded. "Not like those fat Jewish broads up there." D'oh!
4. Koch flops in Cooperstown
While mayor, Koch ran for governor in 1982, but managed to piss off upstaters with disparaging remarks in a Playboy interview. In a later meeting with newspaper editors in Cooperstown, New York, Koch was asked which county he was in. After getting it wrong, he leaned in to one reporter and asked, "How'd I do otherwise?" Not well, Ed. Not well. He lost the gubernatorial race.
5. Dinkins is not a crook
During the 1989 election season, Republican candidate Rudy Giuliani unearthed evidence of irregularities in the IRS filings of his Democratic opponent, David Dinkins. Dinkins's nuanced argument about intent—"I haven't committed a crime. What I did was fail to comply with the law."—was taken as forehead-slappingly dumb: Although he went on to win, and served one (lackluster) term, we don't advise using that excuse if you get audited.
6. Walker takes the money and runs
Jimmy Walker was never the hardest-working man in City Hall. And that suited him just fine, especially as he had both a wife and a well-known mistress—actress Betty Compton—to tend to, plus more than $1 million in embezzled city funds to spend. The good times came to an abrupt end in 1932 when FDR, in a bid for the presidency, uncovered the corruption. Walker agreed to resign and face charges, but then high-tailed it to Europe with his gal pal to avoid prosecution.
7. Wood resurrects the dead
Fernando Wood, a Tammany Hall affiliate, thought the easiest way to be reelected mayor was to dabble in voter fraud. When it came time give it another go, he enlisted the assistance of the Dead Rabbits, a local gang whose members did their best campaigning in cemeteries, where they collected a list of names under which they could cast ballots in Wood's favor. Wood still lost the 1857 election by 3,000 votes (though he was granted a second term in 1859).
8. Giuliani threatens the Brooklyn Museum, and loses
When Rudy Giuliani found out that artist Chris Ofili's painting The Holy Virgin Mary, which incorporated elephant excrement, would be making its way to Kings County in 1999, the man was not happy. Giuliani's solution? Take away the institution's annual $7 million grant and try to force its eviction. It didn't work. Instead, the museum's director filed a First Amendment lawsuit against Giuliani—and won.
9. Bloomberg talks dirty
What a mouth on that dude! According to a January 2013
New York cover story
, Mr. Moneybags told a reporter, "Look at the ass on her," while motioning to a nearby female at a holiday soiree.
10. La Guardia's favorite mistake
Both a goof and a great way to cover a previous one, NYC's great reforming mayor, Fiorello La Guardia, famously copped to a misjudgment. "When I make a mistake," he told Judge Justine Wise Polier in 1941 after she pointed out that he had appointed fascist sympathizer Herbert O'Brien as a children's court judge, "it's a beaut!" Way to own it, Little Flower.