What happens when the world's most famous exporter of "oohs" and "aahs" takes on the Broadway musical? The arrival of one of the most magical, fun-packed and thrilling evenings of entertainment to hit New York City in decades—and an evolution of what live theater can offer. Cirque du Soleil's first Broadway show, Paramour features all the gasp-inducing acrobatic feats you expect from the Montreal troupe, plus the showstopping song-and-dance numbers you expect from the best of musical theater. And at the center of it all is a talented collection of musical theater actors and daring Cirque acrobats from all over the world. This cast can roll, tumble and fly—and belt out high notes that will bring you to your feet. With the talented cast of Paramour doing Broadway the Cirque Way, Time Out tasked them with putting the Cirque stamp on other iconic New York landmarks and institutions. And so, this is our city—the Cirque Way.
Times Square—The Cirque Way
Featuring: Ruby Lewis, Amber van Wijk, Ryan Vona, Jeremy Kushnier.
Times Square is a home away from home for the cast of Cirque du Soleil's Paramour—they rehearse there, eat lunch there and, eight times a week, they sing, dance, tumble and fly there during each performance of the show at Broadway's Lyric Theater. For many in the cast, Times Square had long been a great shining light drawing them to a career on Broadway. Ruby Lewis, who plays Paramour's leading lady, Indigo, remembers first seeing the bustling square as a nine-year-old when she was in town competing in Petite Miss Dance of America. "My stomach was churning," she says, recalling the time she first gazed out at the lights from her hotel room. "I was from a tiny town in Kentucky. I wanted badly to live in the middle of it, to dive right in and be a part of it." Today she says she thrives on the energy of the area. "You can plug into it and really energize yourself in a way you can't anywhere in the world." For her co-star, Ryan Vona, Times Square is at its best when it is at its quietest. "My favorite time in Times Square is 3am after a show, after a night out with the cast, walking through seeing all of its beauty. You really appreciate how colorful and how bright and just like a beacon it shines through New York.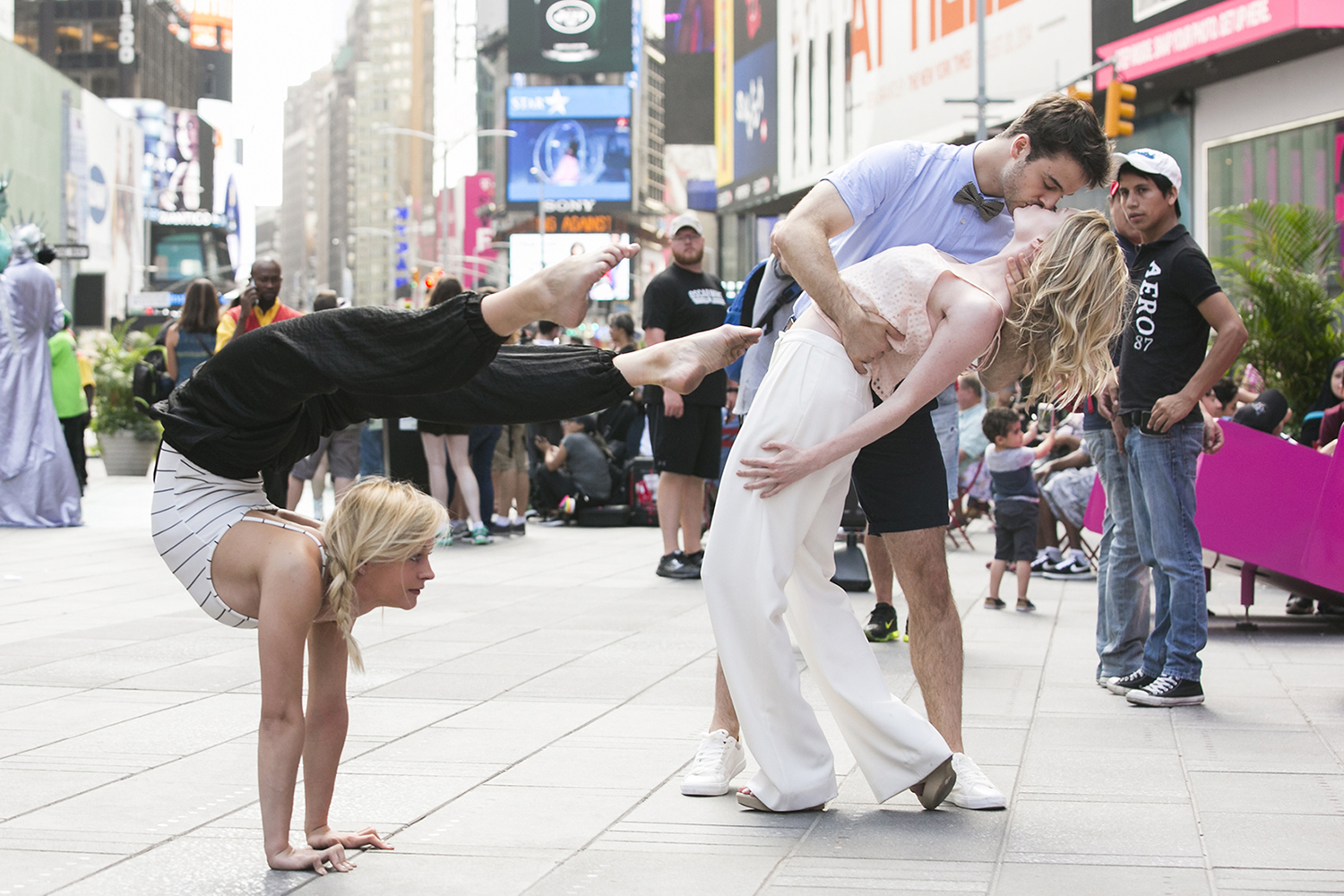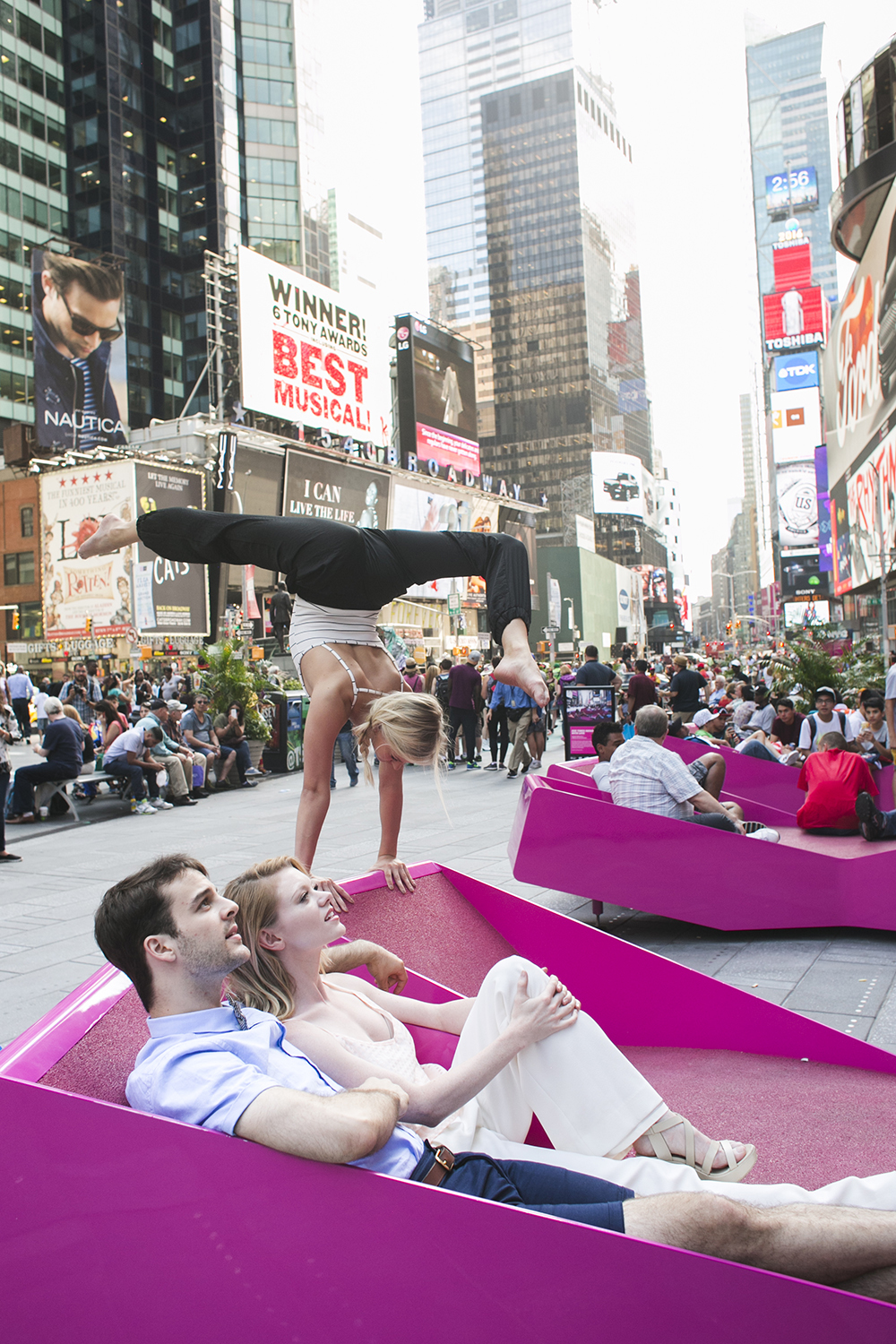 The American Museum of Natural History—The Cirque Way
Featuring: Bret Shuford, Rafal Kaszubowski, Tomasz Wilkosz and Mélanie DuPuis.
It felt appropriate to bring the multitalented and infinitely malleable cast of Paramour to the Upper West Side's American Museum of Natural History: Cirque du Soleil's latest show is an exciting evolution of what Broadway can be; the museum is an ode to the world's evolution from the time of towering dinosaurs to the peaks of modern science. Paramour stars Mélanie DuPuis and Bret Shuford reached their own peaks inside and outside the institution as they did the AMNH the Cirque Way in front of Time Out's cameras, shaping themselves into stunning tableaux against the backdrop of—and inside—this NYC favorite. "I feel so close to nature at the museum," says DuPuis, whose trapeze and hand-to-hand acrobatic work will leave you breathless during the show. "It's like I travel to other worlds, other times, other places—sometimes I feel like an explorer." Actor Shuford is inspired by the museum's connection to the city. "There's so much history here, not just of the natural world, but of New York. And to be able to walk across the street to Central Park… what could be better?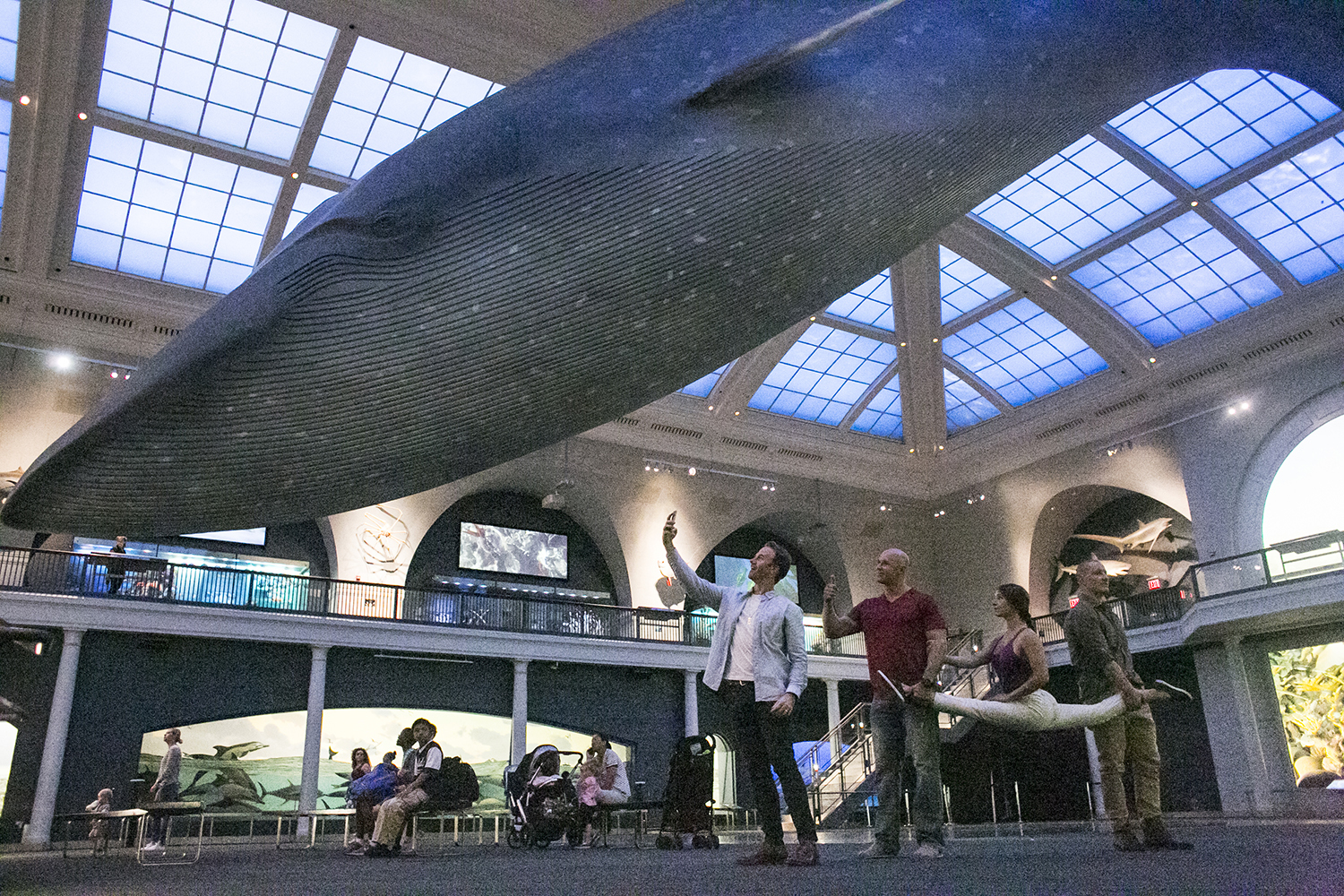 Brooklyn Botanical Gardens—The Cirque Way
Featuring: Ruby Lewis, Amber van Wijk, Ryan Vona.
The Brooklyn Botanic Garden—with its tranquil waterways, verdant hills and explosions of colorful flowers—could not be further from the hustle and lights of Times Square, where the cast of Cirque du Soleil's Paramour spend most of their days. And that is in part what they like about it so much. For Belgian acrobat Amber van Wijk, whose stunning displays of flexibility pulled focus from the flowers on our trip to the garden, the sprawling landscape is a reminder of home. "It reminded me of just walking around in my own backyard [in Belgium]," she says. "There's so much nature where I live." Paramour lead Ruby Lewis, on only her second trip to the Botanic Garden, felt a similar connection to nature. Having lived in L.A. for six years, she says "I've been without seasons for a while, and the Botanic Garden is a way to acknowledge the seasons." She loved seeing the cherry blossoms in the spring, and will be back to see the changing of the leaves in the fall. "It's a truly poetic place—and it's so close to Manhattan."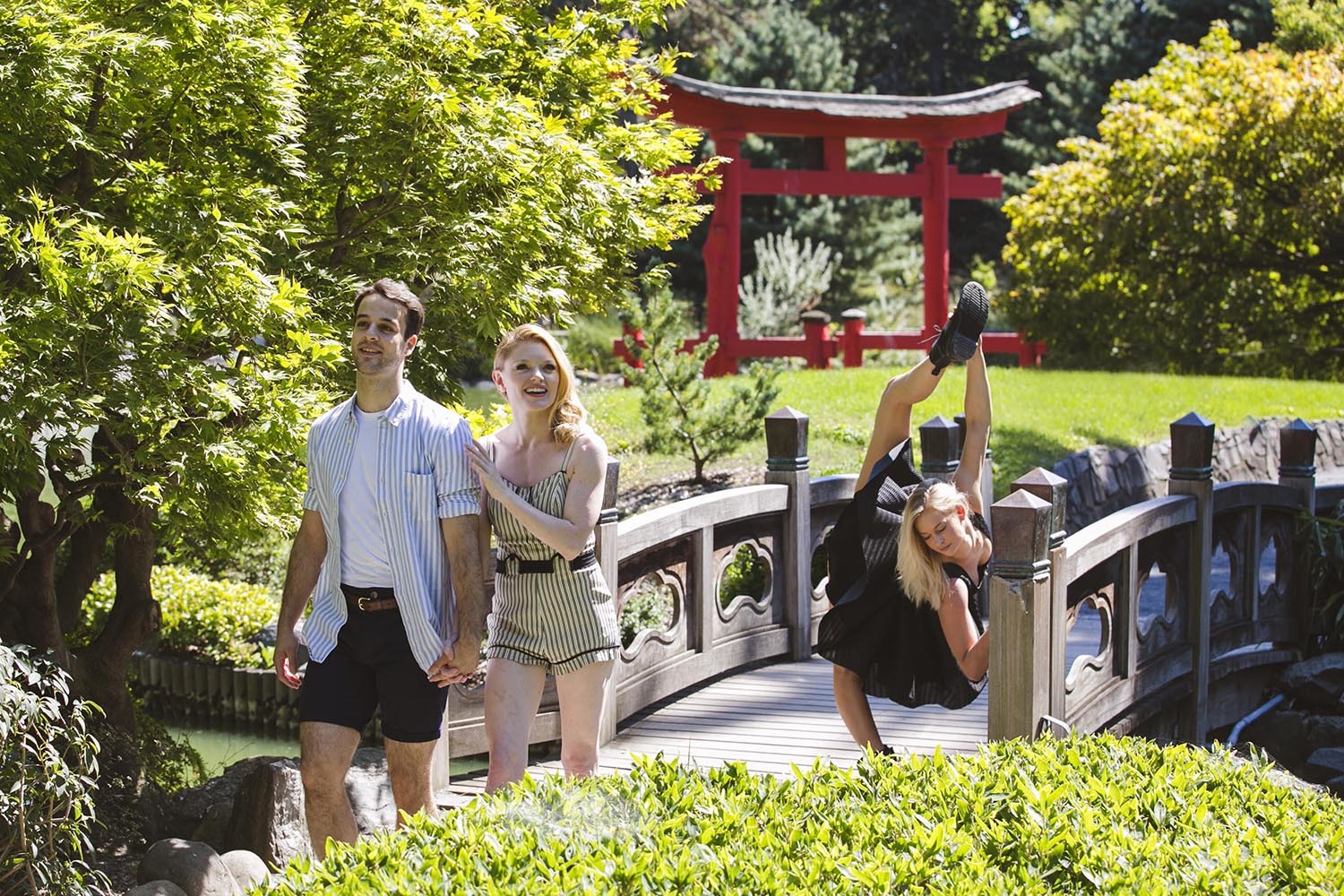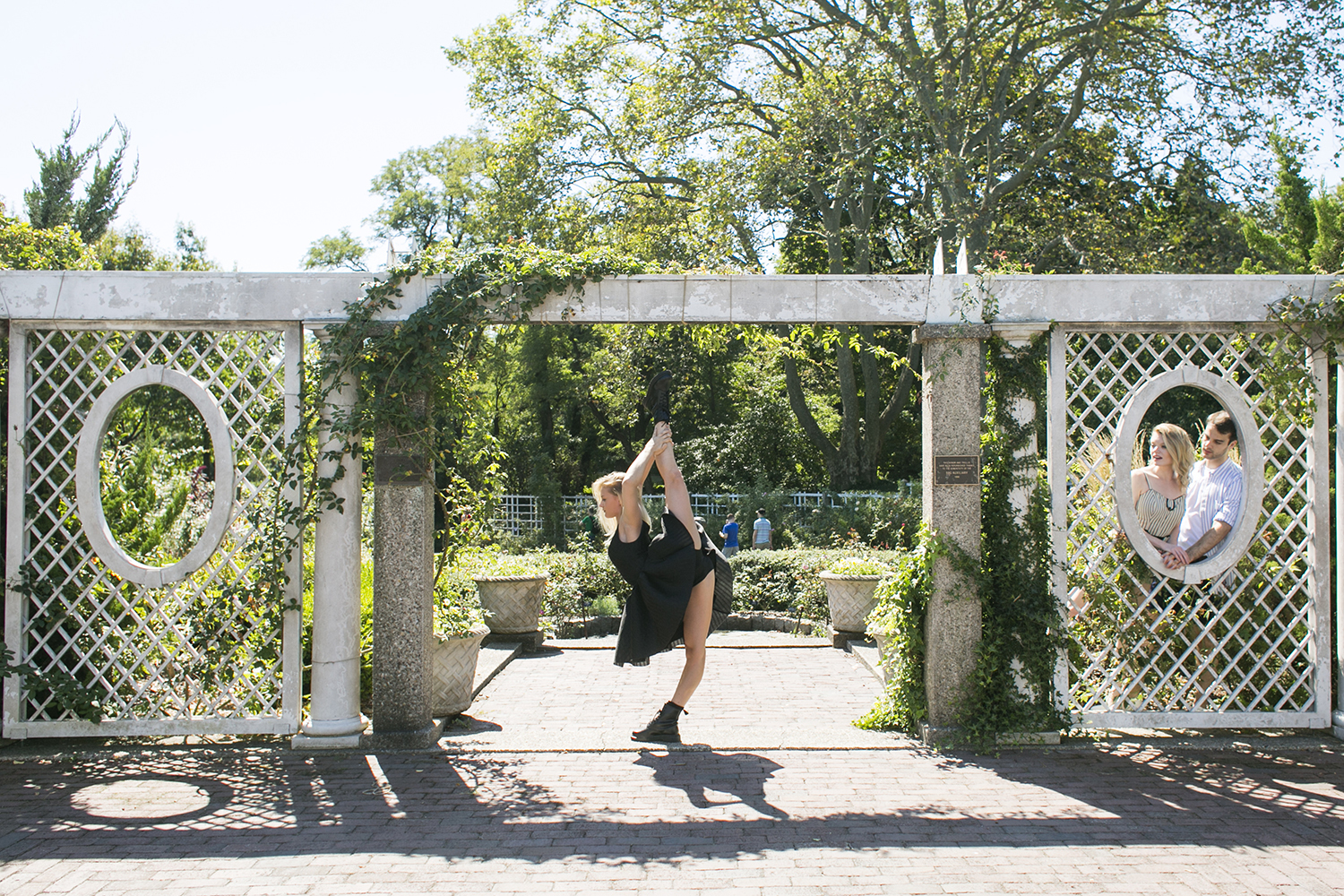 Brooklyn Bridge Park and DUMBO—The Cirque Way
Featuring: Chelsey Arce, Connor Patrick Houlihan, Marie-Lee Guilbert, Philippe Belanger.
For Cirque du Soleil performer Chelsey Arce, Brooklyn Bridge Park is the place to be if you want to absorb the full scale of New York City. "It's a place where you look at New York," she says. "You think about coming here from another place and you see how vast it is. Finding success in New York is such an incredible thing." She and a slew of other talented actors and acrobats are living out their own New York dreams as part of Cirque du Soleil's Paramour, itself a Big Apple success story for the celebrated Canadian company—its first all-singing, all-dancing, all-trapezing Broadway show. Arce joined Cirque acrobats Marie-Lee Guilbert, Connor Patrick Houlian and Philippe Belanger to stun onlookers as they bent and contorted magically against the Manhattan skyline and on the famous Jane's Carousel. While some of the performers were as overawed by the vista as Acre, it was the carousel that brought Houlihan down to size. "When we got to the carousel it made me think of Mary Poppins," he says: "The scene where the ride the horses in their cartoon land. Getting onto the carousel made me feel like a kid again." It's a feeling the cast says many audience members will get when they take their seats at Paramour.