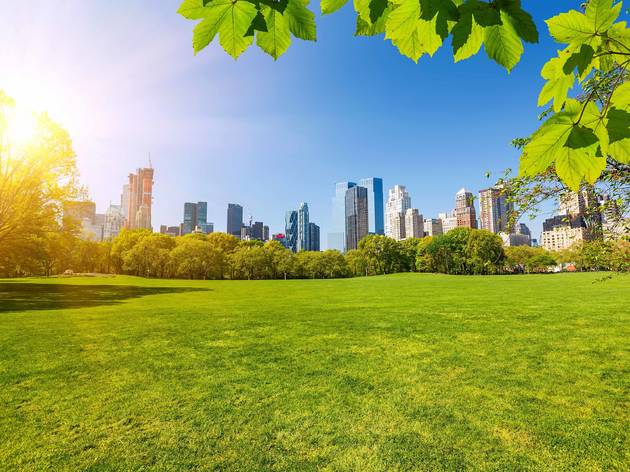 Amazing takeout near parks for the ultimate fall picnic
These are the places to head to before settling in for a fall picnic
New Yorkers may not be the most outdoorsy type of people, but if we've learned anything this year, it's that doing everything outside is kind of amazing? We're lucky to have so many parks and public spaces that make outdoor living possible, and enjoyable, plus a bounty of restaurants offering takeout and even special picnic packages to take to a nearby lawn and enjoy al fresco.
So here are some of the top takeouts within steps from NYC's best parks, to create your ultimate fall picnic.
For more inspiration on how to make the most of NYC this fall, head to our interactive map.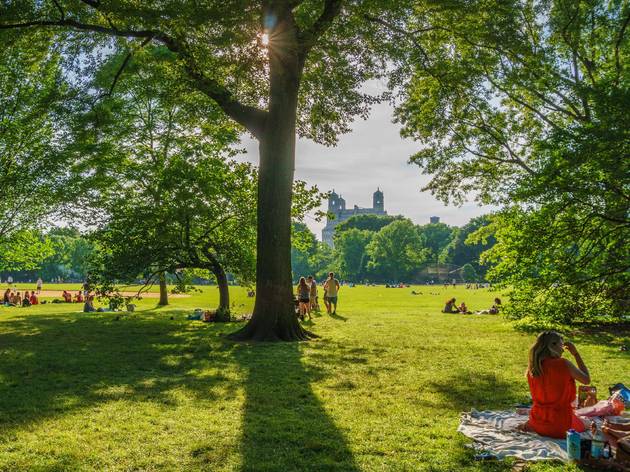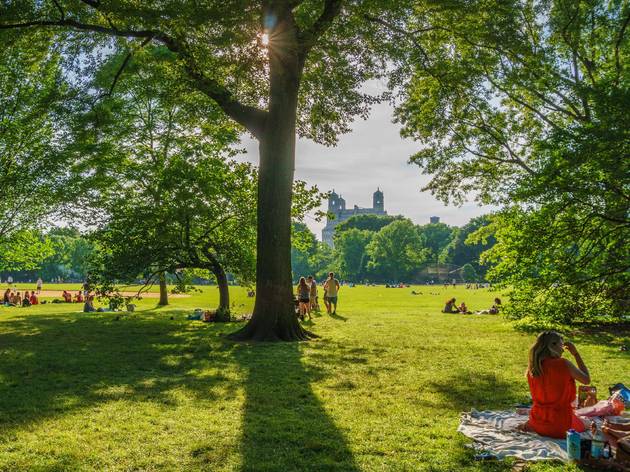 Photograph: Shutterstock
At 843 acres, Central Park isn't New York's largest park, but it's certainly the most iconic. Home to countless love stories, sitcom scenes, and over a century of history, Central Park's green expanse is a magical destination for born-and-bred New Yorkers, transplants and tourists alike. Boarding Harlem, The Upper West Side, Upper East Side and Columbus Circle, Central Park lives in proximity to hundreds of top notch takeout spots.
With a group that's hard to please?
Venture down to the Turnstyle Underground Market, which offers 19 different food vendors steps away from Columbus Circle. Grab anything from a gram-worthy Chick'n Cone, fried dumplings from Lisa's or some hot empanadas from Bolivian Llama party, for a smorgasbord-style picnic in Sheep's Meadow.
On a date?
Marea's luxe menu is now available to go, meaning you can grab an impressive Italian seaside inspired picnic without leaving Manhattan. The takeout menu includes high-end appetizers, like a lobster and burrata salad, Marea's signature fusilli with red wine braised octopus and bone marrow, plus meaty entrees, desserts and bottles of wine.
Want to be the envy of a socially distant picnic?
Fast casual sushi concept Maki Maki has developed a new totable hand roll, double wrapped in plastic, to ensure the nori remains as crisp as possible until you unveil it and bite into the fluffy rice and fresh fish filling. Pick from upscale options like toro with shiso and cucumber, as well as classics like the California roll, and bring a few extra pieces to share…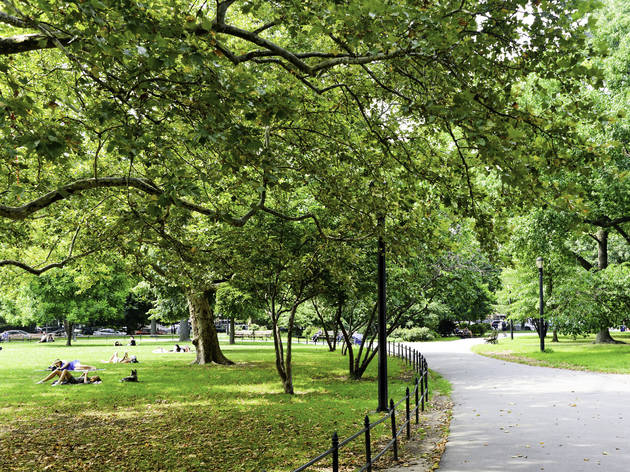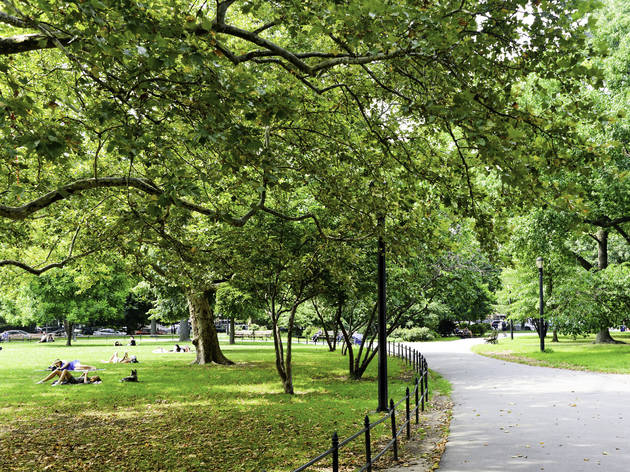 Photograph: Courtesy NYC Parks/Dan Avila
An outdoor social hub for North Brooklyners, this park boarding Greenpoint and Williamsburg is home to a top notch dog park, baseball fields, a track, exercise equipment and plenty of shady space to picnic and chat with friends. Social justice gatherings have also been prominent on the McCarren lawn this summer, with programming ranging from Black Lives Matter speakers to film nights.
Eager to carbo-load?
Forma Pasta churns out homemade long, short and stuffed pastas, in its mini pasta factory steps from the park. Mark your calendar with daily specials, like Monday's goat cheese and ricotta gnocchi, served with Sicilian tomato sauce and fresh burrata, or visit any time for menu staples like shrimp scampi with tagliatelle.
Celebrating a special occasion?
If your picnic is more of a party, look no further than the takeout window at Casa Publica, where guests queue up to order shareable, and solo servings of chips and salsa, braised mushroom tacos, vegetarian enchiladas, roast chicken in mole and more.
Brunching?
There's no longer a wait to nosh on Frankel's pastrami, thanks to online ordering that offers both ready-to-eat options, and stock up provisions, like a dozen bagels and cold brew concentrate. Pre-order favorite brunch sandwiches like lox with dill cream cheese or pastrami, egg and cheese. Or, opt for a brunch kit, which includes all the necessities to fix up brunch on a picnic blanket at leisure.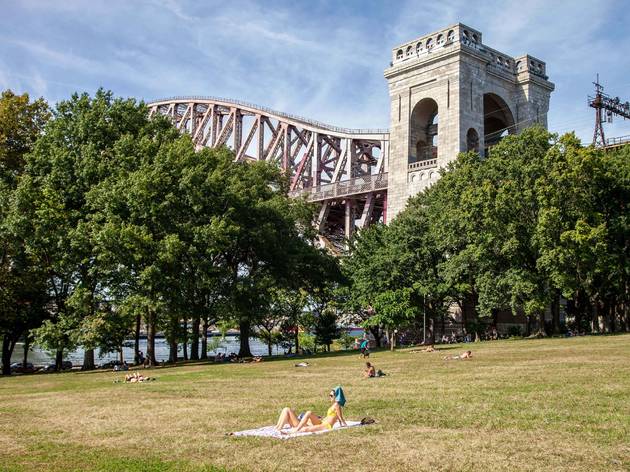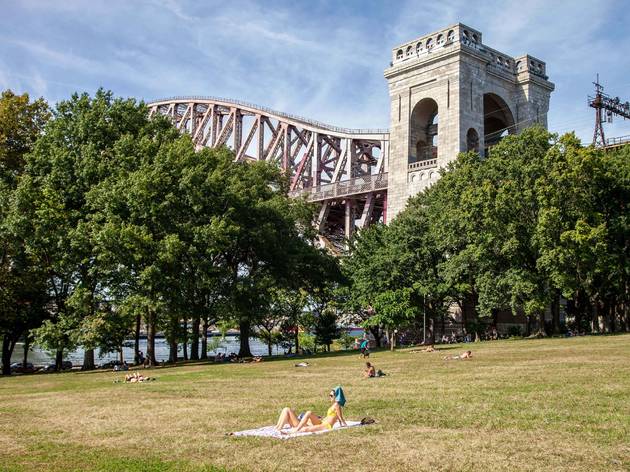 Photograph: Time Out/Ali Garber
Overlooking the East River with sweeping views of the Queensboro and historic Hell's Gate Bridge, Astoria Park has ample picnic space, plus tables to sit at (pack a few sani wipes) and unpack your picnic. Take advantage of the track or tennis courts if you want to work up an appetite, or save some time to walk down 12th and 14th streets to ogle impressive historic homes.
Sharing with family?
Gregory's 26 Corner Taverna is both a local hangout and destination for those eager to try some of Astoria's best Greek food (and yes, it's tough competition in the neighborhood with dozens of tavernas!). Over order a spread of saganaki, stuffed grape leaves, cold dips, deep fried eggplant and zucchini, souvlaki and more shareables for the whole family.
Eager for comfort food on a chilly day?
New Yorkers will picnic until the ground freezes and the first snow falls, and maybe even still opt to eat outside. If it's a bit blustery, San Aroy Thai Kitchen can warm your soul with tom yum soup, deep fried shrimp rolls, and several excellent stir fries, noodles, and curries.
Want to go utensil free?
To some, a picnic is only as good as its strongest sandwich, and that's where Sal, Kris & Charlie's Deli comes in. The made-to-order sandwiches, layered with Italian and American cold cuts, are hefty and satisfying, particularly the signature "Bomb", which stacks ham, turkey, salami, pepperoni, mortadella, American and Provolone cheeses, lettuce, onions, tomatoes, hot peppers, sweet peppers, plus mayo and mustard, all on one 13 inch roll.