Heads up! We're working hard to be accurate – but these are unusual times, so please always check before heading out.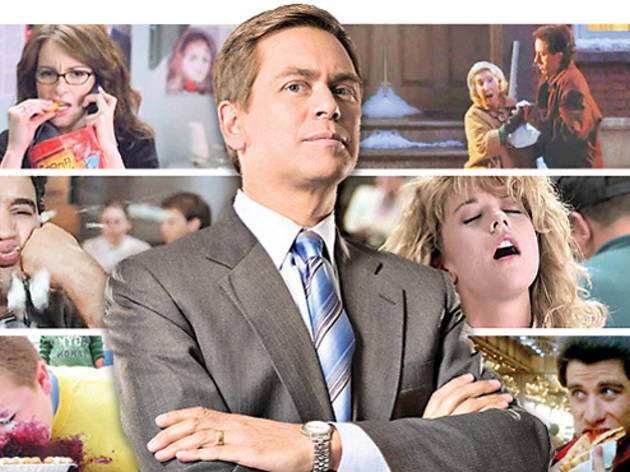 Pat Kiernan interview: 'I get to live a whole other life here'
The genial NY1 anchor will test you about food in pop culture for his new live quiz show
Pat Kiernan
has been bringing us the day's top headlines and feeding us
NY1
's "Weather on the 1s" for
breakfast
for the past 20 years. It helps that he's one of the most genial chaps on local TV. On July 29, you can catch a wilder side of Pat—sans suit and side part—when he hosts TrivWorks' Food Fight at the Bell House in Gowanus, quizzing foodies on their pop-culture knowledge and posing for selfies.


Okay, Pat. Why should we go to your Food Fight?
It's a night out and something different to do, not an ultimate test of knowledge. It's an alternative to going to a show or a movie or a Yankee game. It's not an elaborate production, though. There are no Pat Kiernan singers and dancers in the background.


Well then I sure as hell won't be going. But for those who are still going to show up, what should they expect?
It's a foodie trivia night, but in a pop-culture context. We might ask, "What kind of hamburger was someone eating in this movie?" or "What cuisine did they dine on in
When Harry Met Sally
?" We do a round of trivia and, while answers are scored, we bring people up onstage to compete. Then I'll roam the room for five minutes and take selfies with people. The most fun is when you have two people onstage that don't know an answer, the rest of the room knows, and I'll repeat the question in the most obvious way possible. Daly Pie will be on-site selling hand pies, and we'll also be giving away tickets to A Slice of Brooklyn pizza tour and food events at the 92nd Street Y.


Should we expect an actual food fight?
I don't think any food fight in reality has ever worked out as well as movie food fights. The movie food fights across the high-school cafeteria always works out to be funny, and nobody gets hit by a tray, just by french fries or a pie. I can't imagine a real-life food fight would have a good outcome. It would just be messy. We're not going to encourage that with Bell House. Sorry, just want to manage expectations.


There's lots of trivia out there these days, though. What makes you guys special?
Well, last year we did red-carpet trivia for the Oscars, and I did a song and dance number pretending to be Pharrell Williams, wearing a cowboy hat and shorts. I assume people are having fun because they're laughing and they come back.


So will we see Pat Kiernan as David Burke?
I don't want to set expectations too high. But it is a very different persona than people are used to seeing from me.

Seems like you've got a fun side we don't get to see when you do "In the Papers"…
What I do at NY1 is very routine, and I feed off of the live energy I get from the crowd that I just don't get when I anchor or host in front of a studio audience. They have to be on their best behavior and laugh and clap at times, but at trivia, it's wild and open. I get to live a whole other life here.


What are the most memorable food scenes of all time, in your mind?
I love the pie-eating contest from
Stand by Me
, when he just keeps [
Mimics burying his face in a pie
] finishing them and saying, "Done!" I always have a vision of myself eating a pie like that. We did have a pie-eating contest at another event. Other than that, I always think of the comic strips, the Dagwood sandwich, or there's the Pop's Chocklit Shop from the Archie Comics, we could go there.


Why food, and why now?
Summer is carefree, and food and indulgence go hand in hand with that. You're usually not on as much of a schedule in the summer. You come out to the Bell House on a weeknight, and you're not necessarily worried about getting to work early in the morning.


Did you move to Williamsburg before or after it became cool?
It was definitely fast-rising around the time we got there, but we're not to be confused with the pioneers of the neighborhood.


Do you think you moving there made it cool?
I don't think that alone made it cool, no. Actually, I'm sure there are those who liked it the way it was and consider me part of the problem.


What's the food culture like out there, in Williamsburg?
I think more interesting things happen at a better price point outside of Manhattan where you don't have the extreme pressure of the rents. Someone can open a restaurant that doesn't appeal to everyone every single day, but it's interesting 'cause you're not trying to turn the table three times every night.


Would you open your own restaurant?
No, no, no, no, no.


What would the memorable food scene be in a movie based on your life?
It would be me having breakfast alone at home at 3am eating my favorite Canadian cereal, Shreddies, pathetically. There's a video
Business Insider
made about me called "A Day in the Life" where I'm sitting half in the dark at home eating a bowl of cereal and it looks very lonely. Someone commented, "Wow, that guy's life is pathetic."
Attend the event!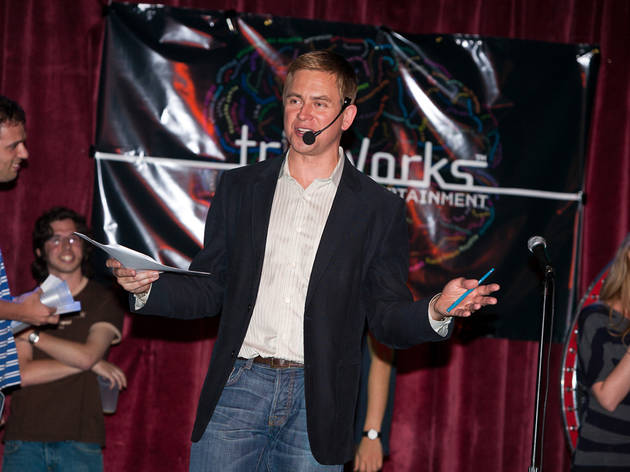 Whether you love food or happen to know an array of trivial facts, this night hosted by Canadian-born game-show host and side-part owner Pat Kiernan is sure to make you and your team hungry for a grub-themed prize. Come prepared with a brain full of some of the greatest food scenes, famous cuisines and fictitious dishes, and you just might win a raffle for the chance to go one-on-one onstage with the NY1 morning-news anchor himself.