Public eye: Allison Davis, 32, and Bunny, 11
New York street interviews: Stories from the sidewalk as told by real New Yorkers about their lives in the city that never sleeps.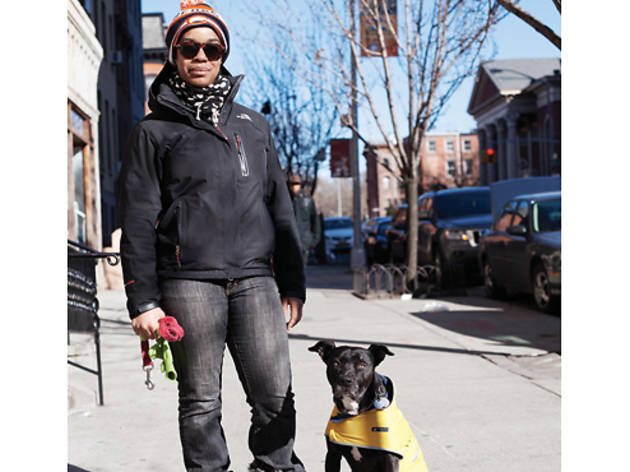 Hanson Pl between S Elliott Pl and S Portland Ave, Fort Greene, Brooklyn
Does Bunny inherit her mellow vibe from her owner? Well, I'm Bunny's auntie; her mom is my best friend.
Part-time parenting—the best. Yep, you get all the benefits and then you can pass them back. [Laughs]
What do you do other than Bunny-sit? I'm a writer and producer. I'm finishing up an M.F.A. in dramatic writing at NYU.
Playwriting? Yes, and television writing as well.
Are we officially moving away from reality TV? I don't think it's ever really going to go away. I do think we are balancing it, though; TV is in a really good place right now. You can watch a Real Housewives marathon and get your guilty pleasure, and then watch season two of Homeland and feel smart again. Whenever something super shitty comes about there's always something super awesome to counter it on the other side. Let's hope Hollywood follows that pattern too.
What kind of stuff do you write? Primarily comedy. I worked in documentaries for a long time—it was great but it kind of bummed me out.
Do you ever just feel unfunny? No, because the world is funny. That's the great part about New York: You can step outside and something absurd is going on within a one-block radius.
So true. Where are you from? I grew up in Northern Virginia. I lived in San Francisco for the last six years, but I keep coming back to New York.
Which, let's be honest, makes San Fran look bad. I have this theory: San Fran is this great guy who is super sweet, brings you flowers, asks you on a Saturday date on Wednesday, your mom likes him and you should totally be with him, but he's kind of boring. All your friends are like, "Oh, San Fran is so great," and you're like, "Yeah.…" Then New York is a fucking dick who owes you money and never calls you back, but you have the most amazing sex. He's such a sexy badass and every time you're like, I'm never going back, then he calls you at 3am and is like, "Hey girl," and you're like, "I'll be right there."
More from Allison

"Her full name is Bunny Rocket Love Pope."
Sponsored listing
KUMO SUSHI II
Who wants to travel all the way into the city for sushi? Besides being local, our food + sake selection is fantastic and we pride ourselves on phenomenal service! We want what you want – and we want you to return again and again. We offer a family-friendly yet cozy atmosphere… During the warmer months, we welcome guests to dine with us in our intimate backyard garden. Our full menu is available online. We look forward to serving you!
Venue says: "You had me at Sashimi! Come and try our amazingly fresh and flavorful Japanese food."