Public eye: Casey Tang, 28
New York street interviews: Stories from the sidewalk as told by real New Yorkers about their lives in the city that never sleeps.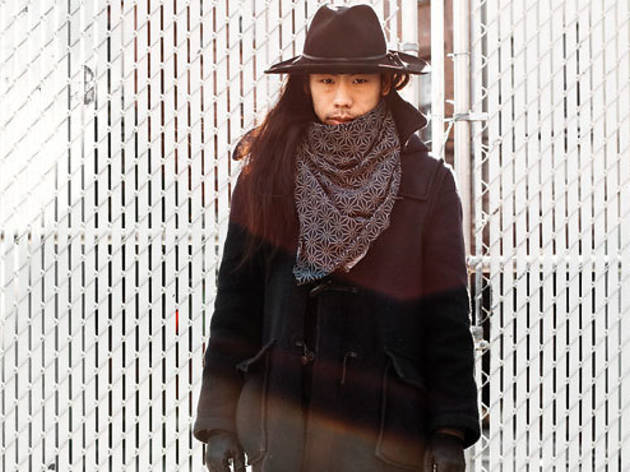 Fulton St between S Elliott Pl and S Portland Ave, Fort Greene, Brooklyn
What do you do? For money, I work for ARTstor as a graphic and interactive designer. It's a digital slide library used for research.
And what do you do for no money? Uh, I try to make art. I bet everyone you interview is an artist. I should say I work at H&R Block in admin or something.
Nice try changing the subject—tell me about your art. Could I just send you my portfolio?
Painting? Sculpture? Mostly installations. A lot could be called Romantic Conceptualism—using '60s Conceptual methodology to portray 18th-century Romantic themes like death and isolation.
Happy stuff. Give me an example. Well, I used a bunch of office plants to create a dense forest. Then I had a neon sign made that said bored, and released a bunch of really beautiful large moths. They swarmed the sign till they were dead.
Boredom and death. Exactly; it's called Bored to Death. The idea was about artificial light messing with nature. The moths got stuck in this loop, kind of like humans working in offices.

Now you're depressing me. Anything lighter you wanna talk about? [Laughs] Well, I help my brother with Shorty Tang and Sons.
Come again? My grandfather's nickname was Shorty Tang, and he was this famous chef in New York in the '60s and '70s. My brother resurrected some of his most famous dishes. We were at Smorgasburg for a while and did a couple pop-ups. Now we're trying to bottle the sauce.
What sauce? It's a famous sauce that came on a cold-noodles-with-sesame dish. There are a lot of old ex–New Yorkers who want it. We get messages from people in Florida, L.A., Philadelphia, D.C.—all over. They say, "I've been looking for this dish for 30 years, can you freeze it and send it to me?"
I'm guessing the recipe is a secret. It's a total secret. In fact, we'd been doing this for a whole year before my dad would actually give us the recipe. He was planning on taking it to his grave with him until he realized we were serious and he could trust us.
More from Casey

"Tang, like that gross drink? I don't think I've ever tried it."