Public eye: Daniel Radin-Contreras, 32
New York street interviews: Stories from the sidewalk as told by real New Yorkers about their lives in the city that never sleeps.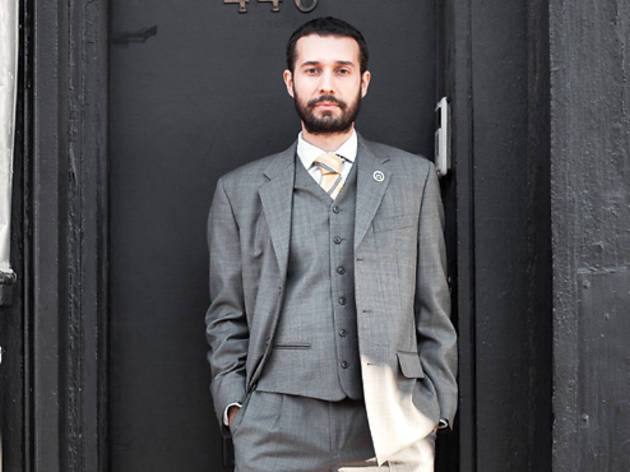 Sixth Ave between 10th and 11th Sts

What could possibly merit a three-piece suit on a Sunday? I'm going to the inauguration of Gabriela Rosa, the first woman of Dominican descent elected to the New York State Assembly. I'm the Manhattan bureau director for State Comptroller Thomas DiNapoli.

Oh, good, so you can settle the mystery of the p in comptroller once and for all. [Laughs] Actually, I can't. I really don't get it either. People say both "controller" and "comptroller"; both are right.

What do you do, exactly? I'm the point person on the ground in the communities of Manhattan. I make recommendations about what we might consider doing in different areas. I'm a conduit—if people have an issue they can come to me.

Are you corrupt enough for New York State politics? [Laughs] I am definitely not corrupt.

Too young? You'd be surprised—you're never too young to be corrupt. I don't know why, but politics attracts some bad apples.

So what brings you to politics? I'm a true believer in change. One day it dawned on me that politics is a good medium for change on a large scale. It's hard, though—in many ways it's not how I thought it would be.

You and Obama both. Yes, definitely a reality check.

So were you that kid in elementary school who was always talking about running for President? No no no, politics came late to me. I came from a diverse background; my history made me more perceptive of the suffering of other people.

What's your history? My father is Mexican-American and my mother is Russian Jewish. Knowing the struggle of Mexicans and of the Jewish people tuned me in to look deeper and care about people.

How did your parents meet? In an art gallery in New York in the '70s.

Did you have a bar mitzvah or a First Communion? Neither. I didn't want to be defined as either—I was very happy as a Mexican Jew.

Some great food could come from that union. [Laughs] Yeah, some excellent matzo-ball posole.
More from Daniel
"This past summer I lived in northern Iraq for five weeks. It was an amazing experience."