Public eye: Garett Neudeck, 46
New York street interviews: Stories from the sidewalk as told by real New Yorkers about their lives in the city that never sleeps.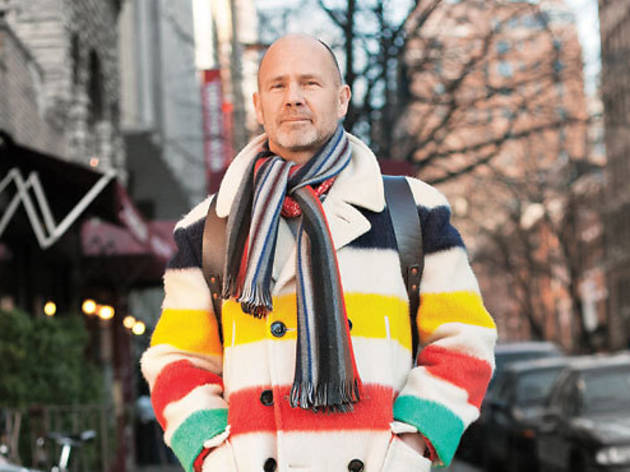 11th St at Sixth Ave
That's quite a look. Thanks! This coat belonged to my grandfather, whom I never met. He would take it hunting from Kansas up to Canada.
That's, like, Chelsea camouflage. Ha, right. This is actually a replacement—the actual one was more beautiful than this, but I ran it into the ground riding my bike, so I mothballed it and got another. It's the Hudson's Bay Company. I also inherited the sleeping bag he used to take into, like, arctic conditions.
Did you get his guns, too? I inherited a shotgun from my other grandfather. [Laughs] He was also a hunter. But these guys were from the Midwest—Kansas and Missouri—so maybe that explains it a bit.
Are you making geographical excuses for their gun ownership? Nah, some people might call hunting a noble and subtle art.
True, there's something to be said for killing your own food. Which I have done, just not with a gun.
Do tell. You know, chickens…things like that. Where I grew up in Northern California it was redneck and hippie at the same time. So that stuff wasn't unusual.
Were you a hippie or a redneck? More like blue-collar white trash.
How would your parents feel about that characterization? Well, it's not entirely true. My father graduated from a good engineering school, but he was a plumber when I was growing up. My mother went to a girls' college in Denver. So it's more old-school middle-American blue collar.
What do you do? I make wood furniture. It's somewhere between Shaker and midcentury modern. We're just making the transition from doing custom to doing my own line.
Custom furniture must be a window into the world of fancy New York people. Right. It's not people like me who are buying my furniture.
Did you always want to be a furniture maker? No, I studied literature in college. I'm a secretive writer on the side.
The truth comes out! Have you written a novel? I'm working on one now.
You're really into wasting trees. [Laughs] Trees are some of my favorite things in the world.
More from Garett
"I'm moving from Gowanus to Greenpoint."