Public eye: Jason Akoi, 25
New York street interviews: Stories from the sidewalk as told by real New Yorkers about their lives in the city that never sleeps.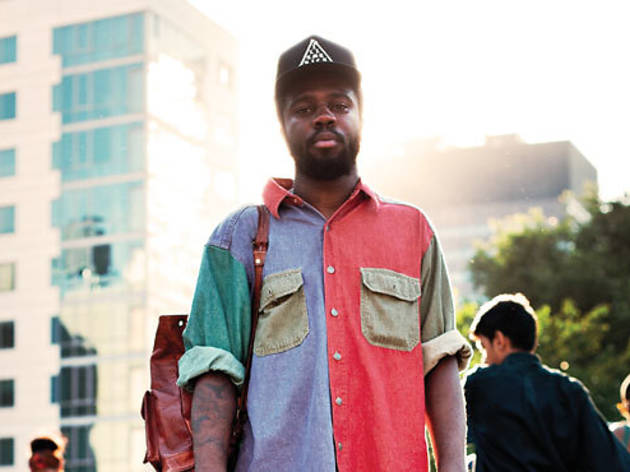 Union Square

What are you up to? I'm just chilling, no plans. I just walked down here after work.

Where's work? Urban Outfitters. I'm a visual merchandiser there.

So you dress mannequins? Yeah, I style mannequins and put items in the best position to get sold.

I guess you know how to manipulate me into buying things. [Laughs] I don't want to use the word manipulate, but I could probably persuade you to buy something. I'm also the founder and creative director of a leather-accessories company called Herds of the Fathers. We make men's bags.

Where do you get your fashion sense? I'm just a regular guy. I can recognize a nice item, but it's not like I live and breathe fashion. I mostly just like to watch football and drink beer with my buddies.

But you also make satchels. I do. I started in college. My friend was looking for a leather bag in his price range and he couldn't find anything. We were just lying around playing video games. He was like, "Man, we should start something," and I was like, "What do you want to start?" and he was like, "Accessories for men," and I was like, "Aight, cool." That was the whole conversation. [Laughs]

It was between that and video games? Yeah, exactly. We took the money we were supposed to use for our dorm and used it as capital. I was sleeping on friends' couches, texting friends being like, "Hey, are you using your bed tonight?" [Laughs] Within six months we had our first samples.

How do you feel about dead cows? Uh, you know, I like to think of it as roadkill that was already dead.

Wait, these are roadkill purses? Nah, just joking.

That could work—roadkill could be the new reclaimed wood. [Laughs] It really could be, but nah, we don't do that. I dunno, I mean, I eat meat, you know? I feel okay about it.

What do your regular-dude friends say about man purses? Yeah, they make fun of me all the time. But I don't make man purses, by the way. I make backpacks and duffel bags and briefcases. I don't know about murses—there are things going on in fashion right now that are just not for me. I'm not one of these guys who wants to be all exclusive. I don't need to be a gazillionaire.
More from Jason
"Imagine telling your father you want to sell bags for a living."
Sponsored listing
Bread
Located just around the corner from its original Spring Street location, this cafe inside the Nolitan Hotel offers 80 indoor seats, a 40-seat outdoor cafe and rustic Italian sandwiches like Sicilian sardines with pepper mayo on a baguette, aged salami with imported taleggio on ciabatta, and gorgonzola with honey on walnut bread. The new space also expands with a full breakfast, lunch and dinner menu.  
Venue says: "We are Bread Nolita would love to host your next event or large party. We're available for corporate, special events, & restaurant buyout."