Public eye: José Sánchez, 33
New York street interviews: Stories from the sidewalk as told by real New Yorkers about their lives in the city that never sleeps.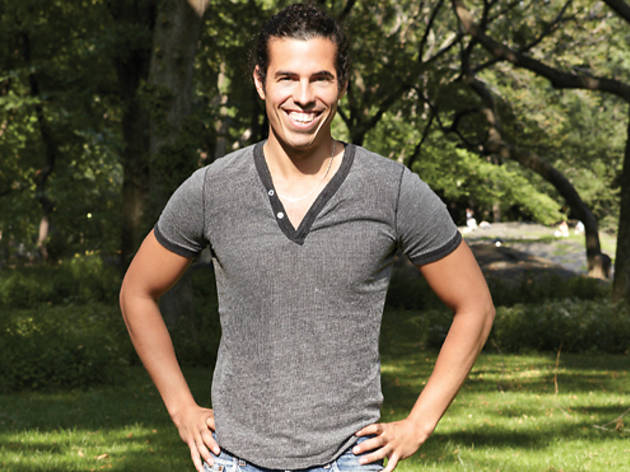 Central Park
Can we take your picture? Sure! I'm wearing my never-nudes today.
Arrested Development fans will love you forever. Oh man. That's really going in print? Wait till my students get ahold of this.
What kind of students? I'm a teacher at Robert Louis Stevenson, a small school on the Upper West Side. There are only 75 students; it's for kids who didn't achieve at the high-functioning schools because they had emotional issues, drug issues or learning disabilities.
Sounds like a good place. It really is. It should be the model for school reform across the country. If kids in the Bronx had schools like this, it would be a different situation. I used to teach up there.
From the Bronx to the Upper West: Are there more similarities than differences? Kids are kids; it's always a pleasure teaching them. They're generally excited about things and a lot more honest.
As in, they'll tell you if you're looking busted. No doubt. You can't take things too seriously. Kids on the Upper West have more privilege—though their issues might be similar, the means to help them are more readily available.
Where are you from? I was born in Puerto Rico and moved to Dumont, New Jersey, when I was three—me, my parents and my seven older siblings.
Did you have to lick all your food at the dinner table so it didn't get stolen from you? Basically. I probably didn't eat enough when I was young. [Laughs] I mean, there was always food. But my dad always got the biggest piece of chicken. I really don't know how my parents did it.
Ever think of who José Sánchez would be if he'd stayed in Puerto Rico? All the time. I'd be tan all year round...and probably a lot happier.
But possibly not influencing young minds. Good point. I'd be drinking beers on the beach all day.
In your never-nudes. [Laughs] You know, this is the first time I'm even wearing these things in public. Of all days.
Hey, they're responsible for your 15 minutes of fame. Well, awesome then. I'll take it.
More from José
You might also like
See more New York stories from the sidewalk
See photos of New York street style
See more in Things to Do