Public eye: Katiie Martin, 21
New York street interviews: Stories from the sidewalk as told by real New Yorkers about their lives in the city that never sleeps.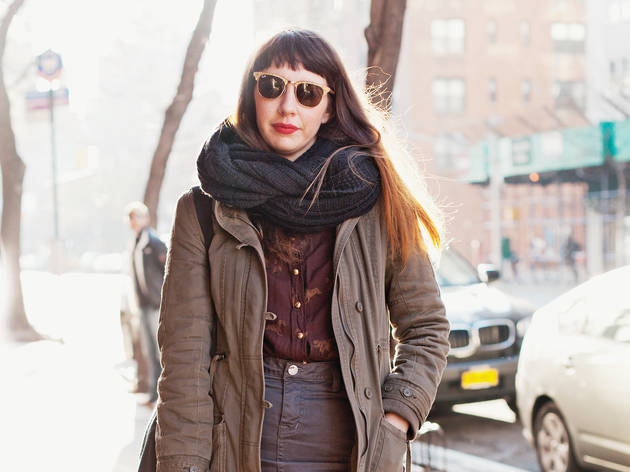 Sixth Ave between 12th and 13th Sts

You really put the i in Katie, huh? Yeah. I was born in 1991, when Kate was the most popular name—
Tell me about it. Oh, right. Well, there were five Kates in my kindergarten class: Katie Blakely, Katie Reynolds, Katie McGuinness, Kate Daugherty and me.
Ireland? No, just Catholic school. But yeah, I wanted to be Katiie with two is to be different. So I am.
What are you up to? I just came from a babysitting interview.
So are you an actor or artist? I'm an artist and a student. I'm going to school for English. I want to be a lib—well, I want to do a lot of things.
Did you start to say librarian? Well, that's one of the things I want to do if I can make it to grad school.
Why a librarian? I feel like a lot of people doing library-science stuff want to do the technical part, or archiving. But honestly, I want to read books to kids. I want to be a school librarian. But I have another year of college first, so I'm not completely positive. I'm also interested in working for a small press, or maybe starting one.
Suddenly I feel like I'm in the '90s. [Laughs] I know. I have this terrible family member who was making fun of me for that. He was like, "Isn't everything on the computer now?" And I was like, "No! Shut up. Paper lives." I mean, you work for a paper magazine.
But I'm not 21. I think maybe I'm just obsessed with paper. I love analog photography, too. I just took my first darkroom class. And I make zines.
Zines! Well, the word zine has a connotation that it's radical—
And xeroxed. Yeah. Mine aren't, like, this is how you can start a radical space kind of zines—although I did once write a manifesto about the cafeteria at school, freshman year of college. My zines are more like collages. A zines library would be cool, huh? I guess I need to move to Seattle.
Or Portlandia. Yeah. But if I moved to Portland I couldn't do that, see, because not everyone there is as neurotic and all over the place as I am.
More from Katiie
"Last night I told a guy how I spell my name and he fell in love with me in that moment."