Heads up! We're working hard to be accurate – but these are unusual times, so please always check before heading out.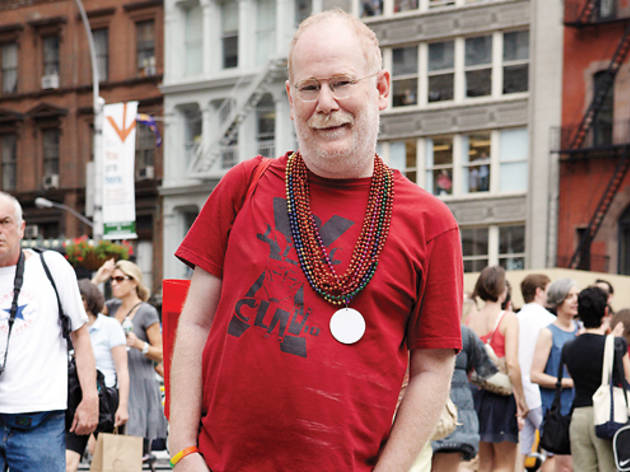 Public eye: Kevin O'Donnell, 56
New York street interviews: Stories from the sidewalk as told by real New Yorkers about their lives in the city that never sleeps.
E 23rd St and Broadway
Did you have to flash your boobs to get those beads? [Laughs] Yeah, right. They're my best asset, what can I tell ya? Just like Manhattan was sold for beads, so was I!
What is it that you do, with those assets? What I really do is go to school at night for hotel management. I want to be a GM of a large chain hotel.
What's the inspiration to go back to school? I was tired of staying home doing nothing. The last job I had was as a personal caregiver. I did that for five or six years and the person died on me last year.
That must have been rough. It was. I was living with him, taking care of him. It was a very, very dear friend who I knew for 26 years. He got sick with bladder cancer and asked me to take care of him.
How do you handle knowing someone is going to die? You try to have a good attitude because you don't want him to feel bad. But really, there's nothing you can do.
Did it give you new insights on your own mortality? Oh, yes, it did. You realize you're vulnerable, like everyone else. And you look at life in a different way, appreciating all the little things more. Like sunsets.
Are you as Irish as your name sounds? Yeah, I'm super Irish—Irish Protestant. But growing up, we could go to any church we wanted. I chose Presbyterian because that's where all my friends were going. If they'd been going to shul I would have chosen Judaism.
Following the herd, huh? Yeah, but I'm also my own person.
You must be a patient people-person type. Yeah, I have over 30 years of experience dealing with people. I've worked for a bank, a printing company, a limo company....
Ever get tired of dealing with schmucks? I hate dealing with rude customers, but you have to sometime. Sometimes they've had a bad day and they start snapping, so you try to make their day a bit easier. And then they find out they're making a fool of themselves.
Ah, the ol' kill-'em-with-kindness strategy. You got it. I'm so sweet, girl, you're gonna die of diabetes. [Laughs]
More from Kevin
"I enjoy life to the fullest. 'Life is a banquet and most poor suckers are starving to death.' That's from Auntie Mame."
You might also like
See more New York stories from the sidewalk
See photos of New York street style
See more in Things to Do