Heads up! We're working hard to be accurate – but these are unusual times, so please always check before heading out.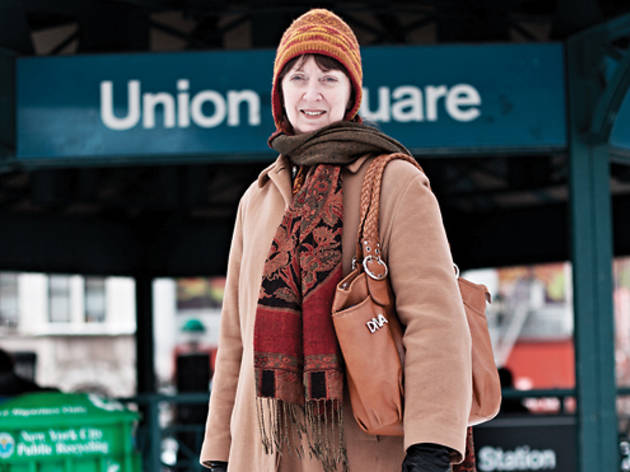 Public eye: Lynne Hayden-Findlay, 61
New York street interviews: stories from the sidewalk with real New Yorkers and how they live in the City That Never Sleeps.
Union Square West at 14th St
What are you up to? I'm running to the bank to make a deposit from Chelsea Opera's concert receipts.
So you're...? I'm the cofounder of Chelsea Opera.
Are you a singer, too? I've retired from singing. I started when I was four, had a business career in the middle, came back to it at 40, had modest success with chorale jobs, and then decided to give it up to focus on the company.
What inspired you to come back to music at 40? My husband died, and I realized that life was moving on and I needed to go back to my passion.
Opera is kind of like oysters—you either love it or hate it. Yes, and at first I hated it. I'd go to the opera and think, My God, why doesn't he just give her the letter and we'll get on with the story? Instead, he holds on to it till the third act. Oh my gosh, it was just awful! But then I was hired to sing in a chorus of Cavalleria Rusticana and it was the most glorious music I'd ever heard. I got the bug.
Are you a diva? Definitely not.
Did you remarry? No. It's very hard to meet people. First of all, I don't meet a lot of men who are not gay.
It's opera and Chelsea, after all. [Laughs] Exactly. More than that, my husband was just such an amazing partner. He set a very high bar. Quite honestly, I'm very content with my lifestyle the way it is.
Where are you from? Wantagh, Long Island. I trained myself out of the accent.
Did it feel like getting rid of an accent or acquiring a new one? Good question—I actually had to work on Southern British dialect, and that neutralized the vowels. But I still have difficulty with the words boardwalk and lawyer—they come out "boowd-walk" and "law-ya." [Laughs]
What drew you to New York City? I think it was Kojak, and watching those guys with their paper coffee cups. Isn't that weird?
You came to New York City for the WE ARE HAPPY TO SERVE YOU coffee cups? Yeah! [Laughs] And I didn't even drink coffee.
More from Lynne
"Our next mainstage production is a small opera by Lee Hoiby called This Is the Rill Speaking."
You might also like
See more New York stories from the sidewalk
See photos of New York street style
See more in Things to Do