Heads up! We're working hard to be accurate – but these are unusual times, so please always check before heading out.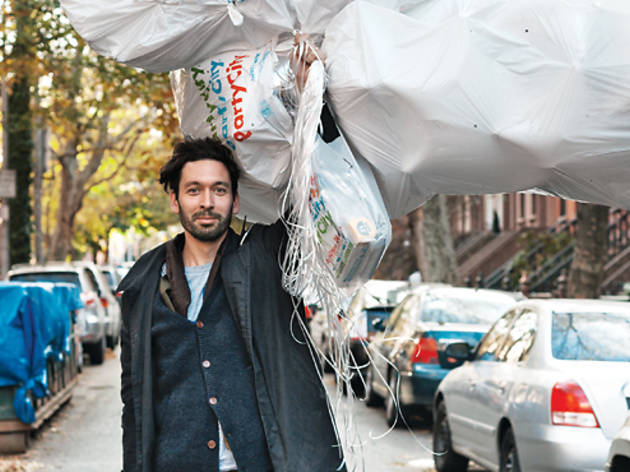 Public eye: Sam Wheeler, 34
New York street interviews: Stories from the sidewalk as told by real New Yorkers about their lives in the city that never sleeps.
Henry St between DeGraw and Kane Sts, Cobble Hill, Brooklyn

Are you going to a sixth birthday party? No, we're filming a series of segments for the website Refinery 29.

I hear there's a helium shortage—pretty soon this will be a rare sight. [Laughs] I heard that too. Yeah, in the future people will think how decadent it was that we used it just to make our voices sound funny.

Is that what you're doing? [Laughs] No. They're decoration for a "Live from Tinseltown" Web series. My partner Dino and I have a window displays and set design company called Aux Armes Etc. We also own a bar called Lavender Lake, which got flooded by Sandy.

Oh, the irony. I know. Lavender Lake is an ironic nickname for the Gowanus Canal. Now it's not so funny.

Are you open again? Yes, actually. It's a really nice community that came together to help each other out. And after seeing the devastation in the Rockaways and stuff, we're not complaining.

And you seem to be busy with your other business, too. Yeah, it's holiday window season, which is kind of a crazy time. We're doing Jill Stuart's windows in Soho, and Hermès in Chicago, San Francisco, L.A. and Miami.

Holiday windows seem to get kind of weird and experimental sometimes. Definitely. We've done a lot of weird things: Once we had these beautifully dressed girls in gowns that had snowman heads and stick arms; that was surreal. Another time we entirely covered up a window except for some peepholes with spinning pinwheels of pinup girls. And we did a big fantasy factory for Hermès, which were these white geodesic, futuristic machines.

Sounds like a fun job. You know, it goes between days where we feel so lucky—we're coming up with ideas and getting to build them—and then there are days when we're, like, in these fancy stores on our hands and knees scrubbing paint off the floor and we feel like, Jeez, I went to college—what am I doing?

But then you get to go blow off steam in Lavender Lake? Exactly. And when you're working with friends and doing stuff you like it's never too bad.
More from Sam
"It turns out you need many more balloons than this to float away."