Heads up! We're working hard to be accurate – but these are unusual times, so please always check before heading out.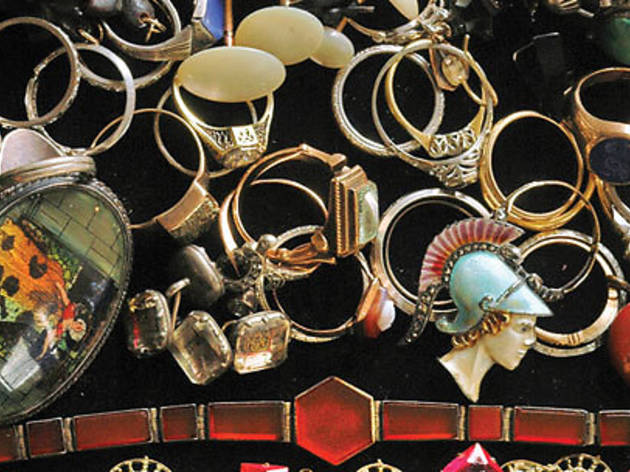 Red Hook has everything going for it—waterfront location, quiet streets, uncommonly friendly bars and restaurants, IKEA—with one egregious exception: transportation. With Zero subway lines and one bus line serve the 'hood (and, yes, the Water Taxi), so it can be a challenge to get there, but few residents of this former shipping community complain about the hike. As they'll quickly point out, it all helps foster the area's distinctly laid-back feel.
Matt Lewis, co-owner, Baked
"Erie Basin, which is across the street from us, has these really cool antiques. They actually helped us design our store in Charleston, South Carolina. We loved it so much—all kinds of doodads, for lack of a better word—that we took a truckload of them down there. And I get all my gifts from there."
Erie Basin, 388 Van Brunt St at Dikeman St (718-554-6147, eriebasin.com)
"[Baked co-owner Renato Poliafito and I] are big fans of Hope & Anchor. It's always good for a quick lunch; we hold meetings there. And you have to give them props. They were there before anybody else. We're [also] fans of Dry Dock Wine & Spirits. We get our liquor for baked goods [there]."
Hope &amp, 347 Van Brunt St at Wolcott St (718-237-0276) * Dry Dock Wine & Spirits, 424 Van Brunt St at Van Dyke St (718-852-3625, drydockny.com)
"At the Good Fork, I just get the hamburger, 'cause I'm one of those crazy hamburger people—but it's really fantastic. I like a small neighborhood place that doesn't feel like one of those spots in Manhattan, or even larger ones in Brooklyn that are kind of overrun. It moves at its own pace."
The Good Fork, 391 Van Brunt St between Coffey and Van Dyke Sts (718-643-6636, goodfork.com)
Jason Benjamin, coronet player, Red Hook Ramblers
"[Music venue] the Jalopy Theater is amazing. It's a really awesome place to hang out. Whenever you go in there to see anything, it's always a pleasant surprise."
Jalopy Theatre, 315 Columbia St between Hamilton Ave and Woodhull St (718-395-3214, jalopy.biz)
"A fun place to go to is the bar Bait & Tackle. It feels down home, with a bunch of different eras all thrown together. It's got these weird animal heads on the wall. It's just a lot of locals."
Bait & Tackle, 320 Van Brunt St at Pioneer St (718-797-4892)
"We used to hang out at the Pioneer; now it's [a bar] called Brooklyn Ice House. If you go there, they have a pulled-pork sandwich that's awesome."
Brooklyn Ice House, 318 Van Brunt St between Pioneer and Visitation Sts (718-222-1865)
"Something I really love is Louis J. Valentino Jr. Park and Pier. It's this little grassy area that they've preserved, and it's really peaceful. You're right on the water and you've got a beautiful view of the Statue of Liberty and everything."
Louis J. Valentino Park, Coffey St at Ferris St (nycgovparks.org)
"Right nearby [the pier], there's also Steve's Authentic Key Lime Pies. It's just one of those cool little special places in the neighborhood."
Steve's Authentic Key Lime Pies, 204 Van Dyke St at Pier 41 (718-858-5333, stevesauthentic.com)
Gabriel Cohen, author, The Ninth Step
"I think Sunny's is the most beautiful bar in the world. It's filled with really amazing memorabilia from the last 100 years. But the main reason [it's amazing] is that Sunny and his wife just set a tone there that doesn't have the usual alcohol-and-testosterone vibe of a lot of bars. They've sort of turned it into the unofficial cultural center of Red Hook; they do art shows in the back room; they have great live music, like this band Smokey's Roundup that plays western swing."
Sunny's, 253 Conover St between Beard and Reed Sts (718-625-8211, sunnysredhook.com)
"I'm addicted to the Red Hook pool. One of my favorite things to do in Red Hook [in the summer] is swim in the pool and then visit the Red Hook food vendors right across the street. I usually get pupusas from El Salvador.
Red Hook Recreation Center, Bay St at Henry St (718-722-3211) * Red Hook Food Vendors, Bay St at Clinton St (redhookfoodvendors.com)
"[Red Hook] seems to attract really independent, kind of visionary people who go to great lengths to realize some personal dream there. One example is Carolina Salguero. She's at PortSide NewYork. She bought this old 170-foot-long oil tanker and has been making it sort of an educational and arts center."
PortSide NewYork (portsidenewyork.org)
"David Sharps at the Waterfront Museum and Showboat Barge: He single-handedly found this old railroad barge and [rescued it] from the bottom of [the Hudson River mudflats], brought it to Red Hook and has turned it into a kind of arts center."
Waterfront Museum and Showboat Barge, 290 Conover St at Pier 44 (718-624-4719, waterfrontmuseum.org)
Sunny Balzano, owner, Sunny's
"The [restaurant] I enjoy the most is the Good Fork. It's run by Sohui [Kim] and Ben [Schneider], and they both have a lot of integrity. They're just great folks. Usually when I go, I get the chicken; it's really unique."
"When folks are hungry, we send them to the Good Fork or Fort Defiance. [Fort Defiance's] owner [St. John Frizell] is really a sweet guy. He's a mixologist. The space is small and gives him an opportunity to do the things he really loves to do. It's wonderfully put together."
Fort Defiance, 365 Van Brunt St at Dikeman St (347-453-6672, fortdefiancebrooklyn.com)
"When you go to Defonte's, you get a sandwich like this [makes a circle with hands]. I feel about them the way I feel about Katz's. They don't cheat you; they give you your money's worth."
Defonte's, 379 Columbia St between Coles and Luquer Sts (718-625-8052)
"If you go to the Fairway Market, all the way out to the back, they have a good outside area where you can sit."
, 480 Van Brunt St at Reed St (718-694-6868, fairwaymarket.com)