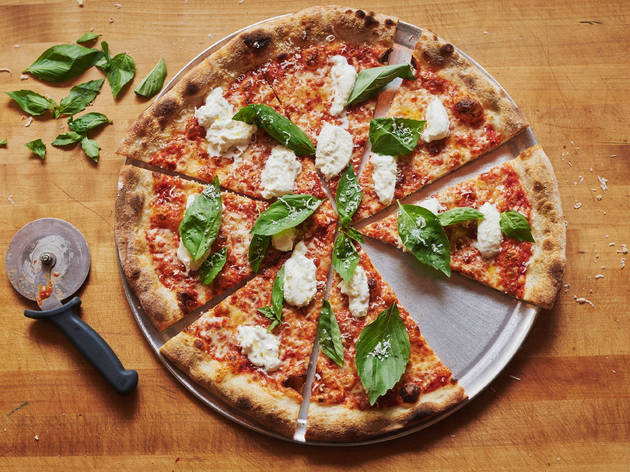 12 of the best slices of pizza to get on the go
New York City is remarkable for many, many things, but the pure joy of a steamy slice is certainly one reason New York will always be the greatest city in the universe
Anyone who claims that New York City is over is definitely not deep into a cheese slice, fresh out of the hot pizza oven and straight onto a paper plate that leaks warm grease onto eager, just sanitized hands.
Whether you feel like going out or staying in, rushing around or taking it slow, a great slice is never too far in New York. And as we continue to support the local restaurants that make the city what it is, there's truly never been a better time to grab some 'za, head to your favorite park (or couch, we get it) and kick back for a safe and delicious fall night.
For more inspiration on how to make the most of NYC this fall, head to our interactive map.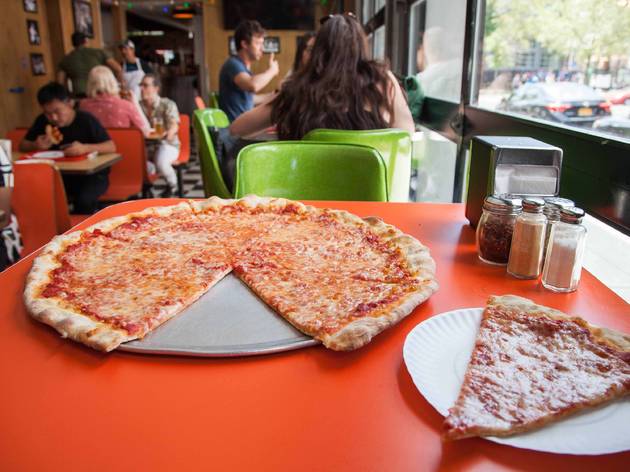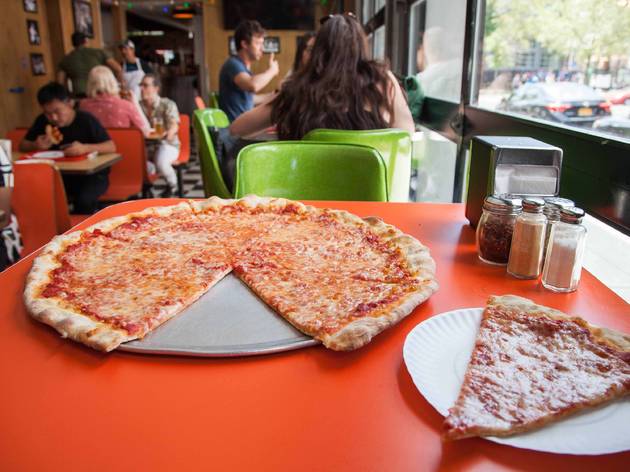 Photograph: Time Out/Ali Garber
1. Paulie Gee's Slice Shop
The more casual offshoot of perpetually packed, dine-in only Paulie Gee's, this artisanal riff on a classic slice joint sounds a little too Brooklyn, but give it (and the line) a chance, and you'll see why people are willing to wait for slices. Special to the slice shop are thick, rectangular grandma slices, like the Hellboy, topped with pepperoni and Mike's Hot honey, plus an entirely vegan side of the menu!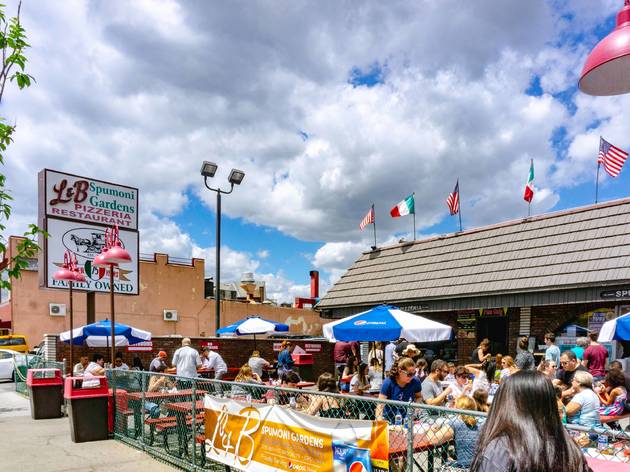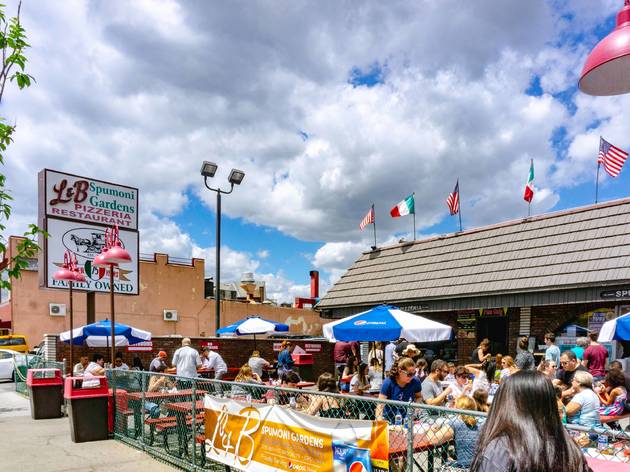 Photograph: Shutterstock/Brian Logan Photography
A staple since 1939, L&B's outdoor pizza garden is a hub for neighbors and destination pizza seekers whenever the weather is right – and even when it's not. Order six or twelve cuts of the light crust, sauce drenched signature pie, plus a scoop or pint of Neapolitan spumoni to go.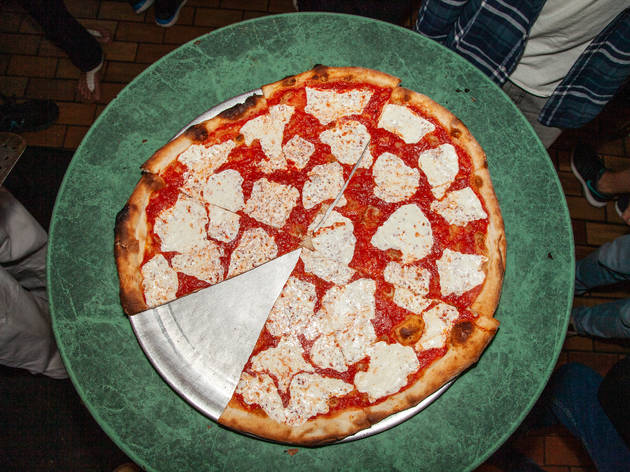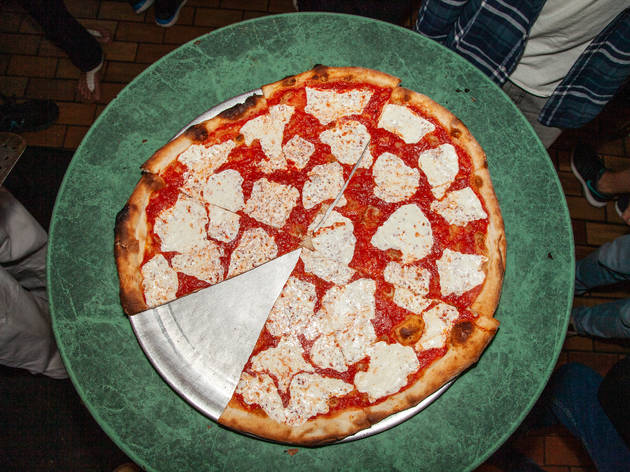 Photograph: Time Out/Ali Garber
The gold (or red?) standard when it comes to a basic but perfect slice, Joe's commands lines for its plain slices, served on a flimsy paper plate, which is barely needed after devouring the cheesy slice. Toppings can be added, but definitely aren't necessary.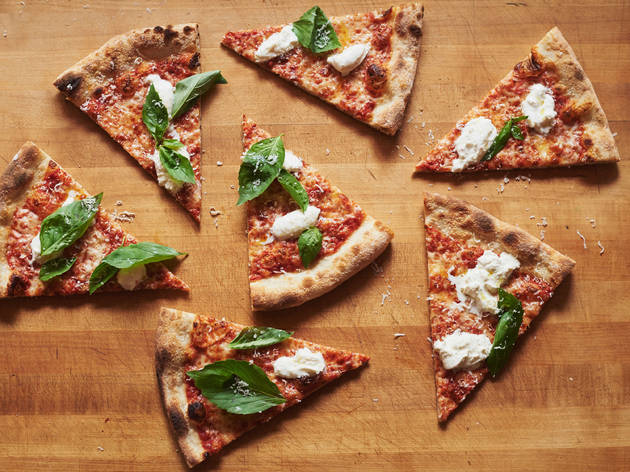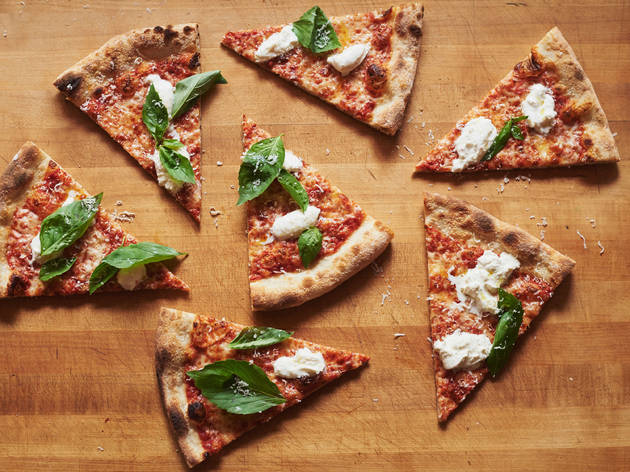 Photograph: Courtesy L'Industrie/Emerald Layne
A hidden gem on a quiet residential street in Williamsburg, this pizzeria cranks out slices and pies with high quality, specialty ingredients. Toppings include a signature burrata pizza, plus additional ricotta and prosciutto di parma topped slices, and a portobello and truffle sauce white pie. Vegan options are also available.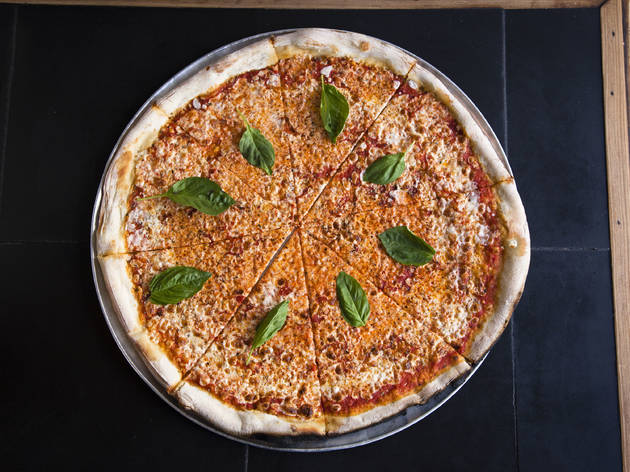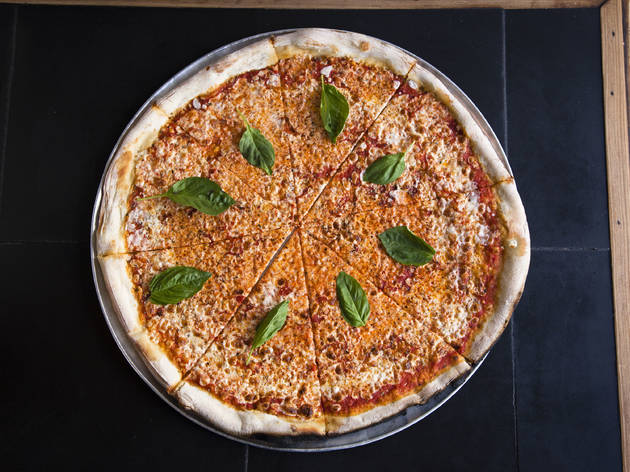 Photograph: Courtesy Best Pizza/Deidre Schoo
A wood-fired pizzeria that luckily lives up to its name, Best Pizza nails the basics with a little Brooklyn flare. Seasonal veggies can be added to any pie, as well as Calabrian chili, carmelized onion, and Williamsburg's signature ingredient: Kale.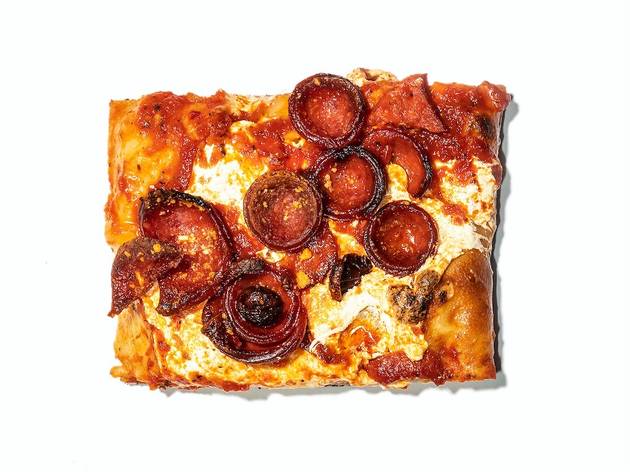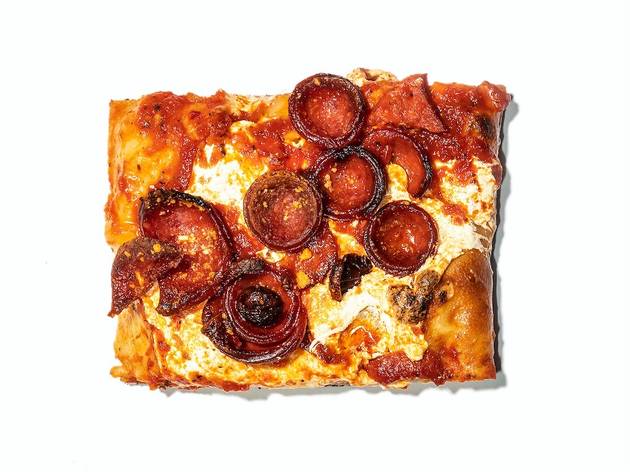 Photograph: Noah Fecks
A slice as stylish as SoHo itself, Prince Street's rectangles are hefty in weight and bite, definitely more filling than your standard to-go slice. The house secret tomato sauce is the key to greatness, but the addition of a generous topping of tiny 'roni cups, is another reason this slice is unrivaled.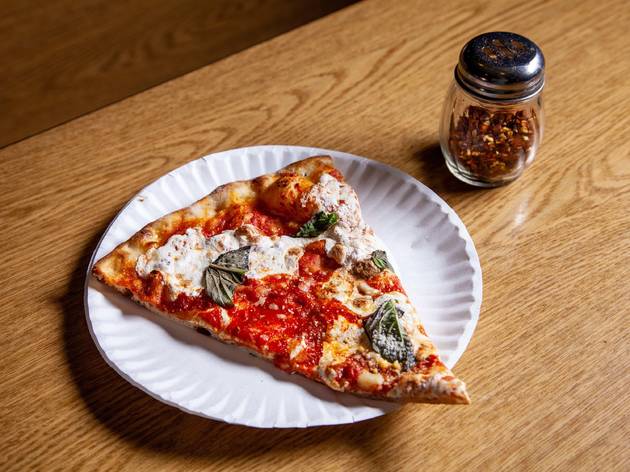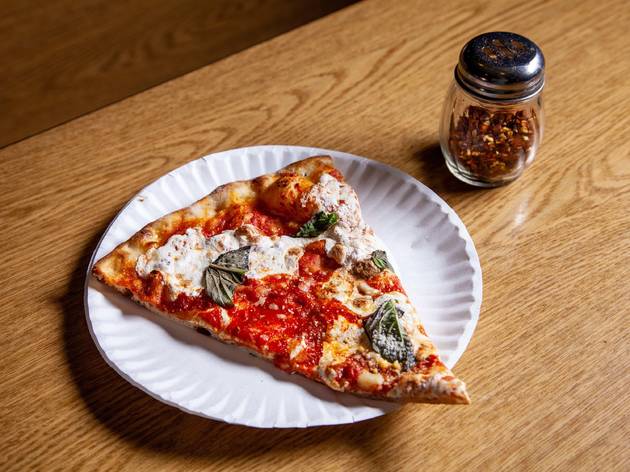 Photograph: Time Out/Ali Garber
All-natural, stone milled flour makes Scarr's dough and crust some of the best in the city, if not the entire world. The original and vegan cheese topped pies are truly excellent, with the perfect ratios of sauce and cheese, and specialty toppings like beef pepperoni, cherry tomatoes and ricotta help gussy things up.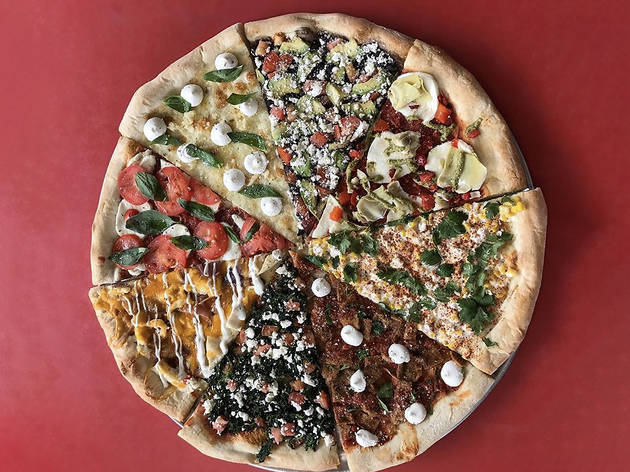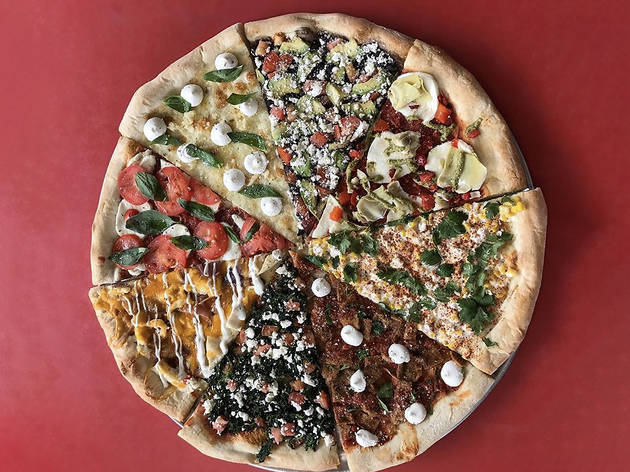 Photogrpah: Courtesy Vinnie's/Sean Berthiaume
Steps from McCarren Park, the ultimate North Brooklyn hub for a socially distant pizza picnic, this counter service pizzeria is known for cheeky, timely specials, unusual topping combinations, and perhaps its most iconic pie, the pizza on pizza, which uses mini slices as a topping for a cheese pizza.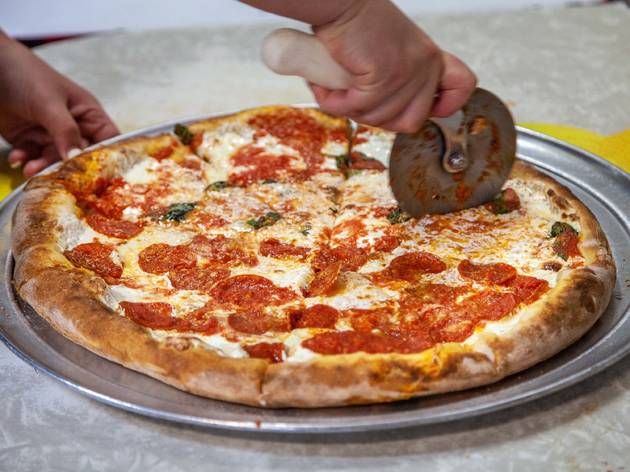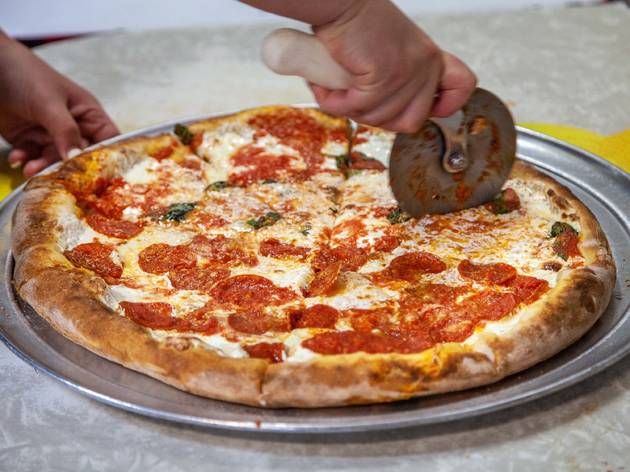 Photograph: Time Out/Ali Garber
A trip to Coney Island isn't complete without a stop at this legendary coal-oven pizzeria, family owned since 1924. Mozzarella is homemade and beautifully melted between the signature tomato sauce that yes, can be picked up and toted to the boardwalk.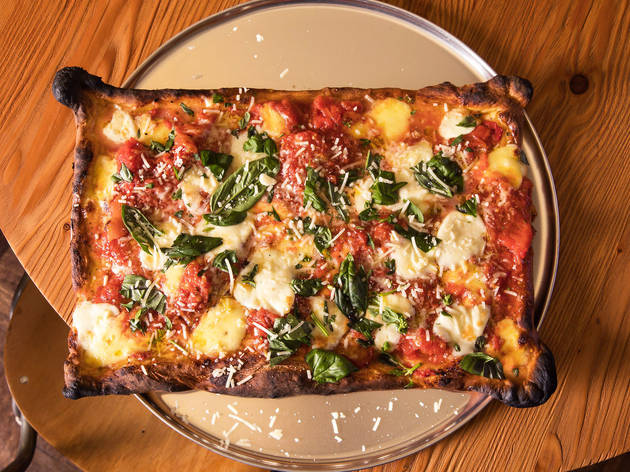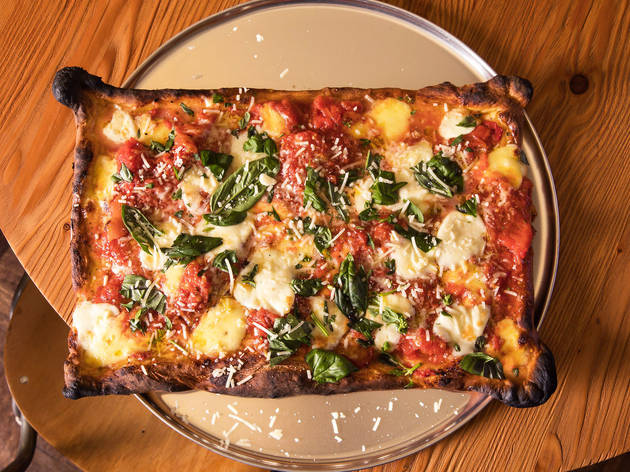 Photograph: Courtesy Di Fara
A Midwood destination since 1965, piazzolo Domenico De Marco (aka "Dom") is the king of pies. The octogenarian Italian immigrant can still be seen slinging pies, which often command an hour-plus long wait, available by the slice or whole pie. Specialty toppings like broccoli rabe, artichokes, wild onions and more are worth adding on for a unique slice.
11. Rose & Joe's Italian Bakery
Past tempting cases of freshly filled cannoli and chocolate dipped cookies, this family-run Italian bakery's back pizza counter is worth seeking out. Slices are topped with a generous stretch of mozzarella and fresh basil, and perfectly portable to munch on the go or tote to nearby Astoria Park.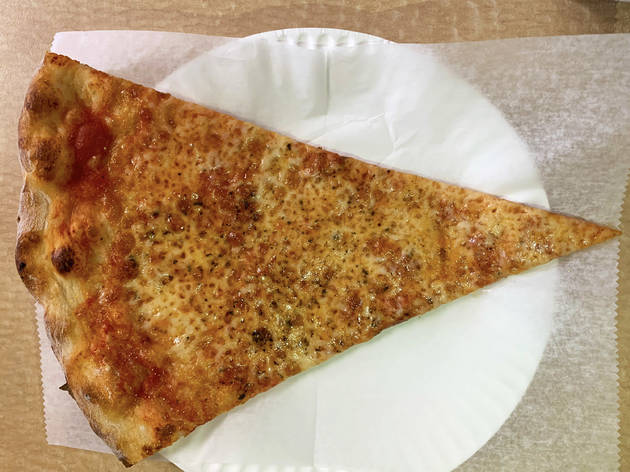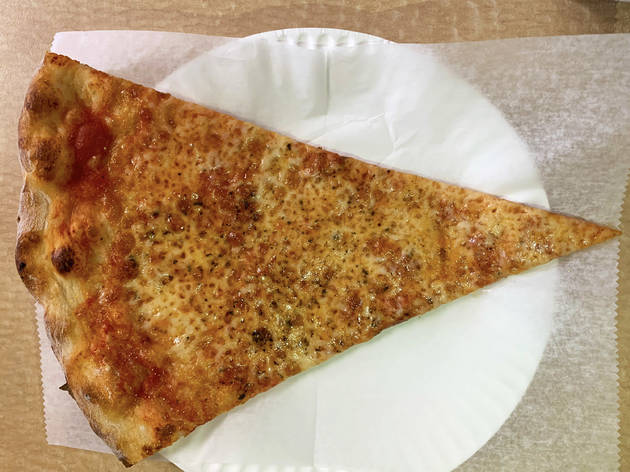 Photograph: Courtesy Louie & Ernie's
A beloved, decades-old neighborhood slice joint, Louie and Ernie's attracts loyal fans as well as pizza tourists, eager for a bite of the classic thin crust slices. Sausage is one of the pizzeria's signature toppings, as are their calzones. Walk around the residential neighborhood, work up an appetite, and return for a second round.
Best selling Time Out Offers