Heads up! We're working hard to be accurate – but these are unusual times, so please always check before heading out.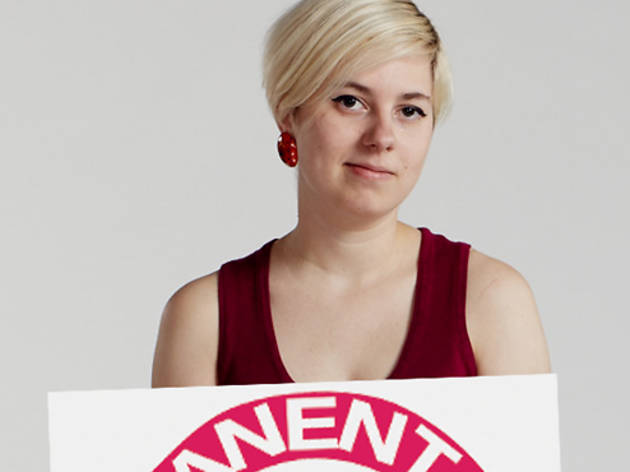 Sophie Weiner, 22
Member of Permanent Wave, a network of feminist artists and activists
In 2010, writer and musician Amy Klein was on tour with a well-known New Jersey-based punk band when she started a blog (amyrebeccaklein.tumblr.com) about her experiences on the road, her thoughts on feminism and, occasionally, how the two intersect. "As more and more people read my blog, I began to receive many messages—in particular from young women who identified with what I was saying," she explains. "I felt as if many young women were looking for feminism everywhere and not really finding it anywhere besides the Internet."
With that in mind, Klein used social media—Twitter, Facebook and her blog—to organize a meeting of like-minded feminists at her Brooklyn apartment in December of that year. The initial gathering of around 20 people was the beginning of the feminist collective Permanent Wave (thepermanentwave.org); after the meeting, Klein started a Listserv, so that those interested in continuing the conversation could stay in touch. The group has blossomed to 300 members of all ages, races, genders and backgrounds. Four other chapters have formed in New York, Philadelphia, Boston and San Francisco. "I think we are using the Internet in a really meaningful way to bring people together and help create feminist communities where women can focus on making art and social change," says Klein. Much of the group's interactions happen via the mailing list: Members take part in spirited debates, discuss the latest feminist news or post calls for assistance with their own work. "Everyone gets their voices heard if they want to participate," says Niina Pollari, a writer and yoga teacher who has been a member since 2011. "Whatever your project is, you can find the people for it."
Permanent Wave also stages a wide variety of events throughout NYC, including a feminist book club, consciousness-raising groups and Sound Wave, a series of concerts that also function as fund-raisers for feminist-focused charities (past shows have benefited Planned Parenthood, the Center Against Domestic Violence, and RightRides). Members have also collaborated on zines and compilation records. Political activism is another aspect of Permanent Wave, which has allied itself with groups such as Hollaback NYC, Paradigm Shift NYC and Feministing.com. In May 2011, the group helped organize a protest against the acquittal of two NYPD officers accused of rape; in less than 48 hours, the rally received national attention, and more than 1,000 people attended the event.
Ultimately, the group hopes to attract more members, and further its goal of creating supportive, collaborative communities for women in both New York City and across the country. "To see all of these women who work in media or are musicians and are doing all these amazing things with their lives is so inspiring to me," says Sophie Weiner, a social-media manager at Flavorpill who joined in 2011. Weiner has helped book concerts for Permanent Wave, and since getting involved, she's also joined a band and collaborated with other female musicians from the group. "It makes me feel like I really can do this too."
GET INVOLVED: The best way to join Permanent Wave, and to keep abreast of its upcoming events, is to sign up for the Listserv—simply send an e-mail to thepermanentwave@gmail.com to register. The group also holds organizational meetings once a month, during which upcoming projects are discussed.
RELATED
Where to volunteer in NYC: Women's-rights organizations
Listen to 10 great feminist anthems
Read an interview with pioneering activist Gloria Steinem
Browse NYC landmarks named for women