Heads up! We're working hard to be accurate – but these are unusual times, so please always check before heading out.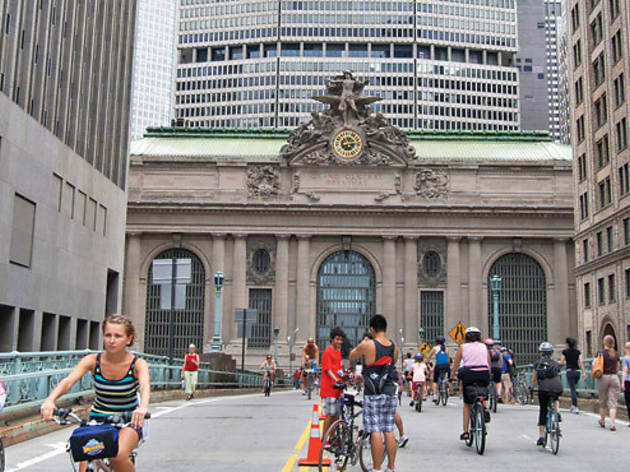 Summer Streets: Six New York buildings worth seeing
Stop and admire the cool New York buildings that dot this year's Summer Streets route, without worrying about being mowed down by a cab.
One month a year during Summer Streets, the Department of Transportation (seemingly) flips drivers the bird: For three consecutive Saturdays in August, more than 75 blocks—from the Brooklyn Bridge to 72nd Street along Lafayette Street and Park Avenue—are closed to motor vehicles. The DOT is laying on plenty of activities, including a 30-foot-high zip line in Foley Square, but Summer Streets is also a great chance to pause and check out some of the city's exceptional architecture without being jostled and harried. Here are a few New York buildings to admire along the route, from south to north.
RECOMMENDED: Guide to Summer Streets
Media mavens should make a pilgrimage to this red-brick building with three layers of rounded arches, located in the former printing and publishing district. The original tenant was Puck, a humorous magazine founded in the late 19th century; it was famed for its satirical cartoons featuring the work of the preeminent caricaturist of his day (and cofounder of Puck), Joseph Keppler. (More than a century later, Kurt Andersen and Graydon Carter's acerbic, brilliant Spy magazine also worked out of the space.) Two gold sculptures of Puck, the publication's mascot who always appeared on the front cover alongside the line, "What fools these mortals be," adorn the building. Designed by Keppler, he stands with his portly naked belly on display while admiring his reflection in a hand mirror; one statue can be found on the corner of the building at East Houston and Mulberry Streets and the other above the entrance.
Before this controversial office building was erected in the 1960s, New Yorkers could enjoy a harmonious view of Grand Central Terminal from the south with the Helmsley Building rising behind it­; the latter two were both conceived by architectural firm Warren & Wetmore and built from similar materials. The MetLife (formerly the Pan Am Building) was erected right between the two. But to some, the interloper holds its own charms. David van der Leer, assistant curator of architecture and urban studies at the Guggenheim Museum, says he loves the audacity of it: "One of the great things about the MetLife Building is that it's in the middle of the grid. It's one of the rudest buildings in the city. I love looking at it."
One of Summer Streets' great boons for cyclists is the chance to ride up the Pershing Square Viaduct from the south, catching a fantastic view of the MetLife Building towering over Grand Central Terminal and finally emerging through the Helmsley Building's triumphal arch onto upper Park Avenue. Two figures, flanking an Art Deco clock above the arches, watch your progress: a man representing Transportation and a woman, Industry. Cycle a few blocks north and turn to admire the building's slim 35-story frame and ornate dome, perched atop a pyramid-shaped roof.
The Racquet & Tennis Club
Ronda Wist, senior vice president of policy and advocacy at the Municipal Art Society of New York (mas.org), suggests stopping at this prestigious sports club. "[It was] built when Park Avenue was still residential, so it was [situated among] beautiful limestone apartment houses," says Wist. The five-story Renaissance Revival building is now dwarfed by midtown's soaring glass-and-steel structures, but it holds its own with a recessed balcony (a loggia, if you want to get fancy) and, above it, a frieze depicting a tennis net and crossed racquets.
Created by a master of modern architecture, Ludwig Mies van der Rohe's colossal steel, glass and bronze skyscraper became an archetype of the International Style, an unadorned mode that hit the block a few years earlier in the form of Lever House (390 Park Ave at 54th St). David van der Leer, assistant curator of architecture and urban studies at the Guggenheim Museum, suggests taking a rest stop in front of the building: "The Seagram was really important, because it was placed back from the grid—at that point we were still building right up to where you were able. [Mies was] trying to create a plaza in front of the tower, which I think, to this day, functions really nicely."
Fans of Frank Lloyd Wright should stop at this dealership, one of just two commissions by the architect in Manhattan (the Guggenheim is the other). Bruce Brooks Pfeiffer, director of the Frank Lloyd Wright Archives, points out features such as the (no-longer-operational) revolving circular disc on the floor, mirrored so buyers could check under the cars, and a curved ramp to display more automobiles. "It was a pretty radical thing [in 1954] to see a storefront of all glass and flowers and plants," says Pfeiffer. "[Wright] gave it a very natural, human element." Check it out now before Mercedes vacates the space by year's end.