Heads up! We're working hard to be accurate – but these are unusual times, so please always check before heading out.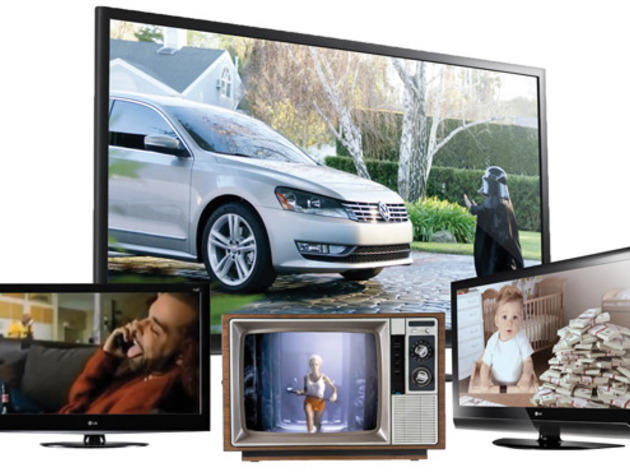 Super Bowl commercials: The ten best Super Bowl ads of all time
Time Out loves the time-outs! Our Super Bowl commercial roundup will reacquaint you with the most captivating, silly and truly absurd ads from years past.
You don't have to be a football fanatic to appreciate these memorable Super Bowl commercials. Grab a winter cocktail and some BBQ, hunker down and salute the ads that are Super Bowl highlights in their own right. From adorable babies to sports legends, watch your favorites in Time Out's list of top ten commercials, just in time for kickoff.

RECOMMENDED: See all New York Super Bowl coverage
10. Reebok, "Terry Tate Office Linebacker" (2003)
Okay, maybe having a burly football player tackle employees who step out of line isn't the best strategy for improving productivity. But it certainly makes for a good commercial: The titular character of this spot, first aired during Super Bowl XXXVII, brings both mayhem and discipline to an otherwise typical workplace.
9. E-Trade, "Baby" (2008)
Cute or creepy? That's the question surrounding the talking E-Trade baby, who made his first appearance during Super Bowl XLII. Some viewers were charmed by the character's adorable visage, droll whoa-dude delivery and remarkable online investing savvy; others, particularly Internet commenters, found the whole thing sort of weird.
8. Budweiser, "Frogs" (1995)
Bud also had success creating an earworm with this doozy, in which three frogs rhythmically ribbit the brand name. Directed by Pirates of the Caribbean filmmaker Gore Verbinski, the spot also spurred a ubiquitous ad campaign that lasted until the early 2000s.
7. Budweiser, "Whassup?" (2000)
The beer giant perennially contributes some of the Super Bowl's most memorable and creative commercials, so it's no surprise that the brand earned two mentions on our list. This spot initially debuted in 1999, but gained prominence during Super Bowl XXXIV; it birthed not only a years-long marketing campaign, but a casual greeting you still hear to this day.
6. Doritos, "Live the Flavor" (2007)
When it debuted during Super Bowl XLI, this Doritos promo became the first-ever fan-created commercial to air during the big game. Made by two college-age North Carolinians, it earned its prime-time spot after garnering the most votes in an online contest, beating out more than 1,000 other amateur submissions.
5. Volkswagen, "The Force" (2011)
The tiny Darth Vader in this adorable ad may have much to learn about the ways of the Force, but thanks to fancy-pants car technology, the kid gets a big shock by "activiating" Dad's new Passat. With nearly 59 million views on YouTube, the commercial is one of the most viral TV spots ever.
4. Wendy's, "Fluffy Bun" (1984)
Better known as the "Where's the beef?" commercial, the fast-food chain used actress Clara Peller's brazen honk to great effect. The advert's popularity led to a 31 percent revenue increase for Wendy's, and presidential candidate Walter Mondale made the slogan a part of his campaign.
3. McDonald's, "The Showdown" (1993)
With a juicy Big Mac at stake, basketball legends Larry Bird and Michael Jordan proceeded to play an epic game of horse over the course of two spots during Super Bowl XXVII. (But that duel was nothing compared to the pair's golf battle with Bill Murray three years later, in the cinematic masterpiece Space Jam.)
2. Coca-Cola, "Hey Kid, Catch" (1980)
In the '70s, "Mean" Joe Greene was the biggest, baddest member of the Pittsburgh Steelers' intimidating defensive front, known as the Steel Curtain. But if this advert was to be believed, a cold bottle of Coke and an adorable kid could soften even the toughest of NFL stalwarts. The spot debuted during Super Bowl XIV, when Mean Joe's Steelers crushed the L.A. Rams, 31 to 19.
Your iPhone may be a virtual extension of your hand now, but 30 years ago, Apple products didn't quite possess the societal omnipotence of Big Brother in George Orwell's 1984. That honor belonged to IBM. But change arrived once this groundbreaking ad, directed by Ridley Scott, aired on January 22, 1984. The Macintosh 128K, Apple's first personal computer, hit the market two days later; the rest is history.