The Hot Seat: Boardwalk Empire actor Kelly Macdonald
Boardwalk Empire star Kelly Macdonald talks the HBO series' upcoming season, Scorsese and avoiding The Sopranos.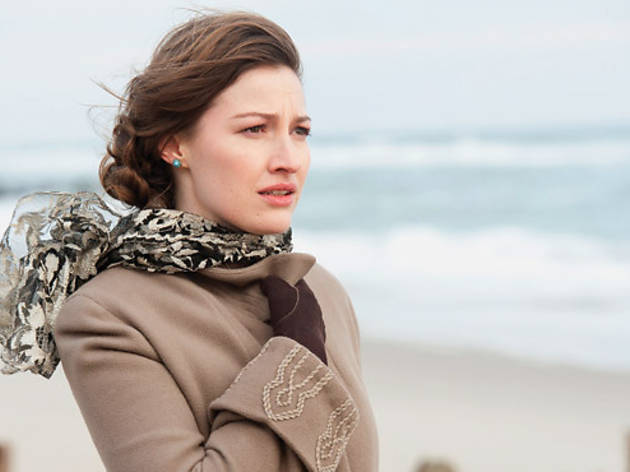 Hot Seat
interview, Scottish actor Kelly Macdonald discusses the highly anticipated third season of the HBO hit
Boardwalk Empire
, working in NYC and more.
RECOMMENDED: Full list of Hot Seat interviews
TONY: Boardwalk Empire has filmed on and off in NYC for three years. Have you enjoyed living here?
Kelly Macdonald: I love New York. Love it. I feel like I'm becoming a New Yorker. I've started complaining about the roads.
TONY: That is very New York. Next you'll start whining about the people.
Kelly Macdonald: Yeah, I know. [Laughs]
TONY: Were you a fan of The Sopranos before joining Boardwalk? Those shows share a lot of the same writers and directors.
Kelly Macdonald: I've never seen The Sopranos. I should be ashamed. There's something a bit contrary about my character. If someone tells me something's amazing and I should watch it, I kind of do the opposite. My husband [Travis bassist Dougie Payne] is shaking his head; he can't believe that I've not seen it. He was on tour and watched the whole box set, and then came home and said, "You need to watch this," and I just wouldn't be told.
TONY: Speaking of your husband, are you a music buff?
Kelly Macdonald: [Asks Payne] Am I a music buff? Yeah, he says, but I don't know if he's being sarcastic. [Laughs] Some [bands] stick, like the Arctic Monkeys. Or Teenage Fanclub.
TONY: Back to Boardwalk Empire. Your character, Margaret Schroeder, has become a philanthropist. Do you find it hypocritical that she's funding worthy causes with dirty money?
Kelly Macdonald: Yeah, it is very hypocritical. She's been given the opportunity to live this life of luxury—and she wants all that, but she wants it to mean something, to feel that she's being helpful. But she also has selfish motives at this stage; it's a kind of way [for her] to be important.
TONY: How has Margaret changed?
Kelly Macdonald: Well, she was seemingly a very meek, mild-mannered woman, with a hard life, a sad background. But she's actually this pillar of strength. And I think her relationship with Nucky is really interesting, 'cause it changes all the time. When he's in a weak position, she's this strength that he needs and vice versa. They can be at each other like cats and dogs as well.
TONY: Is working on a TV show here different than it is in the U.K.?
Kelly Macdonald: Not really in the work environment. The biggest difference, weirdly, is the method of transport to work. On a BBC show, you'll get picked up in a car. But at HBO, I have to climb into this big van every morning. It's not very glamorous. [Laughs] You would think it would be the other way around.

TONY: Boardwalk's pilot was helmed by Martin Scorsese. Were you intimidated by him?
Kelly Macdonald: Yes, I think you would be mad not to be! But he's a very welcoming man. He's very friendly and chatty, so you can forget for a second that it's Martin Scorsese talking to you.
TONY: You've acted for other amazing directors, too: the Coen brothers, Robert Altman, Michael Winterbottom. Who did you learn the most from?
Kelly Macdonald: Robert Altman. I just loved what he did [during the filming of Gosford Park] so much. It was the fun that he brought to everything. If it's not fun, then why are you doing it?
Boardwalk Empire's third season premieres Sun 16 on HBO.
You might also like
The Hot Seat: Anthony Bourdain
The Hot Seat: Liv Tyler
The Hot Seat: Jeremy Renner
See more Hot Seat