Heads up! We're working hard to be accurate – but these are unusual times, so please always check before heading out.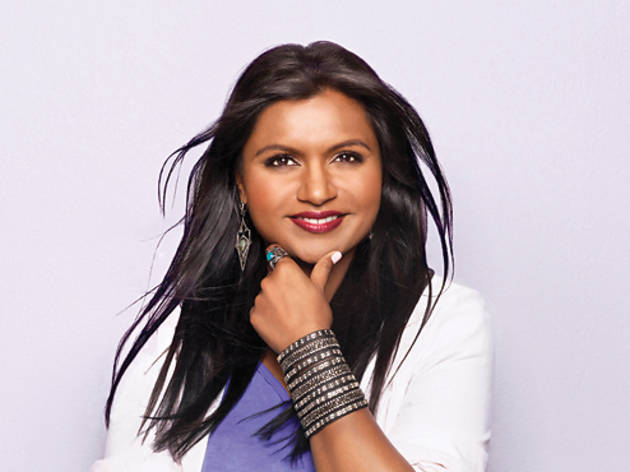 The Hot Seat: The Mindy Project's Mindy Kaling
The Mindy Project star Mindy Kaling chats about her new sitcom, rom-coms and leaving the Office behind.
In this week's Hot Seat interview, The Mindy Project creator and star Mindy Kaling talks about running her own show, her feelings on rom-coms and more.
RECOMMENDED: Full list of Hot Seat interviews
TONY: You had so many roles while working on The Office—writer, actor and producer. How has running your new show, The Mindy Project, been different?
Mindy Kaling: The single biggest difference is that I'd have one or two lines on The Office, so I was only on set one or two days a week. I'm on set way, way more now. My day is just longer. When I wrap at 6, I go to the writers' room and we stay there until, like, 11 or midnight, or even later. And I'm saying a lot more lines! Like, my mouth is tired by the end of the day.
TONY: Are The Office's Kelly Kapoor or The Mindy Project's Mindy Lahiri autobiographical?
Mindy Kaling: Kelly was not all that autobiographical. We based her character on a mean teenager—we thought that would be a funny voice for The Office to have. A petty but distinctly feminine character is useful to have in a workplace [comedy]. With [Mindy Lahiri], it's probably a bigger percentage, but this character is also much more wild than I ever was.
TONY: In your 2011 memoir, Is Everyone Hanging Out Without Me? (And Other Concerns), you included an essay debunking romantic-comedy characters. Fictional Mindy has unrealistic expectations about dating and loves rom-coms. Is there a correlation?
Mindy Kaling: So much of the show is about expectations versus reality. For each person who had a little bit of a delayed dating life—which is me and a lot of my friends who were nerdy, very bookish and studied really hard—there's an absence of having those experiences, and you have an idealized version of what it should be like. And this character is very much [like that], and has probably only had three boyfriends in her entire life.
TONY: For how messy her personal life seems, she's really competent at her job as an OB-GYN.
Mindy Kaling: I didn't want her to be someone who wishes she had a boyfriend but is also struggling at work. There's a montage in there where she's going from being on a date—I think I look pretty smoking hot, I'm wearing this red, fancy dress—and I take off my makeup and put on my scrubs and sneakers and glasses. So it's a reverse makeover montage, which was very fun to shoot. I'm in a mask and baggy scrubs and everything, and this is actually where she's most appealing: when she doesn't give a shit about that kind of stuff, which I liked as a message.
TONY: The show pokes fun at rom-com tropes; there's also a meet-cute, and Mindy freaks out at an ex's wedding. Which of those situations do you find most ridiculous?
Mindy Kaling: Well, I can make fun of and enjoy something at the same time. The skeptic side of me that would critique things is kind of embodied in the character of Danny Castellano [played by Chris Messina]. And my character kind of unabashedly and unironically likes that stuff. So it's fun to have both sides of my brain acting out in two different characters. But even Mindy is self-aware of those things. But I'm sorry, I didn't answer your question! I've always thought the destruction of a wedding cake is one of the things I just can't get behind. More often than not, I see some beautiful wedding cake getting destroyed in a movie and I don't find that all that enjoyable.
TONY: With shows like New Girl and Girls, it seems like more realistic, less idealized female characters are getting more screen time. I feel like Mindy would fall into that category. What do you think about this trend?
Mindy Kaling: A lot of times I feel a little bit of pressure—like, "Oh, I should do a character that's going to be a role model." But I'd rather just let me, Mindy Kaling, be a role model, and then have a character who's really flawed and fun and great. Everyone from Bryan Cranston and James Gandolfini to Steve Carell—they're playing these characters with huge flaws who are even reprehensible at times, but are so interesting to play. I don't think my character is Tony Soprano, but she is capable of making really questionable decisions. You could call her elitist; she's incredibly un-PC at times and very selfish, but that's funny. That's more relatable. I have like, my sixtis and seventies to play the wives of prime ministers or whatever [Laughs], I'd rather play someone who's funny and flawed now.
TONY: It was recently announced that this will be the last season of The Office. What do you miss most about working on that show?
Mindy Kaling: I miss the people. Like, I really miss Rainn Wilson and Ed Helms and Ellie Kemper; it's weird to go to work and not have them be there. And the catering—we had steak, like, every day at The Office. That's the good thing about being a season-eight show.
TONY: Ed Helms is on the first episode of The Mindy Project; will more Office folks show up on your show?
Mindy Kaling: I don't want to put too many people from The Office on there—more than them being on it, I don't want people to just think of me as Kelly Kapoor on a new show or something. But I love those guys. Rainn, when he's not portraying Dwight, is actually a very handsome, tall guy; he's got good bones, and is a 6'3" cute hipster. I've always felt that it would be great to be responsible for the handsomeification of Rainn Wilson on a TV show. That would be a nice feather in my cap.
TONY: I follow you on Tumblr, and I loved your posts about the things you bought that you've loved. Since you haven't done many of them lately, could you tell us one thing you bought recently that you loved?
Mindy Kaling: I bought a Vitamix and I really love it. It's not all that sexy a thing, but I'm obsessed with my Vitamix, which I use every single day.
TONY: I know a few people who have them and swear by them.
Mindy Kaling: They're silent! They purr silently. You can blend drinks at 4:30 in the morning before going to work and not wake up whoever is spending the night at your place. That made me sound uncharacteristically sexy or tawdry! I meant your mom or dad.

The Mindy Project premieres Tue 25 on Fox.
You might also like
Fall 2012 TV preview
Interview: Mindy Kaling
Review: Is Everyone Hanging Out Without Me? (And Other Concerns)
See more Hot Seat