Heads up! We're working hard to be accurate – but these are unusual times, so please always check before heading out.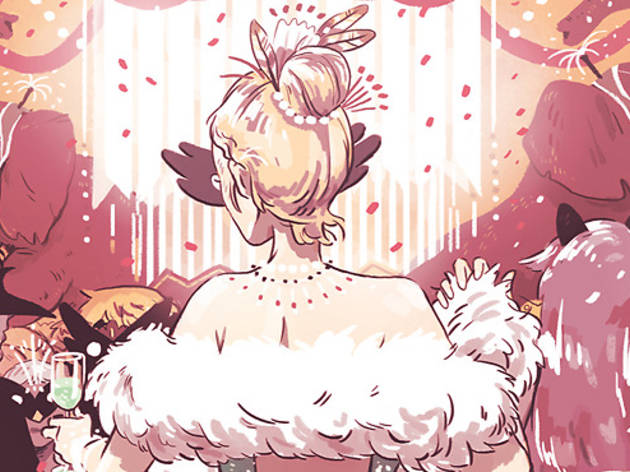 The ten most over-the-top parties in New York City history
Think your New Year's party will be epic? It surely can't top these ten lavish shindigs, which featured real elephants, plenty of celebs and more extravagant touches.
New Year's Eve is upon us, and so too is the plethora of New Year's Eve parties being held to celebrate the holiday. But we're guessing most will pale in comparison to these ten legendary parties, which redefine the term over-the-top.
Read on for details on Truman Capote's famed 1966 bash, the opening night of Studio 54 and a party at the Waldorf Astoria that had real elephants under a big top.
1. The Bradley-Martin Ball, 1897
Socialite Cornelia Bradley-Martin made it known that she intended to throw "the greatest party in the history of the city." But she announced the ball—for which the Waldorf-Astoria was transformed into the Palace of Versailles—on such short notice that none of her 800 guests would have had enough time to have a dress made in Paris, forcing them to rely on local clothiers for Marie Antoinette and Louis XIV garb. Quelle horreur!
2. Black and White Ball, 1966
Truman Capote kicked off the holiday season in serious style when he threw a grand masquerade ball in honor of Washington Post publisher Katharine Graham. Capote invited 540 boldfaced names—Jackie Kennedy, Frank Sinatra and Stephen Sondheim among them—to the soiree, dubbed the Party of the Century.
3. Black and White Ball: Part II, 1991
Twenty-five years after Capote's legendary fete, Princess Yasmin Aga Khan—Rita Hayworth's daughter—paid tribute to the late author when she attempted to replicate his Black and White Ball. More than 800 people—including Ivana Trump, Michael Douglas and Bianca Jagger—attended the $2,500-per-plate re-creation, which raised $1.4 million for Alzheimer's research.
4. Diddy's 40th birthday party, 2009
Even moguls can party too hard: The day after this massive bash, held in the Grand Ballroom of the Plaza Hotel, Diddy took to Twitter to announce that he was nursing his first hangover in five years. More than 500 A-listers—including Jay Z, Martha Stewart and Denzel Washington—showed up for the $3 million soiree, and Al Green provided the musical entertainment.
Today's partyers could take a cue from socialite and gossip columnist Elsa Maxwell, who was known for her hosting skills (she was purportedly responsible for popularizing scavenger hunts). For one of her extravagant blowouts she converted the Grand Ballroom at the Waldorf-Astoria into a circus tent, complete with acrobats, a ringmaster and elephants.
6. Talk magazine launch party, 1999
To introduce this literary endeavor, legendary editor Tina Brown invited 800 of her closest friends to a private party on Liberty Island—yes, the home of the Statue of Liberty. Celebs like Tom Brokaw, Michael Eisner, Al Sharpton and Kate Moss were treated to an alfresco picnic dinner under 2,000 Japanese lanterns, followed by a 20-minute fireworks display. Alas, Talk folded two years later.
Despite an article in the Daily News that deemed the club just another run-of-the-mill disco, Studio 54's opening-night bash on April 26, 1977, attracted some of the biggest stars of the day, including Calvin Klein and his muse, Brooke Shields; Cher; and Donald and Ivana Trump.
In the late 19th century, no party invites were more desirable than those of Caroline Webster Schermerhorn Astor. On January 29, 1900, the Astors opted to make their annual ball a late-night affair. Guests arrived at 10:30pm to take a few spins on the dance floor, then indulged in a dinner of terrapin, foie gras pâté and bonbons, washing it all down with as much champagne as they could handle.
9. Area's closing night, 1987
This short-lived nightclub essentially hosted a series of lavish parties: Every six weeks or so, its interior was gutted and reimagined with a whole new theme, with artists like Jean-Michel Basquiat and Keith Haring contributing to the decor and art installations. When it came time to close the doors in 1987, Area's final night paid tribute to the theme "childhood."
10. Paradise Garage's closing night, 1987
For more than a decade, this parking garage turned boîte helped redefine the nightlife scene by gathering clubgoers who were more interested in music, dancing and the social aspects of a night out than in getting shitfaced. When the legendary club's lease expired in 1987, regulars helped it go out with a two-day marathon banger, during which approximately 14,000 people came to pay their respects.