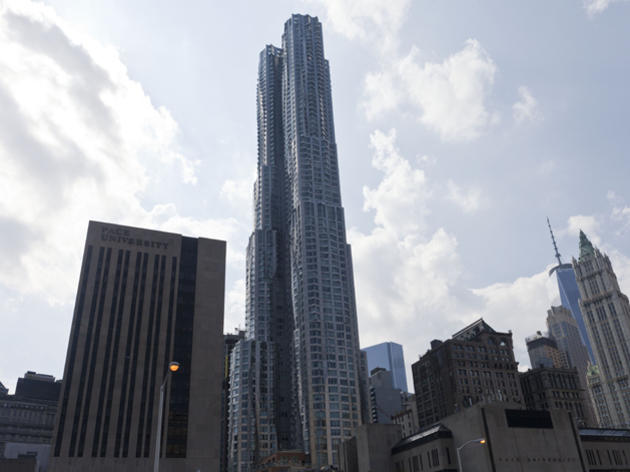 1/12
Photograph: Laura Gallant
New York by Gehry (8 Spruce St between between Gold and Nassau Sts)Frank Gehry's rippling, residential behemoth reminds us of one of those hulking movie spacecraft that lands by planting itself into the earth and deploying robot arachnoid pods that harvest humans for nefarious extraterrestrial purposes. It sort of makes you think about the Wall Streeter who can afford to live here harvesting taxpayer-bailout money to cover for their screwups. Sorry, that was a terrible analogy. It doesn't change the fact that both Wall Street and this building are hard to like.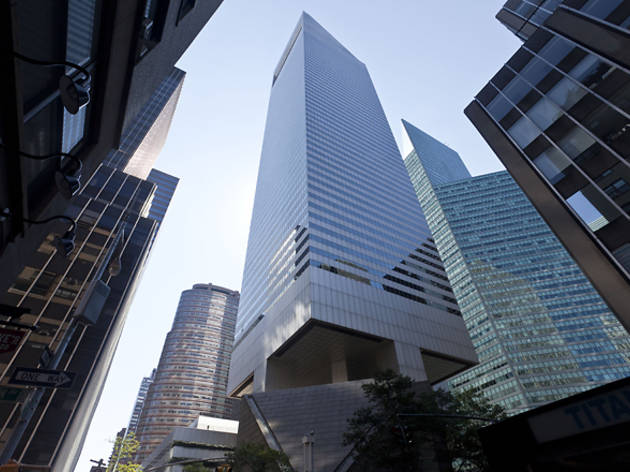 2/12
Photograph: Laura Gallant
Citicorp Center (601 Lexington Ave at 54th St)Currently one of the tallest buildings in New York City, the Citicorp Center was nearly undone in its infancy by a fairly significant design oversight. William LeMessurier's plan called for the building to rest on four pillars, each positioned at the center of its side, rather than at the corners. Because the unorthodox design concept and some cost-cutting construction oversights, the 59-story tower proved particularly vulnerable to high winds. The structure was eventually reinforced, but not before a close call with Hurricane Ella in 1978. The crisis was averted, though this asymmetrical folly of glass and steel prompts the question: Was it?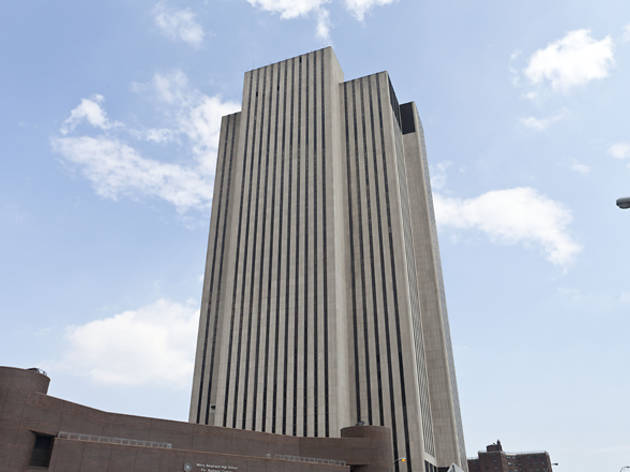 3/12
Photograph: Laura Gallant
Verizon Building (375 Pearl St at Madison St)You'd think all of those years Verizon spent charging exorbitant monthly fees for nonsmart phones that we'd leave in cabs or drop in bar toilets would give it enough financial leeway to stick its name on a building that doesn't make us want to puke every time we look at it.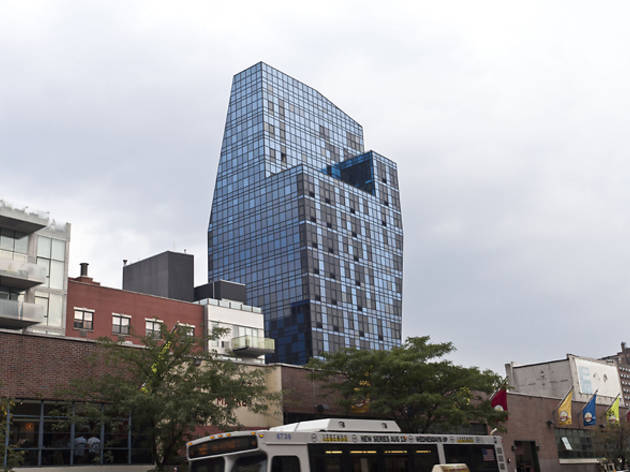 4/12
Photograph: Laura Gallant
The Blue Tower (105 Norfolk Street)The Blue Tower was designed by Swiss deconstructivist architect Bernard Tschumi, (insert your own joke about deconstructing the building here) and you can find its 16 stories looming awkwardly over the Lower East Side. Writes Tschumi: "BLUE did not start with a theory or a formal gesture, but took the character of the site as its source, parlaying intricate zoning into angulated form, and form into a pixelated envelope." Yep, that's how we feel about it, too.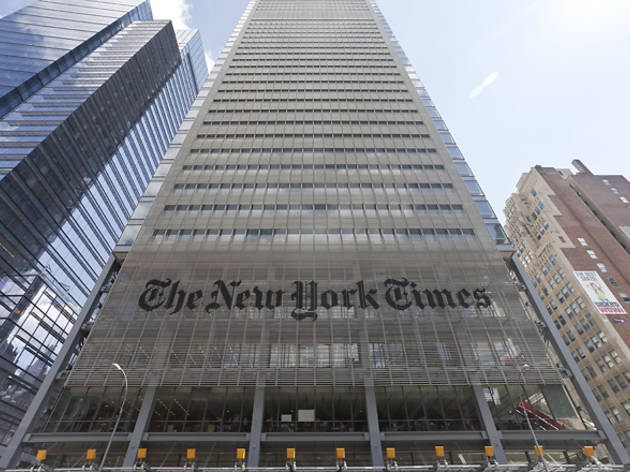 5/12
Photograph: Laura Gallant
New York Times Building (620 Eighth Ave between 40th and 41st Sts)Like the new Yankee Stadium, the Renzo Piano–designed building was supposed to be a necessary housing upgrade for a hallowed New York institution. Instead, it's basically a jungle gym. Both failed to capture the magic of their predecessors, and consequently the Bronx Bombers and the Gray Lady lost much of their mystique. But Yankee Stadium—superficially, at least—gives a nod to its tenants' rich history. The new Times building, on the other hand, stands as a stark reminder of the print industry's bleak future.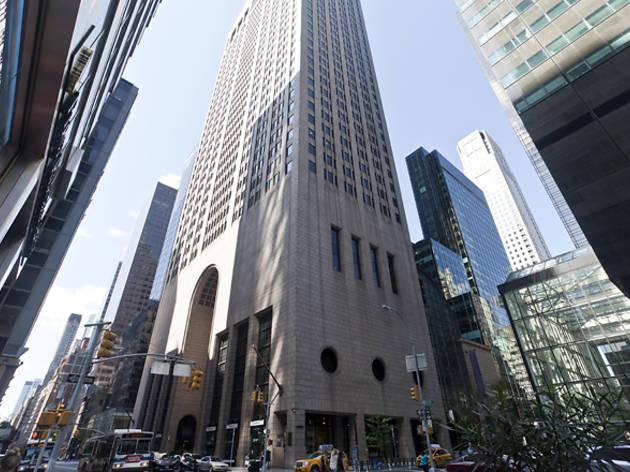 6/12
Photograph: Laura Gallant
Sony Building (550 Madison Ave between 55th and 56th Sts)Philip Johnson's Sony Building (formerly AT&T) defied modernist architectural convention when it was built in 1984. The "Chippendale" ornamental groove at the summit went against all accepted practice of the time (mostly pioneered by Johnson himself), and the building still stands as a classical (or postmodern, depending on how you look at it) screw-you to the surrounding city.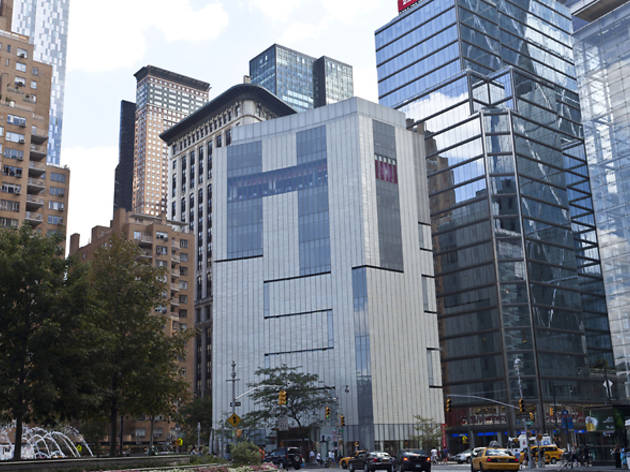 7/12
Photograph: Laura Gallant
Museum of Arts & Design (2 Columbus Circle at Broadway)According to MAD's website, "2 Columbus Circle's design, accomplished in collaboration with architect Brad Cloepfil of Allied Works Architecture, weaves MAD into the social and cultural fabric of the newly revived Columbus Circle and its surrounding neighborhoods." Columbus Circle must be a culturally and socially awkward place. We once saw Jeff Goldblum walking around Columbus Circle. He was tall and ungraceful-looking, but not nearly as much as this.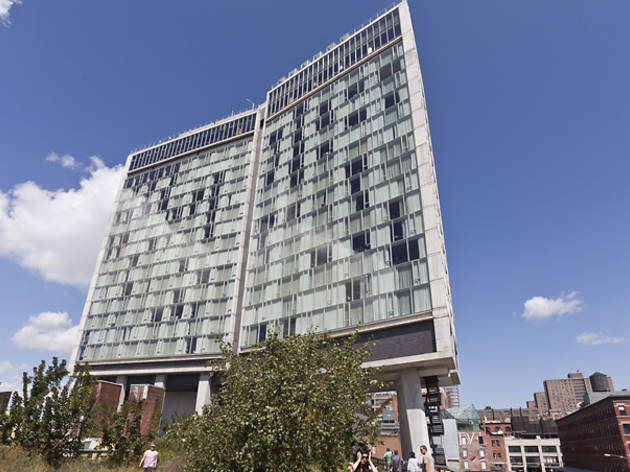 8/12
Photograph: Laura Gallant
The Standard Hotel (848 Washington Street between West 13th and Little West 12th Streets)Standing 18-stories high, the Standard Hotel straddles the High Line walkway like a big industrial robot creature, a megalith in concrete and glass. Situated in the Meatpacking District's club hub, the Standard became notorious when it opened in 2009 for its occupants having sex in full public view—a fact referenced in the 2011 movie Shame, where Michael Fassbender's sex addict character Brandon does the dirty against a window at the Standard with a prostitute. Okay, so maybe we'll keep this one.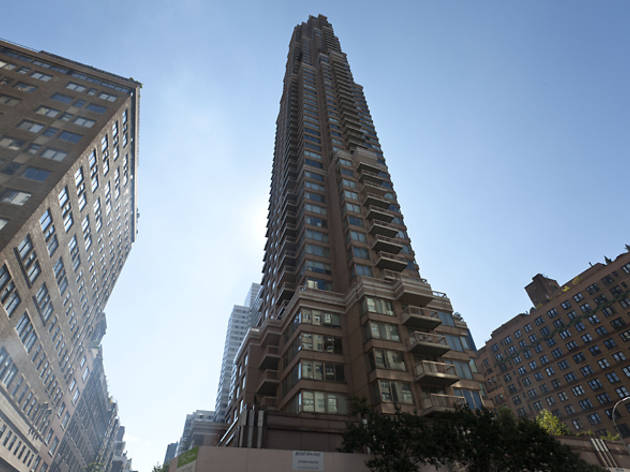 9/12
Photograph: Laura Gallant
Trump Palace (200 E 69th St between Second and Third Aves)Donald Trump has long established himself as the tackiest real-estate developer—tackiest human, perhaps—to ever walk the earth. This high-rise condo is a fitting tribute to a man and his hair, what with its ugly middle and uglier top. Actually, this is probably one of the least offensive of Trump's numerous affronts to good taste.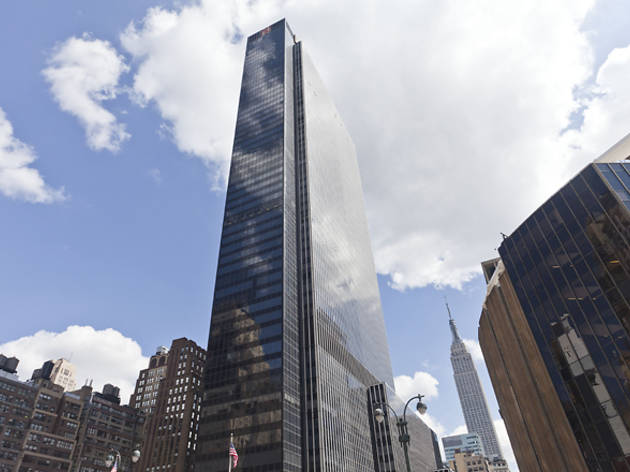 10/12
Photograph: Laura Gallant
One Penn Plaza (1 Penn Plaza)The least aesthetically pleasing structure in one of the least aesthetically pleasing neighborhoods, One Penn Plaza is, by this measure, possibly the least attractive building in New York. Located near the New Yorker Hotel, a strange and mysterious venue that was home to pioneering Austrian scientist and eccentric Nikola Tesla in his reclusive later years, One Penn Plaza stands as a bland contrast with what was once a pretty exciting neighborhood. Tesla may have been a futurist, but One Penn Plaza goes beyond his most dire prognostications. We are just glad he's not around to see it.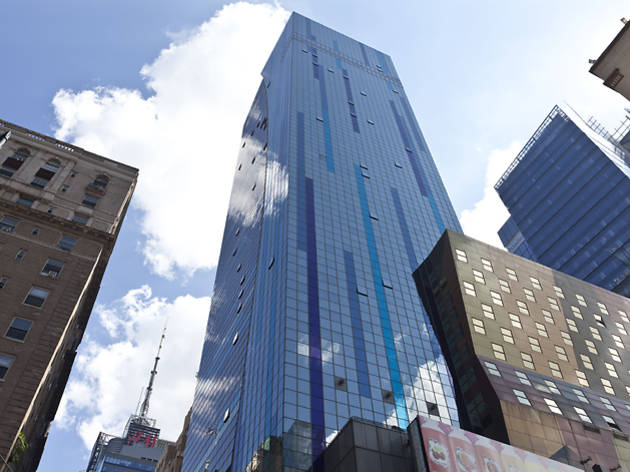 11/12
Photograph: Laura Gallant
The Westin New York at Times Square (270 W 43th St at Eighth Ave)This monstrosity looks like it belongs somewhere along South Beach, catering to vacationing Colombian drug lords and the casino buddies of top Republican presidential donor Sheldon Adelson. Instead it's parked a block from Port Authority, and fits into the neighborhood about as well as the M&M's World down the way. The Westin is also a bit of an anachronism—it was built only in 2002, long after the area's flashier drug-dealing element could've made use of its Vegas gangster opulence.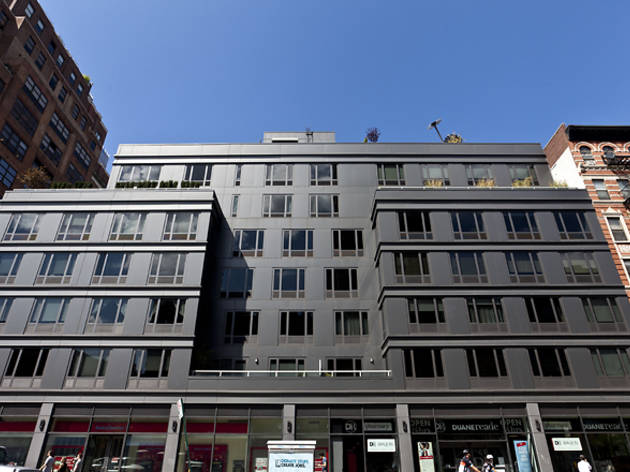 12/12
Photograph: Laura Gallant
305 West 16th Street Described by one staffer as "piggy", the sharp edges of this brown metal-clad condo building (designed by SLCE Architects) look out of place among its elegant Chelsea neighbors. It was mooted at one point that the building might be used as employee housing for Google employees (Google's New York HQ is across the street) but the deal supposedly fell through. Never mind, there's still a 37-foot-tall, 5,800-pound steel-and-concrete daisy on the roof, purchased by one of the buildings developers after he saw it at a Burning Man festival. Ahem.
The 12 ugliest buildings in NYC
These New York buildings give new meaning to the phrase urban blight
New York, you're a goddamned gorgeous-looking city—most of the time. Millions flock to our city to gawk at such architectural wonders as the Empire State Building and Neo-Gothic cathedral St. Patrick's. But let's be honest about some of the buildings that make up the classic New York City skyline: They're ugly. Outright hideous, in some cases: the naked mole rats of architecture. And sure, some constructions suffer from being built in the wrong time and wrong place, we get it. But does that make them any less of an eyesore? It does not. So then, take a deep breath and peruse our slideshow of the 12 ugliest New York buildings. Got a few you'd like to see added to the list? Tell us about it in the comments below.
Best selling Time Out Offers