Heads up! We're working hard to be accurate – but these are unusual times, so please always check before heading out.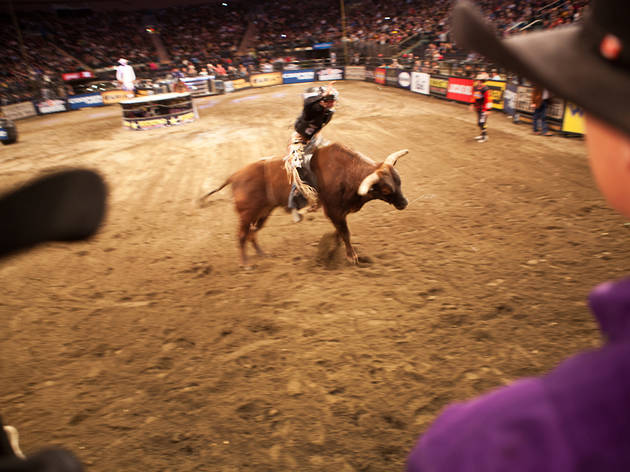 1/61
Photograph: Phyllis B. Dooney
Professional Bull Riders MSG Invitational, January 2012Many New Yorkers started the year by brushing off their ten-gallon hats, boots and plaid shirts to root on the riders and the bulls.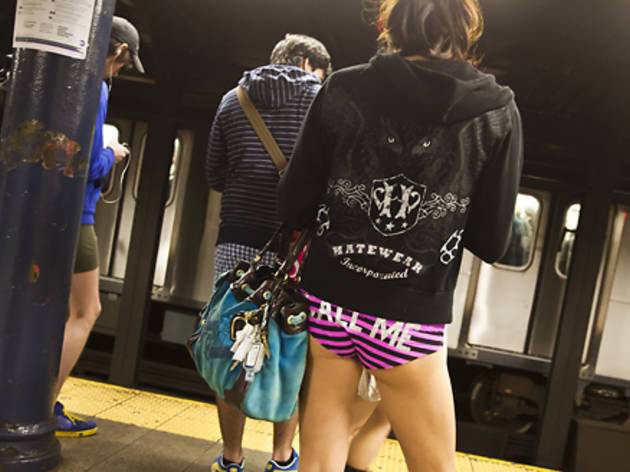 2/61
Photograph: Thomas Donley
No Pants Subway Ride, January 2012Every year ends with revelers looking for an excuse to remove their pants. Conversely, every year also begins with an excuse to drop trou and let your legs breathe. The 2012 event saw an uptick in missives plastered over butt cheeks. Call you? Maybe…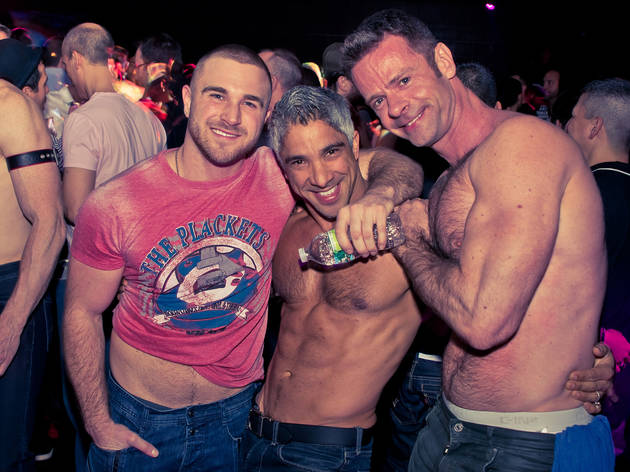 3/61
Photograph: Richard Burrowes
XL opening weekend, January 2012The gay nightlife crowd welcomed a sprawling new homo playground to the scene.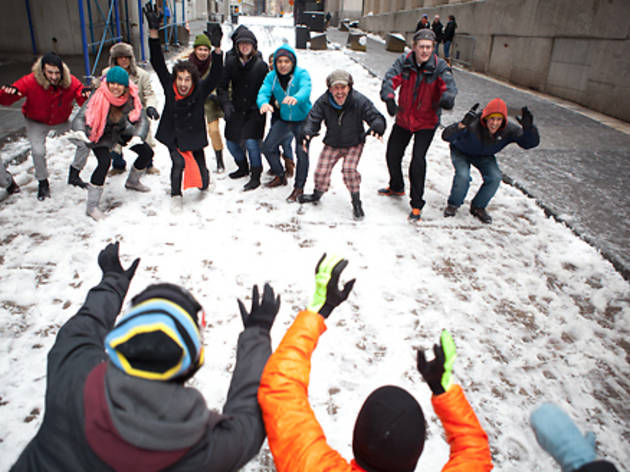 4/61
Photograph: Phyllis B. Dooney
Freeze Tag on Wall Street, January 2012There's nothing quite like tearing round the backyard of the masters of the universe on a weekend.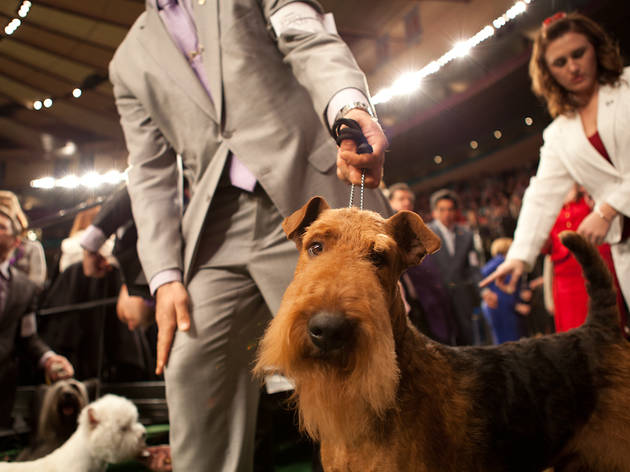 5/61
Photograph: Phyllis B. Dooney
136th Annual Westminster Kennel Club Dog Show, February 2012Just five photos into our review of the year in pictures, and you've seen a butt and a noble-looking canine. Yes, 2012 was a great year.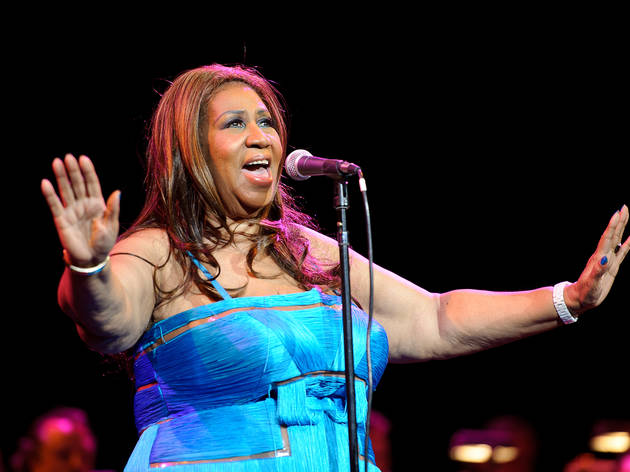 6/61
Photograph: Jon Klemm
Aretha Franklin at Radio City Music Hall, February 2012She came, she saw, she blew everyone away with that voice—for probably the 10,000th time in her life.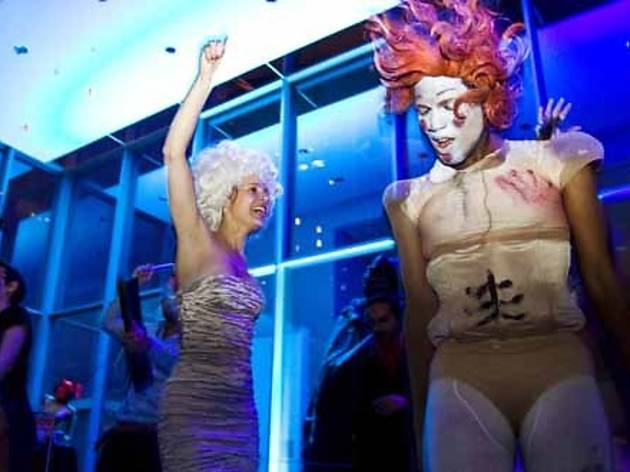 7/61
Photograph: Caroline Voagen Nelson
PopRally presents Cindy Sherman, March 2012    "Cindy Sherman" at MoMA was one of the best art shows of 2012. It's apt, then, that it was feted with one of the most original parties of the year. The collective Cheryl (arty promoters who jumped animal-head first into the museum scene this year with bashes at the Museum of Arts & Design and the Jewish Museum) helped orchestrate the bash-cum-performance-art happening, during which revelers could deck themselves out in paint, wigs and other accessories draped on mannequins.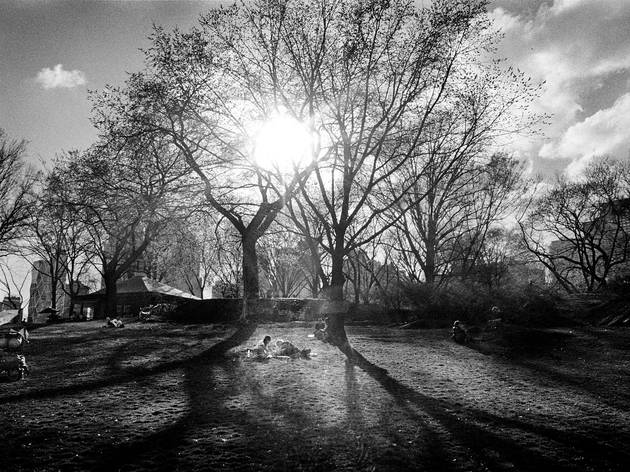 8/61
Brendon Stuart 2012, Photograph: Brendon Stuart
Central Park, March 2012We sent Brendon Stuart to photograph Manhattan's iconic park with 35mm film. He returned with stunning shots and stories. About this image he wrote: "This is a frame I took at the end of the day on my way out of the park. The scene looked picturesque; it seemed like a great end to a great experience."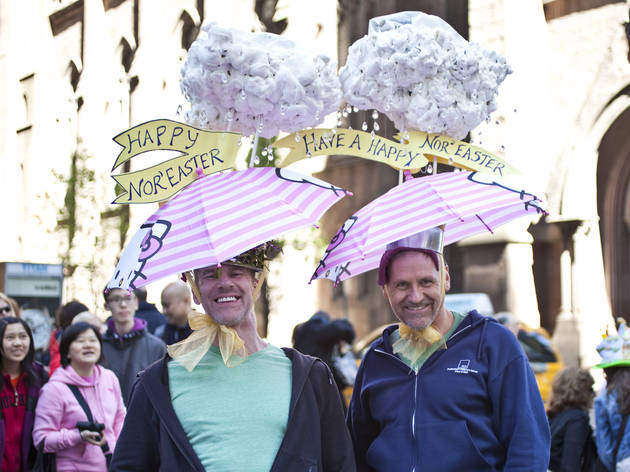 9/61
Photograph: Virginia Rollison
Easter Parade and Bonnet Festival, March 2012These two meteorologists were among the sky-high fascinators, gentlemen in fedoras and even a pug wearing a flowery headband trooping down Fifth Avenue.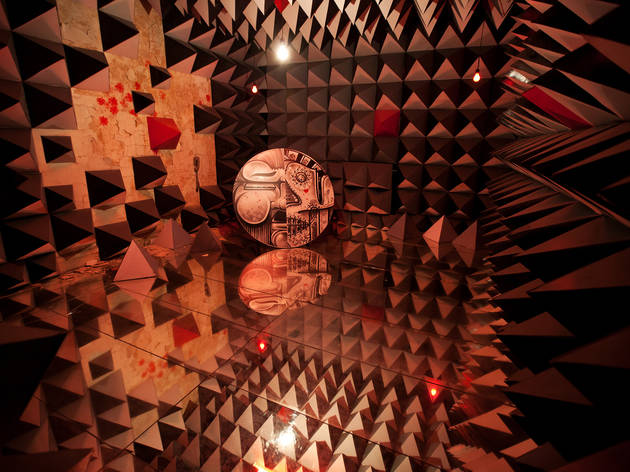 10/61
Photograph: Phyllis B. Dooney
"This Side of Paradise," April–June 2012Andrew Freedman Home, an abandoned mansion in the Bronx, found new life as a temporary art space. Nonprofit No Longer Empty (nolongerempty.org), which specializes in mounting exhibitions in vacant buildings, gave 26 artists the run of the place.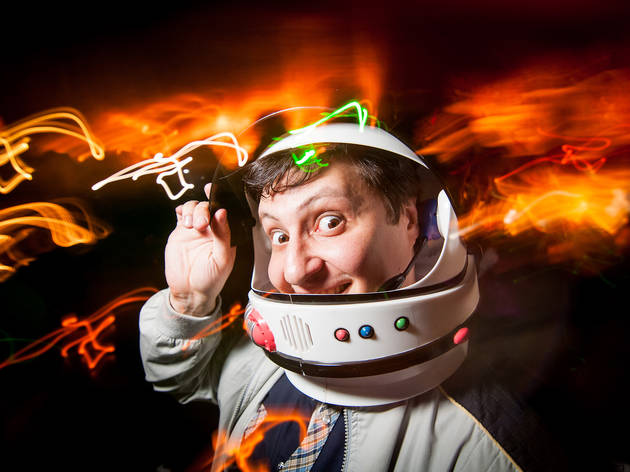 11/61
Photograph: Filip Wolak
Yuri's Night, April 2012    All hail cosmonaut Yuri Gagarin, who on April 12, 1961, became the first man to orbit the earth and on April 12, 2012, gave us a reason to party.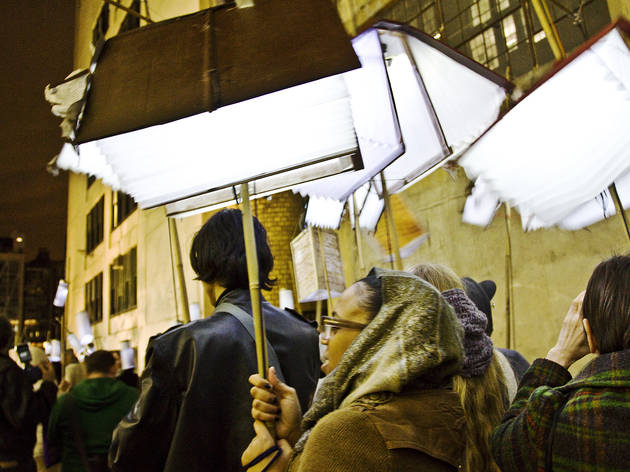 12/61
Photograph: Caroline Voagen Nels
PEN Festival Parade of Illuminations, April 2012To open the high-minded international fest, the Processional Arts Workshop (one of the groups that create the large-scale puppets for the Village Halloween Parade) led a train of book-lanterns and literary-inspired marionettes along the High Line.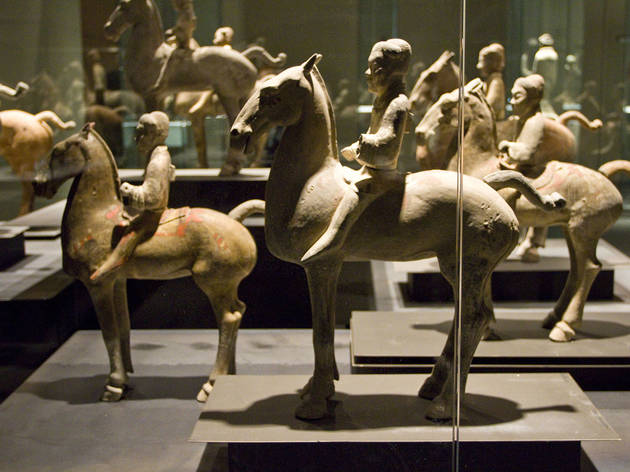 13/61
Photograph: Caroline Voagen Nels
"Terracotta Warriors: Defenders of China's First Emperor," April–August 2012When China's first emperor, Qin Shi Huangdi, died in 210 BC, he was entombed with a clay army of thousands of life-size soldiers who were supposed to protect him as he entered the afterlife. More than 2,000 years later, we reckoned his passage had been secured, so there was no harm in displaying more than 200 of the relics (including weapons and animals) from his mausoleum at Discovery Times Square. Beats another Harry Potter show, anyway.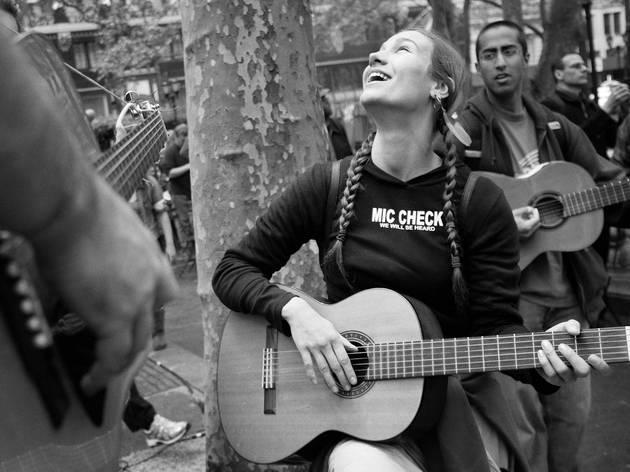 14/61
Photograph: Brendon Stuart
Occupy May Day rally, May 2012Some of the 99 percent took to the streets to mark International Workers' Day. Ex-Rage Against the Machine guitarist Tom Morello led a string-instrument Guitarmy, and a large Solidarity March traveled from Union Square to the Financial District.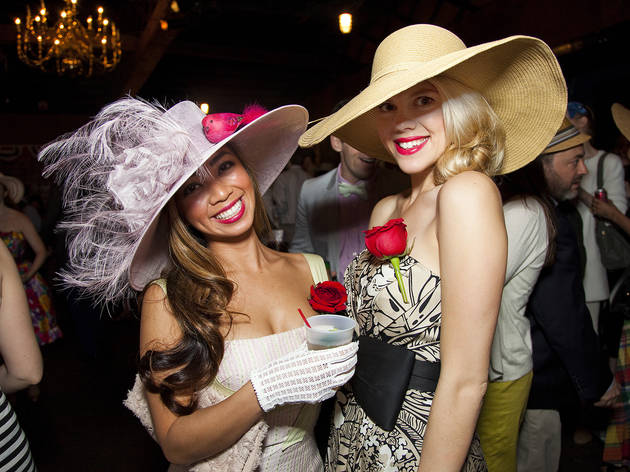 15/61
Photograph: Reuvain Leider
Kentucky Derby party at the Bell House, May 2012Now this is how Brooklyn does the derby: beautiful dresses, big bows, wide-brimmed hats, lacy gloves, a mint julep in a plastic cup.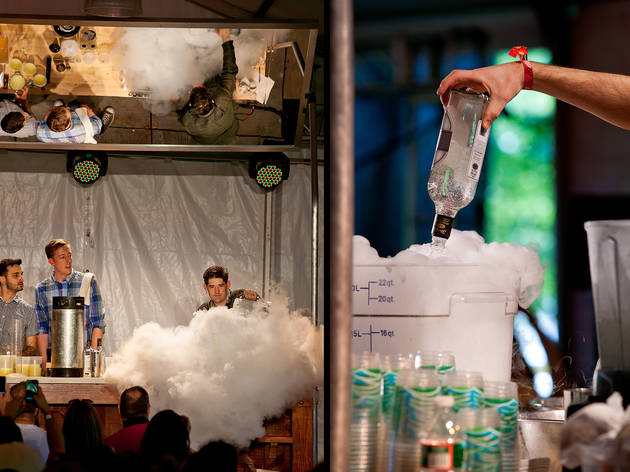 16/61
Photograph: wagz2it
The Great GoogaMooga, May 2012The great experiment to meld the mass, communal experience of a music festival with small-batch artisanal treats did not go as planned. Twitter was aflutter about long lines, tiny samples, and food and drink shortages. Organizers ended up providing a full refund to anyone who bought a $250 Extra Mooga ticket. Still, there were cooking demos and chances to see Hall & Oates, the Roots, Holy Ghost! and more acts over two gloriously sunny days in Prospect Park.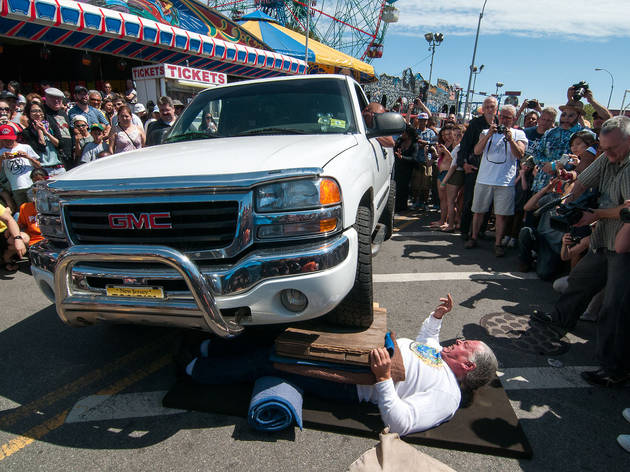 17/61
Photograph: Filip Wolak
Olde Time Coney Island Strongman Spectacular, May 2012Savor the memory of this kind of barmy Brooklyn shore behavior; since Sandy devastated the area, we'll see whether these kinds of shenanigans will still happen. We sure hope so.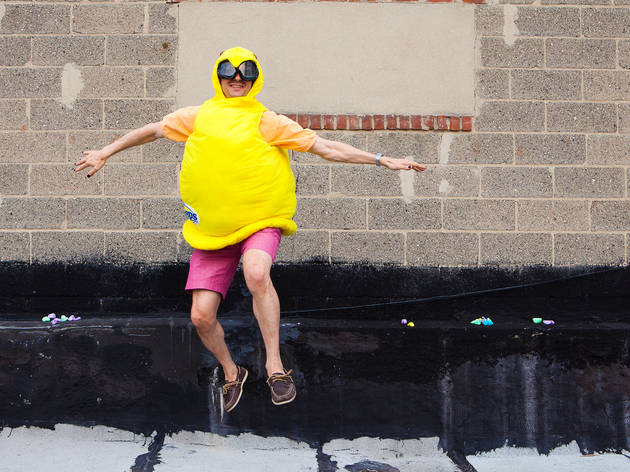 18/61
Photograph: J Carter Rinaldi
Peepshow Carnival by Gemini & Scorpio, May 2012Normally when we try to Shoot the Peep (i.e., slingshot marshmallow Peeps at a man dressed as a Peep) we're told that it's cruel. Party planners Gemini & Scorpio do it to raise funds for the Leukemia & Lymphoma Society (lls.org), and suddenly it's fine. Go figure.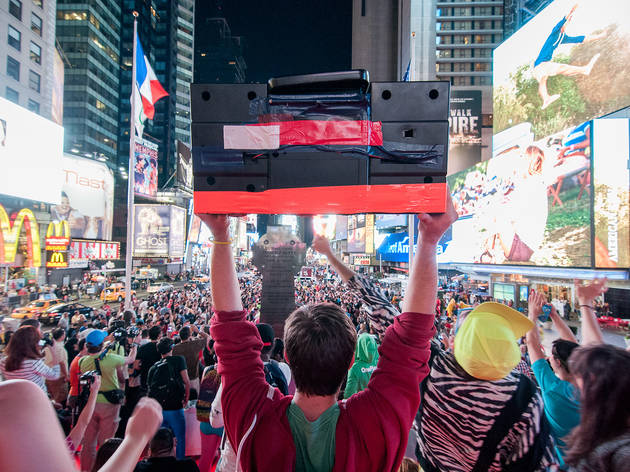 19/61
Photograph: Filip Wolak
Decentralized Dance Party: Extreme Physical Fitness edition, June 2012In conjunction with Newmindspace (you may know them as the duo behind Pillow Fights, Lightsaber Battles and other assorted awesomeness), the roving pair of Tom and Gary hit NYC for their novel nomadic party. They broadcast some tunes, dressed-to-the-nines kids turn up with battery-powered radios, and everyone roams around (in this instance from Battery Park to Staten Island and then up to Times Square), spreading youthful kicks. What's not to like? More, please.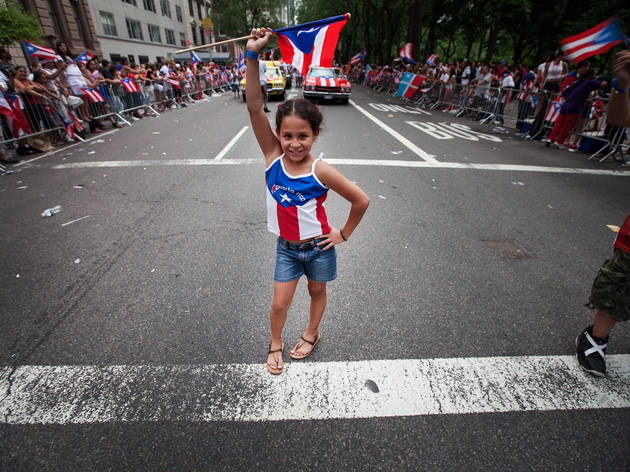 20/61
Photograph: Phyllis B. Dooney
National Puerto Rican Day Parade, June 2012Thousands of participants, including New York Giants star Victor Cruz and this cute kid, showed their national pride with a colorful procession down Fifth Avenue. They were joined by Governor Andrew Cuomo, Mayor Michael Bloomberg and assorted dancers, beauty queens and stilt walkers.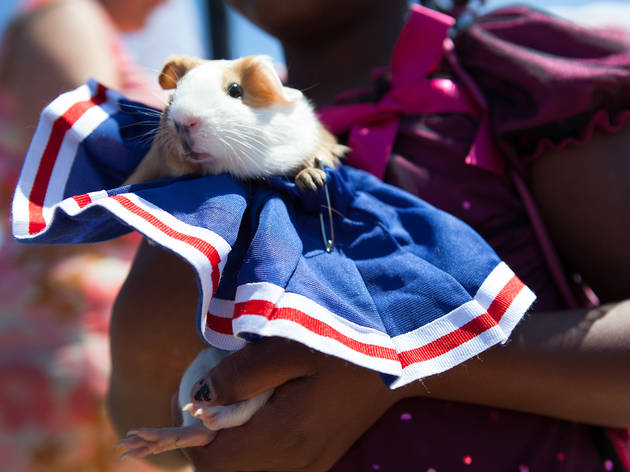 21/61
Photograph: Phyllis B. Dooney
Pet Day at Deno's Wonder Wheel, June 2012NYC's four-legged set put its finest paws forward at Deno's annual Pet Day (tagline: "Pets ride free"). Several owners who were inspired by the shorefront locale dressed their pooches as sea creatures or sailors. Our favorite in the field was a gussied-up guinea pig.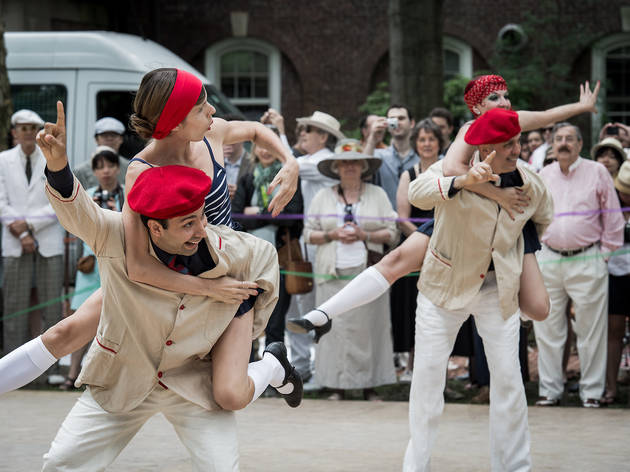 22/61
Photograph: Filip Wolak
Jazz Age Lawn Party on Governors Island, June and August 2012The annual old-timey party channeled the Prohibition era with the Charleston, Model-T Fords, fringed skirts and vintage threads.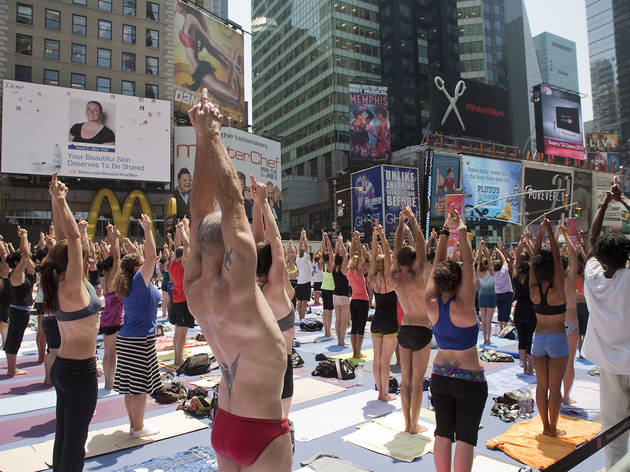 23/61
Photograph: Jonathan Aprea
Solstice in Times Square, June 2012A sweaty, barely clothed army of yogis took over the crossroads of the world for the now-annual series of yoga sessions on the longest day of the year. Why? Er…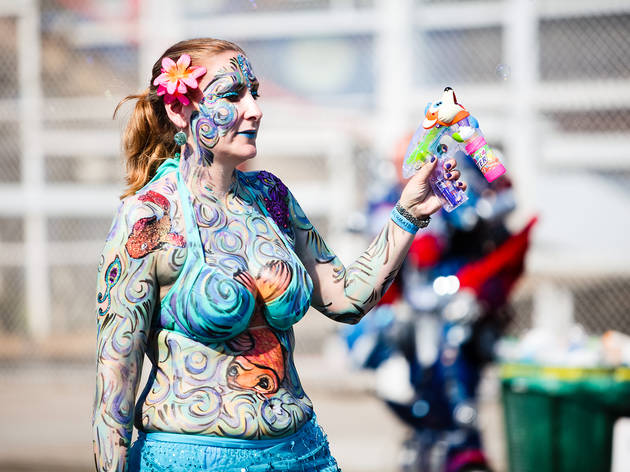 24/61
Photograph: J Carter Rinaldi
Coney Island Mermaid Parade, June 2012You may be noticing a theme here: It was a hot summer. People took most of their clothes off.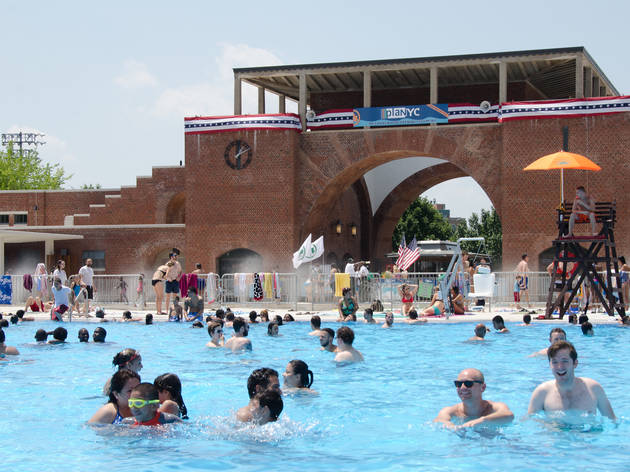 25/61
Photograph: Marielle Solan
McCarren Park Pool opens, June 2012The summer's big opening turned sour with crazy long lines and reports of thefts and fighting. However, things seemed to settle down as the season wore on, and it's a huge boon to the neighborhood. Just no diving, mkay?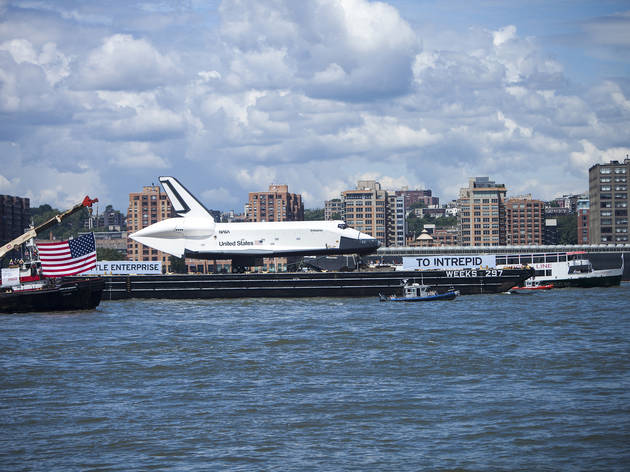 26/61
Photograph: Jakob N. Layman
Space Shuttle Enterprise, June 2012The biggest recent addition to New York's museum scene made quite an entrance, flying over Manhattan en route to JFK, then riding on a barge up the Hudson to its home on the deck of aircraft carrier turned museum USS Intrepid.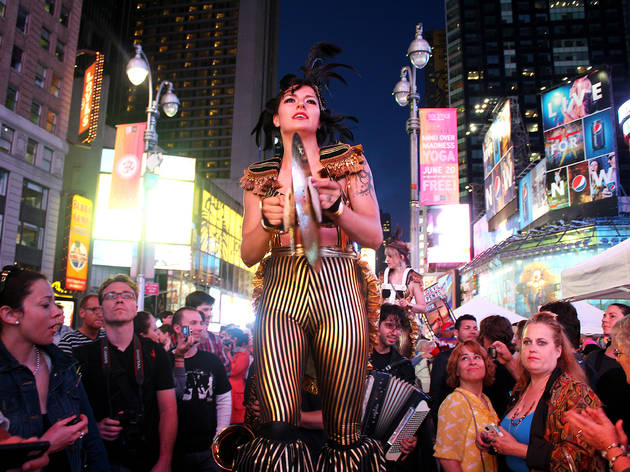 27/61
Photograph: Grace Chu
Art Takes Times Square by Chashama and Artists Wanted, June 2012Art replaced commercials in Times Square as more than 4,000 works were looped on a pair of LED screens, interrupted only by the world premiere of "Five Seconds," a music video by singer-songwriter-guitarist Twin Shadow, who was there to introduce it. Meanwhile, percussionists on stilts weaved in and out of the crowd.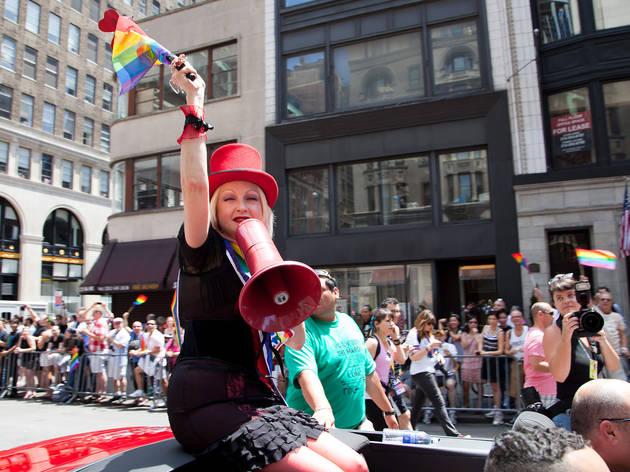 28/61
Photograph: Dominic Perri
Gay Pride Parade, June 2012As marchers celebrated the first anniversary of New York's Marriage Equality Act, grand marshal Cyndi Lauper proved her worth as a gay icon, resplendent in a crimson bowler to match her ride, a cherry convertible.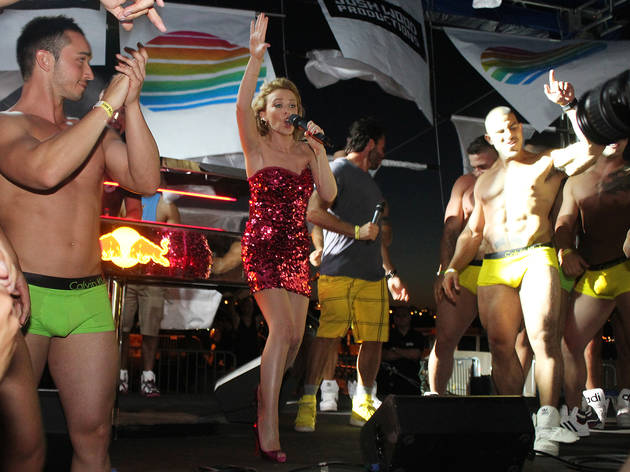 29/61
Photograph: Grace Chu
The Day Party, June 2012Josh Wood and Jared Needle's Pride party may have been full of half-naked revelers, but the crowd really lost its top when surprise guest diva Kylie Minogue took the stage.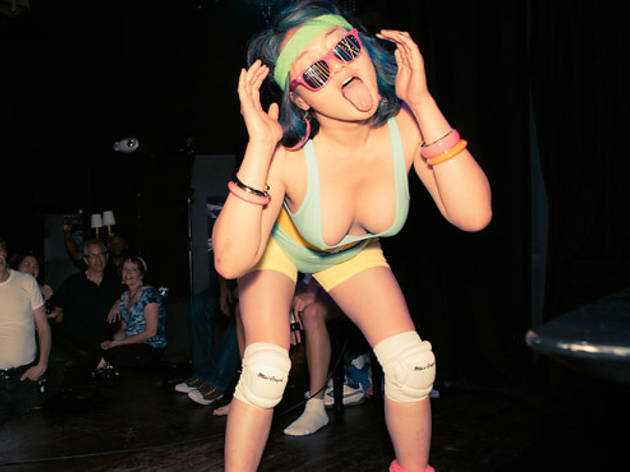 30/61
Photograph: Zenith Richards
NYC Air Sex World Championships Regionals at Drom, July 2012We maintain our journalistic integrity and total impartiality 99 percent of the time. But we had a horse in this race: Jam Out with Your Clam Out (pictured), who was kind enough to give us a lesson in air sex and a gif for the ages. Sadly, Jam lost out to Tootenanny.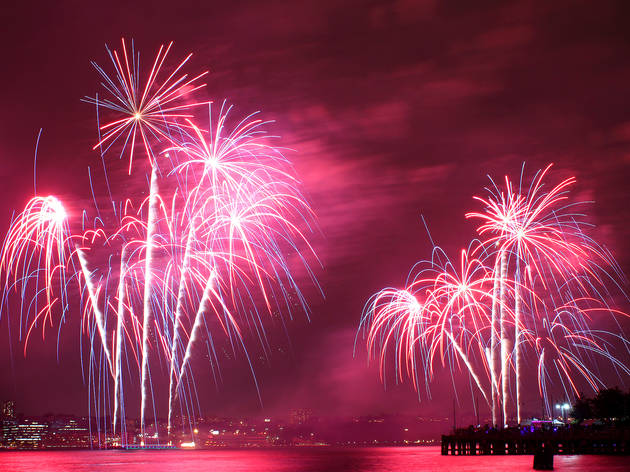 31/61
Photograph: Grace Chu
Macy's Fourth of July Fireworks, July 2012U-S-A! U-S-A!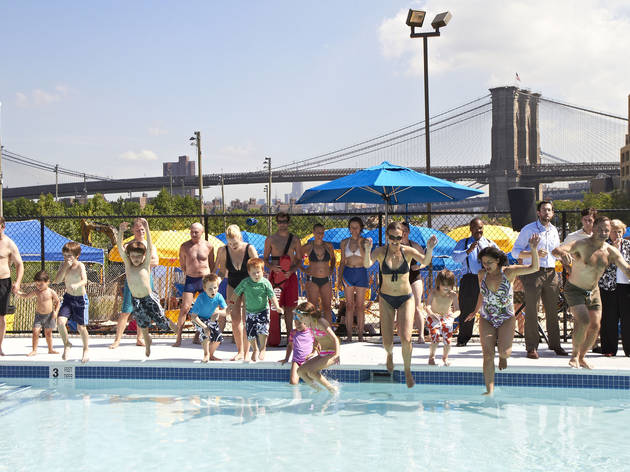 32/61
Photograph: Jena Cumbo
Brooklyn Bridge Park's pop-up pool on Pier 2, July 2012 It was still hot, but thankfully, this waterfront park opened a temporary swimming hole.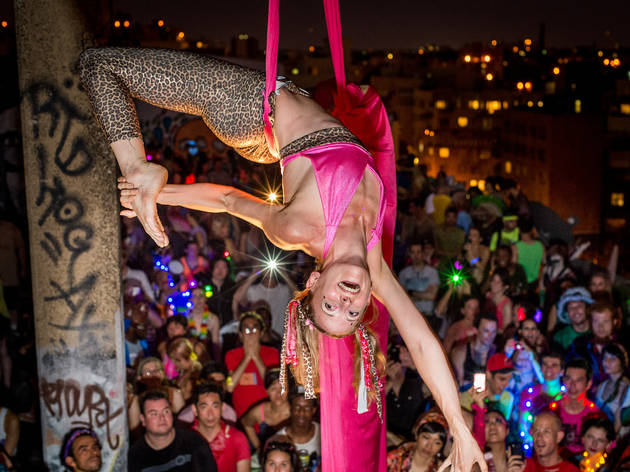 33/61
Photograph: Filip Wolak
Kaleidoscope 5: Rainbow Brite warehouse party, July 2012The organizers of the Kaleidoscope warehouse parties have a noble aim: to bring a free underground scene back to New York. They led a costume parade through downtown Manhattan and onto the subway en route to a Brooklyn rooftop where fire-eaters, a brass band and acrobatic performers awaited.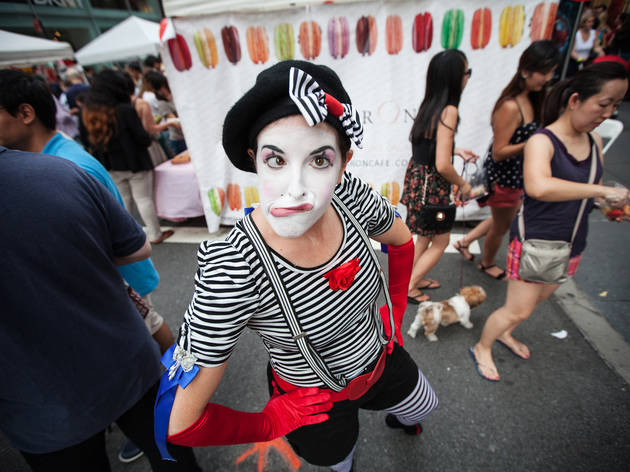 34/61
Photograph: Phyllis B. Dooney
Bastille Day on 60th Street, July 2012We don't get the point of Bastille Day. Honestly, what have the French done for us? Apart from fine food, great wine, philosophy, culture and pétanque? Oh, and mimes. But we ask you, what else?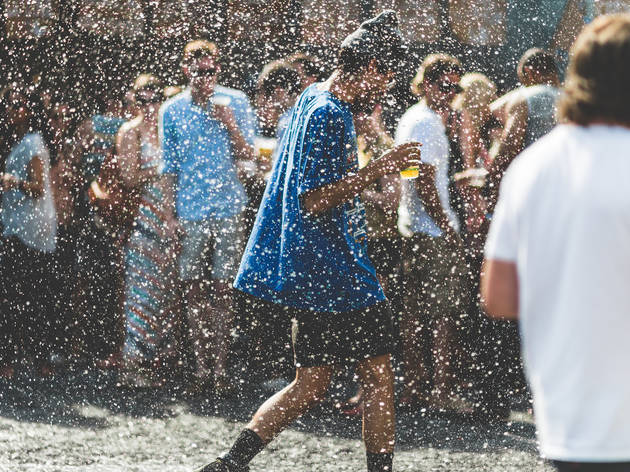 35/61
Photograph: Loren Wohl
Warm Up at MoMA PS1, July–September 2012An incredible series lineup that included Todd Terry, Jamie xx and Thom Yorke deejaying under the Atoms of Peace moniker—and a courtyard installation, HWKN's Wendy, that sported a water cannon—made the Long Island City–based contemporary art museum's annual parties a summer essential.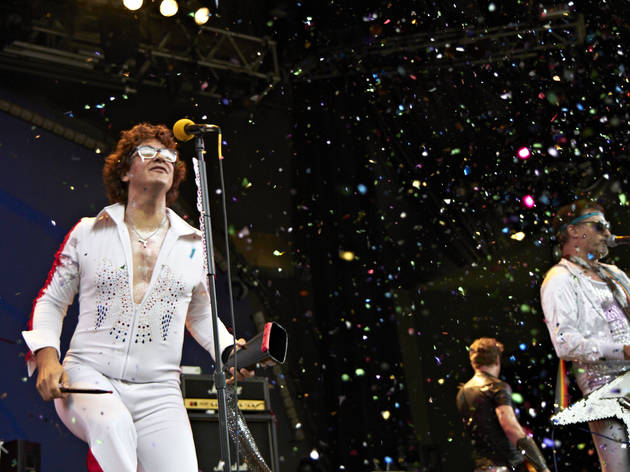 36/61
Photograph: Jena Cumbo
Celebrate Brooklyn! Saturday Night Fever, July 2012The annual concert series in Prospect Park isn't just about excellent artists performing for a couple of bucks. It's also about Bee Gees tribute bands, sing-along screenings and, um, outdoor disco yoga classes.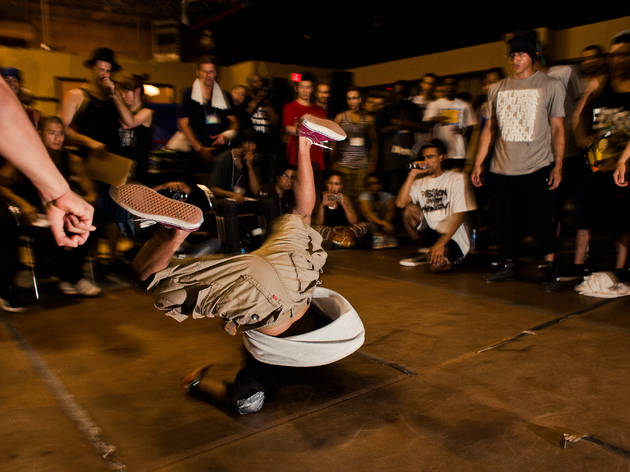 37/61
Photograph: Noah Devereaux
Dynamic Rockers 33rd Anniversary: B-Boy Massacre 9, July 2012There were some crazy legs on show at this break-dancing contest. The Dynamic Rockers formed in 1979, famously battled the Rock Steady Crew as part of the Lincoln Center Out of Doors festival in 1981 and are credited with pioneering moves like the continuous head spin.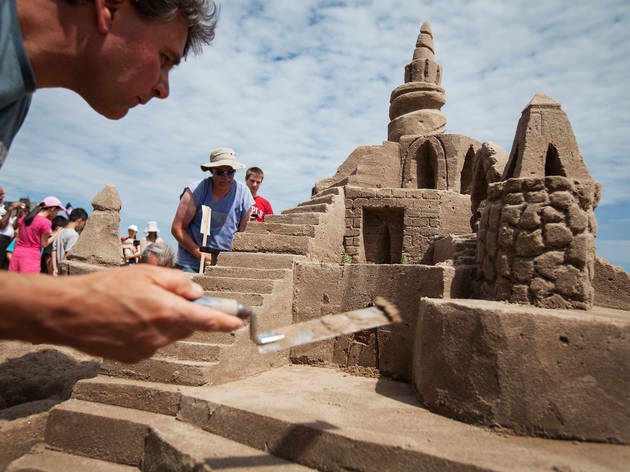 38/61
Photograph: Phyllis B. Dooney
Coney Island Sand Sculpting Contest and Unity Day, July 2012Beautiful weather and the allure of a $400 grand prize drew teams to the 22nd annual Coney Island Sand Sculpting Contest and Unity Day. About 50 mounds of sand were molded into fanciful castle towers, lounging mermaids and one cleverly conceived seaweed sandwich.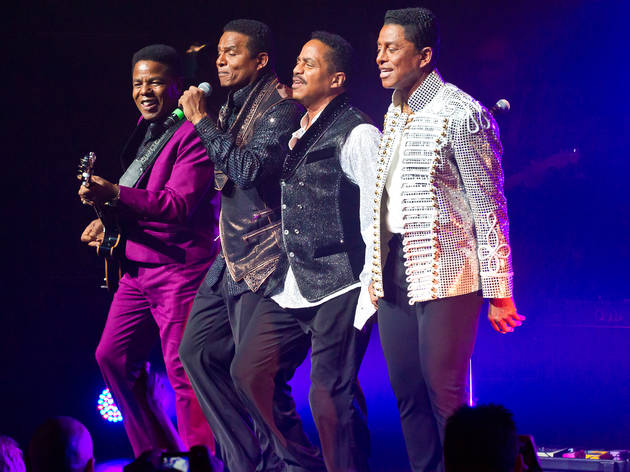 39/61
Photograph: Bill Kelly
The Jacksons at the Apollo Theater, August 2012Jackie, Jermaine, Marlon and Tito returned to the Apollo—where they first performed in the late '60s for the venue's legendary Amateur Night series—as part of their Unity tour, three years after their brother Michael's death. The crew celebrated their brother, performing such early classics as "Rock with You" and "Wanna Be Startin' Somethin'?" to the joy of the crowd, at what felt like a homecoming of sorts.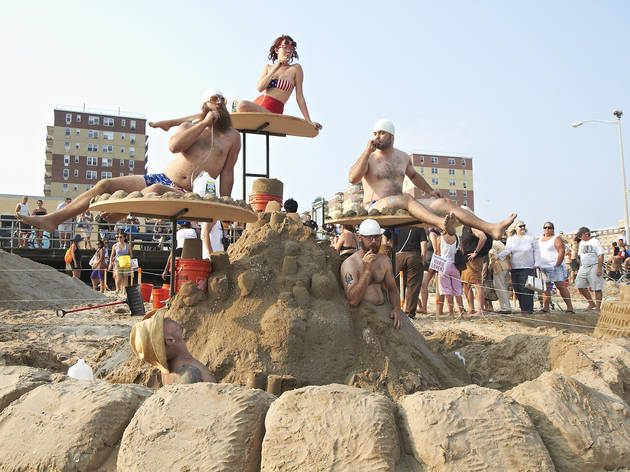 40/61
Photograph: Jena Cumbo
Creative Time Sandcastle Competition 2012 at Rockaway Beach, August 2012This inaugural contest gave local artists three hours in which to construct sand monuments.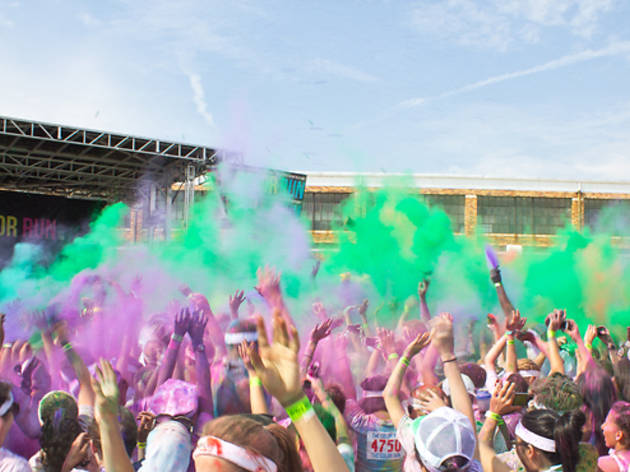 41/61
Photograph: Nadia Chaudhury
The Color Run, August 2012Thousands of jubilant runners were pelted with bright neon dyes during this 5K that took place at Floyd Bennett Field in Brooklyn. Racers were asked to wear white, and by the end of the 3.2-mile jaunt, they were covered in a bright mix of yellow, pink, green and blue.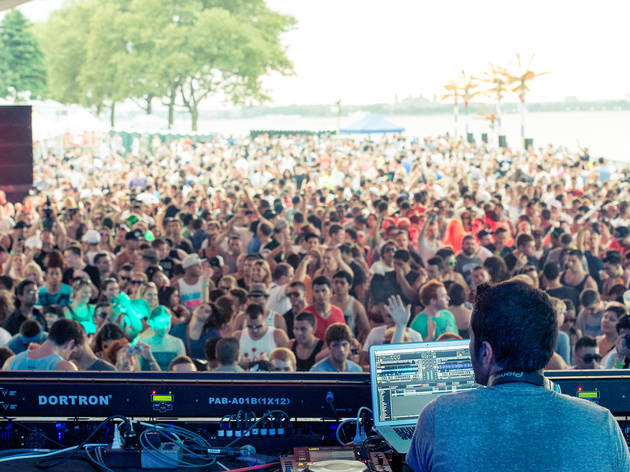 42/61
Photograph: Filip Wolak
Made Event on Governors Island, August 2012Thousands made for the lighted palm trees and sandy dance floor of the Governors Beach Club to hear acts like London superstar John Digweed, beloved vet Danny Tenaglia, Pleasurekraft and Sleepy & Boo.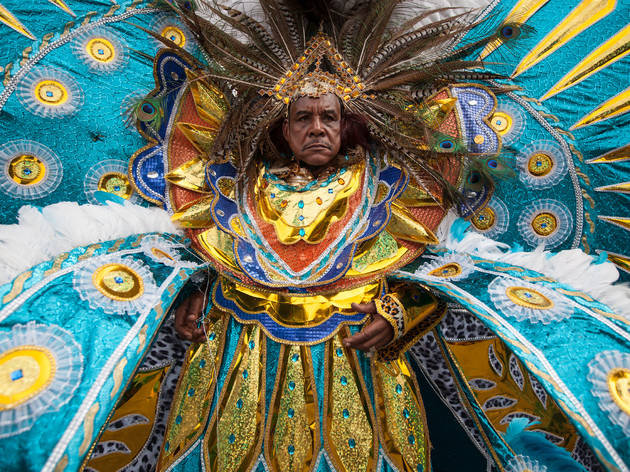 43/61
Photograph: Phyllis B. Dooney
West Indian–American Day Carnival, September 2012New York's biggest celebration of Caribbean culture didn't disappoint the almost 2 million people who lined the streets of Crown Heights. Good thing, too: 2012 was the 50th anniversary of Trinidadian and Jamaican independence.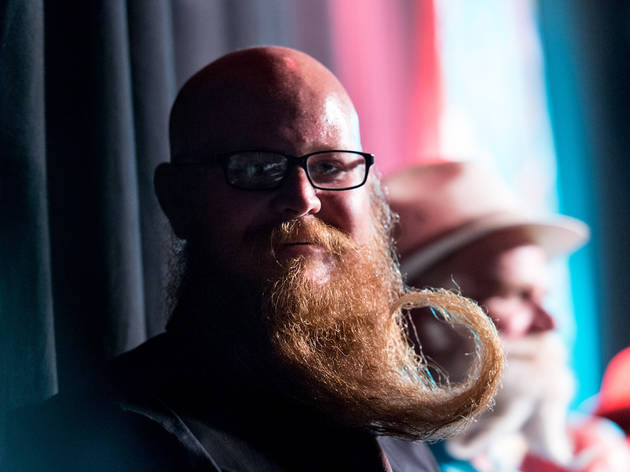 44/61
Photographer: Filip Wolak
Coney Island Beard and Moustache Competition, September 2012Superlative handlebar mustaches, overgrown muttonchops and Santa Claus beards battled for facial-hair honors on the Brooklyn shore.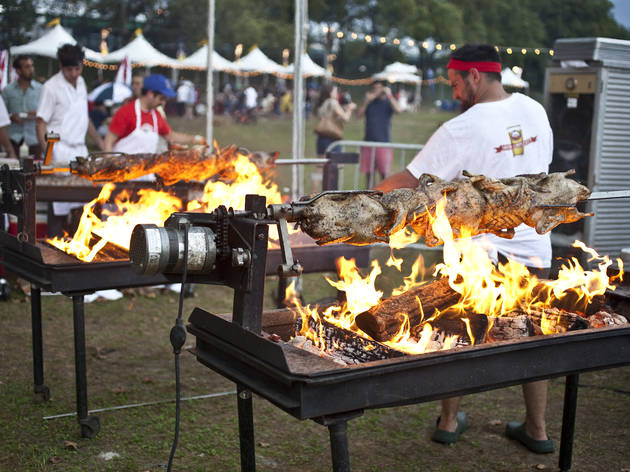 45/61
Photograph: Virginia Rollison
Meatopia, September 2012Pork-and-beef–mad celebrants braved tetchy weather on Randalls Island for this cookout featuring the red-blooded stylings of more than 45 high-profile chefs, who roasted, grilled and smoked meat of all varieties. Pictured: Chef Zak Pelaccio, Fatty Crab: Spit Duck W/ Lady Jayne's Preserved Citrus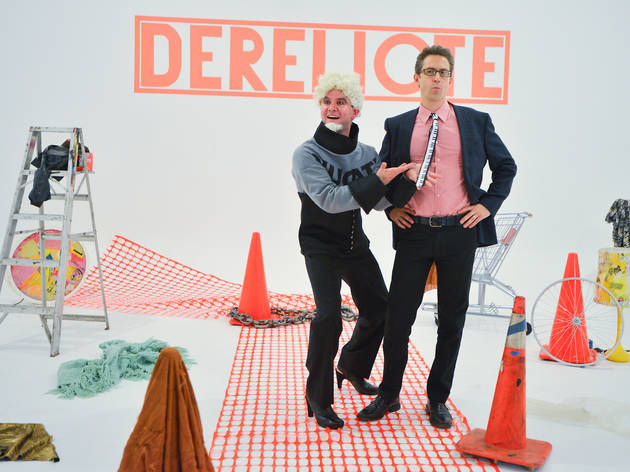 46/61
Photograph: Eric Harvey Brown
Derelicte Fashion Show at Windmill Studios NYC, September 2012BBQ Films held a Zoolander screening and tribute party in (where else?) Williamsburg. Yes, partygoers were ridiculously, ridiculously good-looking.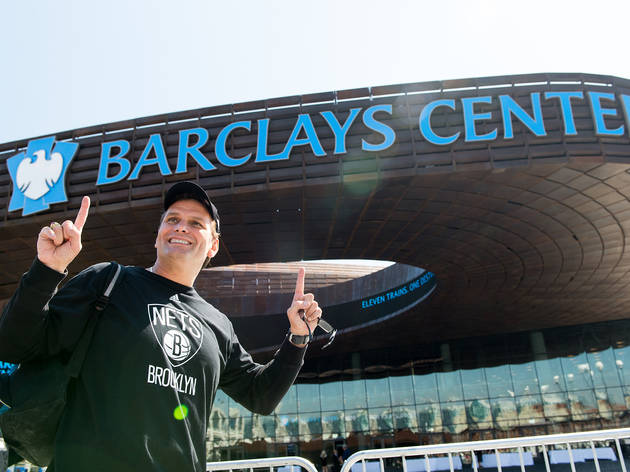 47/61
Photograph: Filip Wolak
Barclays Center arena tour and ribbon cutting, September 2012Brooklyn got its new stadium, and lo, there was much wringing of hands and saying of the borough's name. By our count, Brooklyn Borough President "Marty Mart" Markowitz won the race to namecheck BK the most times at the inauguration ceremony, with 17 mentions.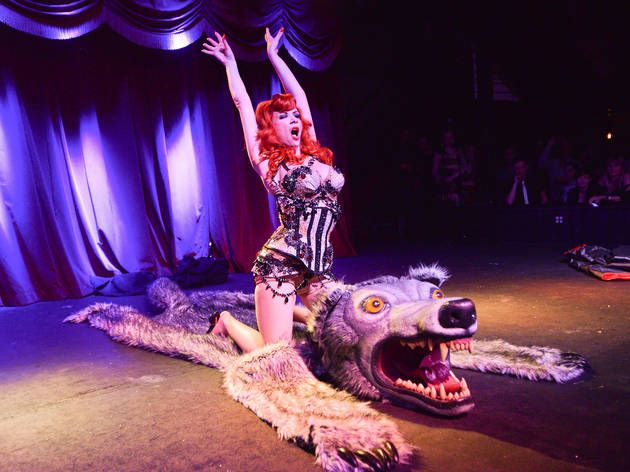 48/61
Photograph: Eric Harvey Brown
New York Burlesque Festival, September 2012The sprawling fest celebrated ten years of raising pulses by raising pulses.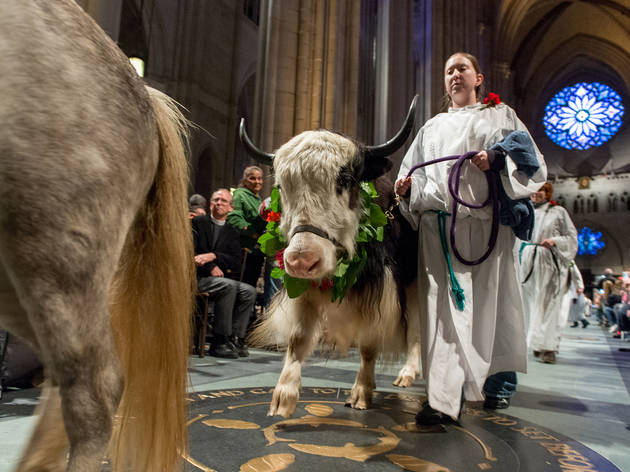 49/61
Photograph: Filip Wolak
Blessing of the Animals, October 2012Camels, kangaroos, and pets of all shapes and sizes came to the Cathedral Church of St. John the Divine to receive a blessing.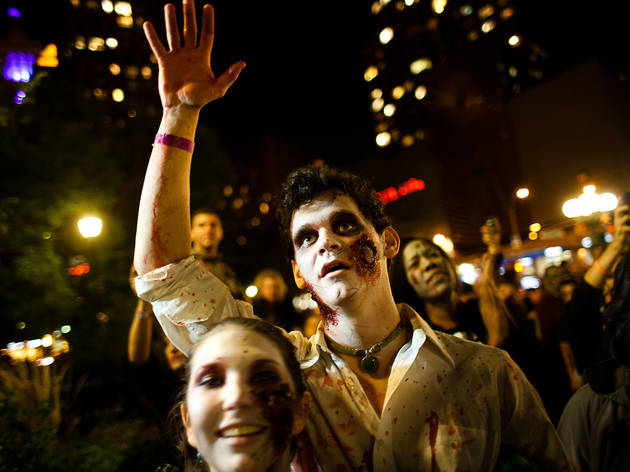 50/61
Photograph: Noah Devereaux
NYC Zombie Crawl, October 2012The sixth annual crawl dragged its sorry, undead self from Webster Hall to Union Square and back again in an insatiable quest for brains and booze.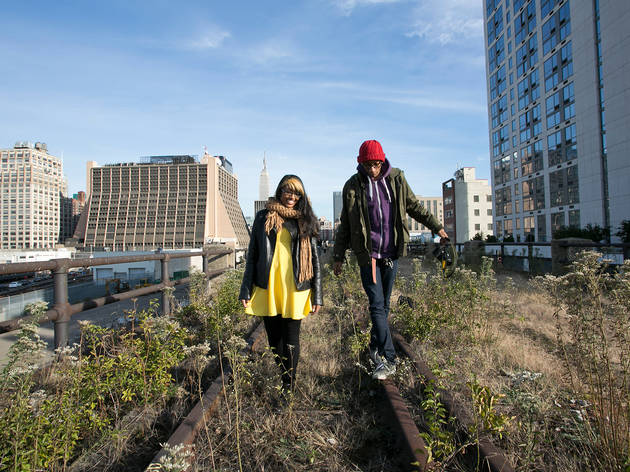 51/61
Photograph: Caroline Voagen Nelson
The High Line at the Rail Yards, October 2012For two weekends only, the Friends of the High Line opened the final, undeveloped third section of the park to the public for self-guided tours. If you missed out, you'll have to wait until it's reopened to the public in 2014.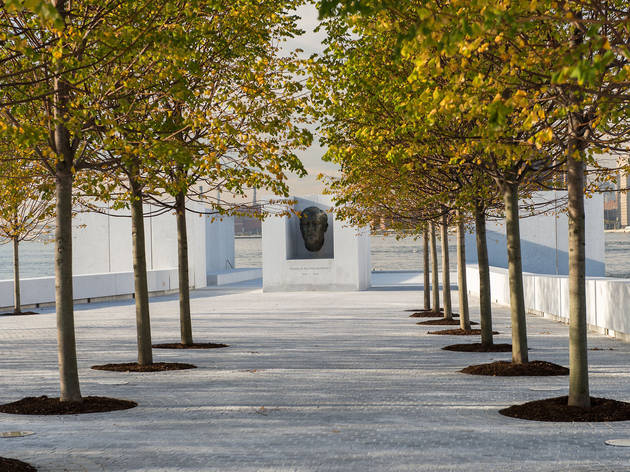 52/61
Photograph: Filip Wolak
FDR Four Freedoms Park opens on Roosevelt Island, October 2012This park took nearly 40 years to complete, from inception to execution. (Beat that, Second Avenue subway. Oh…) But the space—designed by the late, noted architect Louis I. Kahn—is a beaut, with rows of trees, a stunning view of Manhattan and a massive bronze bust of FDR himself.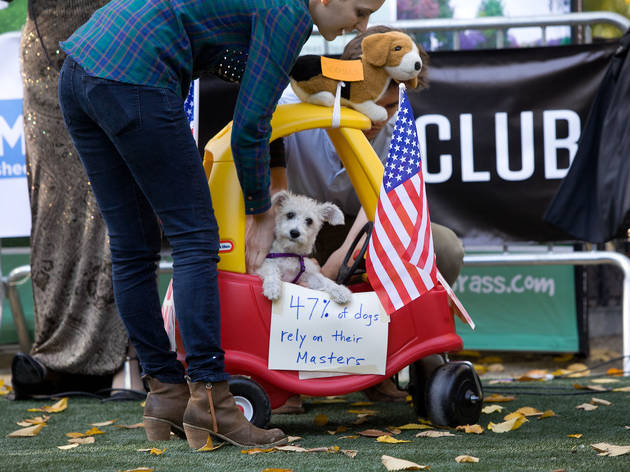 53/61
Photograph: Francine Daveta
Tompkins Square Park Halloween Dog Parade, October 2012Ladies and gentlemen, we are proud to introduce the next president of your hearts, Mutt Romney.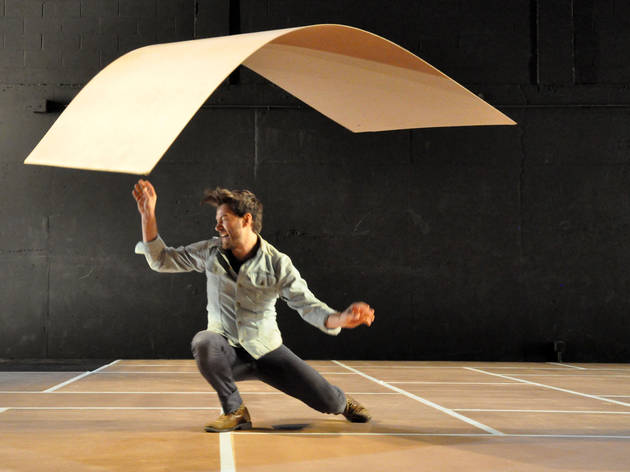 54/61
Photograph: Elyssa Goodman
Steven Reker, October 2012The dancer and his People Get Ready band performed at New York Live Arts.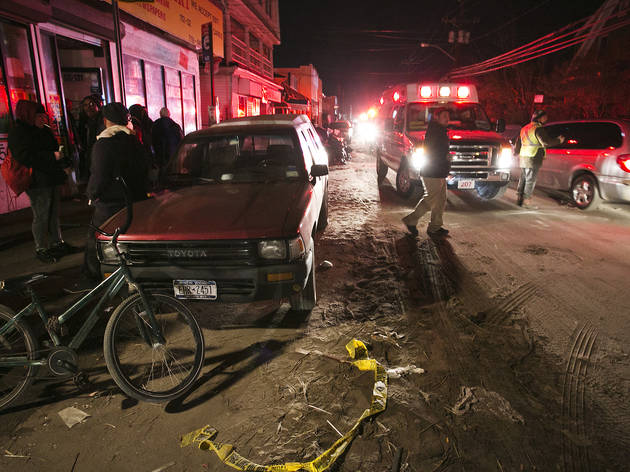 55/61
Photograph: Caroline Voagen Nels
Far Rockaway after Hurricane Sandy, November 2012One week after Hurricane Sandy ravaged New York City, Time Out photo editor Virginia Rollison captured this shot in Far Rockaway.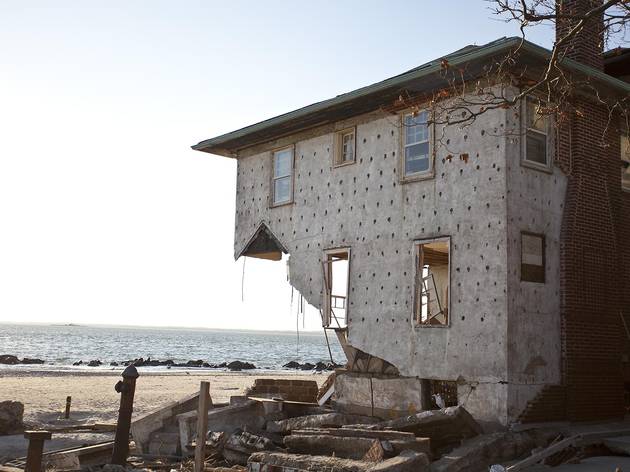 56/61
Photograph: Virginia Rollison
Brighton Beach after Hurricane Sandy, November 2012A week and a half after Sandy, volunteers from Time Out helped Brighton Beach residents affected by the storm and witnessed the devastation firsthand.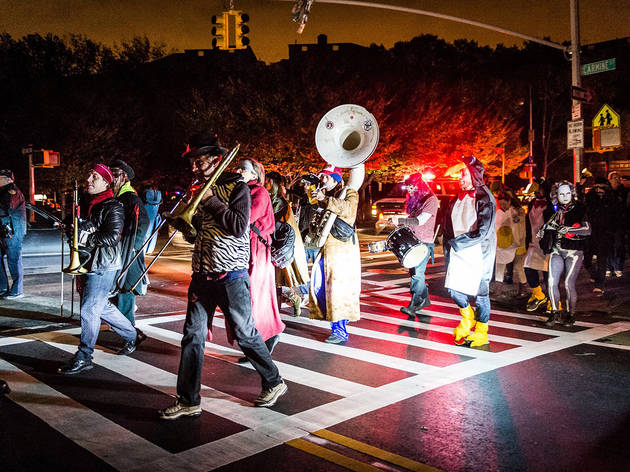 57/61
Photograph: Filip Wolak
Kostume Kult's impromptu Halloween parade, November 2012The annual Village Halloween Parade was canceled in the wake of Sandy, but members of the artsy group staged their own illuminated processional in the darkness of lower Manhattan.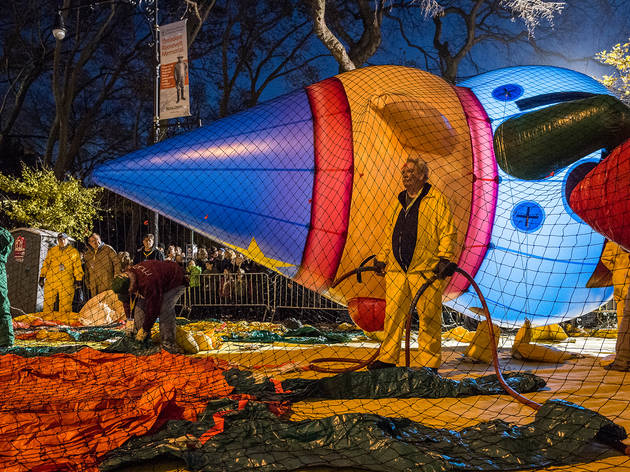 58/61
Photograph: Filip Wolak
Macy's Parade balloon inflation, November 2012This particular gentleman caught our attention. He seemed to have the authority of a distant relative of Ron Swanson.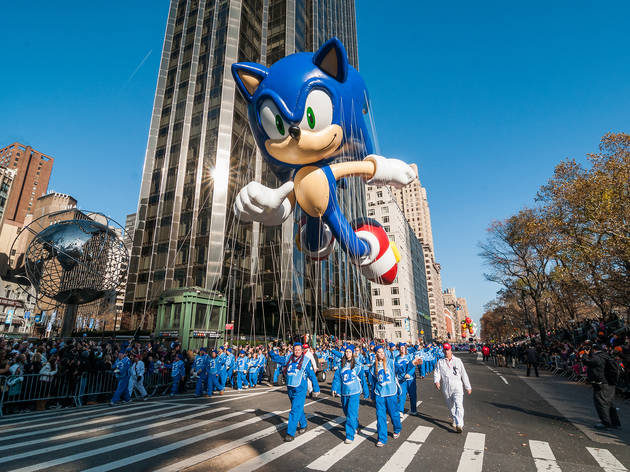 59/61
Photograph: Filip Wolak
86th Annual Macy's Thanksgiving Day Parade, November 2012A crisp, clear day provided the backdrop as the parade trod its new route down Sixth Avenue.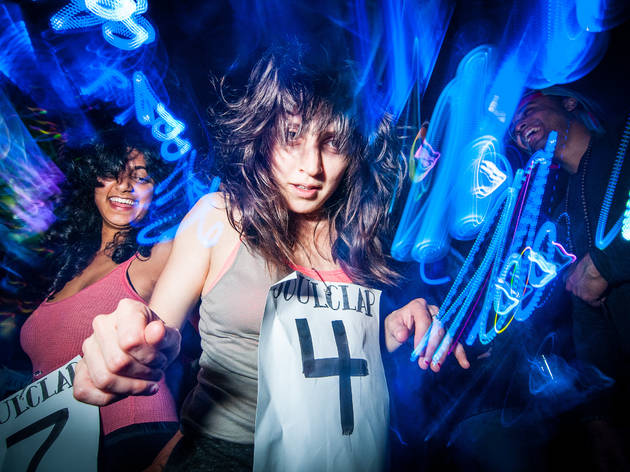 60/61
Photograph: Filip Wolak
Soul Clap and Dance-Off, November 2012Rock and soul kingpin, Soul Clap impresario and DJ Jonathan Toubin returned to the scene in June this year after a long recuperation from a freak accident (a taxi cab crashed into his ground-floor hotel room in Portland, Oregon, last winter). Good to have you back, Jonathan.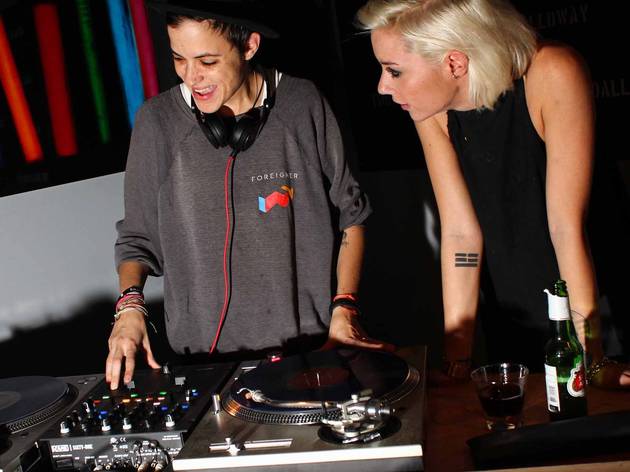 61/61
Photograph: Grace Chu
The Dalloway grand opening, December 2012A new nightlife destination came to Soho thanks to lesbian reality-TV celebrities Amanda Leigh Dunn (The Real L Word) and Kim Stolz (America's Next Top Model). Here's hoping this is the beginning of yet another reinvention of Soho—we're over its mall phase.
The year in pictures: New York photos 2012 (slide show)
Check out 2012's best photos with our review of the year in pictures, including shots of Brooklyn's new stadium, Hurricane Sandy and more.
The year in pictures by section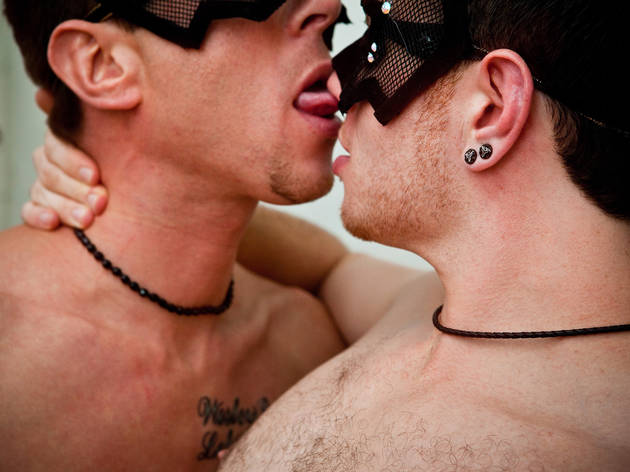 New York's gays certainly are photogenic! Throughout 2012, TONY dispatched photographers to some of the coolest, most important LGBT parties and events in the city. From massive parades and circuit parties to sweaty basement throwdowns and oddball performances, they found a seemingly endless supply of hot people eager to grin, give face, make out and disrobe for the camera. Click through above for many more photos from each event—and be sure to say "cheese" when you see our shutterbugs out and about in 2013. LGBT holiday events New Year's Eve in New York The best movies of 2012 Gay New York photo galleries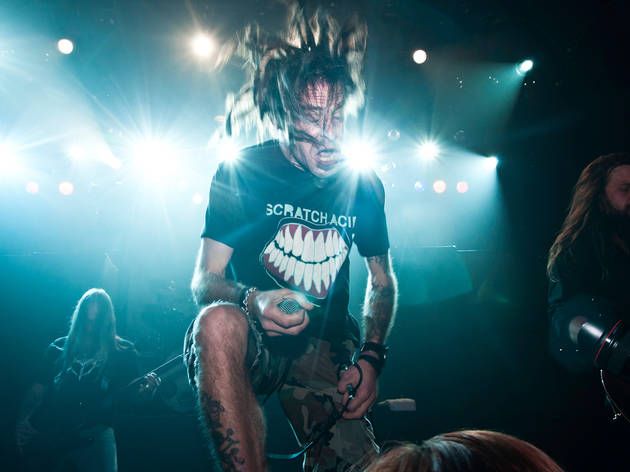 Check out our top ten concert photos of 2012, including Beach House, Aretha Franklin, the Jacksons, Zola Jesus, Divine Fits and more. RECOMMENDED: The year in pictures: New York photos 2012 Along with our picks for the best concerts of 2012, we asked Time Out's roving band of snappers for their favorite concert photos of the year. It didn't have to be the biggest concert events such as All Tomorrow's Parties on Pier 36 or Jay-Z opening the Barclays Center. Click through our slide show to see what they chose. You might also like 2011 in pictures: Music See more in Music Concert schedule for live music in New York City Find out about recently announced live music in New York with our concert schedule. Beat the scalpers and buy tickets now. No concert in New York is ever truly sold out. You can always turn to the secondary market—Stubhub, Craigslist et al.—for tickets, but those passes come at a premium. (There's always the ol' bum-rush-the-show trick, but we advise against doing that, New York rite of passage or no.) Use our concert schedule to plan which shows in New York you want to see, and buy tickets before official channels sell out. Recently announced concerts December January February March April May June and beyond You might also likeBest live-music venuesNew York City events calendar 2012See more in live music Best live-music venues in New York City Even as the recording industry crumbles, Manhattan and Brooklyn remain packed with live-music venues, from