Tiny Kitchen Recipes: Fish-sauce chicken wings from Pok Pok
Andy Ricker's legendary and addictive wings bring the crowds to his Brooklyn establishments, and now you can make the dish at home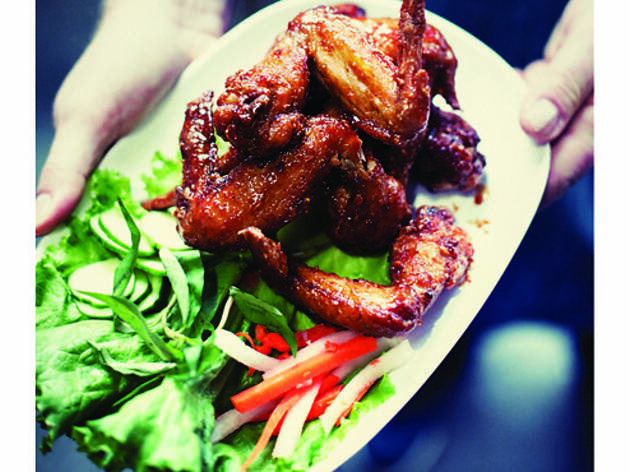 1/2
Photograph: Austin Bush
Ike's Vietnamese fish-sauce wings from Pok Pok: Food and Stories from the Streets, Homes, and Roadside Restaurants of Thailand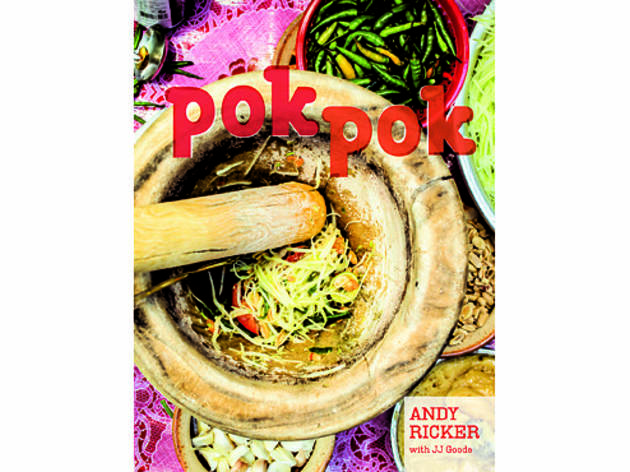 2/2
Pok Pok: Food and Stories from the Streets, Homes, and Roadside Restaurants of Thailand by Andy Ricker and J.J. Goode
Welcome to Tiny Kitchen Recipes, a feature in which we ask chefs, writers, and food bloggers in New York City and beyond to share a recipe with us. Always wallet-friendly, these creations are feasible whether you live to cook or recently stopped using your oven for shoe storage.
RECOMMENDED: All recipes from us
The season of glazed ham, mashed potatoes and Christmas cookies is upon us—but first, something spicy, sticky and crispy. (This dish will also function well later this month when you need an antidote for centerpiece-roast fatigue.) Below is the recipe for Pok Pok's storied fish-sauce wings, one of Andy Ricker's signature dishes. As you can see, there are no shortcuts with his cuisine, but the complexities are what makes it so outstanding.
Ike's Vietnamese fish-sauce wings from Pok Pok: Food and Stories from the Streets, Homes and Roadside Restaurants of Thailand by Andy Ricker and J.J. Goode
Ingredients:
SAUCE AND MARINADE
- 1 oz peeled garlic (about 8 medium cloves)
- 1 tsp kosher salt
- 1/4 cup warm water
- 1/2 cup Vietnamese fish sauce
- 1/2 cup superfine sugar
- 2 lbs medium-size chicken wings (about 12), split at the joint
TO FRY AND FINISH THE WINGS
- Vegetable oil for deep-frying
- 1 cup white rice flour (not glutinous rice flour)
- 1/4 cup tempura batter mix (preferably Gogi brand)
- 1/4 cup water
- Optional: 1 to 2 tsp naam phrik phao (roasted chili paste)
MAKE THE SAUCE AND MARINATE THE WINGS
Very finely chop the garlic, sprinkle on the salt, then chop the 2 together for 15 seconds or so. Scrape the mixture into a small bowl, add the 1/4 cup of warm water, and let it sit for a few minutes.
Set a fine-mesh strainer over another bowl, pour the garlic mixture into the strainer (or squeeze the mixture in cheesecloth over the bowl), and use the back of a spoon to stir and smush the garlic to extract as much liquid as you can. Reserve the garlic. Add the fish sauce and sugar to the bowl, and stir until the sugar has fully dissolved. You should have 1 cup of liquid.
Put the chicken wings in a large mixing bowl, add 1/2 cup of the fish-sauce mixture, reserving the rest, and toss well with your hands. Cover and refrigerate for at least 4 hours, or as long as overnight, tossing every hour or so.
FRY THE GARLIC
Meanwhile, pour enough oil into a small pan to reach a depth of 3/4 inch or so, and set it over high heat until it simmers. Set a fine-mesh strainer over a heatproof bowl. Test whether the oil is hot enough: As soon as a piece of garlic added to the oil bubbles right away, add the rest. Decrease the heat to medium-low (you don't want to rush the process with high heat), and stir once or twice.
Cook the garlic just until it's evenly light golden brown, about 5 minutes. Strain the garlic, reserving the flavorful oil for another purpose. Gently shake the strainer, then transfer the garlic in more or less one layer to paper towels to drain and cool. You should have 2 tbsp of fried garlic.
FRY THE WINGS
Transfer the wings to a colander in the sink, shaking them occasionally, to let them drain well before you fry them, at least 15 minutes.
Pour enough of the oil into a wok, Dutch oven or wide pot (even better, use a countertop deep fryer) to reach a depth that will completely submerge the wings, about 2 inches. Set the pot over medium-high heat, bring the oil to 350°F (use a deep-fry thermometer), carefully stirring the oil to maintain a consistent temperature, and adjust the heat to maintain the temperature.
In a large mixing bowl, stir together the rice flour and tempura batter.
Fry the wings in two batches. Toss half the wings in the flour mixture to coat them well and knock them against the edge of the bowl so any excess flour falls off before adding them to the hot oil. Add the first batch to the oil and cook, prodding the wings to move them around a bit after 4 minutes or so and then every few minutes, until they're evenly deep golden brown and completely cooked through, 6 to 8 minutes. Transfer them to paper towels to drain, let the oil come back to 350°F, and do the same with the next batch.
FINISH THE WINGS
Add the 1/4 cup of water to the remaining fish-sauce mixture, stir well, and set it aside.
Work in 2 batches to finish the wings (if you have a very large wok, one batch will do). Combine 1/4 cup of the fish-sauce mixture and half of the chili paste (if you're using it) in a nonstick wok, set it over high heat, and bring it to a boil. Cook until the mixture has reduced by about half, about 45 seconds. Add half of the chicken wings, and cook, using tongs, a wok spatula, or a deft flick of your wrist to toss the wings in the liquid every 15 seconds or so, until the liquid has become a sticky, caramel-colored glaze that coats the wings, about 1 minute. Add 1 tbsp of the reserved fried garlic, toss well, and keep cooking, tossing constantly, until the glaze has turned a shade or two darker, about 30 seconds more.
Transfer the wings to a serving plate. Rinse and wipe out the wok, and repeat with another 1/4 cup of the liquid, the remaining chili paste, the remaining wings and the remaining tbsp of fried garlic.
Serve the wings with the pickled vegetables, cucumber spears and herb sprigs.
Makes about 1 dozen wings, enough for 4 to 8 as part of a meal.
Reprinted with permission from Pok Pok by Andy Ricker with J.J. Goode, copyright © 2013. Published by Ten Speed Press, a division of Random House, Inc.
Sponsored listing
Wine 34
Oenophiles will want to check out Wine 34, a wine bar and restaurant. Order a glass of wine ($12–16), or choose a bottle from the extensive list of more than 300 wines from around the world. Suds and spirit lovers will also be happy to see that Wine 34 has a draft beer and craft cocktail menu. As for food, the menu changes seasonally and focuses on fresh and local ingredients. Like any good wine bar, Wine 34 offers a customizable selection of cheese and charcuterie (one for $7, three for $16, five for $23) as well as appetizers like gulf shrimp with green peppercorn sauce ($14) and pan-seared scallops with asparagus risotto ($15). Entrees include lamb loin eye with lemon mashed potatoes and shaved Brussels sprouts ($30), grilled hangar steak with sauteed spinach, red wine sauce and truffle fries ($26) and a selection of flatbreads with toppings like prosciutto, ricotta and sweet onions ($12 for a small, $16 for a large).
Venue says: "It's Wine thirty…four. Another place to relax and have a glass. We are proud to have received Wine Spectator's Award of Excellence for 2016."