Lamont U-God Hawkins looks back on his Wu-Tang Clan years
Lamont "U-God" Hawkins talks with storyteller Gastor Almonte about his memoir Raw: My Journey into Wu-Tang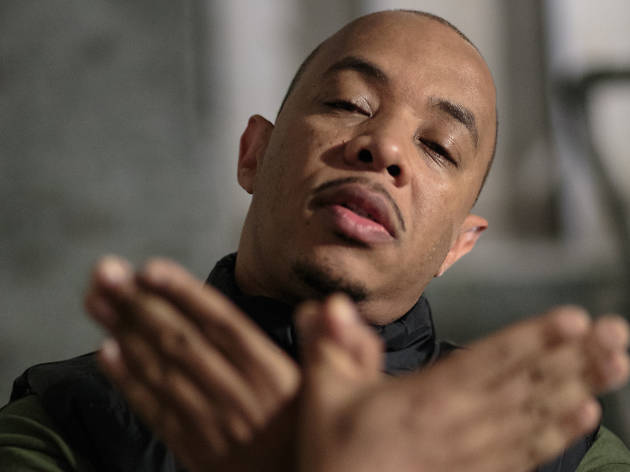 There is something magical in witnessing a transformation. It's what draws us to comic books and superhero movies; a chance to witness the origin story. Batman Begins, Iron Man and Black Panther not only gave us the action that came with the change, but the moments that lead to it.
Lamont Hawkins. Golden Arms. U-God. With his autobiography Raw: My Journey Into Wu-Tang, U-God gives us a first-hand look at his journey from mere mortal to rap superhero. For over 25 years, U-God has been a part of some of the most incredible moments in hip hop culture—both individually and as a member of the hugely influential Wu-Tang Clan. In Raw, U-God shares the good and bad moments that culminated in the creation of the Wu—his childhood in Staten Island, working a day job with Method Man as a teenager, his time in prison and stories about performing live.
You're noted as one of the quieter members of the Wu-Tang Clan. What made you decide to write this book now?
Well, I've always told stories. With my manager, my peoples and my fam, I always told stories that would have them dying laughing. I could see the emotions on their faces when I shared them. Finally, my friend Domingo said, "Yo, U-God, you got to write this shit down." Besides that, I'm the last dinosaur of the people I grew up with. A lot of my brothers are in jail doing life, so I gotta write it down for them too. I just put the pen down and let the magic happen.
You made a real effort to put a face to the name with a lot of these stories.
A lot of people want to be characters, but these are real people. When I tell a story, it's real. Like when I mention [his friend from his time in prison] Panama. Panama was a real motherfucker who could make a shank out of anything. And I'm pretty sure if you go to another jail, there's a guy like Panama in there too. So even though I was only with him for a brief moment, he was my man.
There was a real light shined on your struggles as a teenager.
That's how I always felt. There's a middle there. We had good moments, we had bad moments. We had getting-by-the-skin-of-our-teeth moments. It's to let you know it's real. We got out of situations that if they went wrong, could have had us jammed up. That's what makes a good story. I don't believe in perfect stories. Besides that, bad moments don't faze me anymore. It don't faze me. So I had to tell the story as facts.
You spent just as much time touching on people who made it out as you did on those who didn't. What do you think made you guys different?
I don't know, bro. We were just different brothers. We were a different grain of people and I can't explain it. I can't explain the drive that I had that others didn't. I wanted to see the stars. I wanted to see Hollywood. I wanted to see Isaac Hayes and Barry White. I wanted to see Chaka Khan. That's what our energy was focused on, and we made it happen.
You did an incredible job of showing your vulnerable moments too. You discuss the process of getting your "sword back" and getting your rhymes back to 100% after getting out of jail.
Because it was the truth. I was a street dude. [Wu-Tang members] Meth, GZA, Dirty—they were really focused 100%, and I was at 20%. But when I was focused, I was no joke. Which is why I was affiliated with the Clan. But now that I didn't have to hustle in the streets, it allowed me to focus, and in turn I was able to catch up. But to say I didn't have to catch up after I got out of the can would be a non-cipher. Some dudes when they come home try to make the mistake of trying to catch up too fast. That was true with the Clan. So I had to show that. I got kicked out of the booth 15 times! Dirty [Ol' Dirty Bastard] used to give it to me straight: "Yo this nigga is wack!" [laughs]. But that's what makes a champion: Can you come back? That's what I had to go through.
The backstory shows how long you knew some of the members prior to making music and how you developed your chemistry. Could you have created something like this with anyone else?
Nah. Not at all. That was the perfect storm. The situation we had going on happens once in a million years. We couldn't have done it with someone else. I can't explain the phenomenon, but all I know is that it happened. All the stars aligned right to create what it was. This was always going to be.
As a hip hop head, I have to ask, what moment feels better: When you make a dope song, or when you get to perform it?
When you get to record it. My process is crazy. I write the verse in pieces. Ten bars here. Then another six.Then I might start the second verse. I slowly chisel it. But when I hear it and it sounds like what I heard in my head, when you finish writing the perfect verse—it's like an orgasm. It's like having the baddest bitch sit on your dick. Don't get it twisted, I love performing live too, but the essence of that? Oh. My. God.
See U-God Live
The hip-hop legend shares his unflinching new memoir with Mass Appeal's Sasha Jenkins.