Where to get roasted chestnuts
No open fire? Get your Christmastime snack from these street carts instead.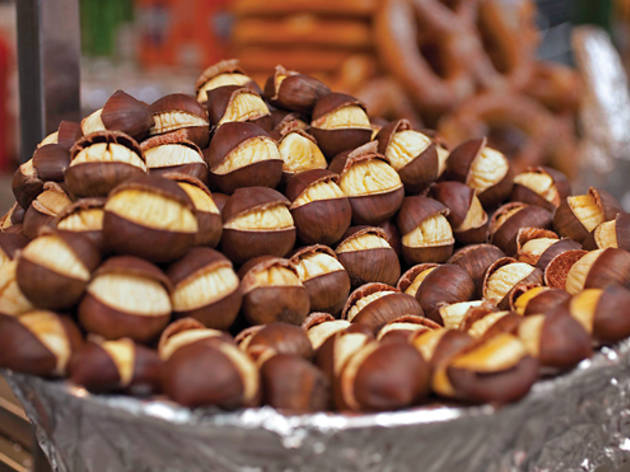 Temperatures are dropping faster than you can say "sweater weather," and while the onset of winter means begrudgingly digging out our mittens, it also means the return of one of the city's most iconic street foods: roasted chestnuts. The quintessential holiday snack—made immortal by Nat King Cole's "The Christmas Song"—is not nearly as ubiquitous as it once was, but there are still a few spots where you can catch the unmistakable aroma and pick up a handful to warm your pockets.
Fifth Avenue between 53rd and 55th Streets
If there's one block in the city that's especially thick with the comforting smell of roasted nuts, this is it. Almost every corner hosts a street cart equipped with a steaming basket beside its year-round wares of pretzels and hotdogs. Whether it's a vestige of the snack's more popular days or because the vendors know the area will be teeming with tourists looking to check off their winter-in–New York to-do list is anyone's guess. Either way, you can still pick up a bag ($4–$5) of the chewy nuts—with the trademark X sliced into each shell—en route to a wintry stroll or skate in Central Park. Daily 11am–11pm, November–December
Sixth Avenue between 34th and 35th Streets
You'll also find the telltale silver baskets over by Herald Square, another area sure to be thronged with tourists this time of year. If you can make it past the herds ogling the Macy's window displays, you should have no trouble finding a vendor hawking the shiny brown bulbs. The carts receive a bundle each morning, and then "roast" throughout the day—after the shells are crosshatched, the nuts are warmed in a pan until they can be peeled open at the X. A new batch is only roasted when the last one runs low, so to avoid presplit nuts that have dried out, follow the strongest chestnut smell—there's a good chance that cart will have a piping-hot supply. Daily 11am–11pm, November–December
Main Street between 41st Road and Sanford Avenue, Flushing, Queens
The hazelnut-size nuggets found at this cart are an organic Chinese variety that, while smaller than its more common European relative, boasts a smooth texture and smoky-sweet taste. The roasting process is different too: The nuts, with the shell left intact, are tumbled in hot pebbles, which steams the high-water-content meat from the inside out. If a quarter-pound bag ($3) isn't enough to shake the winter chills, you're just a chestnut peel's throw from a plethora of the neighborhood's many belly-warming delights, including xiao long bao at Nan Xiang Dumpling House(38-12 Prince St at 38th Ave) and spicy wontons at White Bear(135-02 Roosevelt Ave at Prince St). Daily 10am–9pm, November–June
51 East Broadway between Catherine and Market Streets
Outside New Lung Hing Market grocery you'll find a keg-sized metal drum piled high with chestnuts, steam rising from the top. Technically these are boiled, but the effect has the same wintertime charm of the original: The shells peel away easily to reveal sweet, velvety flesh that is softer than the dry-roasted version. Raw chestnuts make an appearance in nearly every shop nearby, but the grocers at New Lung Hing proudly claim to be the only ones offering the ready-to-eat treat ($4 a pound). Daily 7am–7pm, October–December