Guide to the World Naked Bike Ride in NYC
Here's everything you need to know about biking in your birthday suit during the World Naked Bike Ride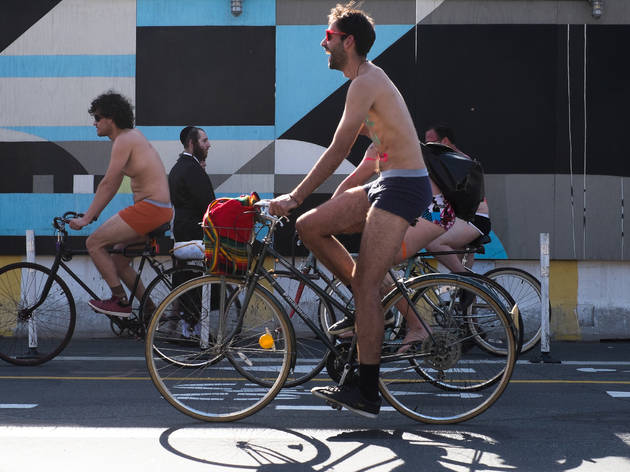 Judging by the hype surrounding Go Topless Day, the Smallest Penis in Brooklyn Pageant and those half-naked ladies in Times Square, it's safe to assume that New Yorkers are pretty cool with nudity. That's why the World Naked Bike Ride hosts a bare-all ride in NYC every year, which brings awareness to the harmful pollution of motor vehicles (and rude, reckless drivers who tailgate bikers). Brave cyclists should follow our handy-dandy guide to find out how to sign up and strip down in time for the annual event, but make sure you invest in two-wheeler from a great bike shop and stock up on sunblock first.
What is the World Naked Bike Ride?
If you thought the World Naked Bike Ride was just a practical joke created by some pervert with a two-wheeler—think again! The annual (and undoubtedly cheeky) event is actually a very serious environmental effort, where folks from all around the world bike in their birthday suit to protest the world's dependence on oil and other nonrenewable energy sources. Note: The motto for the ride is "as bare as you dare."
How do I join the World Naked Bike Ride?
If you're dying to participate and partake in this life-changing ride, check out the list of rides pages and sign up using the form on the upper right side of the World Naked Bike Ride website.
When is the World Naked Bike Ride?
The World Naked Bike Ride date is TBD.
Where is the World Naked Bike Ride?
While no location is set yet, past World Naked Bike Rides in NYC have started in Grand Ferry Park. Check back in soon for the exact location.
Archive World Naked Bike Ride content