Heads up! We're working hard to be accurate – but these are unusual times, so please always check before heading out.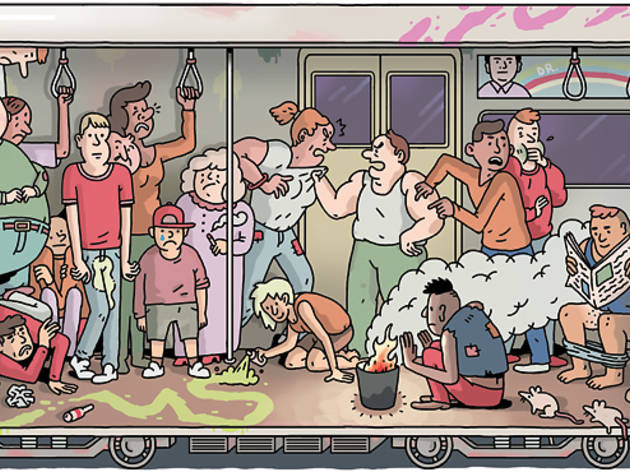 Worst subway lines: TONY on NYC's most awful trains
To mark the sweatiest month for commuters, our editors and writers sound off on their least favorite subway lines.
subway
system even works—let alone (sometimes) runs smoothly. Still, that doesn't change the fact that all New Yorkers (ourselves included) have that one line they despise—or
passionately defend
. Which one do you loathe? Vote for it in our
poll
.
1, 2, 3
"Board these in lower Manhattan on a weekend, and enter a magical world in which—with barely any intelligible signage—a local train will suddenly turn express, or a downtown one will flip uptown and carry you helplessly back to whence you came. I call them the mean reds."
—Adam Feldman, associate Theater editor
"The only time I've ever encountered fresh vomit was on the 2. At about 9am. (Was this person sick? Still drunk from the night before?)"
—Amy Plitt, senior editor
4, 5, 6
"The 6 seems to carry half of Manhattan at rush hour. You haven't experienced commuter rage until you've watched three overcrowded trains leave behind a bunch of Wi-Fi-­less travelers."
—Cristina Velocci, senior associate Shopping & Style editor
A, C, E
"Penn Station's A platform could not be hotter. The worst is when the train finally comes and reroutes over the F line, skipping all the downtown Eighth Avenue stops."
—Elizabeth Denton, assistant Shopping & Style editor
"I saw a photo of someone dropping a deuce on the A train, and I've been trying to wipe away the memory ever since."
—Andrew Frisicano, associate This Week in New York editor

"I got on the C one morning and there was an indigent man who was clearly out of his mind due to either mental illness or intoxication. He smelled horrifying—as in, I've lived in New York for close to 20 years and haven't smelled anything that bad, before or since. A middle-aged woman about ten feet away was berating anyone who recoiled for being 'unchristian,' saying he was 'one of God's children, just like the rest of us.' He seemed completely unaware that she was even there. When he got up to leave the train there was a huge puddle of diarrhea where he'd been sitting, and the woman got up and yelled after him, 'You have a good day, sir!'"
—Ethan LaCroix, managing editor
"The E train can be a nightmare during evening rush hour: hideous overcrowding, pushing and shoving once the doors open, and those unbearable between-station delays."
—Hank Shteamer, senior associate Music editor
G
"When the G splits into two parts and I have to take the A, the F, the X, the Staten Island Ferry and a recalcitrant one-eyed donkey to get where I want to go—this happens, I think, three weekends out of four—I paper-cut my eyes with discarded copies of
Us Weekly
or try to make out with Dr. Zizmor through the plastic so I can feel something—anything—other than unadulterated resentment."
—Matthew Love, Books and Comedy editor
"It's the worst because of its constant service changes; it's almost impossible to plan your trip between Kings and Queens counties."
—Keith Uhlich, Film writer
J
"The end of the J train platform at Chambers St is the most decrepit bit of the subway system I've seen. It has 1.5 stars on Yelp. I actually kind of like it, though; it's what I imagine 'old' New York looked like."
—Sarah Theeboom, This Week in New York editor
L
"Few things strike fear into my heart like hearing the words
It's show time!
on a crowded L car late at night, when I've already waited 20 or 30 minutes for it to show up."
—Sarah Bruning, associate editor
"The L train is clean, attractive, regular, fast—and chock-full of unbearable assholes."
—David Cote, Theater editor
"It takes more time off than I do."
—Rachel LeWinter, Shopping & Style editor
"Though I love the L for getting me to and from home, I hate starting off every weekday morning smushed up against strangers glaring at one another and fighting for space because the train is overstuffed."
—Marley Lynch, blog editor
R
"Just after moving here, I was mugged on the 28th St R platform.
Awesome
introduction to the city. And it was so cool that nobody on the opposite side asked me if I was okay. Thanks, guys!"
—Tim Lowery, associate editor
"I'm furious about the imminent closing of the R tube between Brooklyn and Manhattan. Fourteen months! (And that's just an estimate.) There goes my speediest conveyance to Soho."
—Joshua Rothkopf, senior Film writer